Yerevan/Mediamax/. Armenia is a member of the Eurasian Economic Union (EAEU) and has ratified this week the Comprehensive and Enhanced Partnership Agreement (CEPA) with the European Union (EU).
Mediamax's MaxMonitor media monitoring, analysis and measurement platform presents the report on the Armenian online media coverage of the EAEU and the EU.
The monitoring of 130 news websites during March 2018 showed that the EU was mentioned about three times as often as the EAEU.

Photo: Mediamax


The presented data refers only to the number of mentions.
MaxMonitor specialists separately analyze publications of 13 news media websites (168.am, 1in.am, A1plus.am, Aravot.am, Armenpress.am, Armlur.am, Blognews.am, Hraparak.am, Lragir.am, Mediamax.am, News.am, Panorama.am, Tert.am), which makes it possible to map the mentions with positive, neutral, and negative undertones. The results for March 2018 are displayed in the chart below.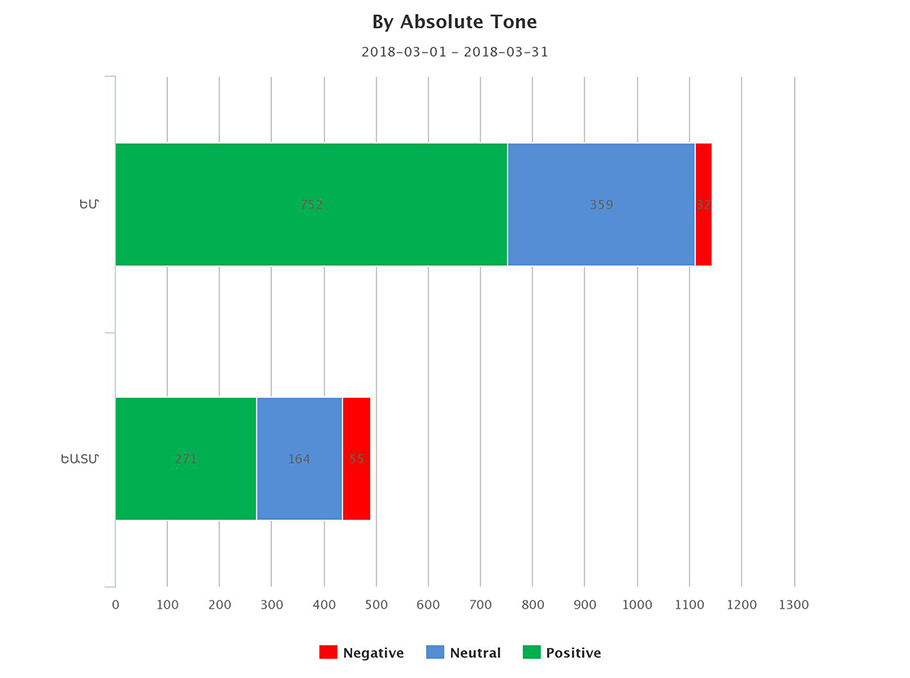 Photo: Mediamax


Evidently, the EAEU received twice as many negative mentions as the EU.
It should be noted that only publications related to Armenia have been selected for analysis.
MaxMonitor platform is the sole leader in Armenian media monitoring, analysis and measurement market. Several dozens of private companies, banks, telecommunication operators, ministries and state agencies, international organizations and embassies are subscribed to the platform.