Ahead of the early presidential elections in Azerbaijan, Ilham Aliyev has given an interview to TASS First Deputy Director General Mikhail Gusman. We have singled out certain excerpts from the interview.

"We fully secure freedom of the press"

Azerbaijan is a country open to the world. We have all democratic institutions and fully secure the freedom of the press. Azerbaijan is a country with free internet and a growing number of internet users (up to 80% of the population). We also fully secure the freedom of assembly and political activity. As an experienced member of the Council of Europe, we have taken it upon ourselves to further democratize our society. I believe we are succeeding in that process with confidence. Naturally, there are still issues that require additional efforts, and we are working on them.

"Azerbaijani army is almost completely re-equipped"

As of this moment, the Azerbaijani army is ranked among 50 the most equipped and combat-ready armies in the world by international experts and organizations. We have practically completed the process of rearmament. Our armed forces are equipped with the latest and the most advanced technological weapons, both defensive and offensive. We purchase weapons from the best producers and those weapons enable us to feel quite confident.

Naturally, you cannot create a strong army just by buying weapons, so we have worked hard to increase the combat readiness of our army and strengthen the discipline. And of course, we organize multiple courses and trainings. They let us see where we still have a room for improvement.

As for purchase of weapons, it will be more selective and concrete, aimed at realization of certain tasks. Azerbaijan produces over a thousand items of military industry, which comply with international standards and reduce our dependence on import by many indicators. It also creates good export potential.

On relationship with Putin

Our personal relationship with President Vladimir Putin is one of the key factors of successful development of the bilateral relations.

We have a very trusting relationship and no subjects we cannot discuss . If something requires our interference, we call each other on the phone or organize a meeting and smooth rough edges that might be caused by our subordinates.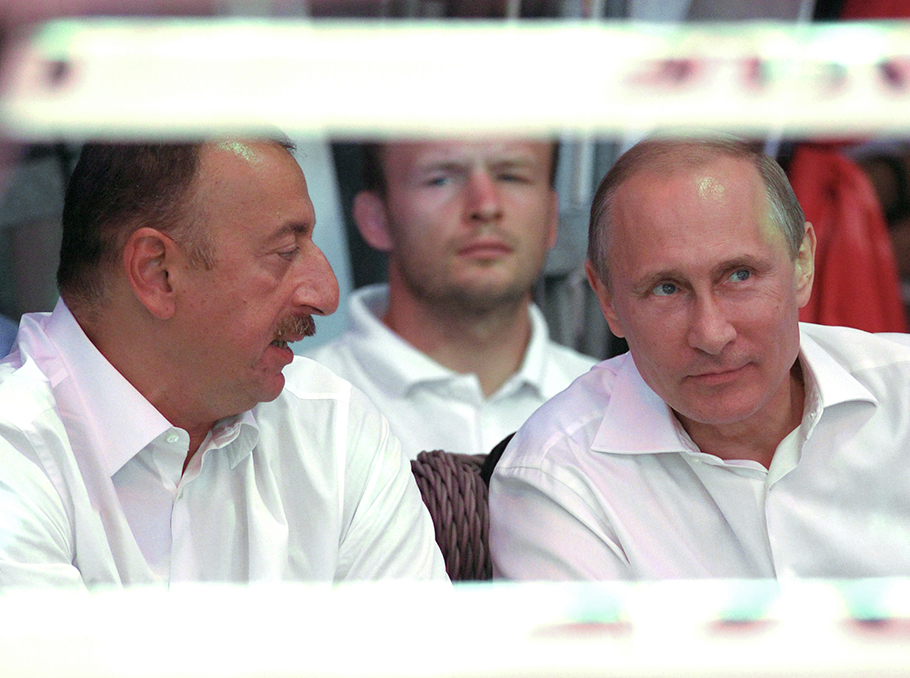 Ilham Aliyev and Vladimir Putin

Photo: REUTERS


It is the most important factor in our bilateral relations, which has played a significant role in interstate cooperation in the past and will play it further. In large parts because of our trusting personal relationship and common understanding of the importance our countries hold for each other, we have managed to take our cooperation to the level of strategic partnership.

On resolution of the Karabakh conflict

The main problem is that Armenia does not want to change the status quo. Armenia makes statements about the desire to hold negotiations, but actually, it is only imitating them. And Armenia does everything to keep things going around in a circle, with no end in sight. That is unacceptable both for Azerbaijan and the international community. For that reason, Armenia needs to begin implementing the resolutions of the UN Security Council and de-occupy the Azerbaijani lands as soon as possible.

Liberation of the Azerbaijani territory is the first step in the stage-by-stage resolution of the conflict.