Yerevan /Mediamax/. Armenian President Serzh Sargsyan has stated that the Comprehensive and Enhanced Partnership Agreement (CEPA) between Armenia and the European Union "opens up new horizons for the bilateral Armenian-French relations".
Serzh Sargsyan voiced that remark in the statement he made after the meeting with French President Emmanuel Macron on January 23.

"A central topic of our discussion was the Comprehensive and Enhanced Partnership Agreement (CEPA), which was signed between Armenia and the European Union in November, 2017. It is a truly ambitious milestone, in the development of which France played a valuable role. Once again I reiterated our appreciation for the support France has provided all the way through the process of developing EU-Armenia relations. Armenia needs the continued support of your country in this matter," said President Sargsyan.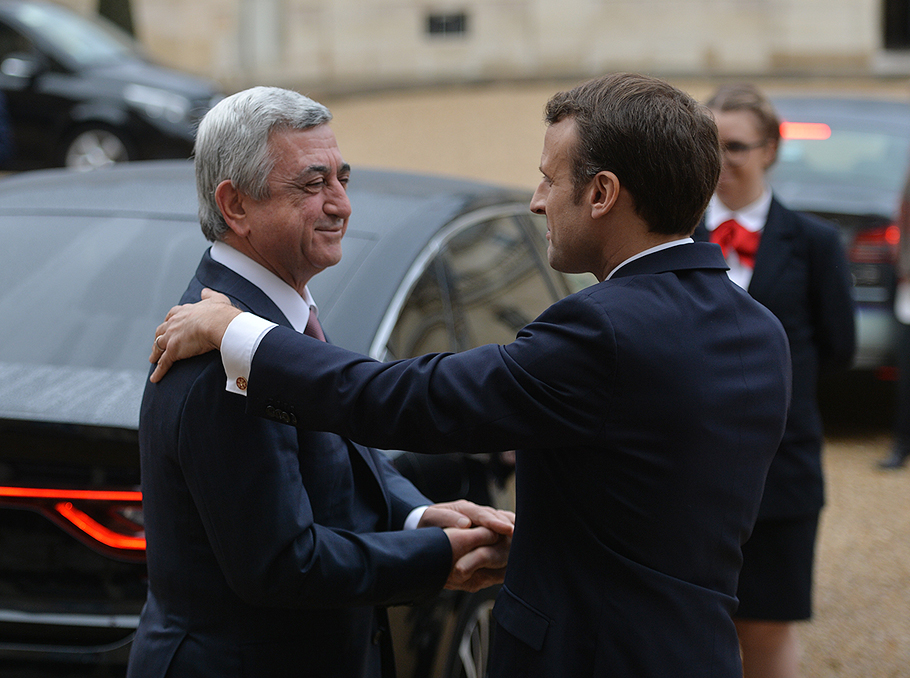 Photo: Press service of the Armenian President


"We discussed with President Macron several issues of mutual interest, and I would like to note with satisfaction that our viewpoints almost coincided on vital issues; in other matters they are very close. By the way, I mean both the bilateral and international agenda. We adhere to the same principles and share the same values," noted the Armenian President.

Serzh Sargsyan also spoke about the Summit of the International Organization of La Francophonie scheduled for October in Armenia, describing it as "an event high on our bilateral agenda".

"We take the challenge with a sense of dignity and will spare no effort to make it a success. I am happy that President Macron reaffirmed his participation in the Summit, which is the key to success. And we have Mr. Macron's endorsement to hold a Francophone Business Forum on the sidelines of the summit," said the President of Armenia.