Theologian, religious studies scholar Soseh Ghazaryan graduated a few weeks ago and hurried to Dilijan to take part in Teach for Armenia's Summer Institute. After an intensive 5-week training Sose will work as a teacher for two years in an Armenian community that's in need of teaching staff. She has little misgivings but doesn't pay them attention. Her goal is more important.

"I realized I could be one of those kids in the remote villages and I would dream that a teacher comes and helps me lean. I know for sure, if each of us makes a small step, we can bring around a lot of change," said Soseh, the future history and social science teacher.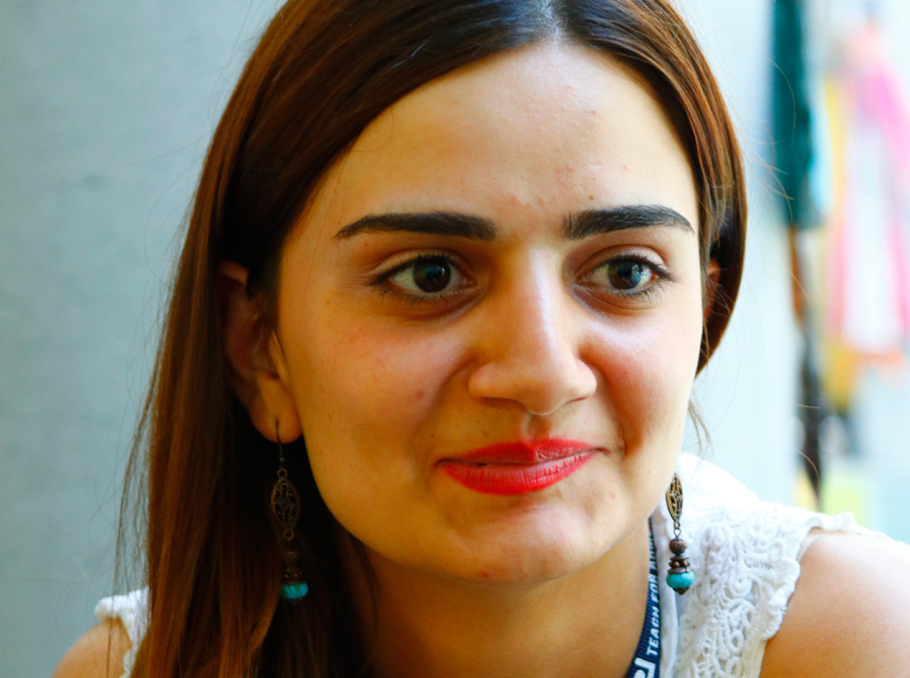 Soseh Ghazaryan

Photo: TFA/Karen Serobyan


More than 500 people applied for Teach for Armenia (TFA) this year to make positive changes in their lives and those of children. The applicants were not only from Armenia, but also from Turkey, Iran, U.S., and Russia. 47 people were selected through several stages, Summer Institute being the final one.

The welcoming ceremony took place at UWC Dilijan College on July 21. The program staff, teachers, heads of partner school, and representatives of the education sector wished good luck to the newly selected specialists in their mission. The event and Teach for Armenia program receive support from UWC Dilijan, Scholae Mundi Armenia, and HSBC Armenia.

The program has signed up participants for the third time. In 2016/17 academic year, 42 teachers worked in 35 schools of 5 marzes. This year Shirak will join Armavir, Aragatsotn, Lori, Gegharkunik, and Tavush on the list of participating marzes.

According to Teach for Armenia CEO Larisa Hovhannisyan, they prefer to increase the number of communities where they operate instead of the number of marzes.

The program had first graduates this year. After two years of work, 14 young teachers completed their mission in the schools where they were needed. They will continue working in the education sector, trying to find solutions for the problems they regularly faced in the schools of remote villages.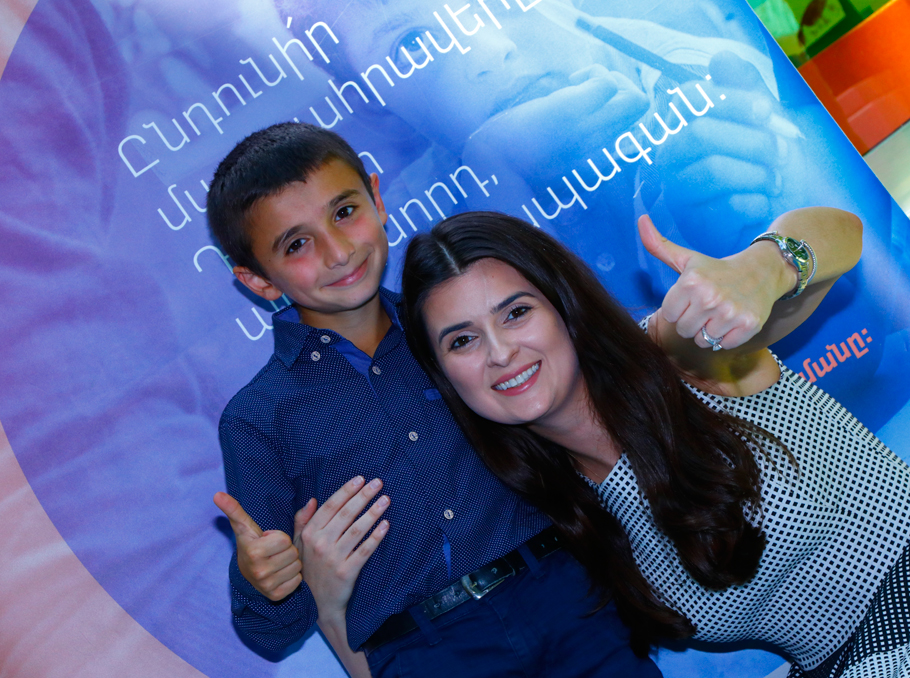 Larisa Hovhannisyan

Photo: TFA/Karen Serobyan


"We don't just select participants for two years, we search for ambassador who will work on changes in our education system throughout their lives. Our program is the beginning. It gives experience to people and they can see what is going on around them, in their country, and what their part is in all of that. We're happy to hear from our 14 graduates that they will stay in this field. Education and education system aren't limited to classroom and school. There are many areas that affect children's education," Larisa Hovhannisian said.

Cooperation with schools is continuous. New teachers will come in the place of the graduates in the same schools so that the program efforts are efficient and the Teach for Armenia participants' reforms and influence on the students' lives are long-term.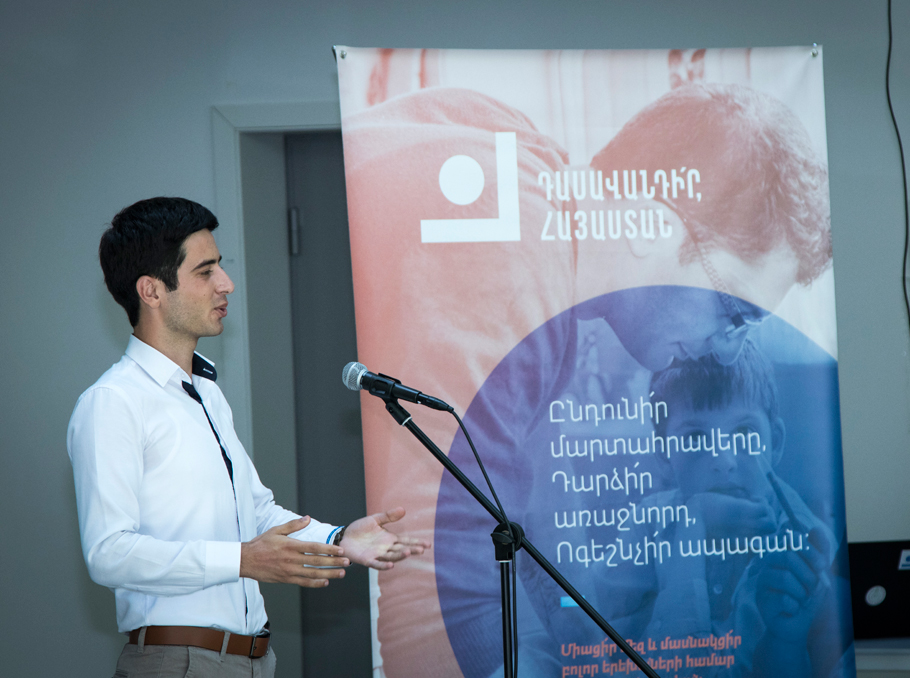 Narek Arzumanyan

Photo: TFA/Karen Serobyan


Narek Arzumanyan, who's been teaching in Zoraghyugh community of Lori marz for a year, told the future teachers it would be difficult, but added:

"You will face challenges in the schools that will make your think and will toughen you up. You will overcome every difficulty by willpower and loyalty to your mission, you will feel the love and respect from pupils and your colleagues. When you notice how each student's grown and how much you changed in their lives, you'll feel happiness that will inspire you to more ideas."

Member of Teach for Armenia Board of Trustees, Orran Charitable NGO founder Armine Hovhannisian also spoke about the inexplicable phenomenon of gaining more by giving.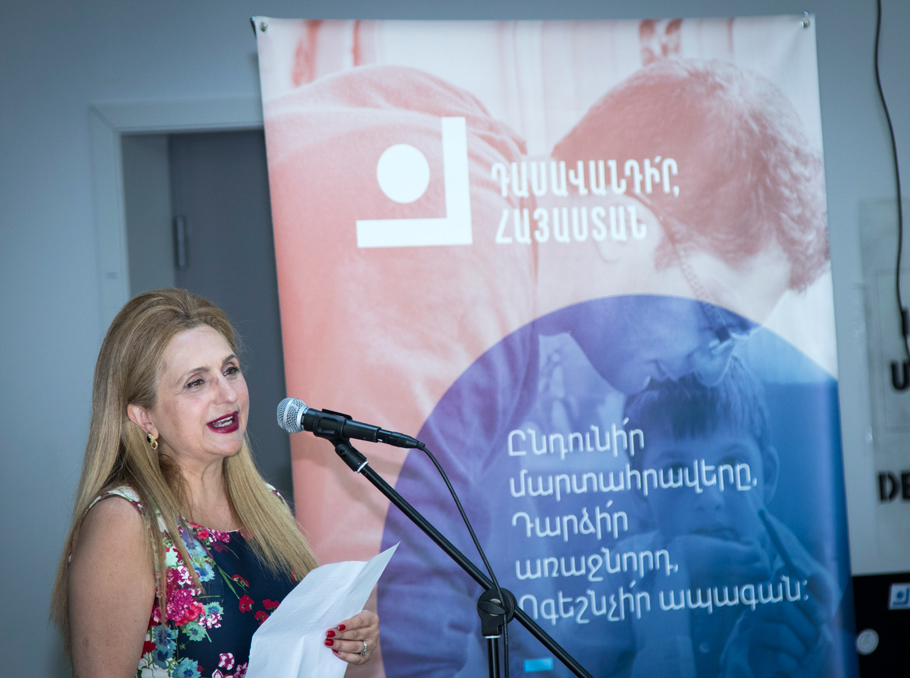 Armine Hovhannisian

Photo: TFA/Karen Serobyan


"In the next two years, you will pass down to new generations the worship of education and give them the chance to dream big. You will show them the joy of self-establishment, inspire them to have hope and faith in humanity and kindness. When we meet two years later in this same place to celebrate your graduation, you will realize that something wonderful happened and an unknown force multiplied your efforts and gave it all back to you. That's when you'll see this long journey is your journey."

The participants don't know yet in which marzes they will work. Andranik Manukyan, who taught at Armenian State Institute of Physical Culture and a kindergarten, is especially fascinated with the idea of working in remote communities.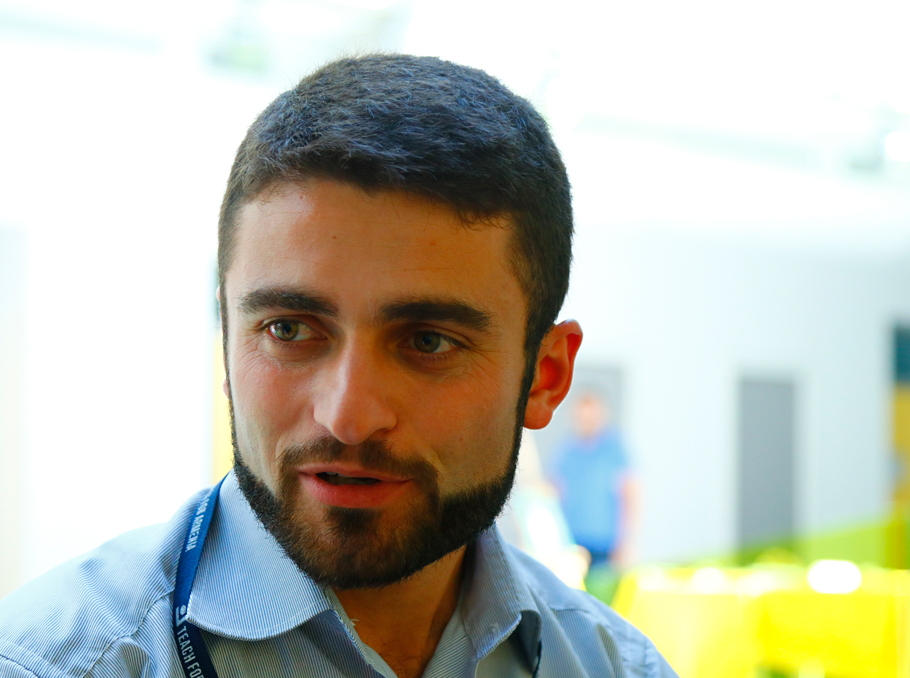 Andranik Manukyan

Photo: TFA/Karen Serobyan


"A moment comes in life when you realize you're not doing everything you can and want. You feel that the urban environment is foreign to you and you long to live in countryside. I visited borderline villages with many initiatives, I saw how people live there and realized I had to think about not going there and saving someone, but becoming a part of some good cause."

Lusine Gharibyan