All children, regardless of where they were born, a well-developed city or a disadvantaged, socio-economically challenged village, have the right to attain an excellent education. Many of Armenia's rural communities, however, face severe shortages of teachers for many years at a time. It is common to see one teacher teaching several subjects, where at times some subjects are left out of the curriculum entirely.

Teach For Armenia is a two-year leadership development program for graduates and top professionals who speak Armenian and are willing to change not only their lives but also the lives of children living in Armenia. After training at Summer Institute, an intensive and rigorous five-week training program for Teach For Armenia Fellows, the Fellows are being placed for two years in communities where there is a need for teachers. Fellows not only contribute to the development of children's personal growth and academic knowledge, but also to the development of the communities through extracurricular and community development projects. Currently, the 42 participants of the program teach in 35 partner schools across five regions.

Who are these young people who are not afraid of change and difficulties who leave their comfort zones for the greater good, all to inspire children to discover their talents and realize their dreams, while inspiring the future generations.

Through the support of VivaCell-MTS, Mediamax and Teach For Armenia have launched a new project to shed light on the work and life of Fellows serving students in the most underserved communities of Armenia.

Students from Lori region's Dzoragyugh community never miss a chance to express their love and kindness towards their 22-year old teacher. Narek Arzumanyan, a European Academy honors graduate with a degree in international affairs, has lived in Dzoragyugh for just 8 months, but everyone in the community has become very well acquainted with the teacher who has moved to their village.

Everybody was sure that Narek would continue his education to get a Master's degree and will have a very promissing future as a diplomat. But Narek's decision was very unexpected even for himself. "On the first of September when I entered the school, then to the teacher's room, holding a school journal in my hands, I thought - is this me?"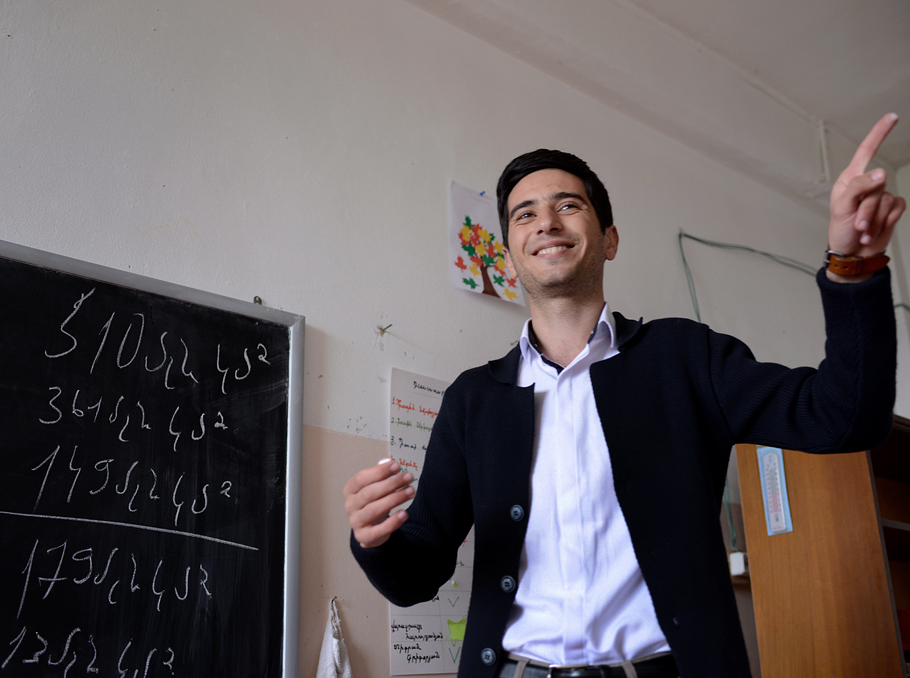 Narek Arzumanyan

Photo: Vaghinak Ghazaryan/Mediamax


Narek found out about Teach For Armenia's Fellowship by chance. An announcement that the Fellowship is for those who are interested in doing their part to ensure children in Armenia have access to a great education, Narek was immediately inspired to contribute! He applied for the Fellowship just a few days before the final application deadline. Fast-forward to August of 2016 Narek did his best to do online research to learn about his new placement village of Dzoragyugh, but to no luck. The village wasn't to be found on the internet! That's why after moving to his new home, Narek added Dzoragyughinto the Wikipedia database.

There are a total of 34 students in Dzoragyugh's school! Narek teaches Geography, Technology and "Me and the surrounding world" to 30 of the 34 students. He is also a home room teacher to 4 students.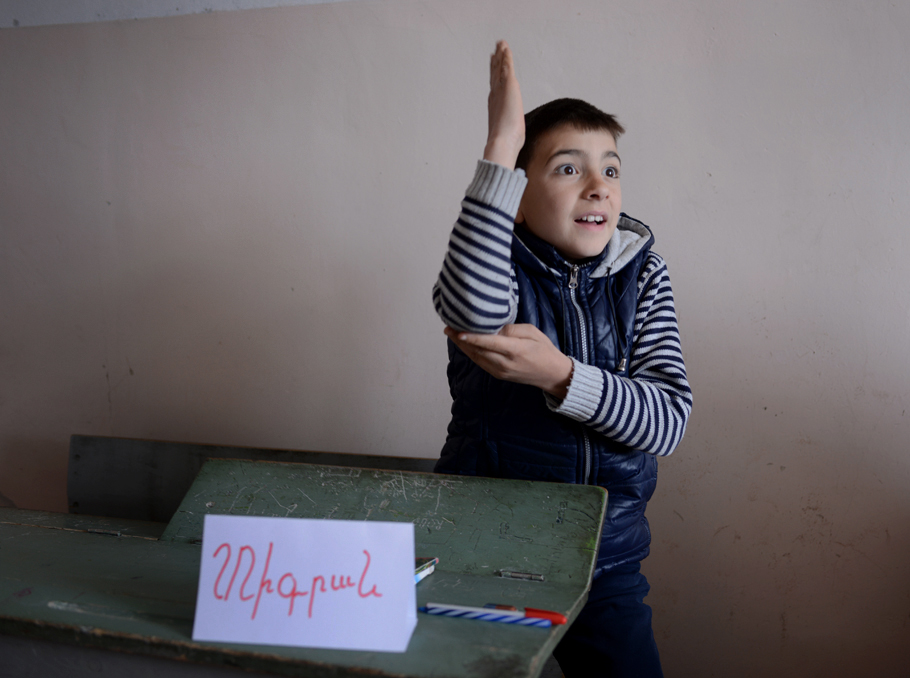 Photo: Vaghinak Ghazaryan/Mediamax


"First time when I entered the classroom I said, children, from now on I am your home room teacher! They were looking at me very suprised and asked "you moved from Yerevan to stay in our village"? We introduced ourselves to one another and then one of my students said that he wants to sing a song and started to sing a very beautiful Armenian song which is about a person who flies away to his home in his mind. I was very sad for a moment and then realized again that I have to stay here, with these children, we have to change someting together!".

Narek is from Armavir region's Arevshat village. He has a big family and is the youngest sibling – a favorite of the family and always in the spotlight. Narek's move to Dzoragyugh was tough for both narek and for his family. New environment, new job, very different lifestyle and mentality. There were many problems. There were no available houses in the village, there were no basic living conditions. The only option was Hranush grandma's and Rafik grandpa's house who were thinking about leaving their house behind for Russia.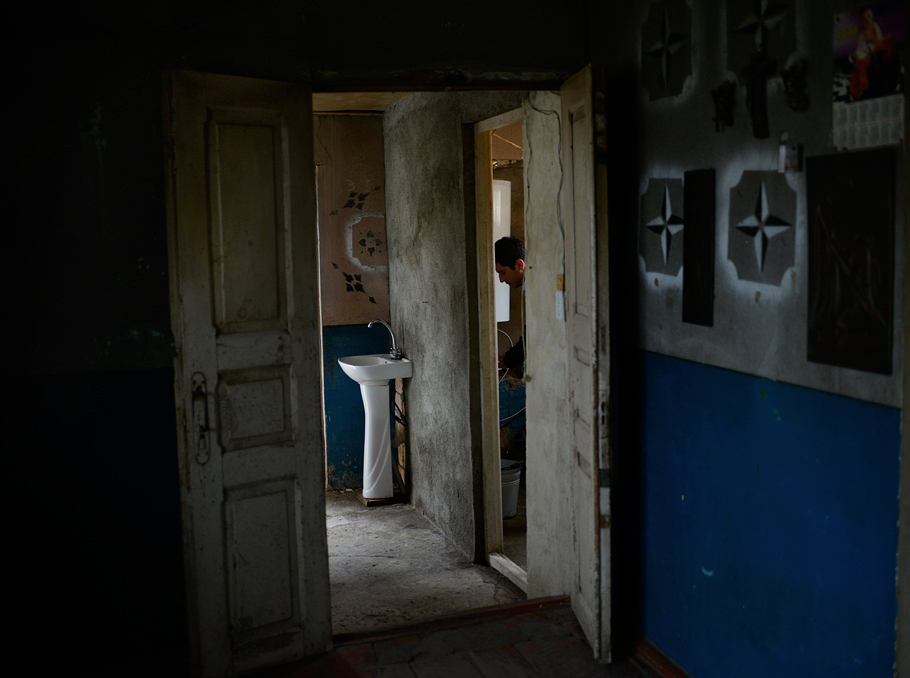 Photo: Vaghinak Ghazaryan/Mediamax


"People from the village told them about me and they said, let him come, if we love him, we'll give our house to him. I was thinking about how to behave, what to do, so they can like me. I went to their house, Hranush grandma was washing her dishes, I said "hi, how are you?" When I smiled she said, I think you are my grandson's age (her grandson lives in Russia), she came up to me and hugged me. Then continued "How can I not provide my house to such a handsome and kind young man".

"Technical issues were a problem for me. Filling in a school journal was difficult. I think I wasted about ten pages trying to figure out how to fill it out correctly for just 4 students. I always went to the head teacher and she would immediatley know that I have filled it out incorrectly agai."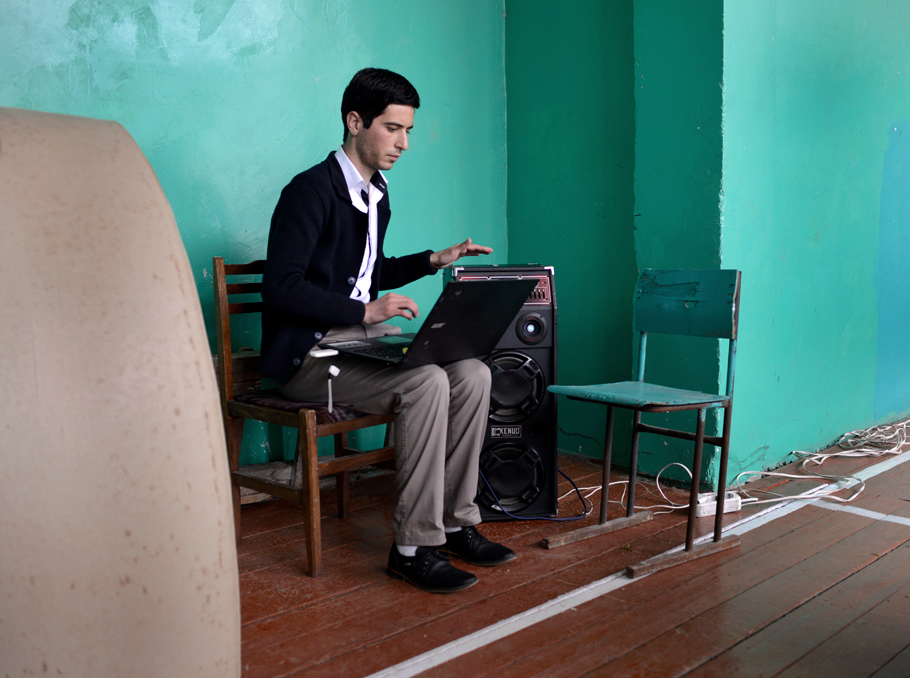 Narek Arzumanyan

Photo: Vaghinak Ghazaryan/Mediamax


Narek told his students a very important secret: teachers learn from teaching. And he came to them to learn more from them. They have to forget about their grades. They are going to learn by playing, watching movies, and discussions. Narek is trying to break the stereotype that pedagogy is only a role for females – "I think it's very important for boys to have a male teacher, to have him as a role model.

Narek says that children were very ashamed to express their own opinion, but now they even have debates, they are trying to understand why it's important to explore different topics. Narek's dream came true in Dzoragyugh. He opened a theatre club where they have already held a performance, based on Tumanyan's four fairytales.
5]
"The children were just perfect. After the performance parents and teachers were so suprised, they couldn't believe that the children on stage were theirs. Nobody had any clue that Manvel and Araksya could sing that well."



Now they even do improvisations. Three children from our club decided to become actors. Our theatre club has been invited for performances to neighboring villages, the first one was to Debed. The next stop is in Armavir. But first we have to "earn" that trip.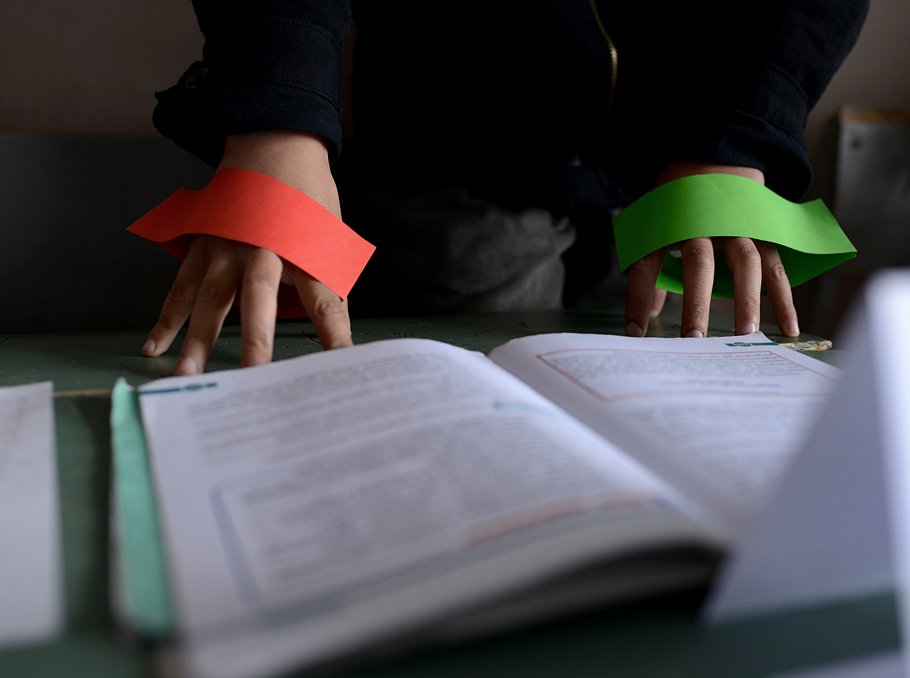 Photo: Vaghinak Ghazaryan/Mediamax


Children from Narek's home room class always look forward to the end of the lesson so Mr. Arzumanyan would open the "satisfaction" envelope. He writes down his feedback about his students, specifically about their behaviour and academic achievements, and puts this feedback into an envelope. After each positive feedback, students get encouraging handwritten cards from Mr. Arzumanyan. The more cards they collect, the greater likelihood of their tour to the Armavir region, where they will have the chance to perform and even watch a play!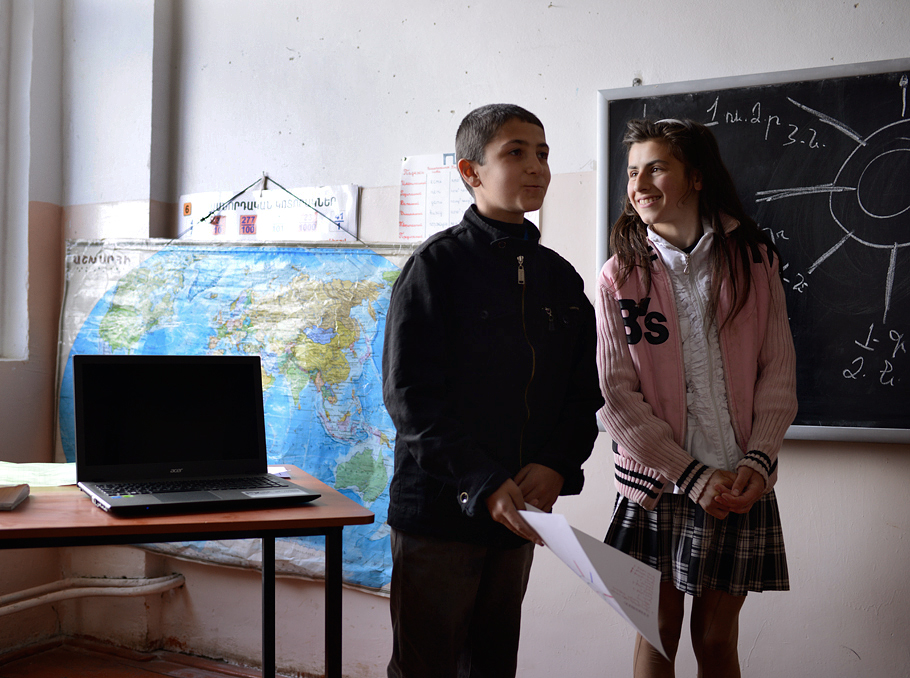 Photo: Vaghinak Ghazaryan/Mediamax


You can find several of these envelopes in the hallways of the school, they are all part of a larger "20 days of Kindness" poster campaign, whereby students have to do as many acts of kidness as possible and then write about them. There is still time, but the envelopes are already loaded with different stories of kindness.



"On April 13, I helped Mr. Arzumanyan in making a poster."

"I gave willow branches to my classmates."

"I showed the road to Dzoragyugh to a stranger."

"On April 13, I reminded to one of my classmates that he has to write a paper about water."

The results will be summed up and the best classroom and student will be chosen. Everyone gets a gift, but the winners will get a special prize!

Narek has a Turkish language learning club as well. Children have already learned how to compose simple sentences, ask and answer basic questions. They are very excited with the opportunity of learning a new language which could open new doors for them in the future.



Narek is very busy with his work, usually he doesn't go to his hometown during the weekends, he prefers to stay in Dzoragyugh.
"Now when my friends call me, I tell them that I will call back. I hang up the phone and only the next day remember that I promised to call them back."

Narek talks about his aspirations and how he will acheive all of his dreams – for a moment you forget that he is just 22-years old.

"I go from house to house in our village and tell people that I am a new teacher in their community, and if they would have me as a guest. Visits like this help me very much to understand what are the needs and conditions of children living in the community I serve. Relationships are gradually built. Now teachers invite me to their houses for dinner. I accept their invitations with love, they treat me as a family member. My students invite me as well. Now when I leave the school to head home, I have trouble finding a path that nobody will see me and invite to his house. Often I am so involved with work that I have to say, let's keep it for Saturday or Sunday, and I go, I never lie to them."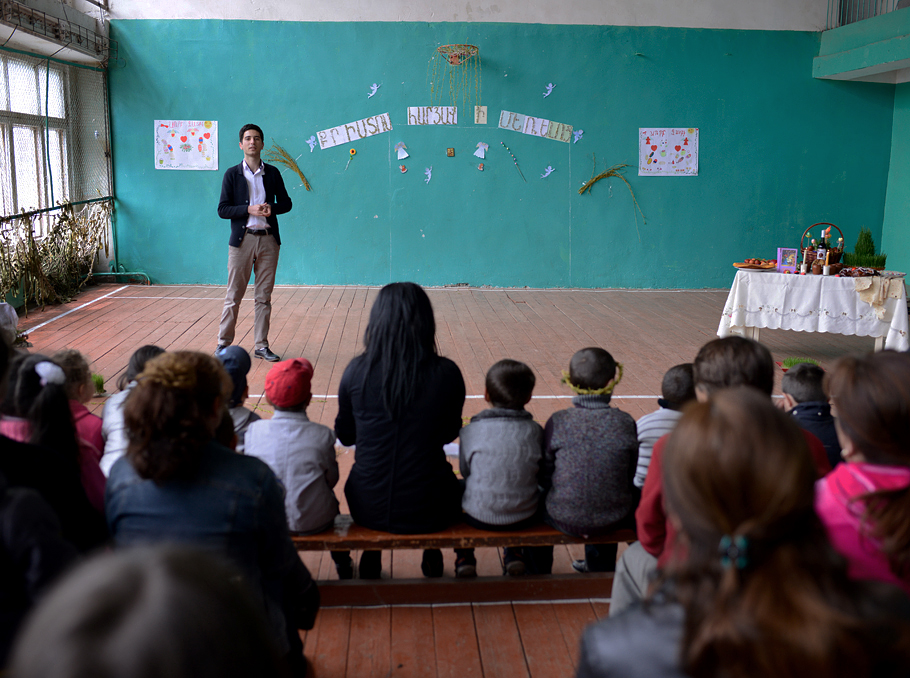 Photo: Vaghinak Ghazaryan/Mediamax


Living conditions are not easy, but when Narek thinks about his students and that they live in the same conditions he is able to overcome all obsticales. Disappointments disappear very quickly when he remembers why he came to Dzoragyugh in the first lace.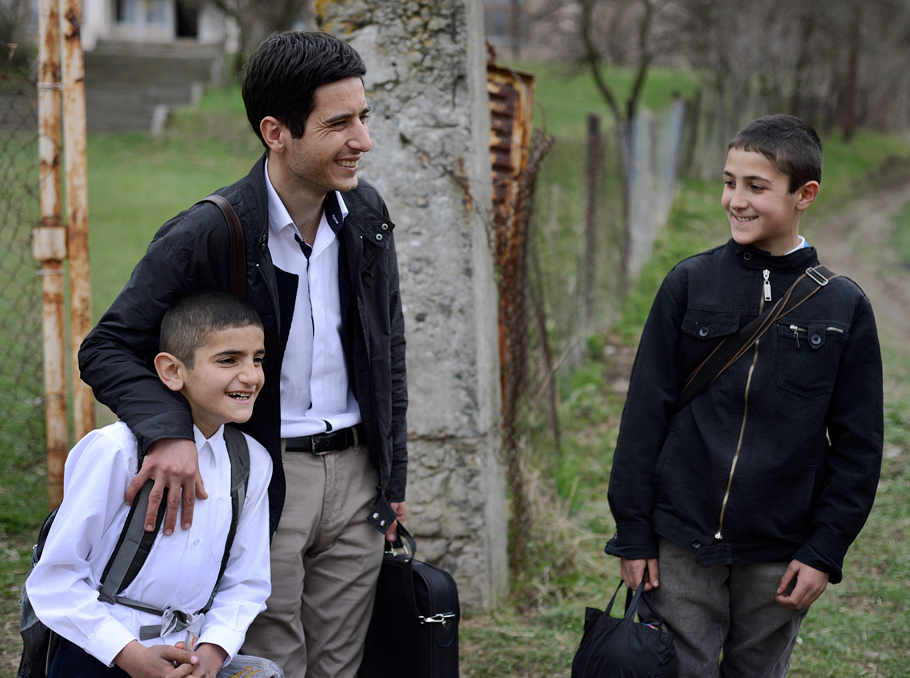 Photo: Vaghinak Ghazaryan/Mediamax


Narek is convinced that all children are talented and have huge potential, we just need to unlock it. He has learned what it means to be pure and honest. They have also taught him how to do practical things such lighting a wooden stove.

"When I was new to this village, I didn't understand their dialect. I have a notebook where I write down everything that the children say. They know about it and say: "Today we have decided to add a new word to your notebook, for example the word "drlon". It's a type of a pigeon which has green wings, there are many of them in your garden".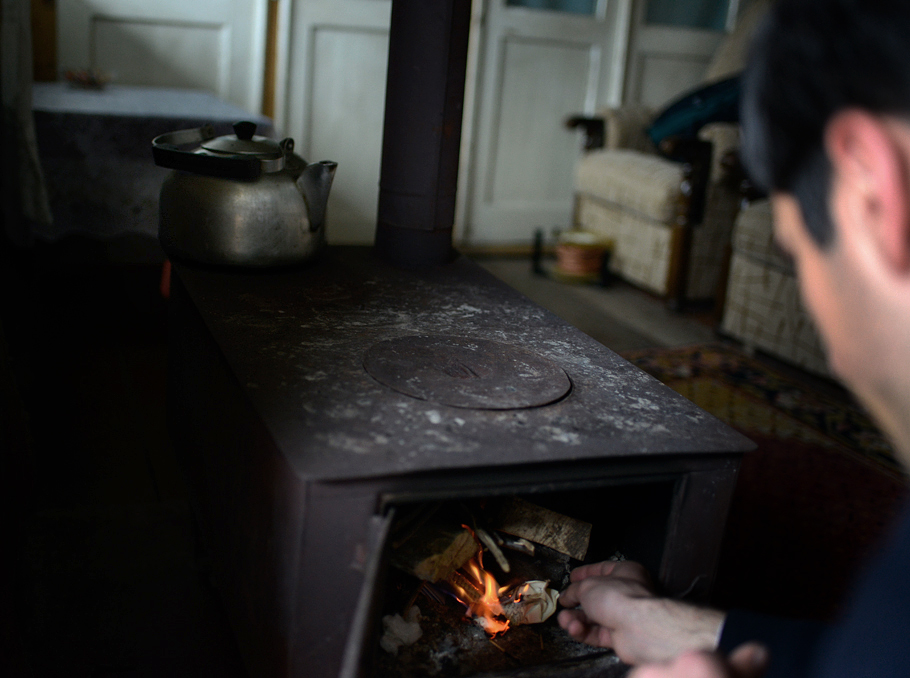 Photo: Vaghinak Ghazaryan/Mediamax


Narek says that he was able to overcome all the challenges thrown his way with the help of his Teach For Armenia Mentor. As a Teach For Armenia Fellow you have the opportunity to get a pedagogical degree if you are not a specialist in this field. But even without having a pedigogical degree Narek understood that you have to dedicate yourself to the fullest to be a successfull teacher.

"We have to start from a village, because in villages people are very pure, simple, they have things to learn, they are very open for learning new things and they have a need to learn more".

Narek doesn't imagine what he's going to do after two years when he finishes the Fellowship and will have to leave Dzoragyugh. He says that village community is already thinking of ways to keep him here.

"They say that they will find me a wife. I tell them that I don't want to get married, it's too early for me, my mission is to serve your children."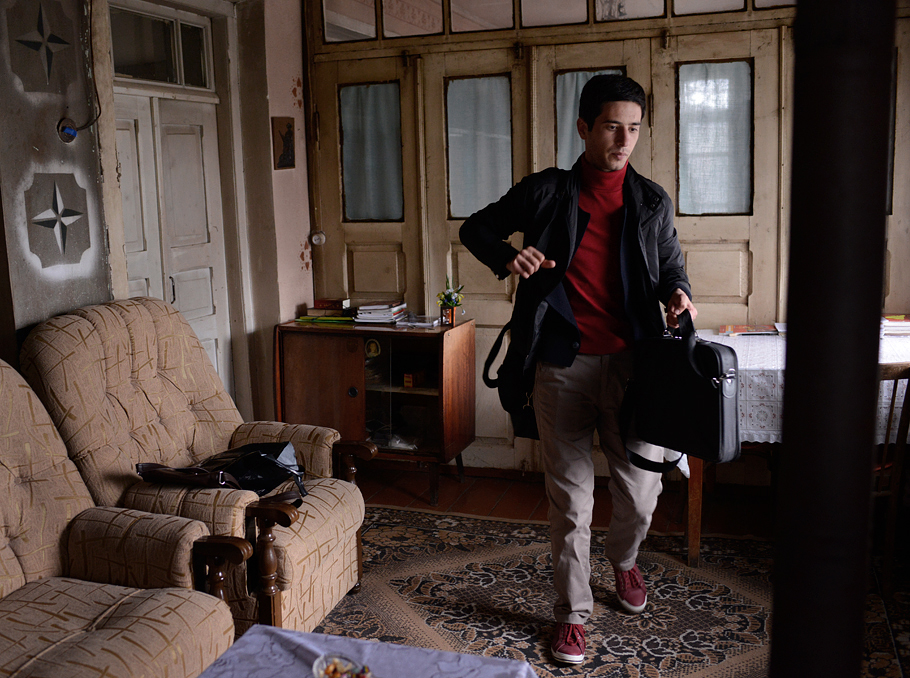 Photo: Vaghinak Ghazaryan/Mediamax


When Narek leaves the village during the weekend of holidays the entire community is aware and they even know when he will be back. They call him to let him know that there is somebody who is coming to the village from Vanadzor and can pick him.

When Narek goes home, they don't let him go with "empty hands", they give him milk, yogurt, fresh greens from their garden.

Lusine Gharibyan

Photos and videos by Vaghinak Ghazaryan (for Mediamax)

VivaCell-MTS is the general partner of the project.