Since Serj Tankian follows the developments in Armenia and some expect him to become their full-fledged participant, we have dedicated the new Key edition to the System of a Down frontman.
1. Have Serj Tankian and Serzh Sargsyan ever met?
Yes, they have. Their first and so far only meeting took place in August 2011 at the newly opened Tumo Center for Creative Technologies.
The Armenian presidential press service issued a press release for the meeting, quoting Tankian's words that a System of a Down concert might take place in Armenia soon.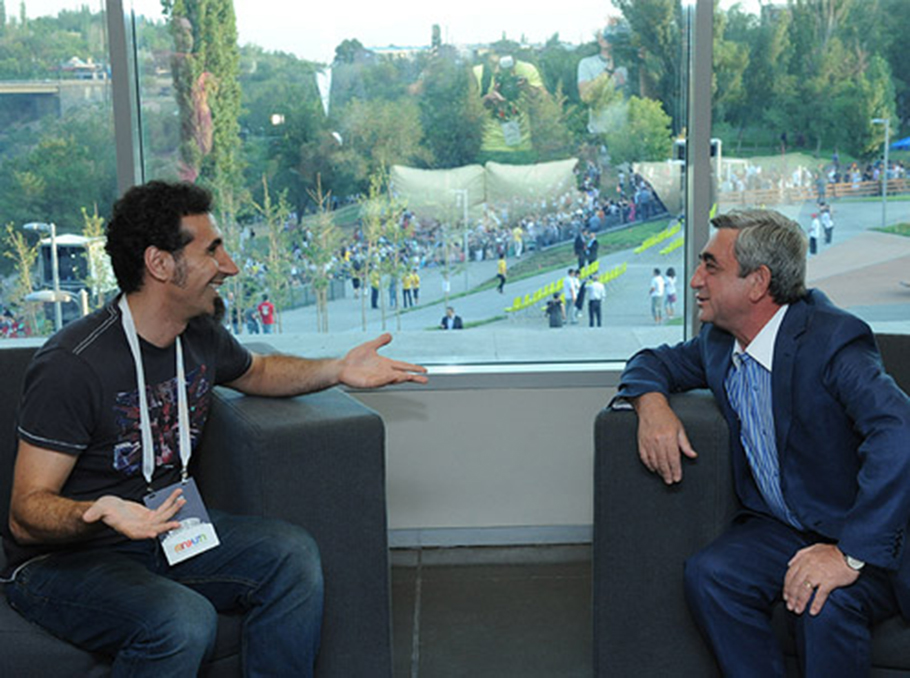 Photo: Press service of the Armenian President
"The head of the state has wished Serj Tankian further success in his career and thanked Mr Tankian for his actions that benefit Armenia," reads the press release.
The System of a Down concert was held four years later, on 23 April 2015.
2. What is in Tankian-Sargsyan correspondence?
We have gathered all details about the Tankian-Sargsyan correspondence that started after the 2013 presidential elections in Armenia in this article.
3. What have Tankian stated about the political situation in Armenia?
Serj Tankian reacted to the movement #ElectricYerevan in June 2015. He noted that Armenia's civic society was burgeoning and "previous successful campaigns at peaceful civic disobedience against unjust programs like the rate hike in public transportation have born fruit".
In December 2013 Tankian commented on the events unfolding in Ukraine and mentioned Armenia in his statement as well.
"Ukraine, along with Armenia and all former Soviet Republics deserve the dignity of true independence not just from the Russian sphere of influence but also from Western tactical and market manipulation."
4. What is the song Tankian dedicated "to all those in Armenia who fight for positive change"?
In March 2013, Serj Tankian announced that he recorded "Garun a" ("It is springtime") by Komitas jointly with pianist Tigran Hamasyan.
"I want to dedicate it to all those in Armenia fighting for positive change," added Tankian.
5. Which politician has Tankian endorsed?
On 1 October 2012, Civilitas Foundation's Honorary Board members Serj Tankian and Atom Egoyan issued statements on Vartan Oskanyan's case.
"The persecution of Vartan Oskanian, former foreign minister of Armenia, is clearly politically motivated," noted Serj Tankian in his statement.
6. Which award did Tankian receive from Armenia?
In August 2011, Armenian Prime Minister Tigran Sargsyan awarded Serj Tankian the Prime Minister's Medal "for significant personal contribution to the cause of Genocide recognition and worldwide advocacy of rock music".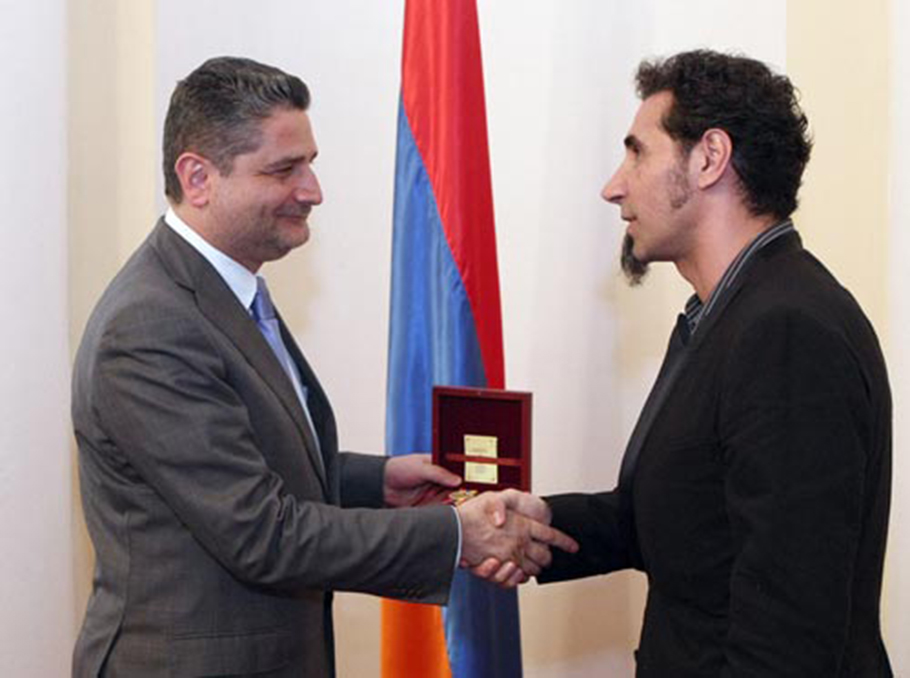 Photo: Press service of the Armenian government
7. What did Tankian say about the situation on Artsakh-Azerbaijan border?
In August 2014, Serj Tankian shared his support for installment of the mechanism of international investigation of the incidents occurring on the Line of Contact between Artsakh and Azerbaijan. In that context, he quoted Armenian Foreign Minister Edward Nalbandian:
"By rejecting the proposals of the international community on the establishment of a mechanism of investigation of incidents, Azerbaijan is assuming the whole responsibility for the ceasefire violations."
According to the musician, "as long as there is no lasting peace agreement on Nagorno-Karabakh, Armenia and Azerbaijan will both remain militarily and financially constrained and fall deeper into corruptive political practices subservient to one superpower or another".
8. What is the connection between Tankian and Justice Within Armenia?
In September 2016, Serj Tankian, Armenian-Canadian actress and producer Arsinee Khanjian, and director Atom Egoyan started the Justice Within Armenia initiative aimed at facilitating democratic changes in Armenia.
The same year Serj Tankian said at the discussion of further actions of the initiative:
"Drawing Armenian Diaspora's attention to the developments in Armenia is our greatest challenge now." When asked if the initiative could organize new concerts with calls for consolidation, Serj Tankian answered, "Everything is possible. We should do something; inspiration is necessary."
9. When was Tankian's last visit to Armenia?
Serj Tankian, Atom Egoyan and Arsinee Khanjian last visited Armenia in early April 2017 to conduct an observation mission in the parliamentary elections.
While in Yerevan, Tankian said:
"Now more than ever the Armenian people need to realize the importance of their votes. We have come here to call on the Armenian people to realize the importance of their voices. With this step we intend to fight against injustice in Armenia. We need to tackle people's indifferent attitude towards injustice in this country. "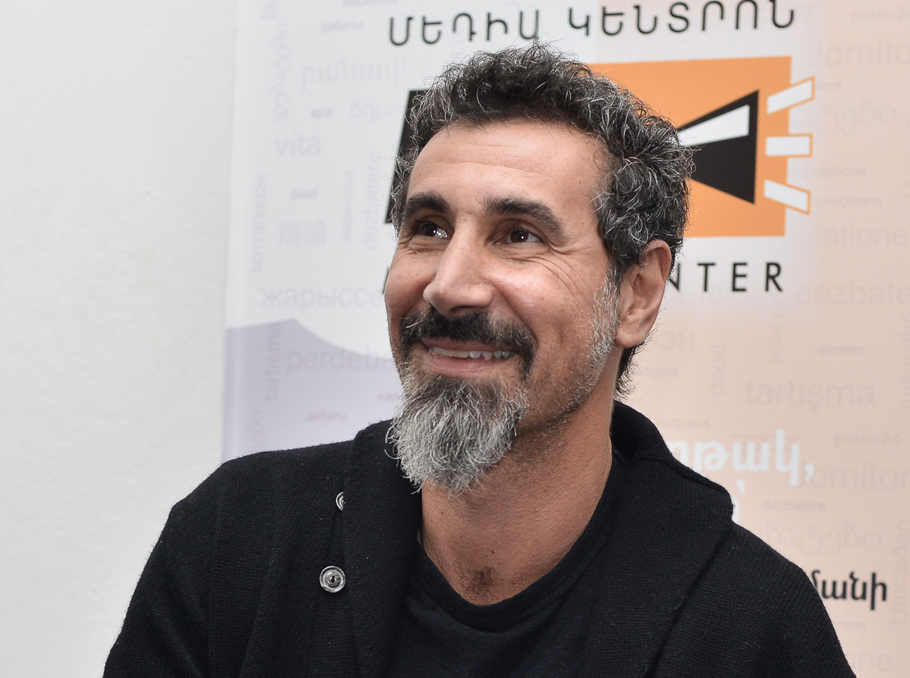 Serj Tankian
Serj Tankian, Atom Egoyan, Arsinee Khanjian and Eric Nazarian visited Artsakh as well in April 2017 and urged all people of arts worldwide to "visit Artsakh and become partners of peace and solidarity".
They stressed that "thousands of children and young people in Artsakh are deprived of the right to create, as the country remains blocked off and the ceasefire is fragile".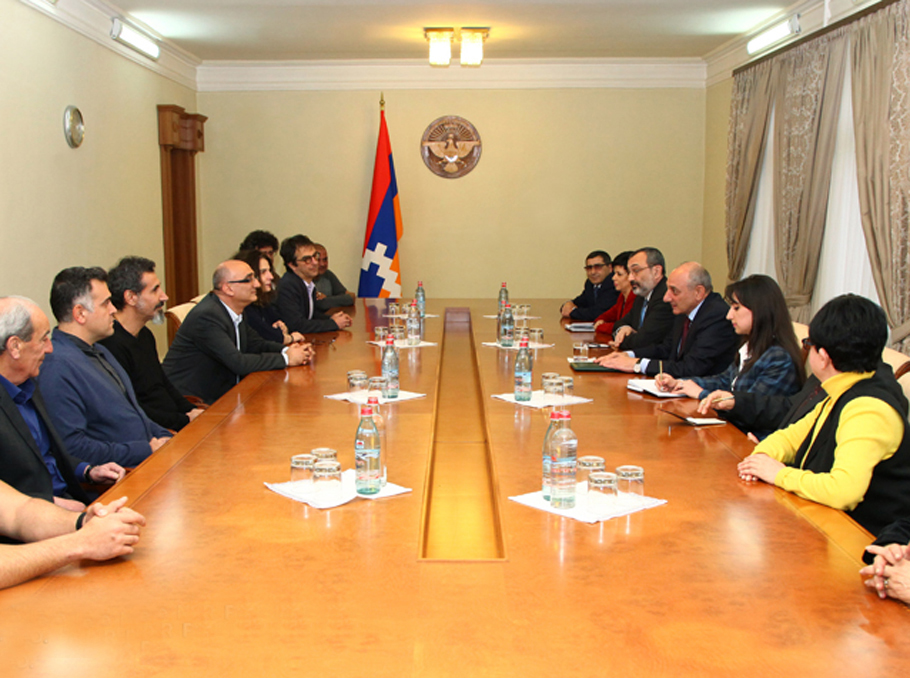 Photo: Press service of the NKR President
10. What is behind Tankian's dislike for Monsanto?
Serj Tankian urged Armenia to "stay free and clear" of Monsanto in autumn 2017, an international leader in plant biotechnologies.
"There is ample proof that Monsanto's sprays have poisoned our environment contributing drastically to dying off of bees. Their predatory genetically modified products spell the end of pure organic food. Above all Monsanto is known as an evil corporation here in the U.S. and Europe for all their practices," warned Tankian.
11. Which of Tankian's ideas is still waiting for an update?
In June 2017, Tankian announced he wanted to set up an international music festival in Armenia.
He expressed the hope that Armenia could be integrated into the European summer festival circuit with touring bands carrying on to Yerevan. "I've always dreamed of setting up an international music festival in Armenia," said Tankian.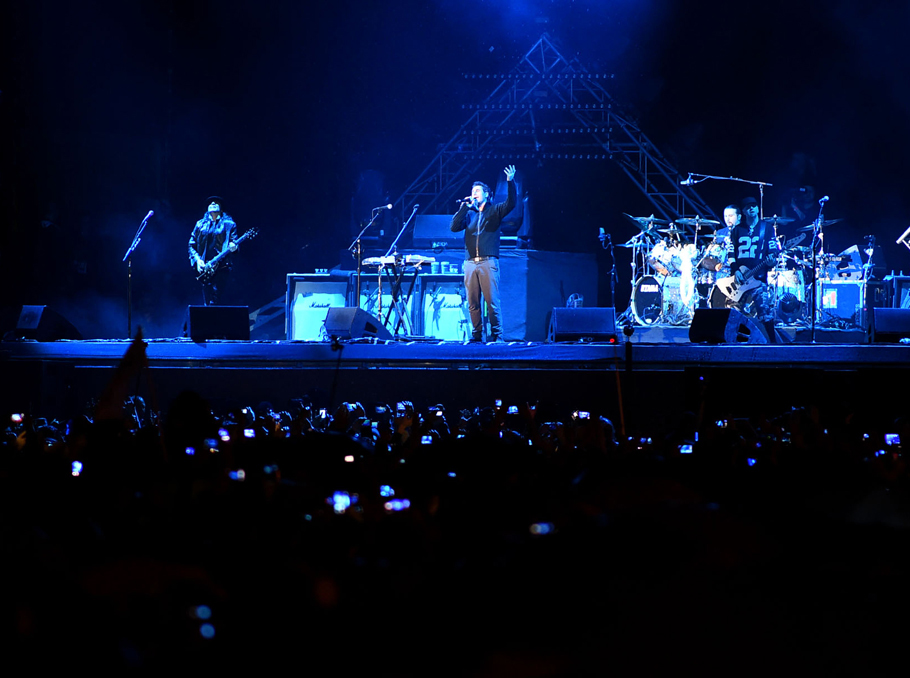 12. Why does Tankian hate headlines?
"Everyone's looking for headlines. I hate that. I hate when they take something and they just go with it. Don't take an interview that was translated from Russian from five months ago on the set of a film without checking," Serj Tankian said in the interview to Rolling Stone in December 2017.
Ara Tadevosyan