Yerevan/Mediamax/. Artsakh has held a public rally dedicated to the 30th anniversary of the Artsakh National Liberation Movement at Revival Square in Stepanakert today.
President of Artsakh Bako Sahakyan has delivered a speech at the event. We present to you certain excerpts from the speech.

The year of 1988

"The year of 1988 was a turning point in the history of the Armenian nation. Three decades ago these days, the entire Armenian nation united and became one force, alerting the whole world of their readiness to struggle for a free and secure life in their homeland.

This nationwide outburst was a dare given to tyranny, persecutions, gross violations and abuses of human rights, and to all scourges, which our people had undergone over the course of their centuries-old history. And the movement was wreathed with restoration of the independent Armenian statehood.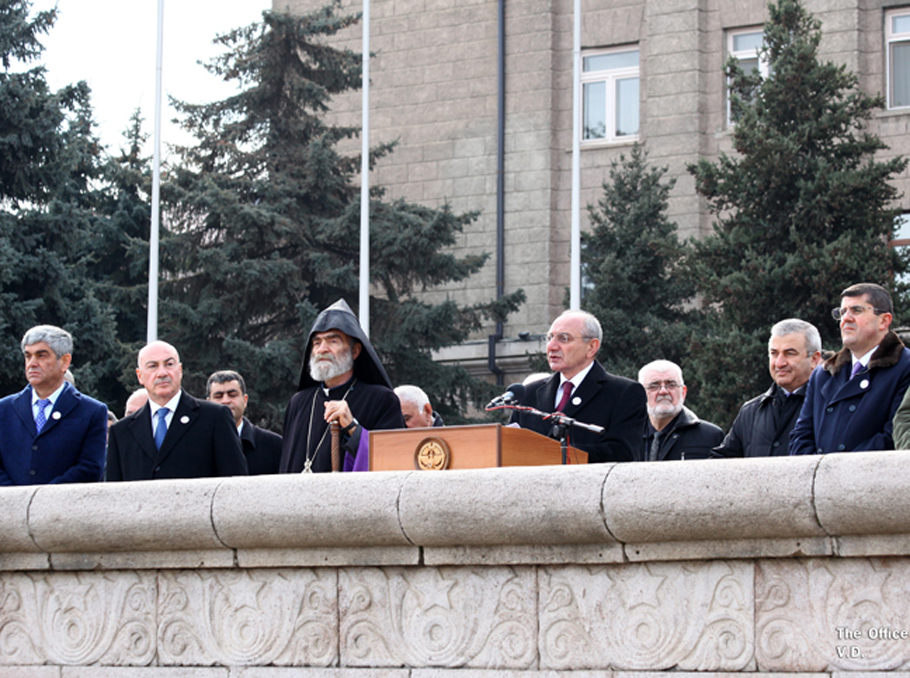 We had no alternative and never reconciled with captivity, making numerous attempts to throw off the foreign yoke of Azerbaijan. It is worth quoting world-renowned academician Andrei Sakharov, who stated that for the Armenians the struggle for Artsakh was a matter of life and death, while for Azerbaijan – just a matter of ambition."

An exceptional example of national movement and the retaliation

"The Artsakh Movement is an exceptional example of national liberation struggles with the policy of restoring historical justice and violated human rights through civilized and peaceful means, in strict compliance with international norms and rules.

The response of the Azerbaijani authorities was to once again resort to violence without hesitation. They organized mass killings, massacres, and displacement of the Armenian civilian population, which became the manifestations of the most detestable crimes against humanity.

As a result of this genocidal policy, hundreds of thousands of Armenians were forcibly displaced from their homes and various regions of our historical homeland, thousands of people perished or were wounded, and the rich material and spiritual heritage of the Armenian culture was destroyed in the territory of the present-day Republic of Azerbaijan."

Azerbaijan still pursues the same policies

"The Baku authorities have not abrogated the aim of solving the Artsakh issue by force, resorting to different provocations, violating the ceasefire regime on a daily basis, and conducting aggressive policy against Artsakh and the Republic of Armenia in information, political, diplomatic and other spheres. Moreover, by launching the large-scale offensive in April 2016, Azerbaijan planned to destroy the Artsakh statehood via a blitzkrieg.

All those endeavors failed and the adversary was rebuffed, suffering serious casualties, material and moral losses. It always has been like that, so it will be in the future too.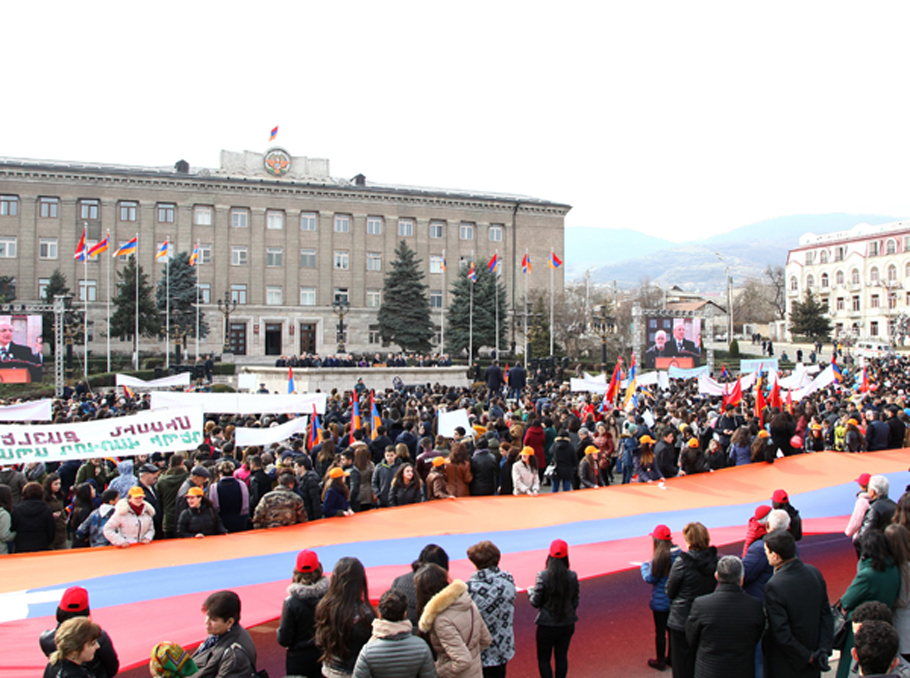 We have as the guarantors are our strong army, the unshakable trinity of Armenia-Artsakh-Diaspora, our people carving their country's secure future on their own, as well as the patriotic and strong generation of the years of independence, which is forged in defense of the motherland."

The martyred heroes

"The Defense Army and the Armenian Armed Forces are among the greatest achievements of our National Liberation Movement and independent statehood, the most reliable guarantee of security and natural development of our people and homeland, and one of the most influential factors of maintaining peace and stability in the region.

The state will further on do everything possible to strengthen the country's defense capacity, secure the high level of our armed forces' combat readiness, and provide the army with modern military equipment. In this struggle for survival, unfortunately, we have had irretrievable losses. The best sons and daughters of our people sacrificed their lives for the sacred mission of defending the motherland. They are not victims, but martyred heroes who have become immortal and carry one the sacred defense of the motherland, inspiring and obliging others to devotedly serve the homeland, work for the sake of its development and strengthening.

The adversary must always know that speaking the language of force to us is doomed to fail. Our people, army and the entire Armenian nation will give a worthy counterstroke to every encroachment that threatens our freedom and security."