Yerevan /Mediamax/. Today in Strasbourg, Armenian President Serzh Sargsyan has stated that "the time is ripe for the resolution of this [Nagorno-Karabakh] conflict."
"It requires strictly adhering to the established ceasefire regime and honoring all the agreements reached in the past. Settlement must be peaceful and must overcome the deficit of justice," said President Sargsyan.

According to him, the commitment undertaken by Armenia and Azerbaijan requires a joint and concerted effort of all the parties to the conflict.

"However, Azerbaijan is obviously not ready for it. The aggression that Azerbaijan unleashed against Artsakh in April 2016 was characterized by egregious violations of the international humanitarian law against the peaceful civilians and prisoners of war. It struck a heavy blow upon the negotiation process by reawakening dreadful memories of the Sumgait massacres," noted Serzh Sargsyan.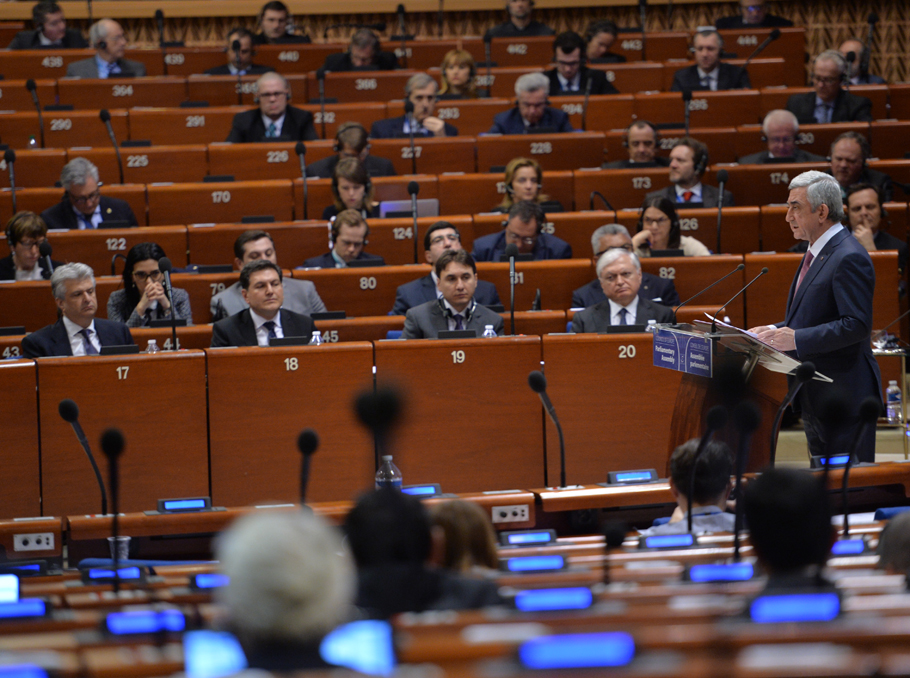 Photo: Press service of the Armenian President


He expressed the hope that in the not-too-distant future, PACE would stand by Artsakh too:

"A person living in Artsakh deserves it; the people of Artsakh have long earned this right."

The Armenian President also remarked that unfortunately, PACE had at times allowed developments that "drew water to the mill of those who are not interested in peaceful settlement of the conflict".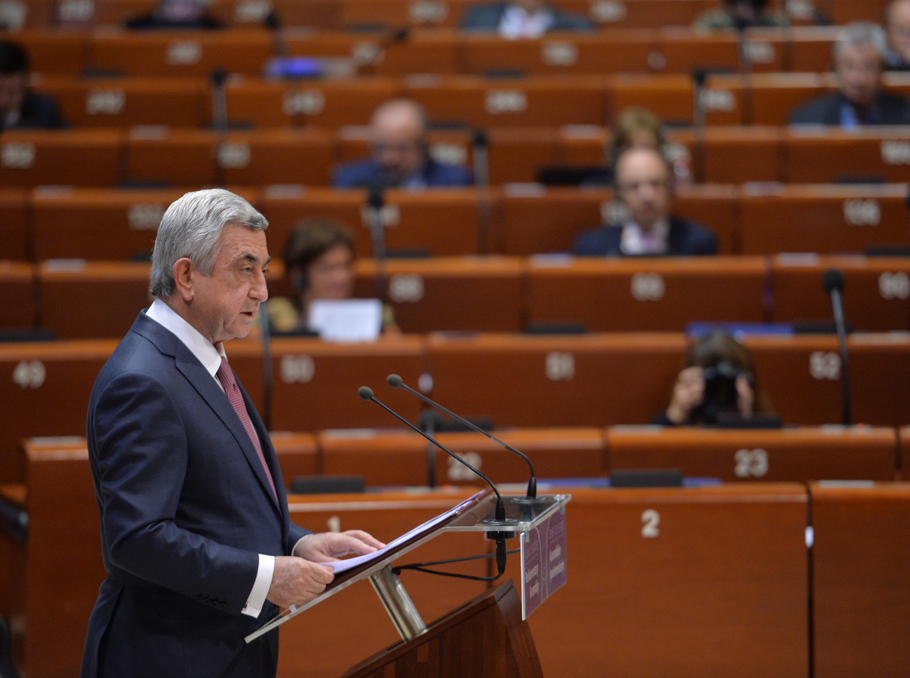 Photo: Press service of the Armenian President


"I call upon all the members of this Assembly to apprehend the potential negative consequences of a careless or biased language for the fragile stability in Artsakh," said the president.

According to Serzh Sargsyan, the greater family of the Council of Europe faced perhaps the most serious challenge since its foundation, when cases of bribing Assembly members and resulting dishonest voting were exposed.

"Since 2014, a number of politically biased and egregious reports and resolutions triggered a sharp change in the attitudes of Armenian society towards this Assembly. However, these revelations justify the hopes that such corrupt practices are short-lived. ," said the head of the state.