Artist and designer of Armenian descent Karina Akopyan was involved in the making of Lady Gaga's 911 music video. Karina tells about her work for Lady Gaga in this exclusive interview to Mediamax.
What was your specific input in "911" music video? Did you work on costumes or you were involved in general artistic works?
The costumes featured were created in 2017. As with most of my costume designs they were first created for my own shoots and art projects. I started as painter over 10 years ago but later a costume element found a way into my work as I got an urge to bring my characters from paper to reality. I certainly don't consider them fashion garments, but art pieces. They are very uncomfortable, restricting, some of them you can't see or walk in properly and costume Lady Gaga worn is one of those.
She is very experiences with extreme looks so I am sure it wasn't very difficult for her. There were actually few full costumes of mine that could have been in the video but it was "Floral Alien" that made it in as a complete look.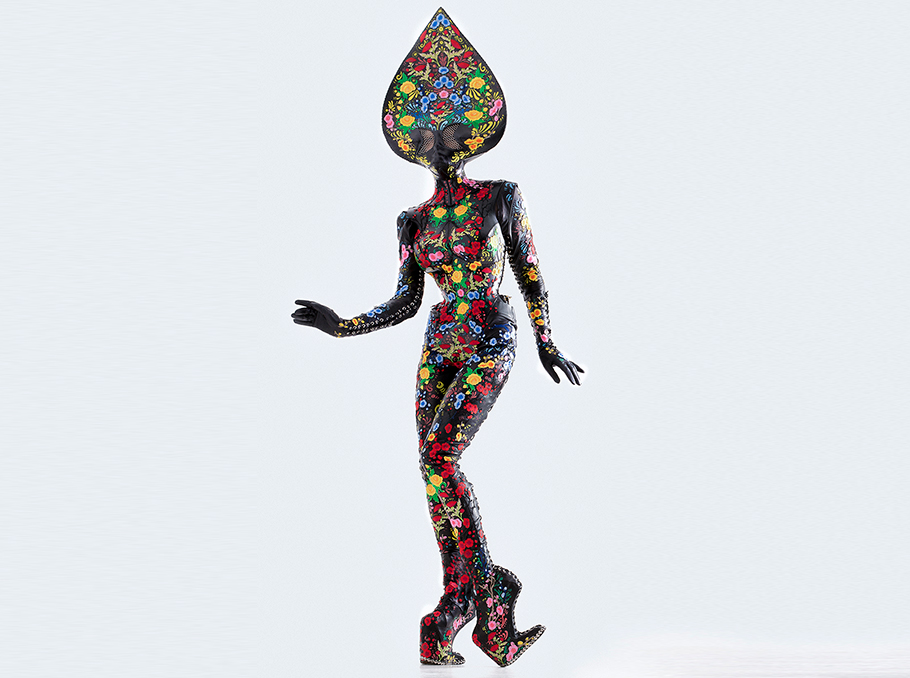 Karina Akopyan's "Floral Alien"
The costume is made of leather that's laced all the way through with floral appliqué and has painted elements. The headpiece is pointed shape inspired by shape of the of Kokoshnik. There are a few cultures with a similar decorative pattern but that one that inspired me was on a black khokhloma spoon. With my work I play on contrasts such as beauty and ugliness, femininity and aggression, ancient and modern, history and tales.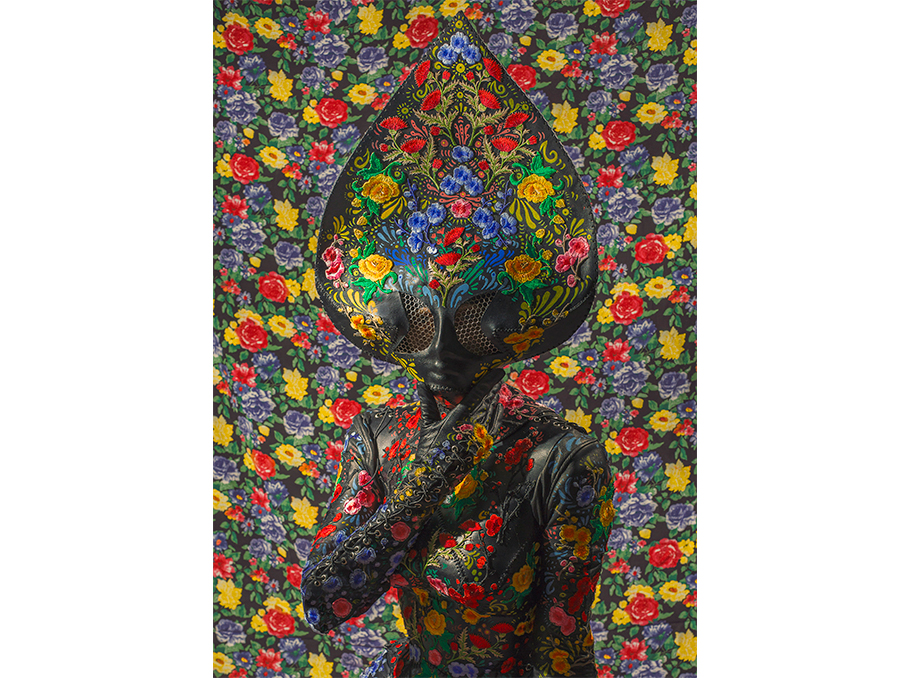 Karina Akopyan's "Floral Alien"
Taking the look in the darker direction I linked it to black leather creating a character that is potentially alien shaped with long head and legs emphasized by heelless shoes. After all that the character got a nickname Floral Alien. I would also say it figuratively represents a figure of death, like a body that decomposes on the ground, that grows flowers out of it, eventually starting a new cycle of life.
Have you been invited by director Tarsem Singh or by Nicola Formichetti? And can you call yourself a Lady Gaga fan?
I was approached by Nicola Formichetti team. Its not till a bit later I found out director was Tarsem who's work I absolutely adore. The Fall is a masterpiece, I remember being utterly shaken by its creativity and complexity when I saw it.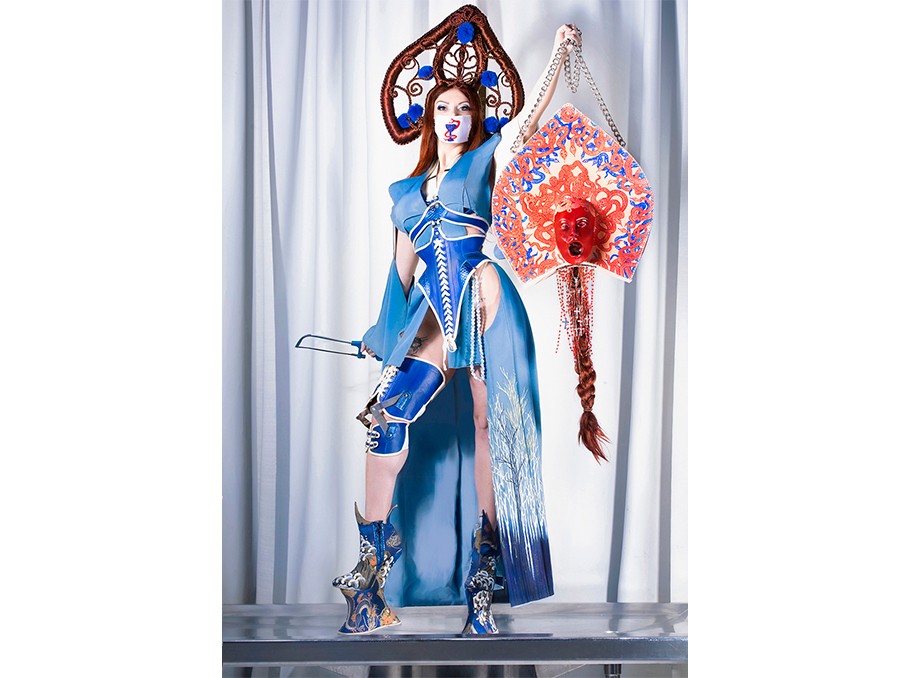 Karina Akopyan's "Perseus"
I am definitely a big admirer of Lady Gaga. She is a strong and intelligent woman who speaks out for a lot of issues that matter. Not only she is a very talented musician, she is a chameleon with a great creative eye for bringing styles and artists together.
Did you have a chance to talk or socialize with Lady Gaga and did she know anything about the "Armenian footprint" of her new music video?
As you can imagine with project like this a lot of things had to be kept a secret till the very release date. Unfortunately I haven't met Lady Gaga and I was not aware of the Armenian influence until the very end. When I was approached for the project I was told that style of the video has strong connections to my own artistic style and therefore they wanted to feature them.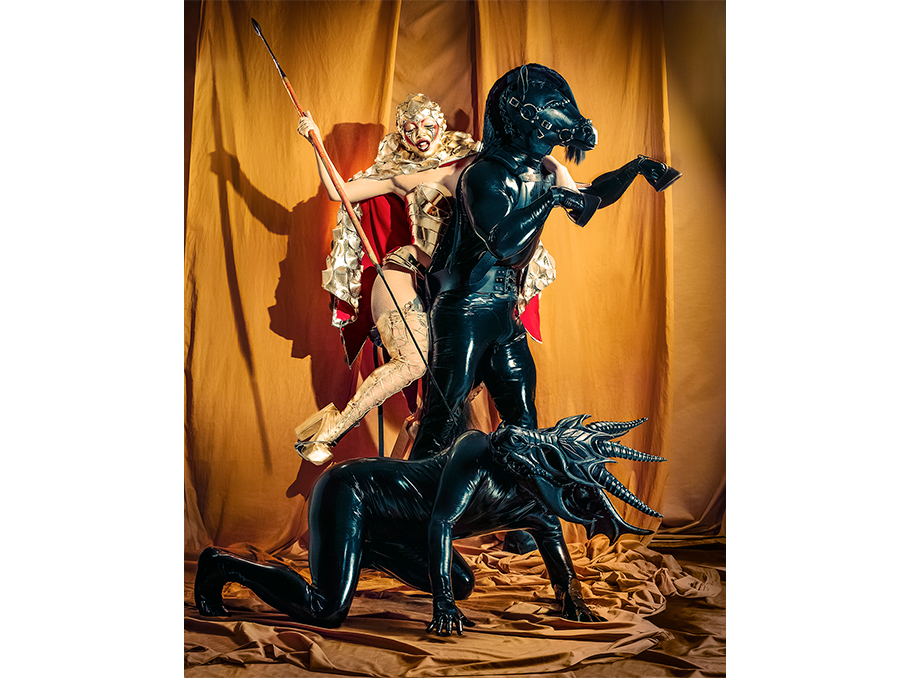 Karina Akopyan's "Saint George"
You can imagine my joy and excitement when I saw that it was so heavily Influenced by Sergei Parajanov, who's work influenced development of my own artistic style. Suddenly being involved in this project made it even more meaningful.
Do you have any artistic connections to Armenia and do you plan to do some project in Armenia at some stage?
My parents are both Armenian but I was born and raised in Moscow. I was a lot more around Russian culture growing up until I came across Parajanov's work as a teenager while studying art already in UK. His work mesmerized me completely, the only other director to leave such impact on me was Tarkovsky, but Parajanov's use of colour was much closer to my heart. His work made me take more interest in Armenian culture.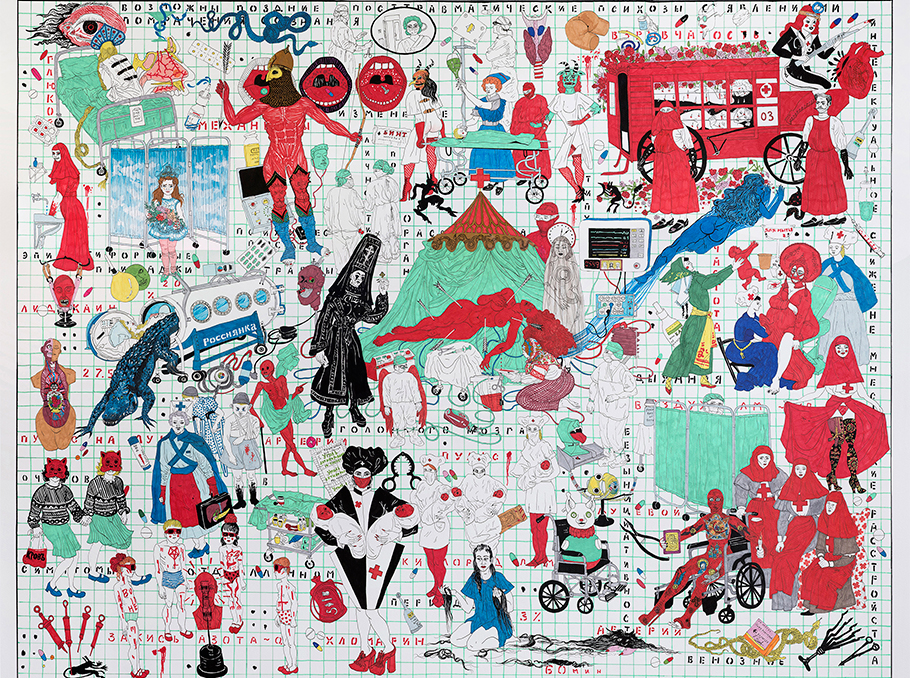 Karina Akopyan's "Resus room" artwork
One of my paintings called "Ararat" featured Armenian cross and a woman in a bondage style costume that in a way has similarities to one featured in 911 Video.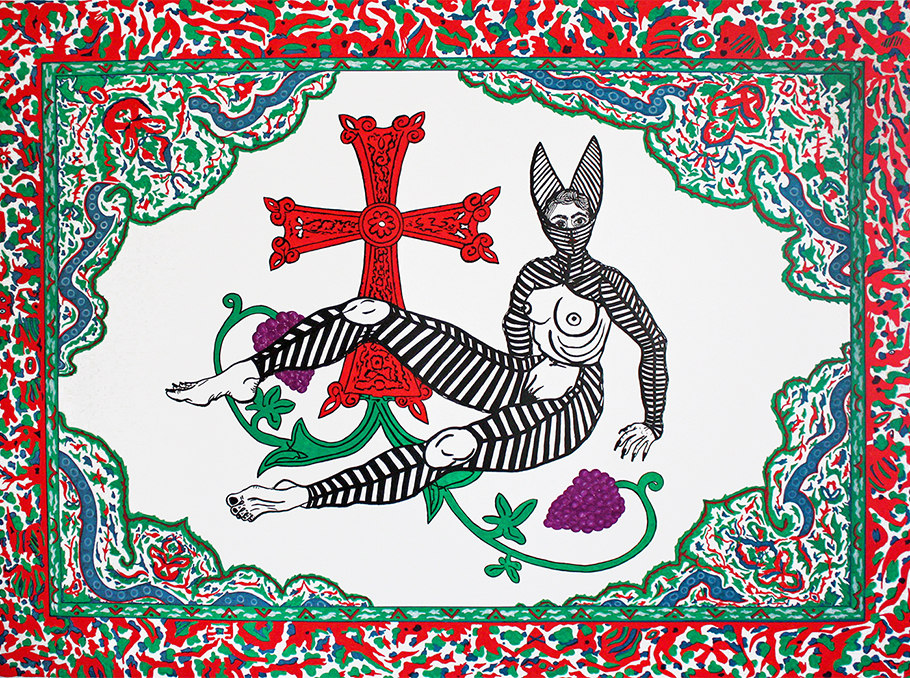 Karina Akopyan's "Ararat" artwork
I was part of the exhibition called Roadmaps in 2018 with an Armenian curator in Yerevan. And it was the photograph of that floral costume that Lady Gaga worn in the video that was exhibited there. I would love to do more group shows or to even have a solo exhibition in Armenia with a variety of work including paintings, photography and costume pieces, if opportunity presents itself, it would be an honor.
The video was very warmly accepted in Armenia – is this something that makes you happy?
It made me very happy. I received so many kind messages of support from Armenian people after this project it was very heart warming. I can also say that Parajanov's work and Armenian culture deserves a wider appreciation and knowledge of by wider audience not just close to ex Soviet union but in Europe and America. Parajanov's work till very recently was known more to those studying art or filmmaking in depth. It deserves to be known and seen by everyone.
Ara Tadevosyan talked to Karina Akopyan