I have been searching online for a picture for the upcoming article when I came across a photo on Flickr that immediately caught my eye.
It was made at a famous café in Yerevan, "Poplavok", and featured the following capture:
"Laura Markarian with Sam Sloan in Yerevan Armenia in 1978. She was Armenian Girls Chess Champion. I often think I could have tried for this girl and taken her to America instead of taking off for an adventure in the wilds of Afghanistan. I often think of this as a turning point in my life."
I decided to search more for information about Laura and Sam.
The contradictory Sam
Sam Sloan is 74 years old. His life has been full of extraordinary, controversial events. Sam is more famous as a chess player, analyst, and author of several books, but his biography includes many more occupations.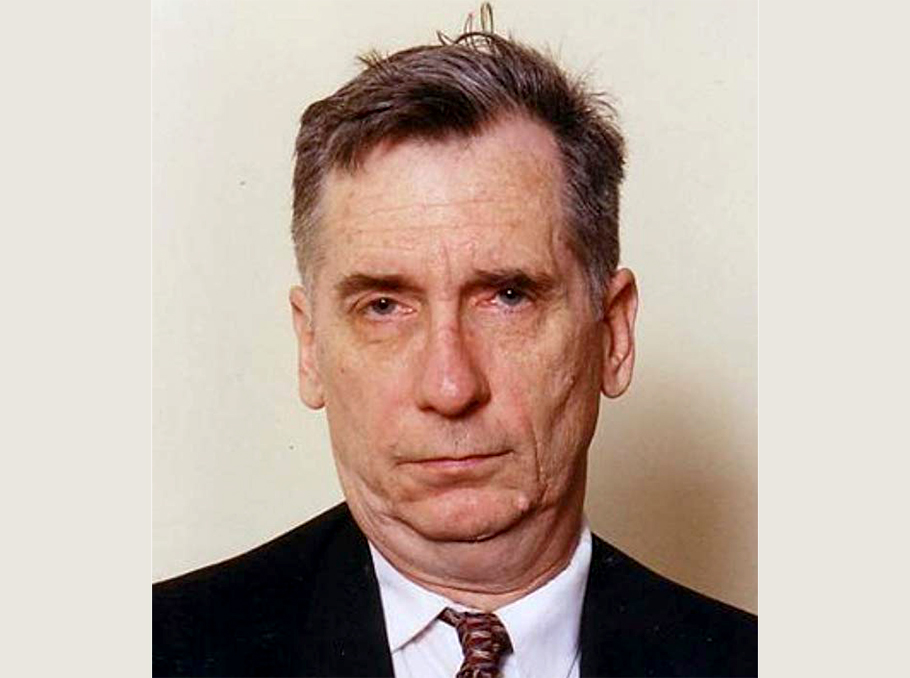 Sam Sloan
In 1970, he established Samuel H. Sloan & Company, a registered broker-dealer primarily trading over-the-counter stocks and bonds. The Securities and Exchange Commission (SEC) brought civil actions against Sloan & Co. in 1971 alleging he had failed to maintain adequate books and records. In 1975, the SEC revoked Sloan's broker-dealer registration. After years of litigation, Sloan in 1978 prevailed in the U.S. Supreme Court. Sloan argued the case pro se. Sloan won before the U.S. Supreme Court 9-0 becoming the last non-lawyer to argue before the court.
166 votes
Since 2002, Sam Sloan has been actively involved in the US Libertarian Party in New York.
In November 2013, Sloan was on the ballot for the New York City mayoral election, 2013, as an independent under the War Veterans line; he received 166 votes.
A pioneer of sexual revolution
Sloan left Lynchburg in 1962 to study at University of California, Berkeley, but he left it in 1967 and did not graduate. At Berkeley, he became one of the leaders of the Anti-War movement and promoted a branch of the Sexual Freedom League.
In 2015, Sloan told Daily Californian that more than 1,000 total people attended the "sex parties" (over 40) he hosted for the group.
During its time on campus, the Sexual Freedom League garnered national attention - the group was featured in Time magazine and Playboy.
From Armenia to Afghanistan?
Sloan claims he has been to 78 countries. I couldn't find any mentions of his visits to Soviet Armenia and USSR.
New York Sun published an article about Sloan in 2004, in which he told the story of how he bought a used Volkswagen in Germany and drove across Europe, through Turkey and Iran, and into Afghanistan in 1978.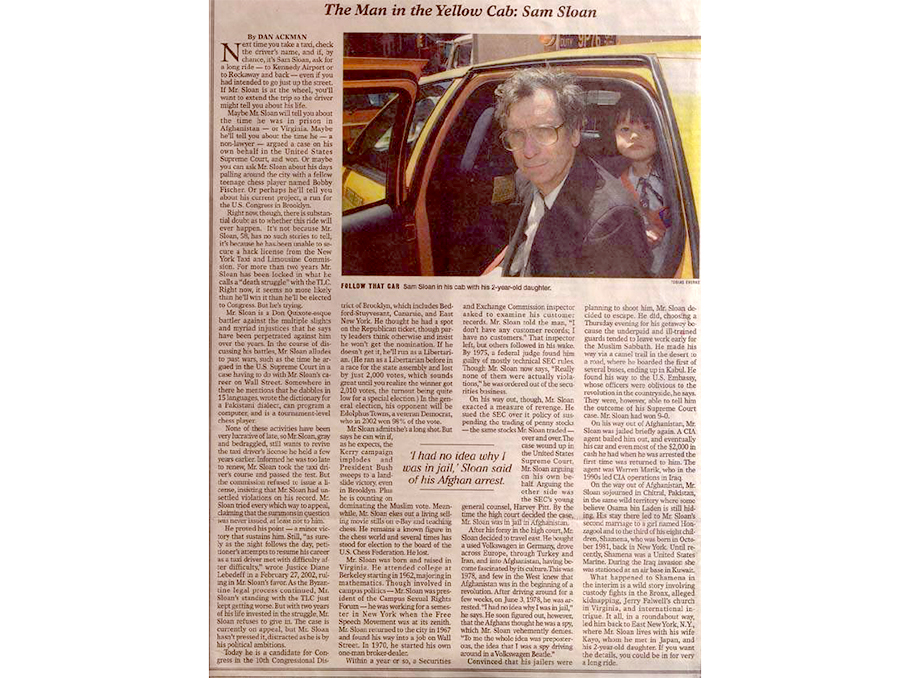 Sloan told the paper he was arrested on June 3, 1978, as the Afghans thought he was a spy. He managed to escape to Kabul, where he found his way to the U.S. Embassy and learned he had won his Supreme Court case.
If Sloan really visited Armenia in 1978, as he mentioned in the capture to the photo with Laura Margaryan, the Afghanistan story seems doubtful. In 1978, an U.S. citizen could hardly enter Armenia by car through the Turkish border and later travel to Iran.
A prisoner
Sloan has been married three times. Sloan's second wife, Honzagool, was a native of Pakistan and they had a daughter named Shamema. Sloan and Honzagool soon separated and Sloan left New York for Virginia with Shamema. Sloan was subsequently locked into a child custody struggle, which lasted several years. On September 5, 1991, during an attempt to regain custody of his daughter, Sloan was arrested. He was convicted of attempted abduction of Shamema and spent 18 months in state prison.
Bobby Fischer Against the World
The documentary telling about one of the most controversial people in the history of chess, "Bobby Fischer Against the World", came out in 2011.
Sam Sloan gave three interviews for the film.
Mohammad Ismail Sloan
In late 1970s, Sloan converted to Islam and took the name of Mohammad Ismail Sloan. Under that name, he published the Khowar-English Dictionary in Pakistan in 1981.
Who is Laura?
There isn't much information about Laura Margaryan online.
The profile on World Chess Federation Ratings website indicates she was born in 1961, which means she was 17 when the photo with Sam Sloan was taken in 1978. The page also says that Laura represents the French Chess Federation.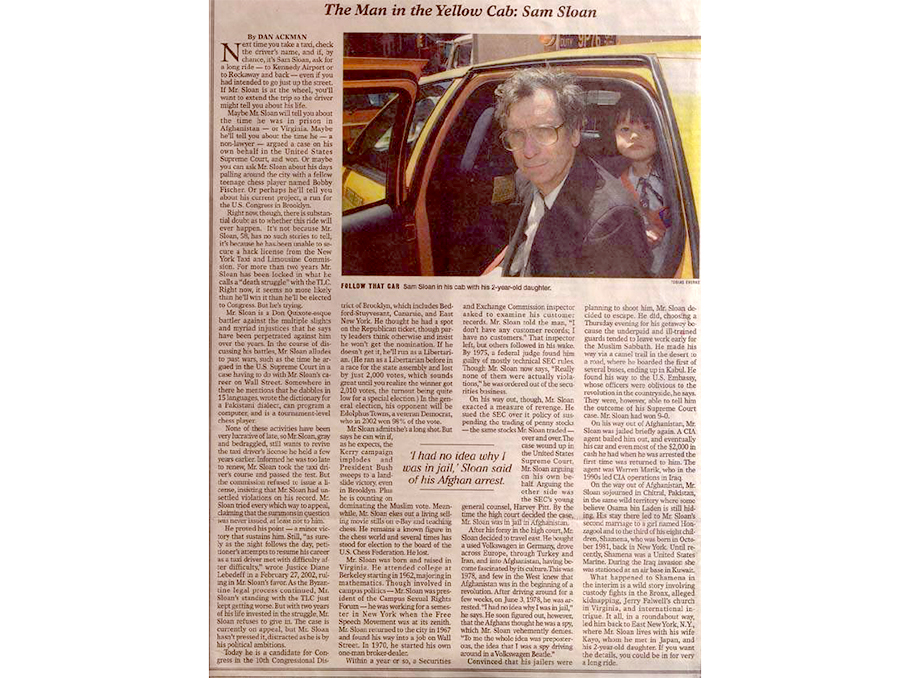 I will definitely try to contact Ms. Margaryan and ask if she recalls meeting Sam Sloan in 1978. In any case, I believe it is fortunate that Sloan's wish to marry Laura was never fulfilled.
Ara Tadevosyan