«Starmus VI. 50 years on Mars" Science and Arts Festival landed in Lori on September 10. The good news about an important international event planned in their Marz brought much joy to Lori residents. Some of them came to listen to lectures on the universe, others came just to enjoy the festive atmosphere in the Children of Armenia Fund (COAF) SMART Center in Debet village, Lori.
Last year, COAF launched a project to unleash the tourism potential of Lori with the support of the EU4B "Innovative Tourism and Technology Development for Armenia" project. The event "STARMUS Day at SMART" was within the scope of the above project. On the one hand, it makes the prestigious festival accessible to Lori youth, and on the other hand, creates an opportunity to present Lori to much broader circles.
"This event is heart-close to our mission, that is to maximally decentralize knowledge, capacities, interesting movement, by drawing it all from Yerevan to the Marzes. "Starmus" is a great example of this.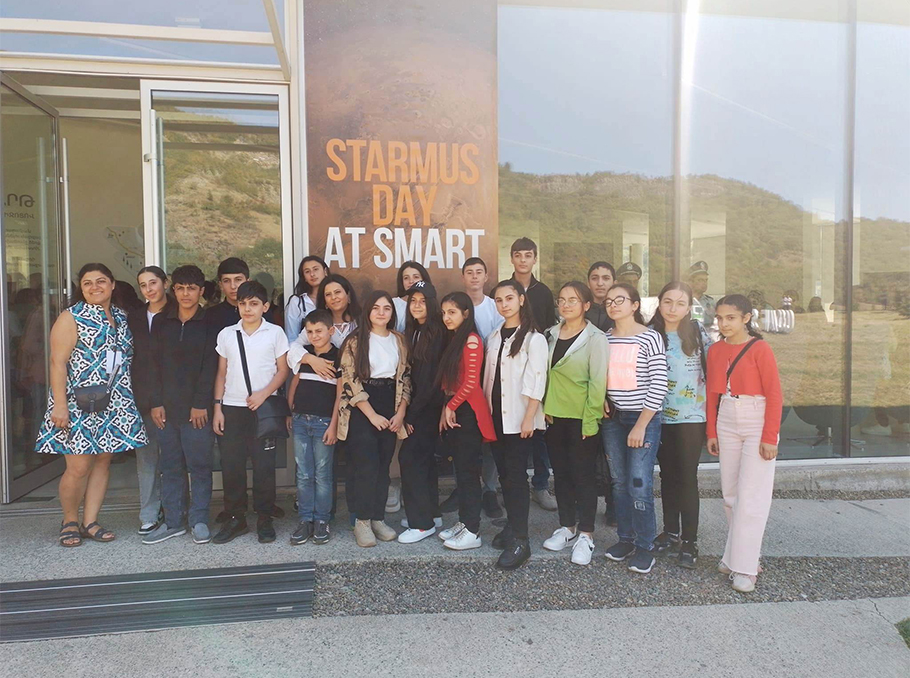 The first objective we pursue with this festival is to give the opportunity to the children of our beneficiary communities in Lori, to listen to renowned scientists, physicists, Nobel Prize winners, and to dream along with us. The second goal is that apart from being an educational center, SMART is also a platform for organizing similar international events or conferences. And last, but not the least, the third goal is to develop tourism. Tourism cannot be confined to historical and cultural monuments and the nature of our magnificent Lori only. The region should stir interest and attract the tourist so that they have a motive to come here," - says Koryun Khachaturyan, Executive Director of COAF.
"Starmus" reached Lori within the framework of the EU4Business "Innovative Tourism and Technology Development for Armenia" (ITTD) project, which is co-funded by the European Union and the Federal Ministry for Economic Cooperation and Development (BMZ) and implemented by German Development Cooperation (GIZ).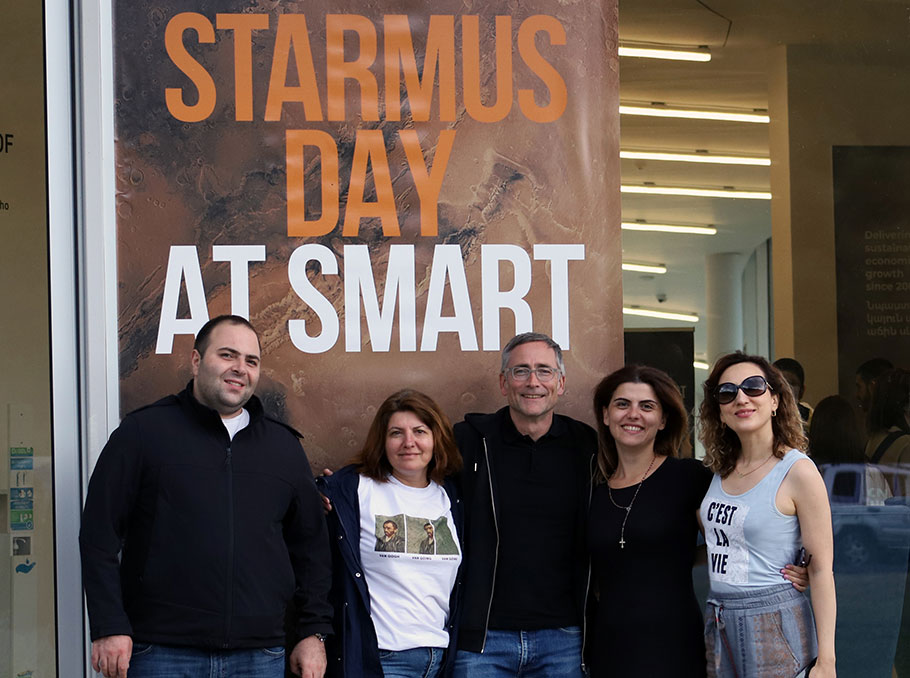 Photo: GIZ
"We help COAF to develop Lori Marz, which is the long term vision of the Foundation. We support them in different directions and also with festivals such as Starmus, which, indeed, heightens the interest toward Lori Marz. People who have never been to Lori, now come and see this exquisiteness. Perhaps they might want to come with families for overnight stay to understand what the region has to offer to them. We are happy for this collaboration. We are committed to assist with all our capacities to help Lori develop and become more attractive;" states Sebastian Falk, head of Tourism component, GIZ.
From afternoon to midnight, the glass building and the adjacent green area of SMART center were populated with visitors. Some gave ears to lectures at a closed amphitheater about life in the universe, about newly appearing and the dying stars, about life in other planets, while others were getting to know the products presented in separate pavilions by Lori people, and the stage located further was hosted by various Armenian and international bands performing for the guests.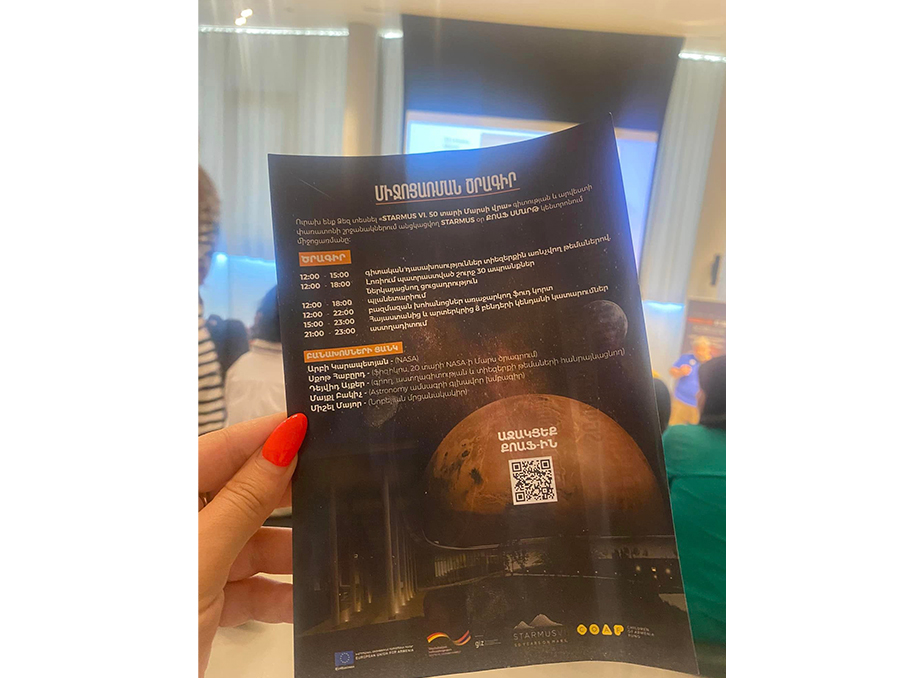 "The question that we are all faced with now, is whether life is a spatial necessity. What does this sentence mean? Suppose we have all the necessary conditions, atmosphere, water, and so on. Is there a chance that life would originate on that planet as it once did on earth? Astronomers have tried to find neomarkers, small alterations in the chemical composition of the atmosphere inspiring hope that perhaps life could occur in that atmosphere. We try to find some chemical components contributing to the existence of life," explains his teenage audience the Nobel Prize winner, Michel Mayer.
The event was firstly aimed at the students of COAF SMART Center, about 1800 children from the urban and rural communities of Lori, who acquire knowledge and skills in diverse fields at SMART center. However, the guests from Lori, other marzes and Yerevan also did not want to miss this unique opportunity of meeting with the Nobel Prize winners, well-known scholars, and to discover the universe anew.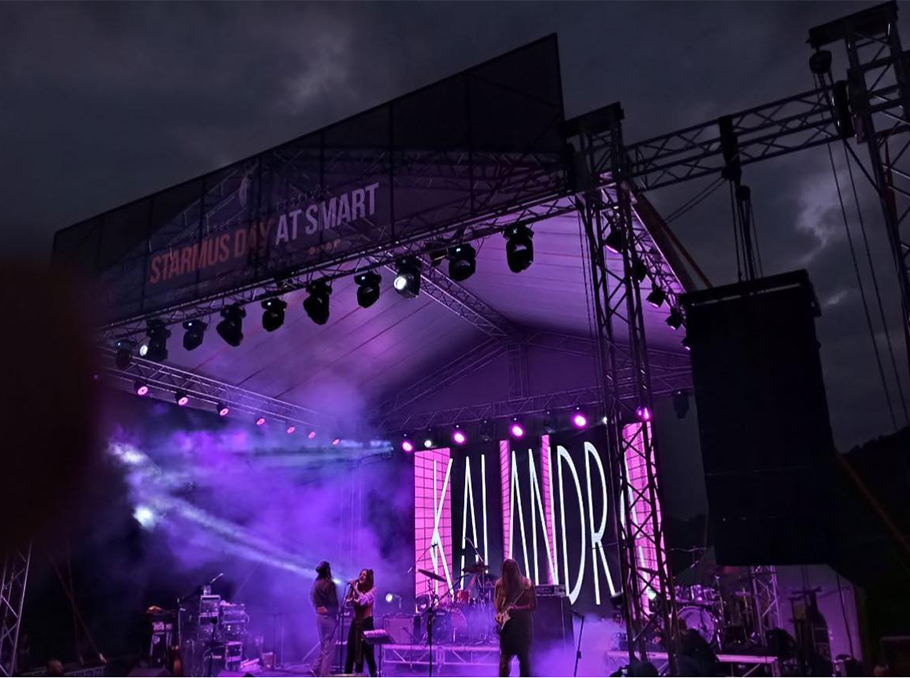 "As the children of Lori are far from Yerevan and big cities, this is quite a news for them. Each and every one of them is motivated, excited, full of emotions, they have come to listen to rock bands they haven't heard about before. This is a festive occasion for us, we are not sure when we'll have something like this next.
I am particularly interested in the festival since I learn digital drawing and I associate painting with the universe itself; all this seems very unreal, yet, with the help of painting you can picture even that what is unreal and recreate all that through your picture," Nvard Petrosyan says.
"I am from Vanadzor. I was determined to go to Yerevan to participate in Starmus, but I didn't make it. As the closing day of the festival was to be held here, at our SMART center, we came. I have attended 3 lectures, which were all extremely interesting, especially the last one about the death of the stars and the black holes. These lectures inspired me to start taking up more science and get to know more about novel things," shared his enthusiasm Serog Tovmasyan.
Michel Mayer
While "Starmus" came to Lori with its interesting guests and enthusiastic atmosphere, the locals joined the festival with a variety of products they created. In 30 pavilions, individuals and small companies from different communities were showcasing their products - delicious, beautiful, warm, useful.
""Meghratun" (means "house of honey") is presenting honey production, honey wine, semi-sweet and bitter, we do not mix anything other than honey, we have honey vodka, propolis balsam, various kinds of honey with different packaging, souvenirs, in frames, everything that can be obtained from honey. We also have a damask rose wine, jam, dried rose, etc.," Harutyun Zakaryan presents his 10-year-old brand.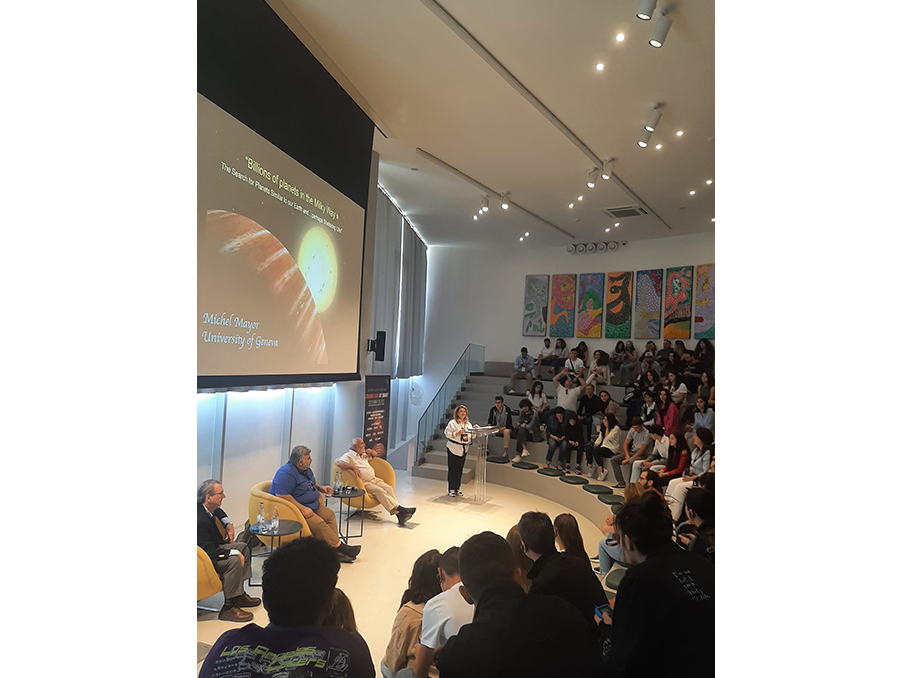 "Shyughik" is one of the business cards of Amrakits community. The modern Library "Gradarak" was opened in Amrakits 4 years ago. And it was in that very library that a craft group was established, first the students, later joined by their parents, and after perfecting their skills, and when they were ready to put the product into the market, they created the brand "Shyughik".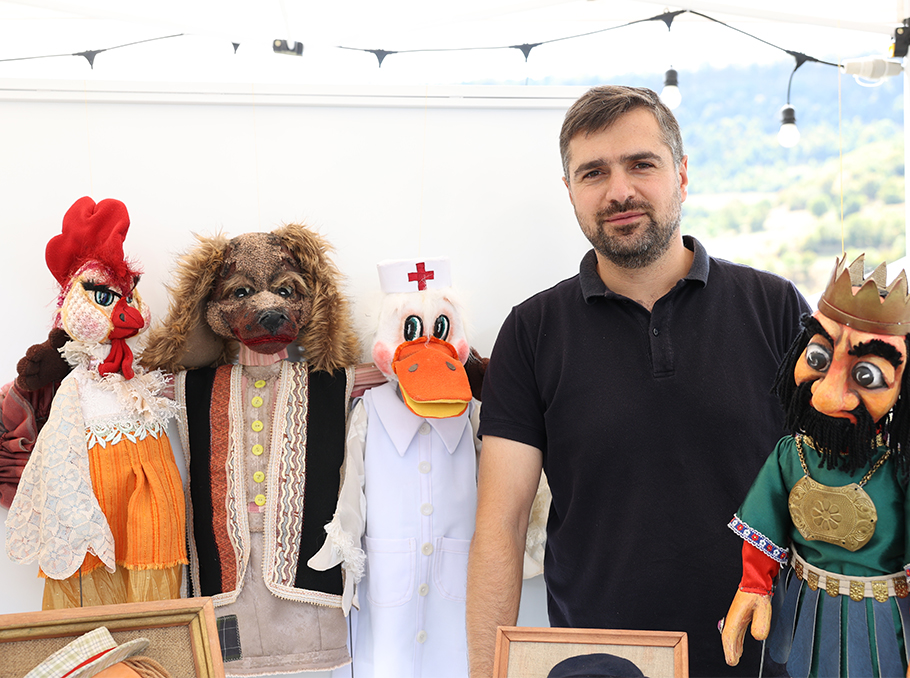 Photo: COAF
"Since the program is up and running now 3 years already, many girls, women, grandmothers have joined us. Their mastery raises no doubts whatsoever about the quality. We knit scarves, hats, bags. We have come to the point we strived originally, but had no hope to achieve. Shyughik has participated in a number of fairs and it is always a pleasure, when people come, ask questions, say that everything is really nice and high quality, it is obvious that it is handmade, and ask how is that even possible. It is very inspiring to realize that we can overcome difficulties and come up with interesting and high-end products for the market," says Arusik Zeynalyan, co-founder of "Gradarak".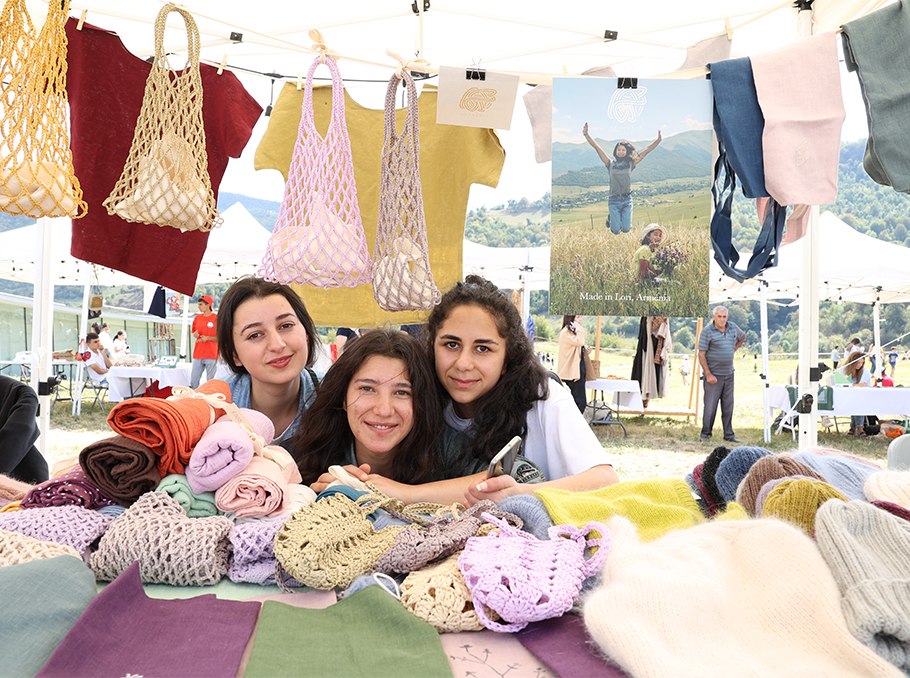 Photo: COAF
Vanadzor Puppet Theater also participated in the exhibition with its puppets. This year the theater is marking 30th anniversary of its foundation. On September 24, 30 years later, they will stage the very first performance of the theater, "The Dog and the Cat." Although busy with preparatory work, they couldn't leave such an opportunity to perform within "Starmus" pass them by.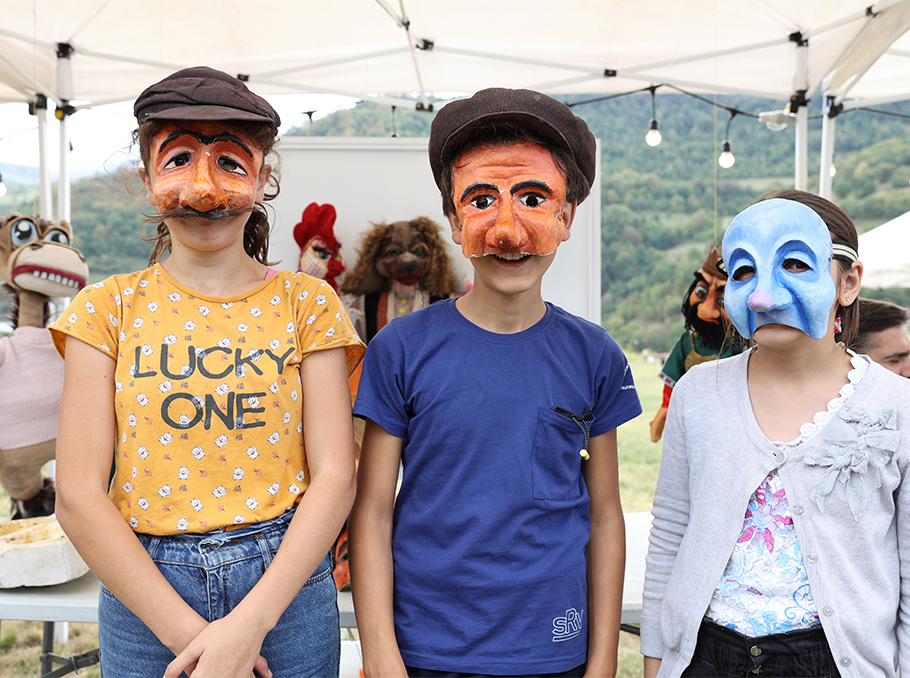 Photo: COAF
"We present the puppets acting at performances. We gave preference to two types of dolls: tablet and traditional puppets. From the museum department of the theater we have also brought masks that are displayed for children, and other kinds of masks of our theater, that we sometimes use in non-puppet performances, when the actors are wearing them turning into live puppets themselves," describes their own pavilion Sevak Sargsyan, the Director of Vanadzor Puppet Theater.
The last surprise of Starmus was the stargazing. Far from the urban lights, here the stars and the universe seemed very close.
Lusine Gharibyan