The brain drain from Armenia, then contribution to Armenian science coming as the boomerang effect - USA-based Ashot Papoyan is one of the brightest examples of that experience.

The scientist notes that "the brain drain from Armenia is a painful fact, but on the other hand, presence of Armenians in leading international scientific institutions is a great advantage for Armenia".

Ashot Papoyan is a successful biologist outside of his native Armenia. He was first educated in Yerevan State University. During a summer course in the U.S., he learned about the opportunities to take postgraduate courses and receive scientific degree. In 1999, he moved to the U.S. with wife Yelena Bisharyan, also a biologist.

A Cornell University Professor offered Ashot and Yelena jobs at a newly-founded spin-off company after they completed their postgraduate courses. Ashot Papoyan became the first staffer at TetraGenetics pharmaceutical, which later expanded, and now he works as the company's Associate Director.

Ashot Papoyan is a member of the research group under Prof. Yervand Terzoyan at the Armenian National Science and Education Fund (ANSEF), founded in 2001 under the auspices of the Fund for Armenian Relief (FAR). After all the achievements in the foreign land the young scientist seized his very first opportunity to support science back in his native country.

"The idea of ANSEF belongs to talented Cornell Professor Yervand Terzyan, who helped to implement it in 2001. Investments in science were sparse in that time and young scientists especially needed support to stay in the field. Since then I've been involved in the fund that unites enthusiastic emigrant Armenian scientists. The fund has operated for years thanks to FAR Executive Director Garnik Nanagoulian, and we provide the scientific part. We attach importance to fair distribution of grants and work by the principles of international grant funds," Ashot Papoyan said.

The fund's administrative group receives works from young Armenian scientists, studies them and sends to the best experts worldwide for their assessment. After that, the fund decides if a grant should we awarded. They also help to find donors. The fund gets around USD 125 000 in total annually.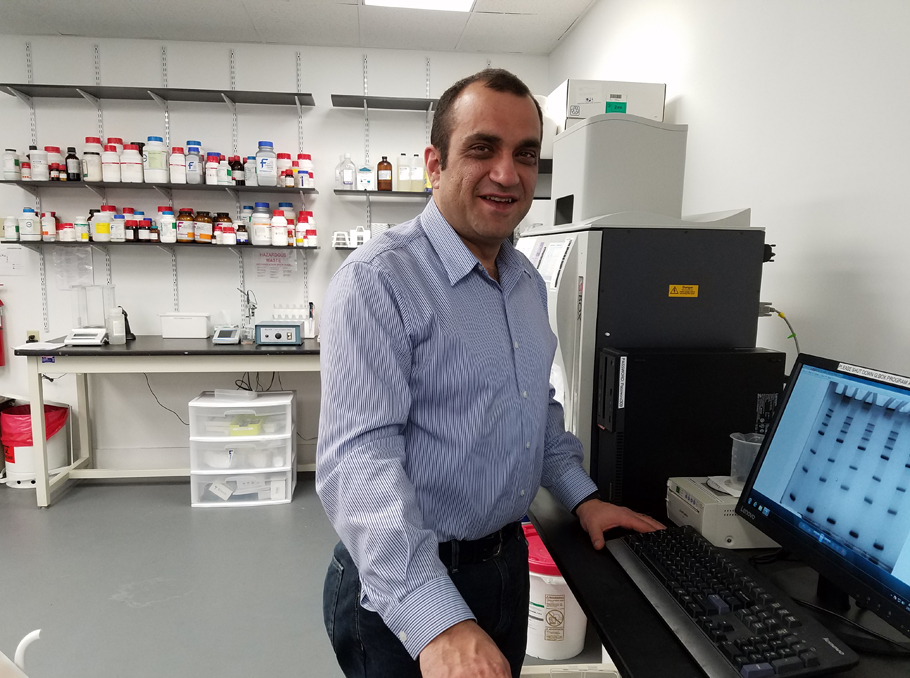 Ashot Papoyan

Photo: from A. Papoyan's archive


They got more than 3000 submissions and awarded more than 430 grants of over USD 2m in total since the fund was created. Each grant made USD 5000. In recent years they started cooperating with the Support program for young scientists under the auspices of the Armenian President.
90% of emigrant Armenian specialists have the same desire to support Armenia as Ashot Papoyan. The scientist says that Armenian experts in foreign scientific institutions have huge potential for helping Armenia, but that resource hasn't found proper application.

"We have brilliant specialists and professors of all fields in many universities. We should use that resource. While acquiring knowledge and experience abroad is expensive, those people are ready to do it for free for Armenia."

The biologist is preparing another initiative together with Armenian scientists working abroad. He started searching for Armenians in science right after settling in Boston, the capital of biotechnologies. He gathered a group of around 100 Armenians: scientists, CEOs, experts working in the best companies. They hold various discussions and intend to take practical steps in supporting Armenia in the next few years.

"We need to open a way for those people and give them the opportunity to participate in Armenia's development. There's a group of more active scientists who try to figure out how to support their country through their own initiatives. Some are ready to help but don't know how. Creating such mechanisms is a job for foreign and Armenian scientists and the government of the republic," he said.

According to Ashot, who's familiar with the works of Armenian scientists, the youth has huge potential, but we shouldn't forget that Armenia is a small country and so the percentage of scientists is relatively low on the global scale.

Ashot Papoyan told that emigrant Armenian scientists have two approaches to Armenia's scientific future: "Considering the small size and financial problems of Armenia, perhaps what we need is not to develop all fields, but to choose the scientific directions that offer more opportunities and perspective and work on developing those only. The other approach is that we need to try and develop all fields. Both are interesting and we have to figure out which one to choose. I'd like to note that the increasing quality and progress are very tangible in the program. There is substantial difference between the scientific works we received in ANSEF's early years and those we get now."

Marie Taryan