Mediamax's interview with Viktor Loshak, journalist and director of strategy at Kommersant Publishing House. Previously, Viktor Loshak was the editor-in-chief of the Moskovskie Novosti weekly and Ogonyok magazine.
- Before I turned on the recorder, we were talking about Andrei Bitov and his "Lessons of Armenia" written in 1967 but still relevant today. Is there a possibility of emergence of new "Lessons of Armenia" nowadays?
- I'm pretty sure that it is going to happen. There are many people who arrived in Armenia from Russia, including people who write. The interpenetration of cultures, which we are doomed to due to such a human flow, of course, includes a literary understanding. Another question is who will deal with it and how. Probably, as it usually happens, it will start in small forms, but sooner or later, I think, we will witness a larger-scale comprehension.
- People who were born in Russia after the collapse of the USSR, for the most part, probably have a very rough idea of Armenia. What can Armenia do to become more interesting and understandable for Russians?
- First, I would not write off Russia's interest in Armenia and Armenians. When you have Armenian friends, you are involuntarily interested in Armenia. Of course, it is not so for everyone like it is for me. I served in the border troops in the Akhuryan region, and I know a completely different Armenia - complicated, mountainous, where every spikelet, every tree is got with great difficulty. I was in Armenia after the 1988 Spitak earthquake. The most painful impressions of my life are connected with this business trip. I was in different parts of the world, covered wars, revolutions, but nothing was more tragic in my life than it. I think that Armenia and Georgia are two countries Russia is and will be interested in. A lot, of course, will depend on the economic interests of the countries, the development of tourism, and the extent to which the people currently living in Armenia will settle there.
- I think that many of those who will return to Russia or move somewhere else can become "ambassadors" of Armenia.
- Of course. Everyone knows with what kindness Armenia received these people. And normal people will never forget it, they will tell their friends and children about it. The depth of human relations is not always immediately visible. But this depth will be filled with friendship, good and kind relations.
- During and after the 2020 war, many people in Armenia had the impression that we had been forgotten, betrayed. People often drew parallels with the support Armenia received from the Russian intellectuals in the late 80s and early 90s of the past century and hoped it would be the same this time as well.
- If we talk about the political class, it has been told many times that relations could have been different if the regions around Karabakh had been handed over. Once I appeared in a situation when the newly elected President of Armenia Armen Sarkissian asked me what would I do if I were elected president of Armenia. I answered that I would hand over these 5 regions.
If we talk about the mass, "people's" feelings, by "choosing" between Armenia and Azerbaijan people choose peace. At the same time, many people in Russia have experienced the drama taking place in Armenia - they gambled their whole life on Nagorno-Karabakh and everything suddenly crumpled and squashed. Maybe some part of people realized the truth, which was on the opposite side as well.
- As a result of the war, not 5, but 7 regions have been handed over. Moreover, part of Karabakh has been lost. The Lachin corridor has been blocked since December 2022. And in this case we are not talking about political, but humanitarian issues, the fate of children and the elderly. And although Russia is not making visible efforts to unblock the Lachin corridor, people do have expectations, perhaps unjustified.
- No, they are justified. It is simply because Russia is so involved in the Ukrainian events that it can act only by diplomatic means and cannot get involved in any kind of military actions.
- In the conditions of absence of any security guarantees, many people emigrate from Armenia or think of doing so.
- In this case, it's easy for us to understand each other, since many people have left Russia in the past 1.5 years. They have their own logic, which can be understood. But there are people who have not left and will not leave, because they have dedicated their lives to making things different in Russia.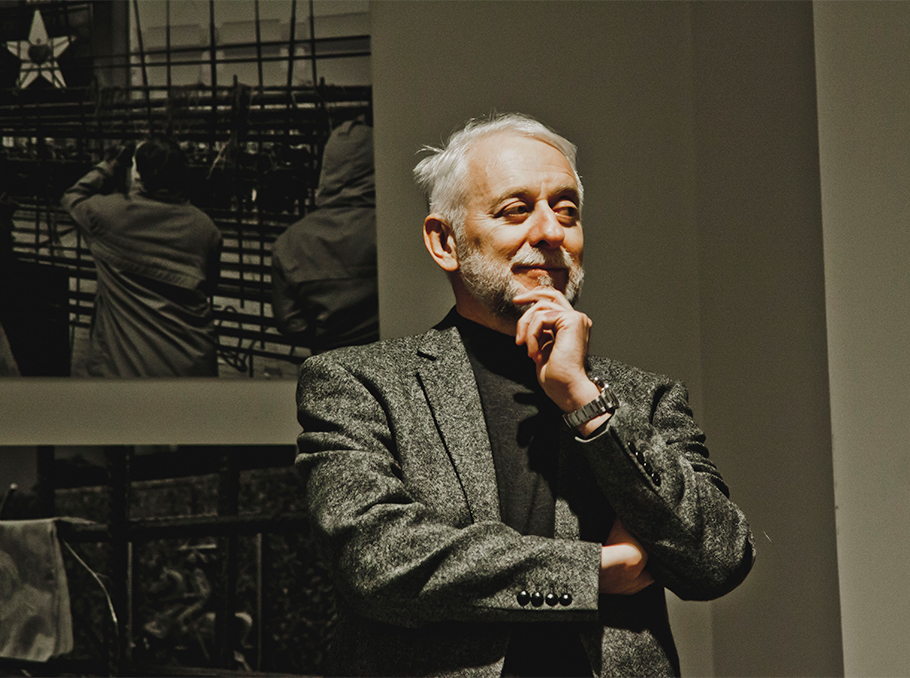 Viktor Loshak
Photo: Yeltsin Center
The key word or idea in this case for both Armenia and Russia is the future. Who and how is ready to work for this future. Many people from abroad advise us too how we should live and behave. But the truth is only on the side of those who stayed in Armenia, in Russia. The truth is on the side of those who, despite all the difficulties and disappointments, are ready to pass their ideals on to their children.
Ara Tadevosyan spoke with Viktor Loshak
This interview has been prepared as part of a joint project with the Tufenkian Foundation.