From 4 to 11 December the Tbilisi International Film Festival was held in Georgia. The guest of honor of the festival was Agnieszka Holland - a well-known Polish filmmaker, President of the European Film Academy, three-time Oscar nominee. She was awarded an honorary Golden Prometheus for her contribution to world cinema. We present an exclusive interview with one of today's most influential European directors - about cinema, politics, relevance of her old films and plans for the future.
Miss Holland, thank you so much for agreeing to make an interview. It is a great joy and pleasure to talk to you here. Especially as I know it's your first time at the Tbilisi film festival.
I have the impression that I've been here many times. It is this kind of atmosphere and you know warm and a little chaotic which I know from the other festivals and which is very much what I imagine about Georgia. And I was really glad that I was able to show to the Georgian audience and to the festival audience my film Mr. Jones which is quite relevant right now and very important to me.
A special programme will feature 4 of your films from different years. In one of your interviews you said that you don't think of yourself as a great director and also that sometimes you lacked the ability to spot something that would make your films relevant many years later. Do you rewatch your own films? And what is your feeling, are they still relevant in 2022?
Yeah, most of my films remain relevant which is a good sign. Some less, some more but all my political films somehow find the new actualisation and find the new light when showing after the years. And Mr. Jones even more so. It's a pretty recent film - we did it 3 years ago but it is more relevant today than it was when we made it.
How did you come to the topic of Holodomor and where the interest in this terrible, but still not so well known subject comes from?
I knew about the Holodomor before. I'm interested in the history of this part of the world and I was reading books about Ukrainian history, Soviet history, about Holodomor among others. The script was sent to me by the screenwriter Andrea Shaloopa and she is an American journalist and writer of Ukrainian origin. Her grandfather was the survivor of Holodomor so it was a very important subject for her and she was looking for a way to tell this story in a way that should be understandable and accessible, interesting for the general audience. And it's why she found this point of view of young Welsh journalist Gareth Jones.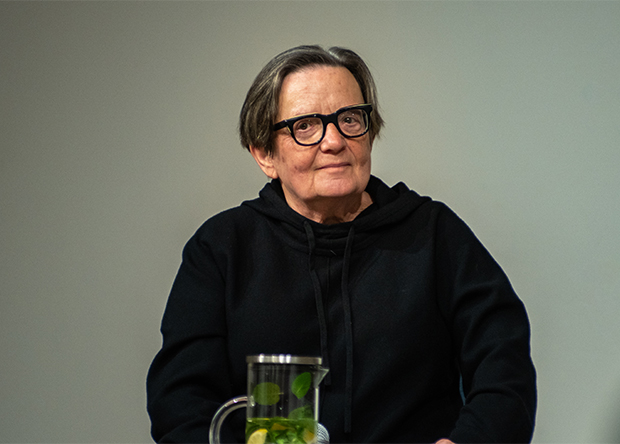 Agnieszka Holland
Photo: Nikolay Komankin
When she sent me this script I told myself that I don't want to do it because I did three movies about Holocaust. It's painful, it takes a big part of your life and you are spending a few years of your life in that terrible reality and somehow it makes a psychological impact which is not easy to wash. But when I read this script I felt that it's the story which has to be told and I am the best person to tell this story for many reasons. So I decided to do it especially because I was angry for a long time about the fact that if Nazi crimes are globally well known, but Communist and Stalin crimes never really deeply enter the global conscience.
You said a few years ago that you have no illusions about Vladimir Putin and that he does not care about human rights, justice, about other peoples, he cares only about himself. And unfortunately, as we can see now in Russia, most people believe what they are told on Russian TV. How can the cinema fight against totalitarian regimes and propaganda?
I think that the best way is to fight them. It means not to wait for them to fall by themselves, try to corrupt them, try to please them. That it's certainly not a good method and was proved by Putin himself. Because, if the reaction of the world was different after 2014, after annexation of Crimea and the beginning of Donbass war… If this reaction wasn't some kind of a "step forward three steps back" probably we would come to this phase well prepared and well equipped. And the fact that the West was feeding Putin for those eight years with the enormous amount of money which allows him to prepare a full scale invasion. It proves how stupid we are. So now I hope that the lesson was taken.
When I look at your career and your filmography I am struck by the diversity and range of your work. You studied filmmaking in Prague, then you started working with Andrzej Wajda and Krzysztof Zanussi, you collaborated with Krzysztof Kieslowski. How do you manage to be equally convincing, making what are usually called festival films, small dramas, historical films and at the same time episodes of great American TV series such as House of Cards, The Affair and The Wire? How did you come to directing TV series as an already acclaimed director?
I was kind of disappointed. I was living in L.A. and in late 1990s American independent cinema became very shovel-like somehow. Repeating over and over again the same ideas and the same tools.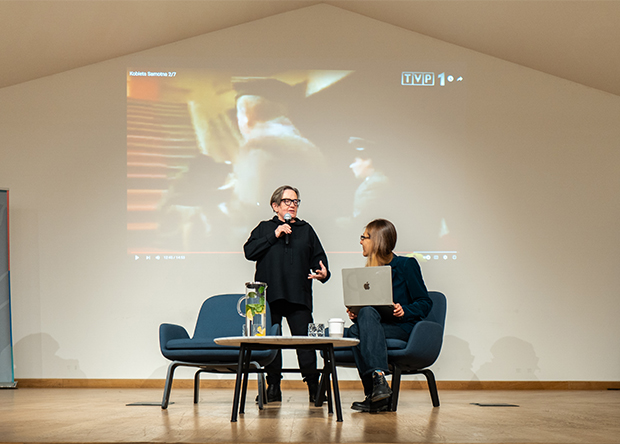 Photo: Nikolay Komankin
And the television started to take the place of the cinema and was much more courageous and innovative and the range of the stories have been much richer than in the movies. So I wanted to try. I wanted to be a part of that.
What's your opinion, maybe which genres or forms of cinema, of TV series do we need now in these hard, dark and cruel times? Which genres, forms of cinema will we need in the next few years? What, which duty of cinematographers for today?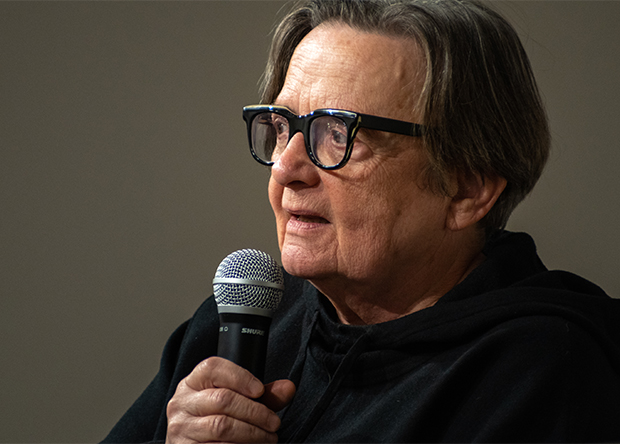 Agnieszka Holland
Photo: Nikolay Komankin
I think that the films have to be good. And if they are good, courageous and original and not cynically staged they will reach the audience. If I am really sincere, if I am really courageous, if I really give the best of me I hope that they will reach the audience.
At the opening ceremony you mentioned that you want to finish your career with a comedy.
Yes, and I would like to finish my career with a successful comedy, which is even more difficult. And at the same time I don't have ideas. I want to work for 3-4 years, maybe a bit more. So I have to hurry up. And if somebody has a good script of the comedy please, you're welcome.
Ivan Tsurkan talked to Agnieszka Holland
Photos by Nikolay Kamankin