Polish diplomat, Ambassador Andrzej Kasprzyk has been serving as Personal Representative of the OSCE Chairperson-in-Office on the conflict dealt with by the OSCE Minsk Conference for 23 years. Although he visits Armenia several times a month and his name is regularly mentioned in the media, the public knows little about him. Ambassador Kasprzyk rarely speaks with journalists and almost never agrees to give an interview. He has made an exception for Mediamax, provided that we will not touch on details of Karabakh peace talks.
Mr Ambassador, you have been involved in Karabakh conflict settlement since late 1996, but the Armenian and Azerbaijani societies know little about you. Could you tell us what you did before assuming your current position?
I was the same man as now, just younger (laughs – Mediamax). Joking aside, once upon a time I graduated from a renowned institute of economics in Warsaw. I was born in that city, but my parents are from different regions of Poland. My family house is at the foot of the mountains, and I love spending free time there.
After graduating I worked in Poland's foreign trade system. At some point I grew tired of counting money and selling goods and I decided it was time to change something in my life. So, I volunteered to work in South Vietnam. It was after the signing of the Paris agreement and volunteers were needed in Poland to go work in the international oversight commission in Vietnam. I did that job for a year and a half and then started working in the Foreign Ministry of Poland. I did not stay long in Warsaw, because I was quickly assigned to the Polish Embassy in Cuba, where my area of work was cultural cooperation.
How did you become the Personal Representative of the OSCE Chairperson-in-Office?
I had just completed my work as Polish Ambassador to Zimbabwe and returned to Poland for a new assignment. At that time the Polish diplomat who created the position resigned for personal reasons and our Ministry of Foreign Affairs was looking for a replacement. There were certain requirements, such as age and knowledge of languages, and I complied with them. The Minsk Group co-chairs gave their approval, so did that year's OSCE Chair Switzerland, and my candidacy was confirmed.
Did you imagine your assignment extending for 23 years?
It was supposed to last 3 months, but as the saying goes, nothing is more permanent than the temporary solution (laughs – Mediamax). At least, now I can say I know Caucasus pretty well (laughs – Mediamax).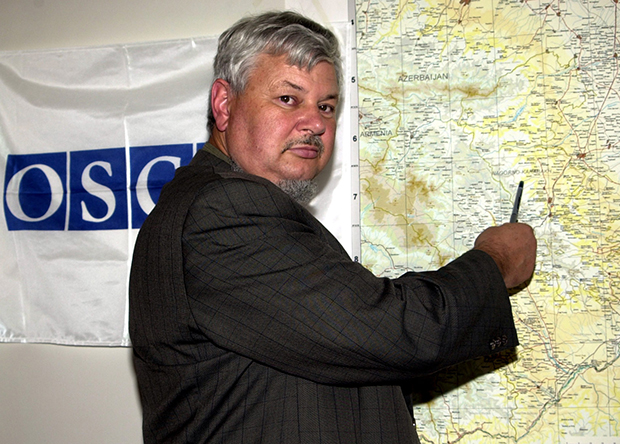 Andrzej Kasprzyk in 2002
Photo: OSCE/ Alexander Nitzsche
You are always on the go. Isn't it exhausting?
It is one of the hardest aspects of my life. I have to be in three places at the same time, all the time. The public can't see some parts of our work. I don't want to complicate it, but just imagine you have to travel hundreds of kilometers in a few hours. Before, you could get from Baku to Tbilisi – a 600-kilometer distance - only by car. Imagine 300km more to get from Tbilisi to Yerevan, and the same distance from Yerevan to Stepanakert. Add the co-chairs' meetings in different parts of the world, which I must attend. Also, I must report to the OSCE Chairperson-in-Office personally, not over the phone. There were periods when I woke up in a different capital every morning in the scope of a week.
One needs to be in good shape to endure that much workload. Do you exercise?
I try. I do basic exercises in the morning. On some occasions I have time to go to the swimming pool. I also try to participate in the monitoring of the Line of Contact, although I can't do it every time.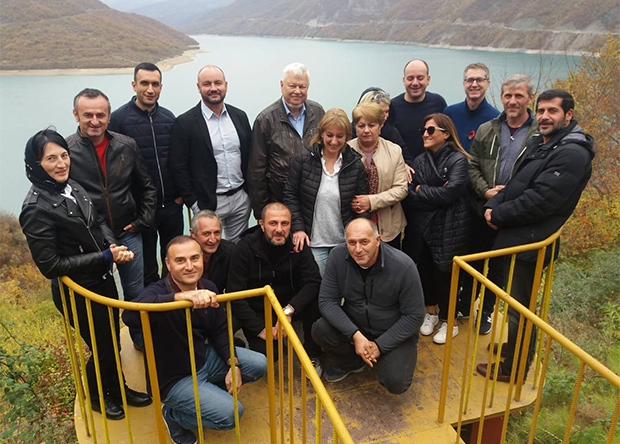 Andrzej Kasprzyk with his staff
Photo: personal archive
There are just 6 people in my office and we take part in the monitoring on both sides. It is important for me to monitor personally so I can see what the situation is like with my own two eyes. During these missions, I have to wear a helmet and a bullet-proof vest that weighs 18 kilograms and walk in the trenches. That is my exercise (laughs – Mediamax).
What does your family think about the trips to the front line?
I think they are used to them now. I always tell them that all parties to the conflict guarantee my safety, and it calms them down. Before, we would get in the crossfire, but that doesn't happen anymore.
How often do you see your family? Does your wife accompany you or stay home?
Members of my family used to visit me in South Caucasus, but now I prefer visiting them when I'm traveling to Europe. The new direct flights from Tbilisi and Yerevan to Warsaw helped a lot. Now, when I'm going somewhere in Europe, I take the route through Warsaw and get home for a few hours. There are modern communication means too. Of course, it is not the same as socializing with your family in person, but it helps.
Have you had any desperate moments over these years, moments when you were ready to resign?
No, but there were difficult moments because I was really upset. I mean the periods of escalation, casualties… But there was no despair, because I always felt the support of the parties and it helped me overcome all difficulties. I knew I could have an adequate conversation with each side and we would find a solution together.
How long would you like to stay on this position?
What I would like is of no much importance. Do the parties want me to keep working? So far, I have noticed no signs that I am not needed anymore. The biggest reward for me is to see I've achieved something good. If I can de-escalate the situation in the area that has had casualties, it is an achievement.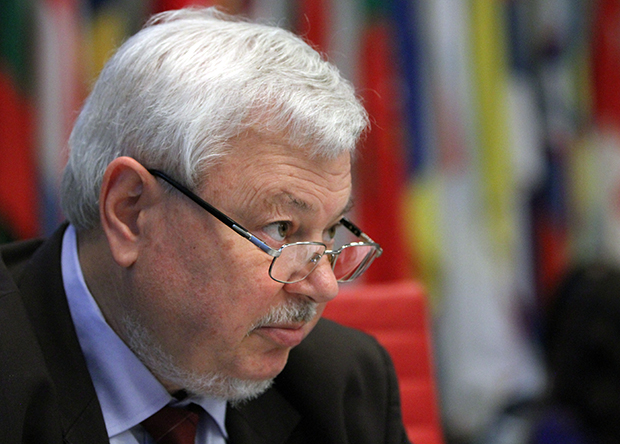 Andrzej Kasprzyk
Photo: OSCE/Jonathan Perfect
We also help the sides with humanitarian matters. They all start at my office and the International Red Cross Committee deals with them after us. We attend the exchange of the prisoners and the bodies of fallen soldiers as well. My office is actively involved in organization of meetings. I am always directly in touch with the foreign ministers.
What is the hardest part of your job, in purely human sense?
The hardest part is the fact that two nations living next to each other can't communicate. It is a sensitive matter for me because I think communication would help. I worked on it a lot before and even had some achievements, but it was a long time ago. Now I'm glad to see that the sides held mutual visits of journalists.
Do you believe the Karabakh conflict will be settled while you are on this position?
I can't say. The conflict is very complicated and I am a realist. I try to contribute to bringing the settlement closer, but I really hope I will manage to drink brandy from that famous Barrel of Peace kept in Yerevan Brandy Factory (laughs – Mediamax).
You have met with all leaders of Armenia, Karabakh and Azerbaijan over the last two decades. Do you think they have anything in common?
I can't give assessment to the leaders.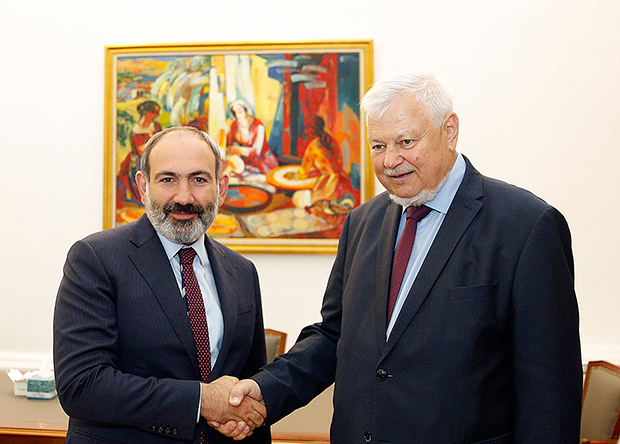 Andrzej Kasprzyk and Armenian PM Nikol Pashinyan
Photo: Armenian government's press office
But I can say this: I associated with them closely, and I still do, and they all want the talks to continue. They all want peace.
What do you do in free time?
I dedicate all of my free time to family – my wife, son, daughter and granddaughter. Grandchildren change a person's view on life.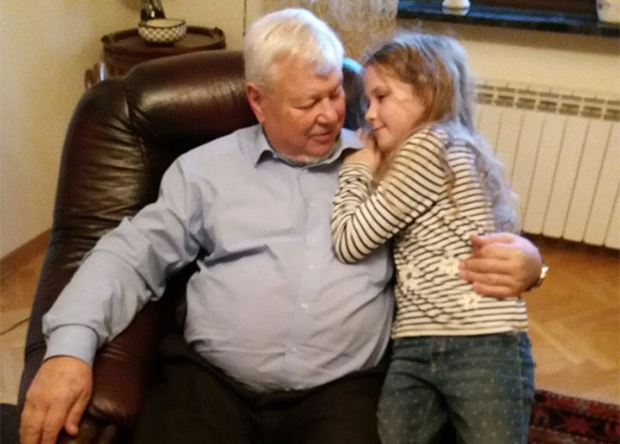 Andrzej Kasprzyk with his granddaughter
Photo: personal archive
Do you have hobbies? Perhaps, music or sports?
I am a strange man, I don't like sports. I do love nature, and I am fond of fishing. It doesn't matter how many fish I catch, the process is what the matters.
Have you thought about what you will be doing in retirement?
I haven't had time to think about it, but I believe I will have something to do. I have a house with a large garden in the mountains. I'd like to take care of it.
Is there a chance you will write memoirs about the Karabakh settlement process?
It depends on the negotiation process and its results. A diplomat must take into account the interests of all concerned parties. But when peace is achieved, I suppose, I could share some spicy moments from the negations in the future (laughs – Mediamax).
Mr Ambassador, you are a very interesting person to talk to. Why do you give interviews so rarely?
Let me reply with a joke. A man asks God to help him win the lottery for 20 years. Finally, God gets fed up and tells the man: "Come one, help me! Cross out a number!" (laughs – Mediamax).
Davit Alaverdyan talked to Andrzej Kasprzyk