Mediamax presents an exclusive interview with Vera Kobalia.
38-years-old Vera Kobalia is a Georgian politician, who served at the Cabinet of Georgia as the country's Minister of Economy and Sustainable Development from July 2010 to October 2012. Currently she is AsiaGlobal Fellow at The University of Hong Kong.
In 2018 she became a member of the Global Future Council on Development Finance. In 2016 she started working as International Doing Business Advisor at Australia-Indonesia Partnership for Economic Governance (AIPEG).
Your daughter Anastasia is only 5 years old, and she was here all the time listening about being a leader. It seems that she misses you and doesn't want to lose any opportunity to be closer to you. Is it easy to be a successful woman and a good mother?
She's very funny, and she's my best critic. She told me after my speech that it was very boring, and that I should avoid talking too long next time.
In fact, it's not easy to be all together at the same time, and I think all women struggle with the idea that maybe they are not good mothers. However, when they spend too much time with children, they start thinking that maybe it's taking away from their work. Thus, it's a constant struggle, and generally women always have this guilt inside. That's why we should share our stories and understand that we are not alone.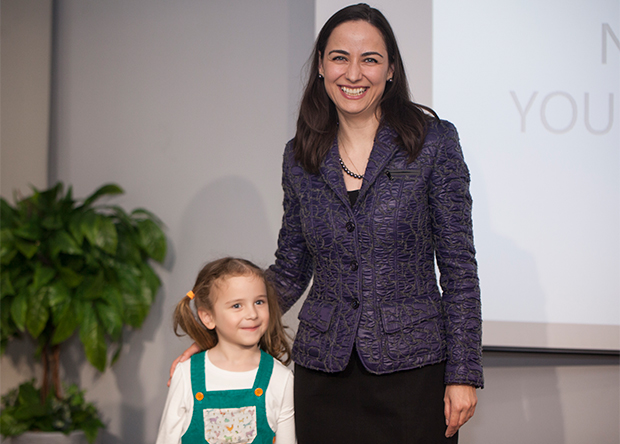 Vera Kobalia with her daughter
Photo: Mediamax
Your grandmother is Armenian. How does it feel to be half Armenian?
One of my grandmothers, who has passed away, was of Slavic background. My second grandmother, Anzhela Matevosyan, my inspiration and former school teacher, is Armenian. I constantly feel the heritage that speaks inside me and becomes my character. In addition, I'm proud of Armenian culture and history. This combination makes me a better person.
My Armenian grandmother has a very interesting story. She and both of her parents left Turkey because of the genocide and ended up in Abkhazia.
What do you like more about Armenia and Armenians?
Growing up in Canada, I have always admired how strong the Armenian community is abroad. The fact that the Armenians always stay together is unique. Many people I know become I wouldn't say jealous but rather competitors when they move abroad. Most of the Armenians that I have met in Canada and in U.S. are supportive of each other. So this is very empowering.
Where is your homeland?
My homeland is Georgia, and my adopted home is Canada. However, I am Georgian at heart.
Your family left Abkhazia because of war. What does peace mean to you?
Peace means that kids are not worried about the future and feel safe. Now that I have a daughter, I find unbelievable how colorful children's imagination is. I wish people could keep that imagination throughout their lives, that openness and positivity.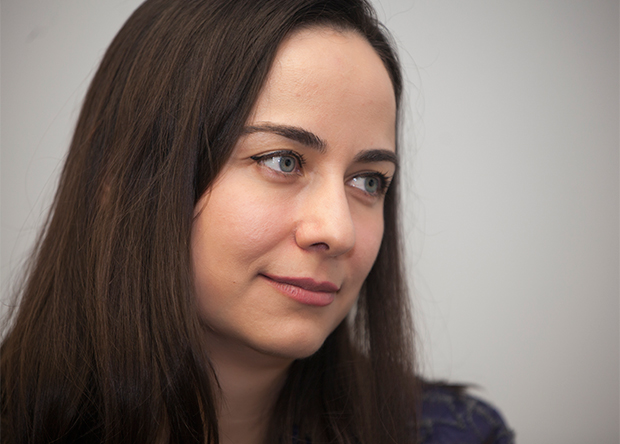 Vera Kobalia
Photo: Mediamax
I believe that more women should be involved in management and political leadership, as in my view, women leaders generally tend to be less aggressive; they tend to lead more with soft power. I don't want to say that in a negative sense though. I think building relationships versus starting worse is something that we should strive for in the future.
You talked about relationships. Is there anything you would like to change in Georgian-Armenian relations?
I would like to see more young people traveling between the countries. 70 percent of young people from Georgia have never been to Armenia, and I imagine the same situation probably prevails in Armenia. I think that you understand that I am not speaking only about tourism, as tourism is just one part of traveling.
When you go to another country, you start understanding their culture, their stories and backgrounds, and you start feeling a strong connection. It's really important for our countries to get closer and build relationships and businesses together. It has to start with active traveling between the two countries.
Georgians tend to go to places like sunny beaches for a holiday, while most Canadians, for instance, prefer putting a backpack on their back and exploring somewhere. That's what I would like to see in young people from Armenia and Georgia, just put on a backpack and start exploring each other's countries.
Have you ever done so, and if yes, what was your biggest discovery?
While traveling I've realized that we're all the same. I discovered that regardless of position all people prioritize their families at the end of the day. They go home and worry their children, their wives, husbands. You should realize that Angela Merkel, Obama, or Trump or Xi Jinping of China, are really just regular individuals. If we start treating people as individuals, the same as us, we will maybe figure out some of the problems that we have between each other.
Would you like your daughter to follow in your footsteps?
I want her to choose something that she wants to do. There are so many interesting professions and opportunities in the world. It's funny but she's telling me that she wants to be a veterinarian. I think that maybe that's not the best choice, but if she wants to be a veterinarian I will agree with that, since you become successful only in the job you're passionate about.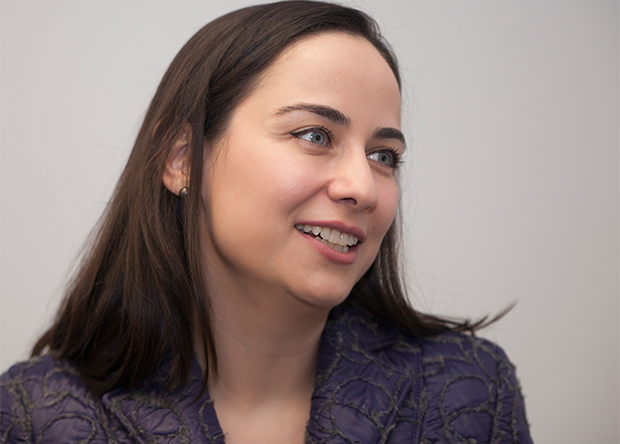 Vera Kobalia
Photo: Mediamax
They say you need to work X amount of hours in order to be professional in violin, or football, or anything, while in reality, you won't be able to succeed unless you love what you do. That's why I want her to do what she truly loves.
Have you sacrificed a lot for the work you love?
This is a hard question, because I can't say that I've lost this or that. I try not to think of it. For instance, every time I find that while working I didn't have time for personal life, I always try to think that I have to make sure that I give more time to my family in the future. I am generally a person who doesn't worry about the past and just looks into the future.
What does it mean to you to be a granddaughter, a daughter, a mother and a successful female leader?
I am so proud to have all that you have mentioned, and I am proud to have the women that surround me. I told you about my grandmother who didn't have an easy life. She was a teacher and, as you know, being a teacher during the Soviet times meant long hours and low salaries, but still she loved her job.
Since I moved to Canada, I have written plenty of letters to her by hand. She always sends them back to me with corrections, because she was a teacher and she can't avoid it. I just wait when she is going to put a mark like no, it's bad, 4 (laughs-Mediamax).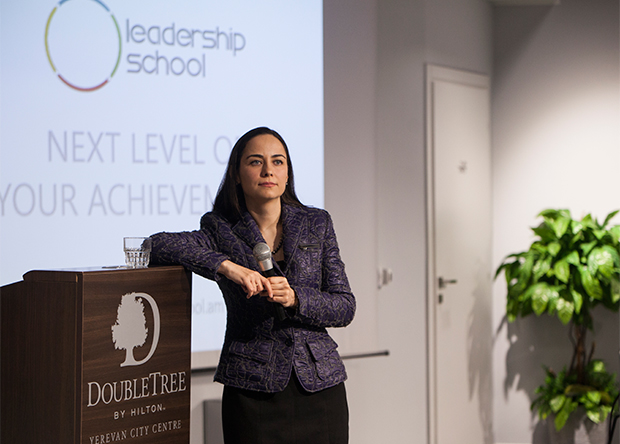 Vera Kobalia
Photo: Mediamax
But this was her life and she loved it; I admire it so much. My mother was a housewife, and she spent her a lot of time with us. When we moved to Canada, she went back to university and got a second degree already at an older age to later start working in computer science. And most people probably wouldn't go back to university with people at the age of 18-19, while they were closer to 40. That was extremely inspirational for me and made me think that age doesn't matter, there's always time to learn something new.
Being a mother, I simply hope to provide the right environment for my daughter to become inspiration for someone else in the future.
Lusin Mkrtchian talked to Vera Kobalia
Photos: Emin Aristakesyan