Today we live in a society, which can not imagine life without expressing views on social media. Probably it does have certain advantages. Nevertheless, many participants of active discussions have already forgotten or do not even know about the developments, which unfolded in Armenia 5, 10 or 15 years ago.
To fill the gap Mediamax presents 5/10/15 project, which introduce developments in Armenia 5, 10 and 15 years ago.
• 15 YEARS AGO: 4-10 APRIL, 2007
Serzh Sargsyan – prime minister
On April 4 Armenian President Robert Kocharian signed a decree appointing Serzh Sargsyan, 53, in the position of the Armenian Prime Minister.
On April 5 Robert Kocharian introduced Sargsyan to the members of the cabinet and stated:
"I think that there is no need to introduce Serzh Sargsyan. I will just remind that he is a member of the government since 1993, and during this period, he worked for half a year in the Administration of the President. For almost 8.5 years he occupied the position of the Defense Minister, heading the Armenian Army, of which we are all proud. It is difficult to assess the contribution of Serzh Sargsyan to the formation of the Army.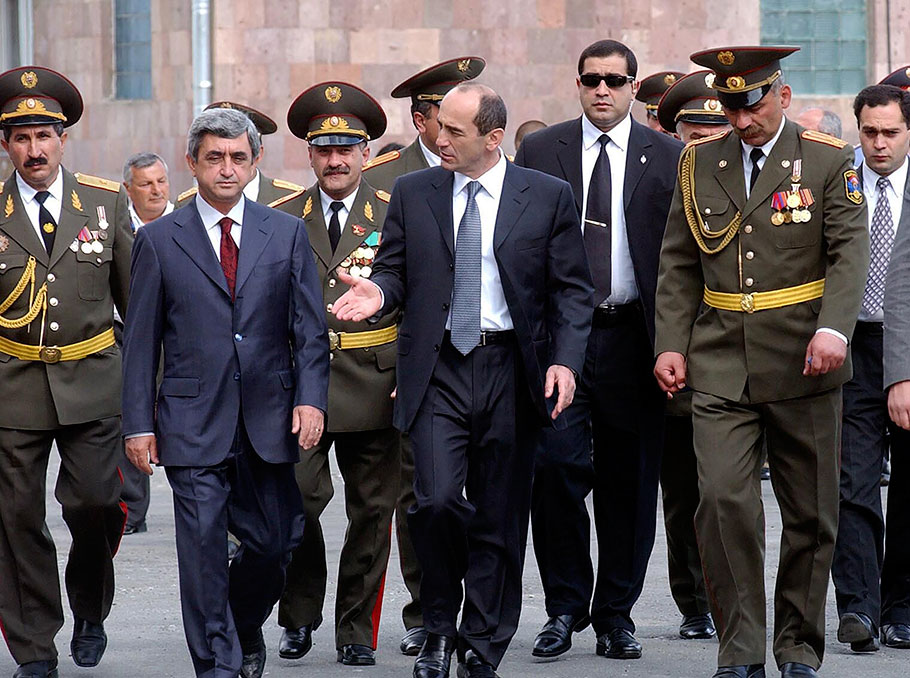 Serzh Sargsyan and Robert Kocharyan in 2004
Photo: Photolure
I know him personally for a long time: Serzh Sargsyan is a hard-working, decent and logical person. I am sure that in this responsible period he is able to head the government, especially taking into consideration the fact that we actually do not have other people, having such experience."
• 10 YEARS AGO: 4-10 APRIL, 2012
Ways of cooperation without accession
On April 4 Prime Minister of Armenia Tigran Sargsyan told Kommersant paper that Armenia is seeking ways of cooperation without the accession to the Customs Union.
"There are no examples in the global practice when a country becomes a member of a Customs Union without having borders. It would be senseless. The essence of the Customs Union is that the goods exchange is carried out without customs inspection. This is impossible in our case, as we have to pass through the territory of the neighboring country and we will only face problems connected with the increase of customs duties and taxes. In terms of economy, it's inexpedient. Our Russia colleagues understand this situation. We are seeking for frameworks of cooperation without the Customs Union. It seems they need to think about a new platform or a special status for Armenia," said Tigran Sargsyan.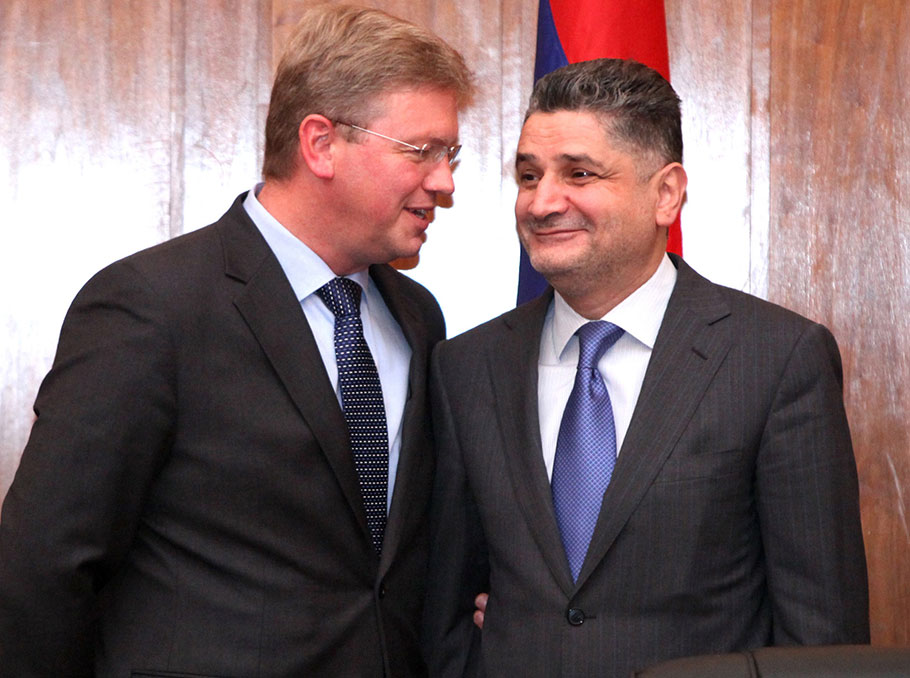 Tigran Sargsyan and Stefan Fule
Photo: Photolure
He also noted that the EU's "Eastern Partnership" does not aim to weaken positions of Russia.
"Just like our strategic partnership with the Russian Federation is not directed against the EU. Armenia is a small country. It cannot play with the diplomacy. Our strategic partner- Russia, knows about all our cooperation programs, be it with the EU, NATO, USA, Iran, China or Georgia. Russia understands what we are doing. If we look at the issue from the positions of Yerevan, it becomes clear that we don't have big choice for the development of partnership relations, taking into consideration our geopolitical situation and the problems with the neighbors. But we do not hide anything from our partners and this is our strength," the PM said.
• 5 YEARS AGO: 4-10 APRIL, 2017
"Opposition may use all mechanisms in Parliament"
On April 4 President of Armenia Serzh Sargsyan issued a statement relating to the April 2 parliamentary elections in Armenia.
"That was the most important day for our state. We held parliamentary elections that meant more than all the parliamentary elections we have had since gaining independence. Today we made the largest step to implementation of the constitutional reforms, on the way from semi-presidential to parliamentary system of governance.
We witnessed unprecedented consolidation of political forces in these elections. As a matter of fact, no influential political power in the country was left out of the election campaign. That was one more proof that formation of our political system, provided for by the Constitution, is proceeding in the correct way.
Proper representation of the opposition powers in the National Assembly will allow them to utilize the full set of control mechanisms that they are entitled to in the parliament, which is the main guarantee of balanced, controlled and efficient governance," the president's statement reads.
"Time bomb"
Yelk alliance issued a statement on April 4 regarding the parliamentary elections of April 2, which in particular said:
"The official results of the elections reflect the results of the popular vote, and the Yelk alliance successfully registered each vote for the alliance."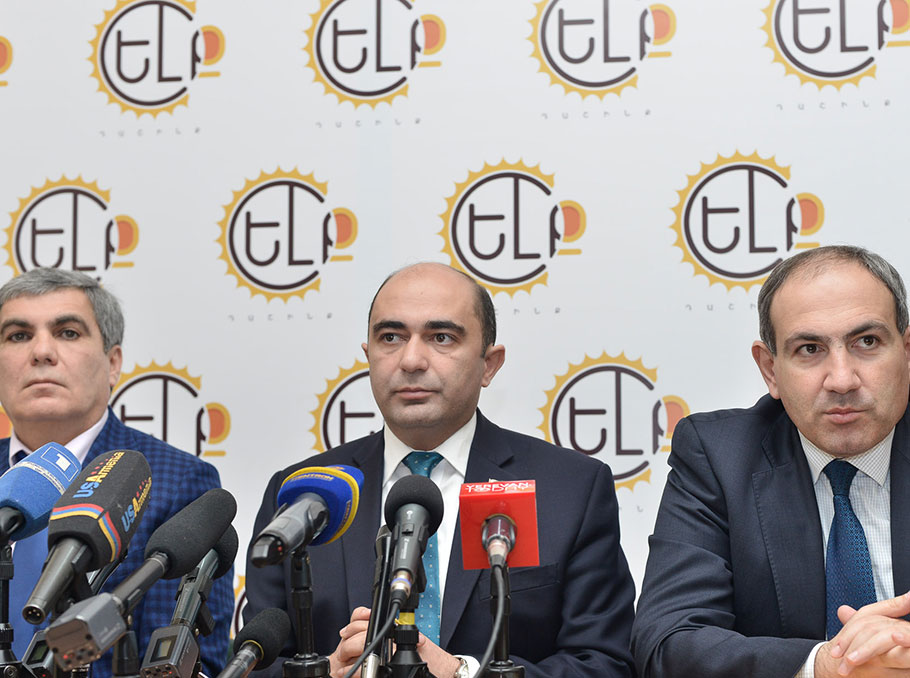 Aram Sargsyan, Edmon Marukyan and Nikol Pashinyan
Photo: Photolure
The statement also said:
"Dozens of thousands of citizens were involved in vote buying and selling. There is an atmosphere of tolerance towards that phenomenon in the Armenian society, which is a time bomb in the foundation of Armenian statehood."
PM promises "New Armenia"
On April 4 Prime Minister of Armenia Karen Karapetyan came up with a statement on Parliamentary elections, which took place on April 2.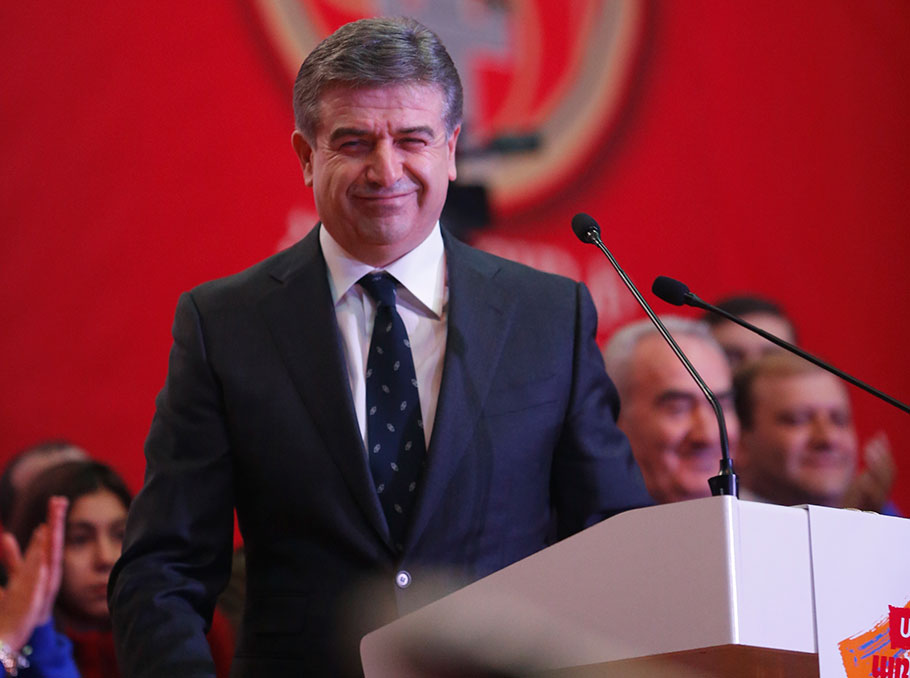 Karen Karapetyan
Photo: RPA
"We will undertake hard and consistent work from now on. Undoubtedly, there is a lot of work to do, but we are not afraid of difficulties. My words may sound exaggerated to you, but I speak from the bottom of my heart. I promise you to work eagerly and tirelessly to create a New Armenia and make sure each of our citizens feel better today than yesterday," the prime minister stated.
Ara Tadevosyan