Today we live in a society, which can not imagine life without expressing views on social media. Probably it does have certain advantages. Nevertheless, many participants of active discussions have already forgotten or do not even know about the developments, which unfolded in Armenia 5, 10 or 15 years ago.
To fill the gap Mediamax presents 5/10/15 project, which introduce developments in Armenia 5, 10 and 15 years ago.
• 15 YEARS AGO: FEBRUARY 1-6, 2007
Defense reform
On February 5 an international seminar, dedicated to the defense reforms in Armenia, started in Yerevan. The organizers of the seminar were the Defense Ministry of Armenia and the George Marshall European Center for Security Studies.
The Marshall Center representative, retired Major-General Horst Schmalfeld noted the importance of reforming the defense sector of Armenia as to separating the functions of the Defense Ministry and the Chief Staff of the Armed Forces, as well as the participation of the civilian personnel in managing the military sphere.
The Deputy Defense Minister of Armenia, Lieutenant-General Artur Aghabekian said that during 2007, the Defense Doctrine of Armenia would be approved. The Strategic Review of the Armed Forces is planned for 2008-2010. By 2015 the practical reforming of the Armenian Armed Forces will be concluded, he said.
• 10 YEARS AGO: FEBRUARY 1-6, 2012
"If substantiated"
On February 6 Turkey's Minister for European Affairs Egemen Bağış said that if "claims that the 1915 deportation of Anatolian Armenians constituted "genocide" could be historically and scientifically substantiated, Turkey would apologize for it."
Egemen Bagis
Photo: REUTERS
Egemen Bağış noted that "every nation has dark moments in its history." According to him, to prove if the incident amounted to genocide or not, first the "disputed issue needs to be examined objectively."
• 5 YEARS AGO: FEBRUARY 1-6, 2017
NK issue "fuels corruption"
U.S. Ambassador to Armenia Richard Mills said on February 1 that the lack of a resolution to Nagorno-Karabakh fueled corruption.
"The lack of a resolution to Nagorno-Karabakh keeps Armenia's borders closed and, when borders are closed, it is easier for powerful business people and others to control economic markets and close off competition," the Ambassador said while delivering a speech at the American Chamber of Commerce of Armenia.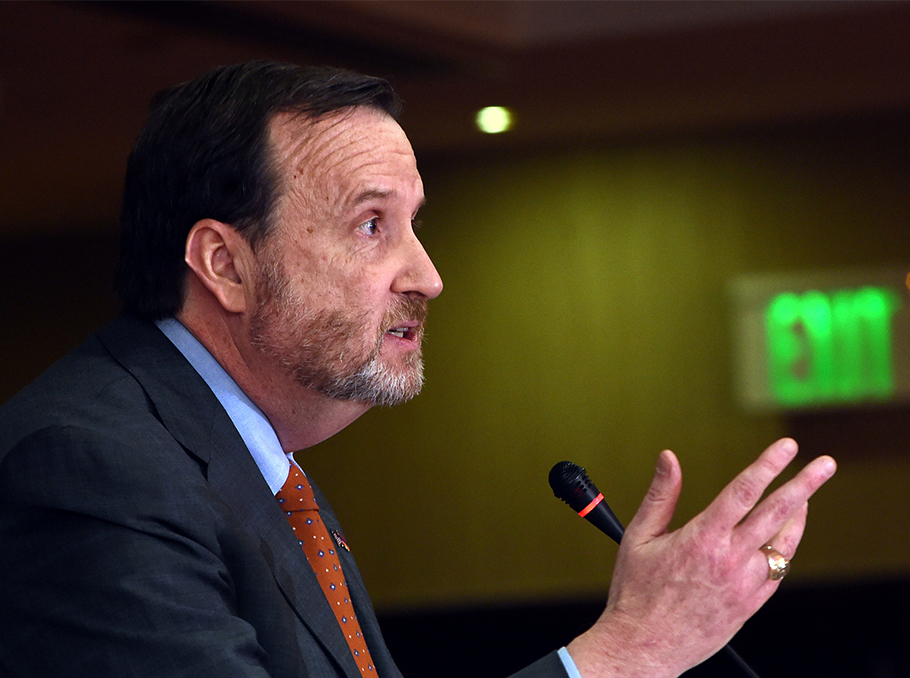 Richard Mills
Photo: Photolure
U.S. Ambassador noted that "public discourse during and after the Four-Day War in April highlighted the corrosive effect corruption can have on national security, and brought the issue into the public spotlight."
"The government must strengthen and empower public institutions at all levels and send a clear message from on high that corruption will not be tolerated and that no one is above the law," Mills said.
"We never make concessions under pressure"
On February 2 President of Armenia Serzh Sargsyan said that "politicians should have civil courage."
"Your political activity is worthless without that feature. Cowards have only a life of a butterfly or a snowdrop in politics. There is no person on Earth without fears. Only fools are fearless, but when you change your decisions under pressure, you become a coward. You should never ever change your decisions under pressure or fear," Armenian President said, delivering a speech at Andranik Margaryan Political School of Republican Party of Armenia.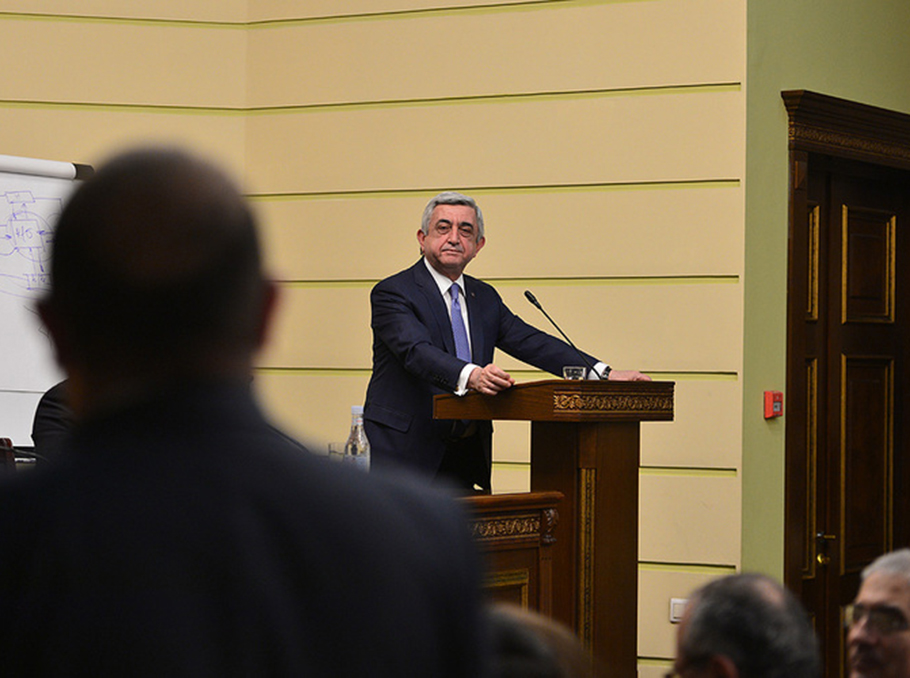 Serzh Sargsyan at Andranik Margaryan Political School
"One of U.S. Presidents said that they should never negotiate out of fear, and they should never fear to negotiate. In my view, Kennedy was one of the best Presidents of the United States, and his words are in line with our current situation. We never make any concession under pressure, when it comes to NK issue. We are ready to accept mutual compromises for the sake of peaceful settlement of NK issue, without another war, but no pressure, be it external or internal, can influence our decisions," Serzh Sargsyan said.
Davit Tonoyan appointed Emergency Situations Minister
On February 6 President of Armenia Serzh Sargsyan signed a decree, relieving Davit Tonoyan of his duty as the First Deputy Minister of Defense of Armenia.
Davit Tonoyan and Karen Karapetyan
Photo: Photolure
By another decree, the president appointed Davit Tonoyan the Minister of Emergency Situations.
Ara Tadevosyan