"When Dilijan is your home" is a joint project by Mediamax and UWC Dilijan College introducing the stories about Dilijan and life in Armenia by students from different countries.
Beniamin, Iran, UWC Dilijan'16
Beniamin is one of the 94 pioneer generation alumni at UWC Dilijan. Currently he is studying Mathematics and Economics at Bennington College (Vermont, USA). He says that his two years at UWC Dilijan made him more confident and let him become the person he wants to be.
Travelling to Armenia was the first time that I left home and stepped in a foreign country only by myself. I was scared to be away from my country, family and culture and live in a country where I could not speak the language and communicate with people easily.
I did not know much about Armenia except the fact that there are similarities in Iranian and Armenian cultures and the history of both countries overlap each other on certain periods. There are more than 120,000 Armenians who migrated to Iran during 20th century and created the Armenian - Iranian population. I remember visiting Armenian churches in Tehran and Tabriz and listening to people sharing their stories of how their ancestors moved away from Armenia and how Armenia is these days.
I arrived to Yerevan in August 2014 and on my first day I walked around the city center for few hours to explore. My first impression of Yerevan was not fully a positive one. Growing up in Tehran, I had certain expectations of how a capital looks and I was comparing both cities with looking at the buildings, cars, cafes and clothing styles. Now that I think back in time, I consider myself a little bit spoiled with only looking at the outside appearance of the city and not thinking that a city is represented not only by its physical appearance; but also with its people and the vibe inside.
I arrived to the Republic Square on my first night where there was classical music being played with water fountains which created a fascinating atmosphere on the street. I was amased to listen to the music and I started talking to people in English and learned that the fountains are usually on during summer and there's music every night. I knew that music is really important in Armenia and it is a part of the culture, but I was not expecting such a beautiful performance and such passionate people who gather every night to listen to music. During the two years that I stayed in Armenia, I went to the best classical concerts that I have ever seen in my life and I was amased every time I had the chance to see a new musician. During my school years here I mainly concentrated on my studies and the college experience, which allowed me to have a pleasant memory of my experience in Armenia. However, now that I am back after a couple of years, I am focusing more on meeting people and developing projects, and this makes me see the other side of the culture that I never noticed during my stay before.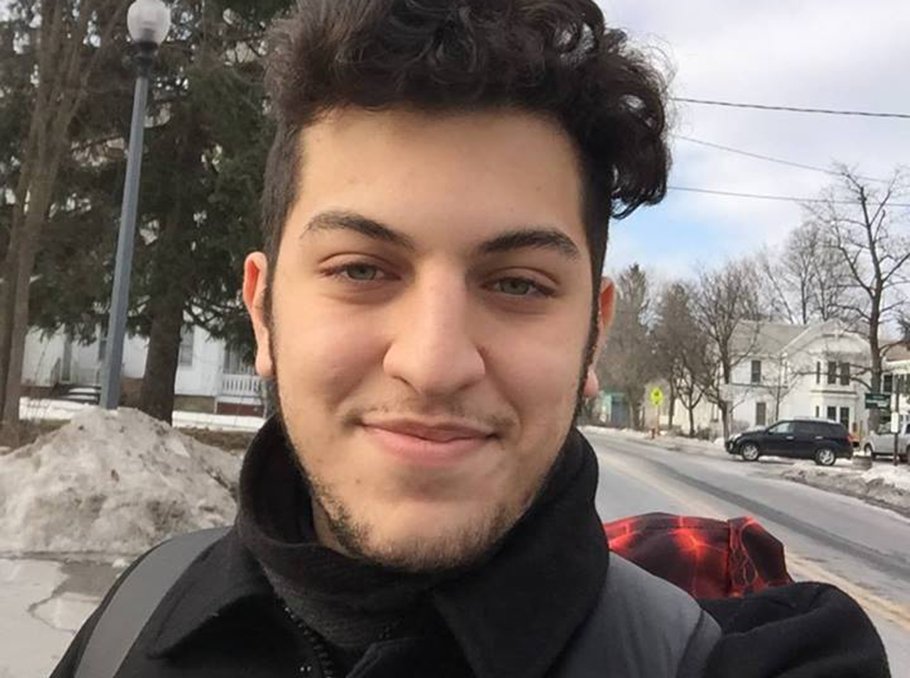 Beniamin
Photo: UWC Dilijan College
Armenia has a very rich culture originated from the long history of the country. There have been times that the culture has dramatically changed due to various historical events, which makes the culture and Armenian traditions more enhancing. I always felt very comfortable and safe in Armenia because of the multiple similarities of the culture to the Iranian one and at the same time, I was introduced to the post-soviet and Russian culture as well. It was shocking for me to see that almost everyone in Armenia knows two languages (Armenian and Russian) no matter what level of education or what social class they belong to.
I truly felt the pain in people's hearts talking about the bitter part of the Armenian history after the genocide and the collapse of the Soviet Union. It was very tragic to see the old pictures of Dilijan before the collapse of the Soviet Union and to realise how much the city has been affected under the regime change.
I will always remember Armenia and Armenians as friendly and hospitable. The country where people are open to talk to you, they always offer food and whatever belonging they have and they share stories of their personal life which makes you feel very welcome. I remember that there were many local families that were open to host students from my college whenever anyone needed an accommodation. It was also very nice to see the respect that Armenian culture has for the elderly and the fact that people would help each other if they saw that someone is looking for support.
Currently, I am looking at Armenia as a country that has a lot of potential in development and after meeting several Armenian innovators and observing their projects, I am certain that very soon, there will be a drastic change in the country by repairing and rebuilding the damage which has been done after the collapse of Soviet Union. It will be a pleasure to travel back to Armenia and be a part of current developing movement or to see the progress in the country.