In August, Arshak was enjoying the wonderful nature in the Lori region, driving through Karinj village's unpaved road, and remembered that a year ago he was on his way to Mijnavan village in Artsakh with a reminiscent feeling. The car's wheel was damaged and the 15-minute journey to Mijnavan village lasted for 2 hours. He arrived late in the evening with the help of a map. Neighbors, teachers, and students were waiting for him.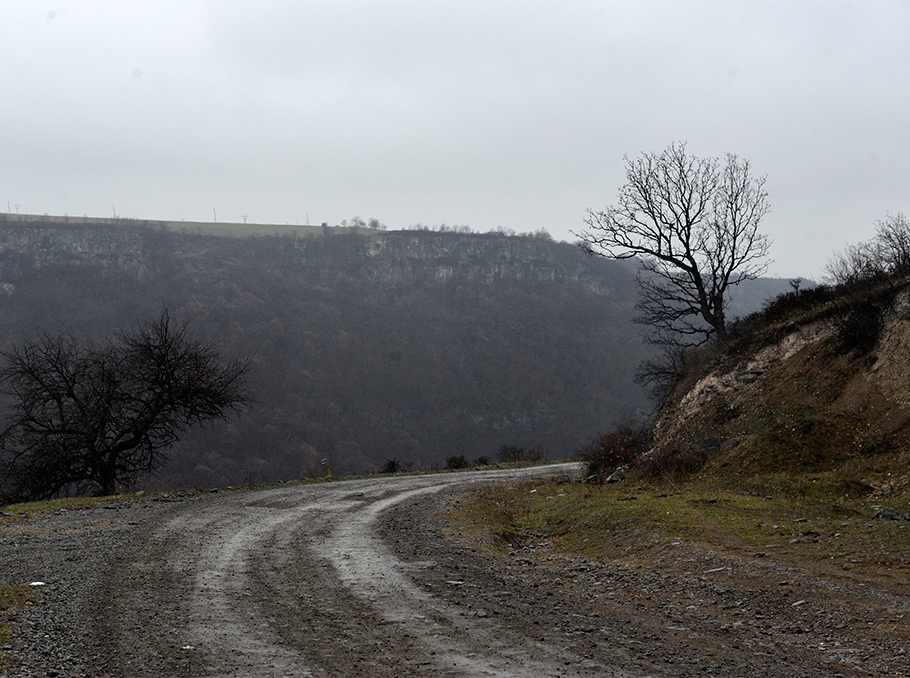 Photo: Vaghinak Ghazaryan/Mediamax
"There was so much love. They welcomed me with smiles, cleaned the house, and organized my things."
Arshak Poghosyan moved to Artsakh in September 2020 to teach Armenian language and literature in Mijnavan in the Kashatagh region of Artsakh. He is a philologist and educator by profession, but worked in the service sector. When he decided to quit his job and pursue what he really loved, it did not take much thought.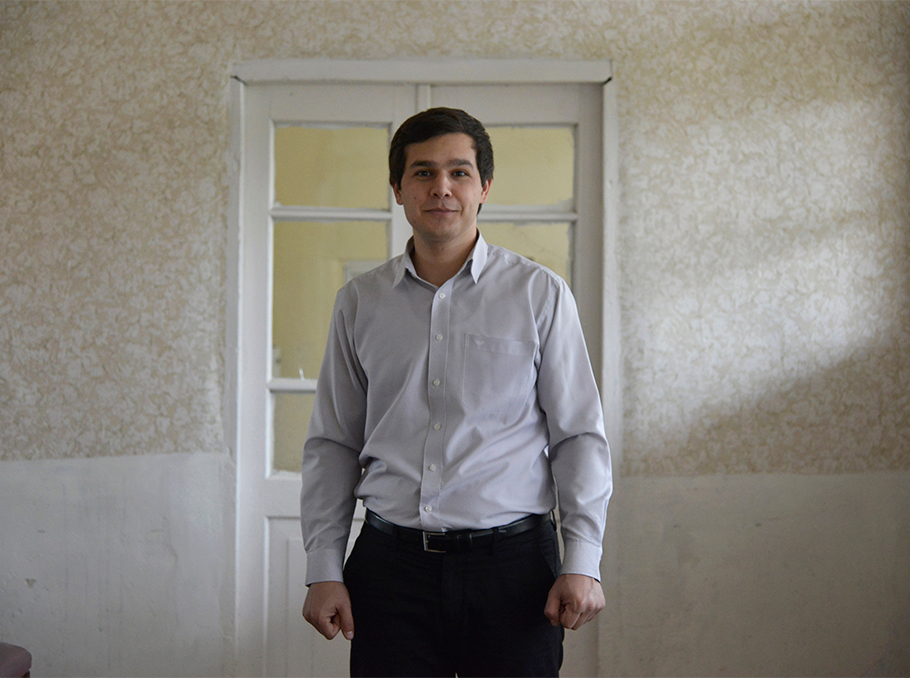 Photo: Vaghinak Ghazaryan/Mediamax
"The first condition for doing my favorite job is children. Where else can you communicate with children every day, if not at school? Who will give you that opportunity? Of course Teach for Armenia. I wanted to put more meaning into what I had done for two years and feel more satisfied inside. I thought Artsakh was the best place to achieve that goal. I remember every moment – how I applied to the program, wrote a letter, checked my mailbox every day not to miss the answer, trembling after reading each letter, and that feeling lasts until today."
The Mijnavan school has about 70 students. Arshak managed to teach them for two weeks. He became friends with many people and became close to several families. "Everything was so wonderful," he says.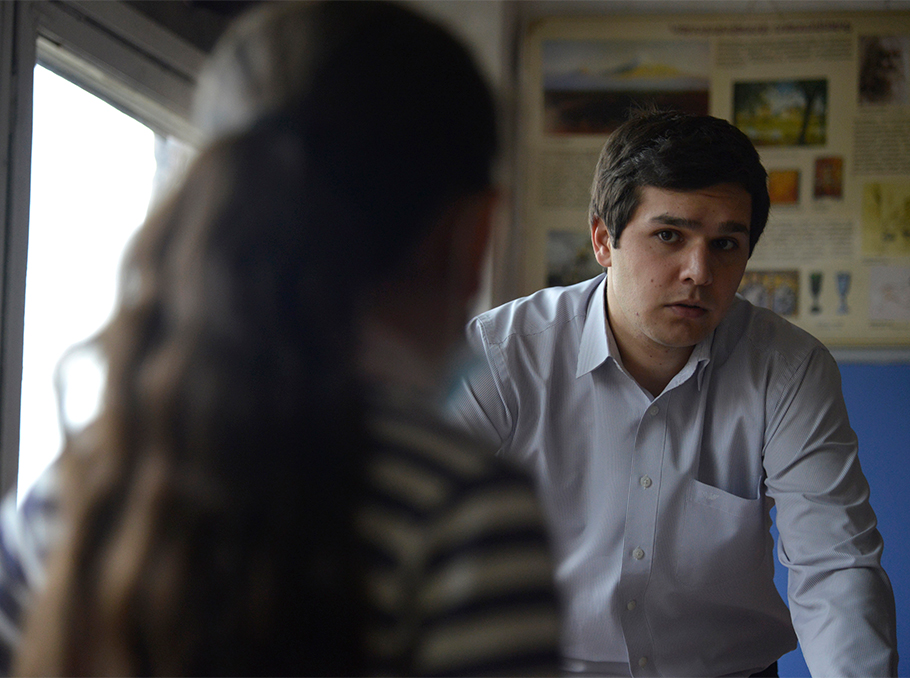 Photo: Vaghinak Ghazaryan/Mediamax
On September 27th, he learned about the war from a teacher in Hadrut and then the army recruitment began. Arshak joined the volunteer infantry. Jabrayil, Hadrut, Karmir Shuka... About 20 days later, they returned to Mijnavan, where it was already dangerous to stay. A day or two later, the town was seized. Arshak tries not to remember the past. His memories only go until September 27th in Artsakh.
"I left my students there. The love I received and gave is priceless. I miss the children a lot. By saying children, I mean the whole town, because they were the future of Mijnavan. Everything material is forgotten. The material is for you to gain, to lose, but many things remain open. I think that even during those 14 days I could give more than I did. Maybe that feeling will always accompany me."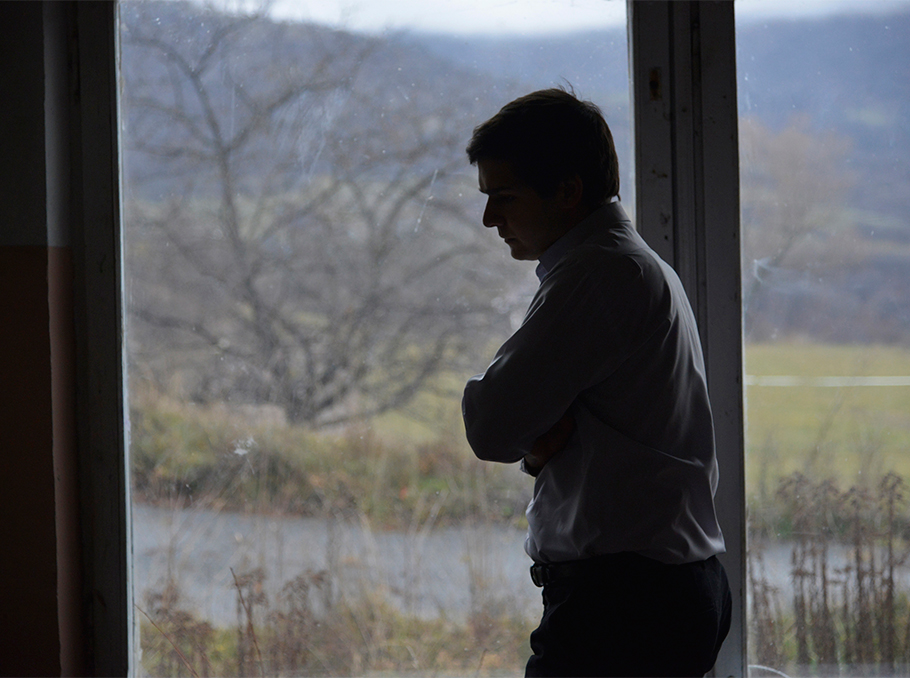 Photo: Vaghinak Ghazaryan/Mediamax
After returning to Armenia, Arshak joined Teach For Armenia's new initiative – the Emergency Education Program. During the war and the months that followed, the Teacher-Leaders worked with displaced Artsakh children resettled in Armenia, assisting classes, groups, and implementing various programs.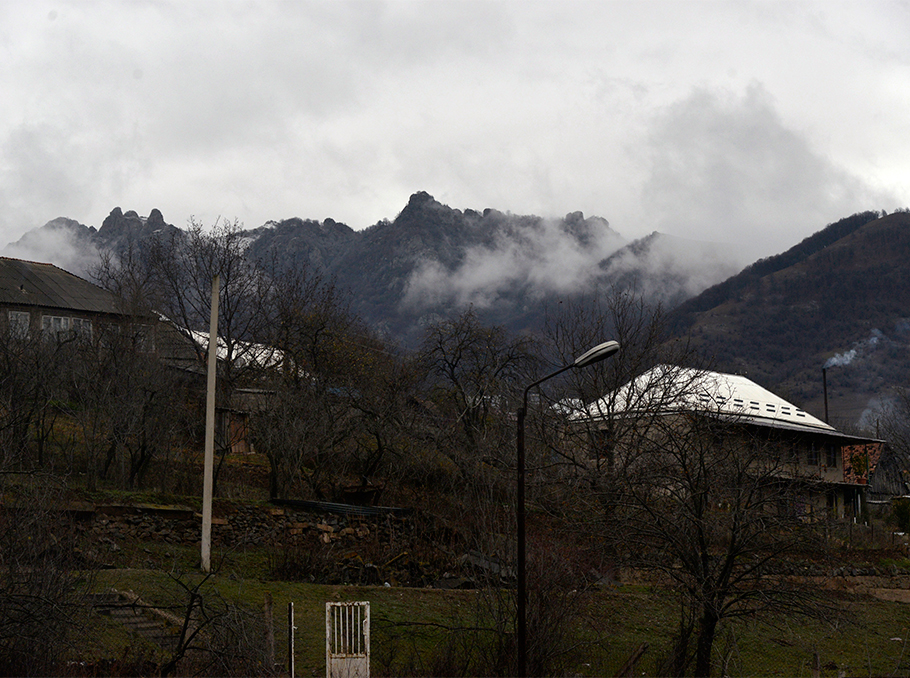 Photo: Vaghinak Ghazaryan/Mediamax
Since September 2021, Arshak has started teaching again, but already in the village of Karinj, Lori region. He says like in Artsakh, he was lucky here too. He met hospitable, warm, open people.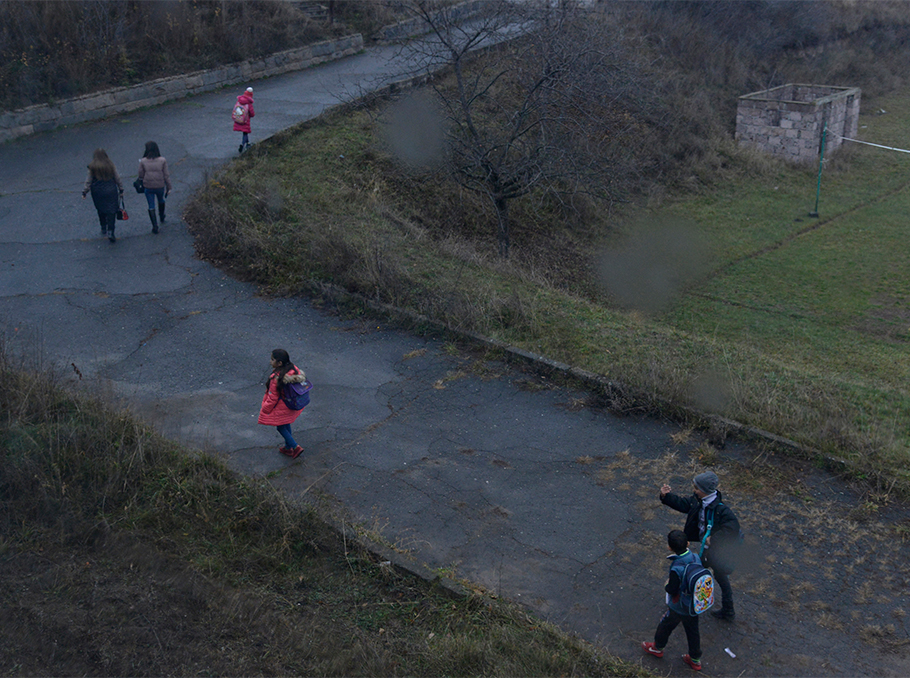 Photo: Vaghinak Ghazaryan/Mediamax
Teach For Armenia has been in Karinj school since the day it was founded in 2015. Teachers not only fill the subject gap, but also bring a breath of fresh air. Arshak says that the most important thing a Teacher-Leader needs to understand is the ultimate goal of their work during their two years.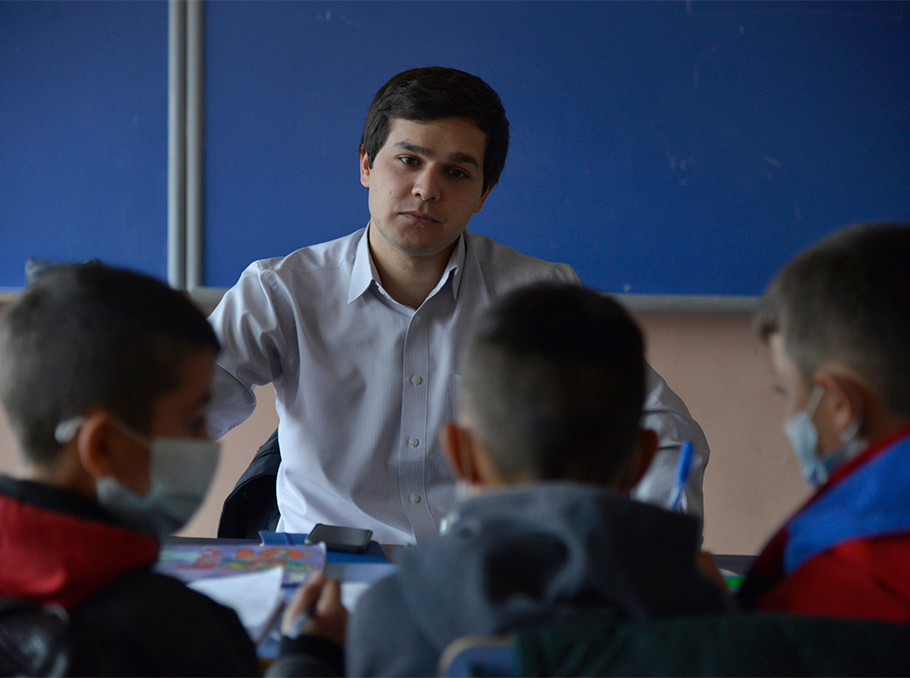 Photo: Vaghinak Ghazaryan/Mediamax
"If you came to teach Armenian language and literature, you must give maximum knowledge to your students starting at the subject level. If you manage to convey human qualities like patriotism, show the difficult ability to love the land because it will take it to that extra step. The most important thing is that you must give love and receive the same in return and with that, everything will fall into place. You must always ask yourself the difficult questions everyday as self-reflections -- Why am I here? What can I do? What haven't I done yet?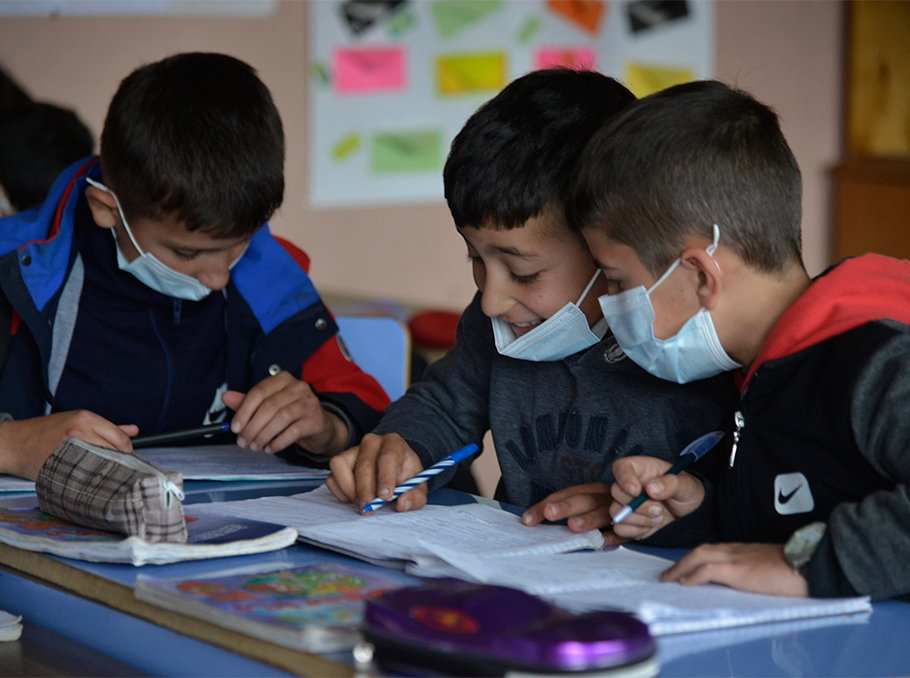 Photo: Vaghinak Ghazaryan/Mediamax
With just a few months of experience, Arshak realized that there are no petrified rules in pedagogy as a lot depends on the teacher. There's no one who can decide better approaches for the students.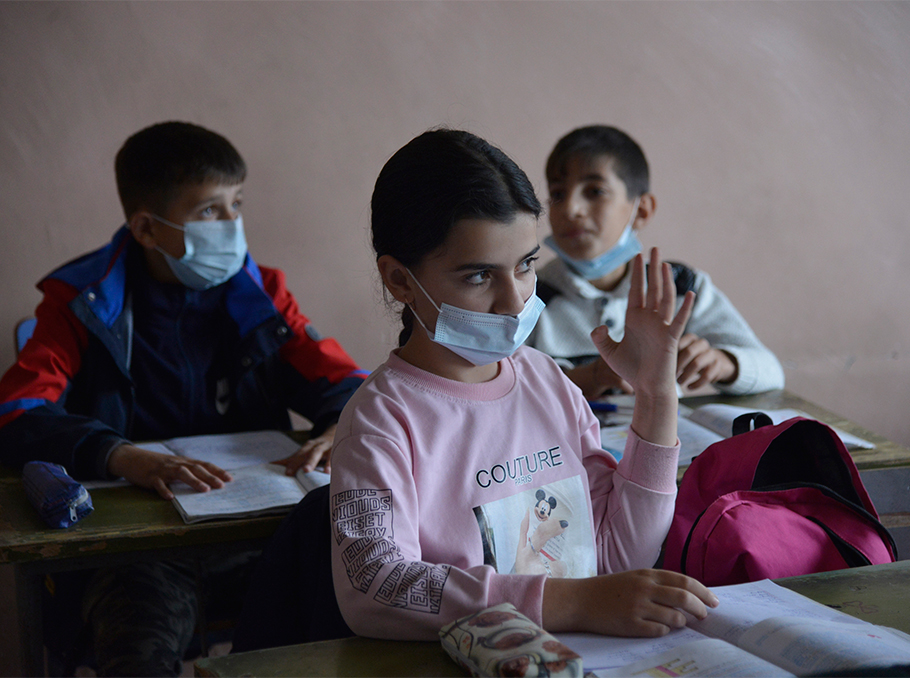 Photo: Vaghinak Ghazaryan/Mediamax
In addition to teaching Armenian language and literature, Arshak also opened a chess club. "You can break the stereotype and become a philologist-chess player." He says he is lucky in this as well – most students are interested in chess. He decided to make that interest a goal. A community chess competition will be held in Karinj in spring and the winners will participate in the regional competition. They decided to actively train with the students, gain experience, and participate in the competition in order to win.
Photo: Vaghinak Ghazaryan/Mediamax
Though Karinj is a bit isolated due to its location and poor roads, the village youth are open to innovative changes. Arshak and his 11th grade students developed a project called "Karinj Podcast." As there are no youth clubs or media in the enlarged Tumanyan community, they decided to present their community by releasing 3 podcasts a month on sports, environmental and cultural topics. A year later, they plan to talk about the neighboring communities as well.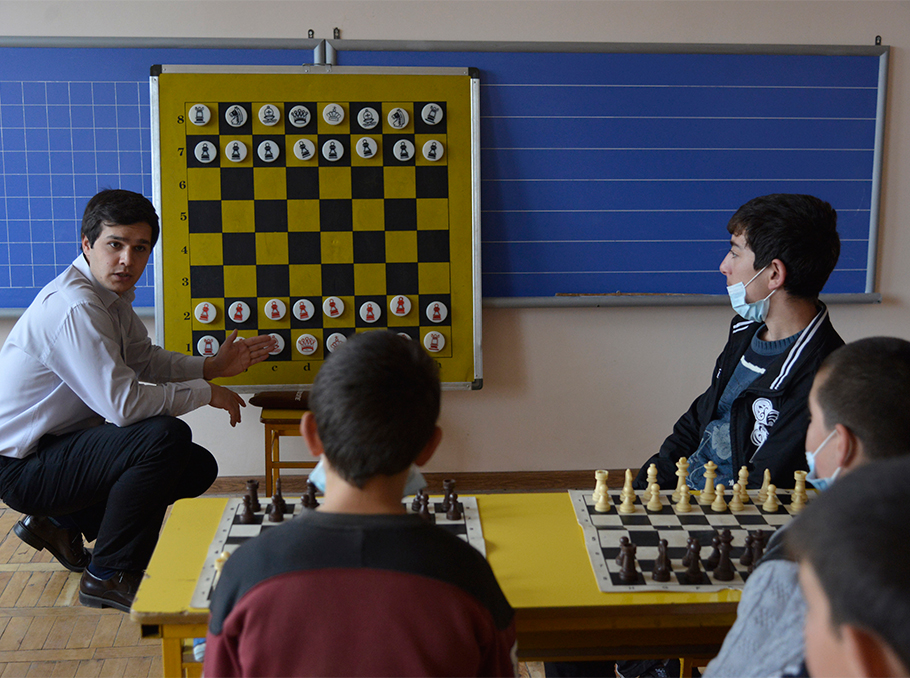 Photo: Vaghinak Ghazaryan/Mediamax
Arshak says that the foundation of the country is the village, the villagers, and the students studying at the village school and they should be in the center of attention. He did not have a problem adapting to the new environment. The important thing is not to be lazy. Even cooking, which remained a pleasant habit from the army, is not needed in Karinj. After school, he spends the nights at the math teacher's house.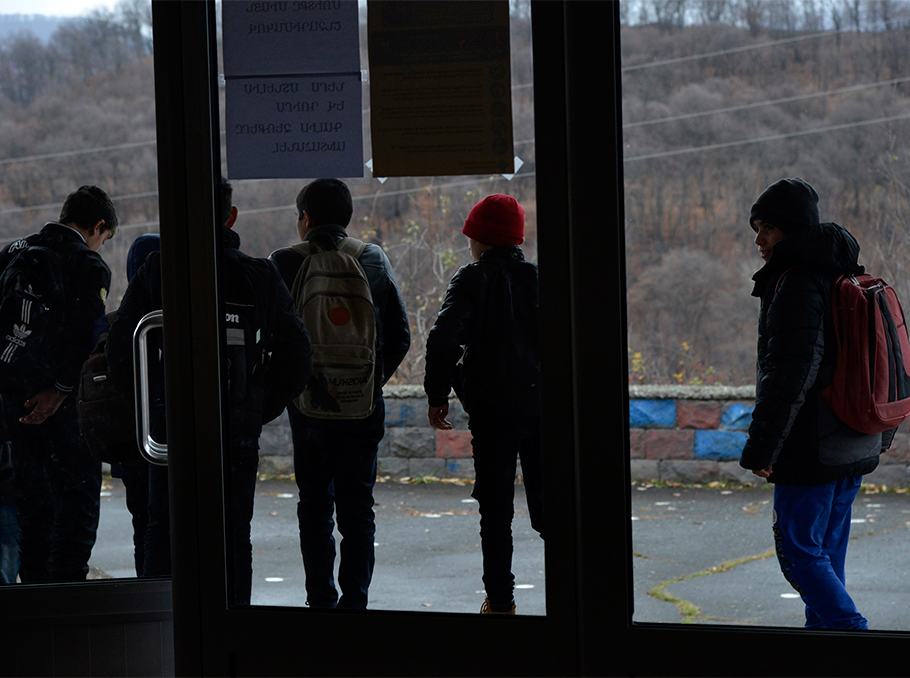 Photo: Vaghinak Ghazaryan/Mediamax
"I like to make friends with people not from here, but when they leave, the house feels empty," says Marine Poghosyan, who has been teaching at the Karinj school for about 30 years.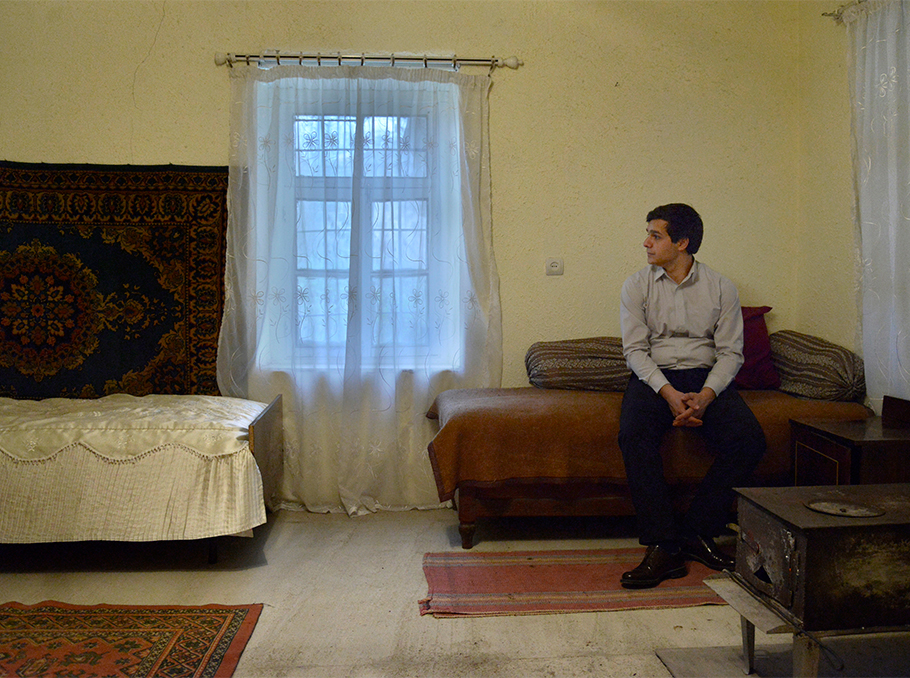 Photo: Vaghinak Ghazaryan/Mediamax
Arshak likes village life. He found what he was looking for.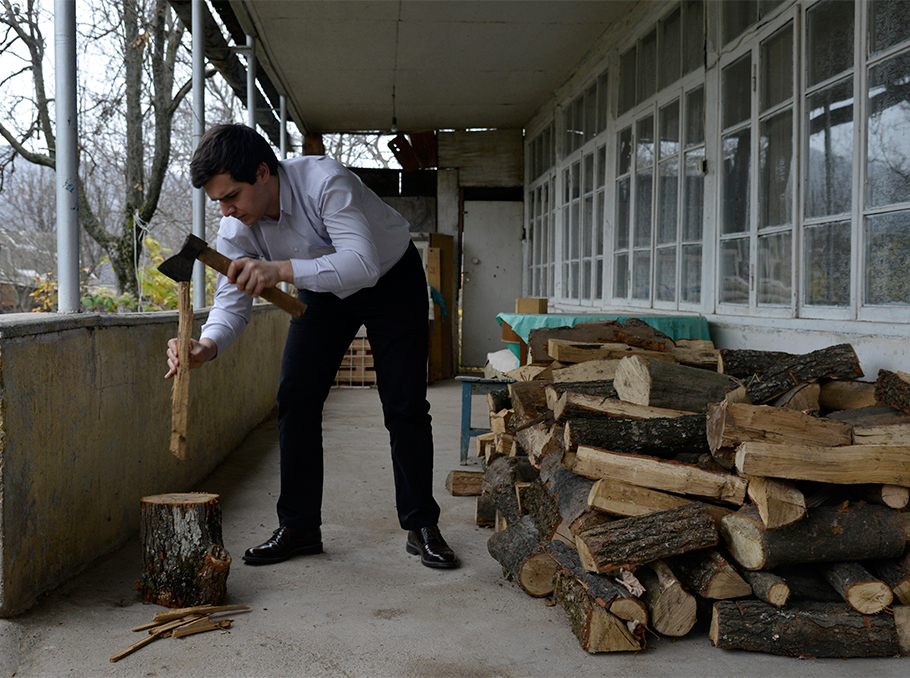 Photo: Vaghinak Ghazaryan/Mediamax
"I wake up every day at 7 a.m. and wait to get to school 15 minutes early to meet my students. I am lucky that the environment is full of love. No one gets so much love anywhere else. Of course, it sounds a bit selfish, but let it be so, for a person to satisfy his love, let him go to school, because has to give in order to receive. I do not know what else is needed in this life."
Lusine Gharibyan
Photos by Vaghinak Ghazaryan (especially for Mediamax)