Every morning Anahit Mamikonyan starts the day by switching on the stoves at her small bakery and making the day's fresh pastries and cakes. Anahit and her family are from Goghtanik, Qashatagh Province. After the 44-day war in 2020, Anahit and her family fled to Etchmiadzin, Armenia.
Anahit is a teacher by profession. However, following the war, she enrolled in a pastry training course implemented by People in Need within the "REACT: Relief and Early Recovery for People Affected by Conflict in Armenia' project funded by European Union humanitarian aid and, as a result, discovered a new profession.
A fresh start
"Before displacement, I was teaching early-grade pupils at Goghtanik secondary school in Artsakh. When we moved to Etchmiadzin, we had nothing—but we had the chance to start again from scratch; I participated in projects organized for people displaced by the war. One of these projects was run by People in Need. I knew about the organization before the training. After displacement, they provided us with food and hygiene kits and subsidized our utility bills for two years. In addition, after the training, they provided me with the stove I use at the bakery now.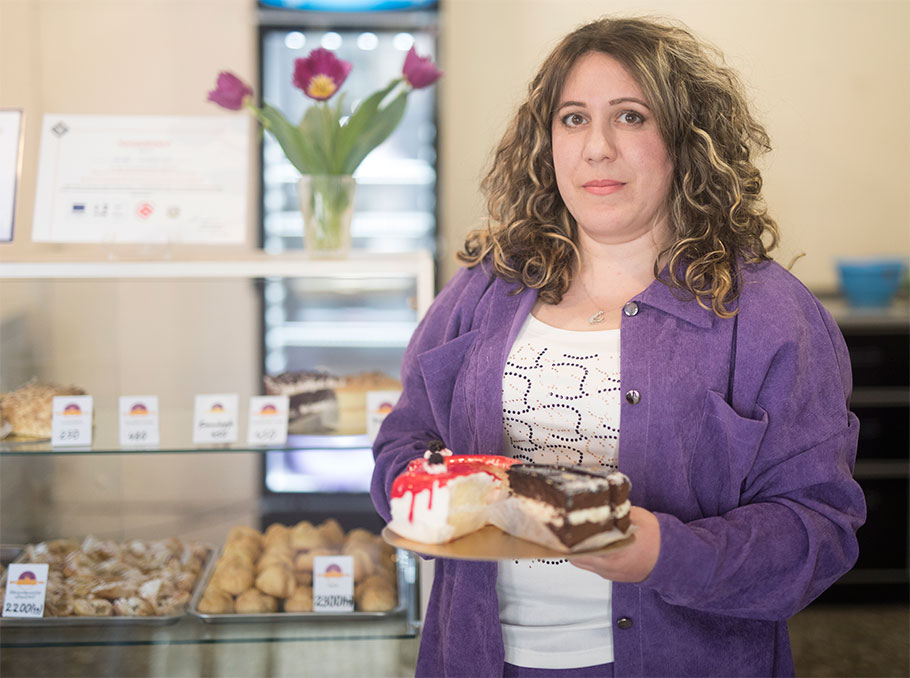 Anahit Mamikonyan
Photo: Mediamax
The pastry training lasted for 6 weeks. It was comprehensive: it included both theoretical and practical classes. We acquired more knowledge during that period than was expected within the project. Last March, we established the "Goghtan" patisserie in front of the Charents 16 building in Etchmiadzin. It was relatively active initially, as it was new to the neighborhood.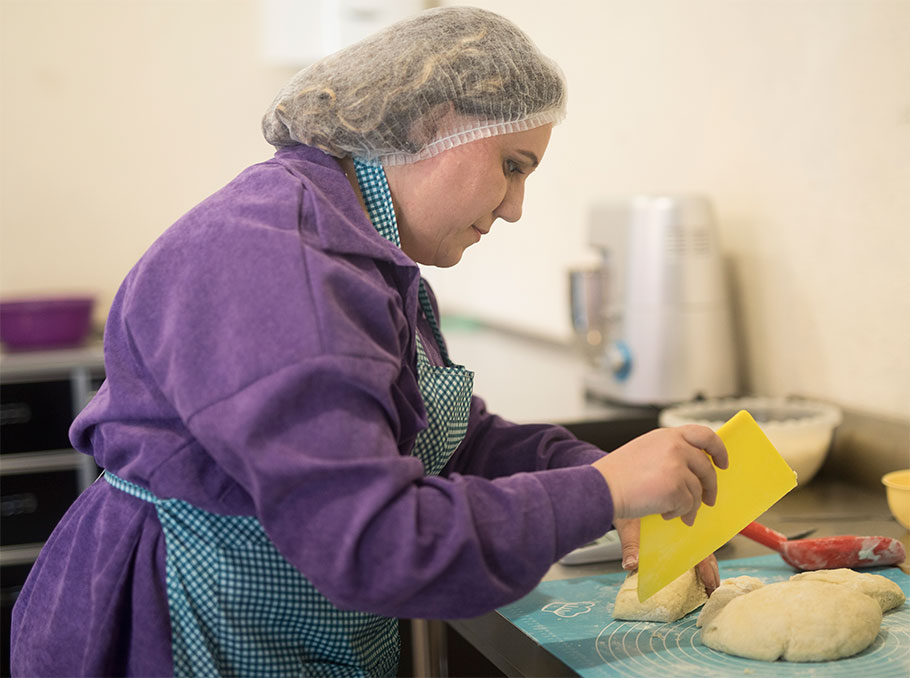 Anahit Mamikonyan
Photo: Mediamax
The patisserie opens at 9am. Once I open the doors, I clean, put on my apron, and switch on the stoves. It is paramount to my customers and myself that we have freshly-baked pastries here. Customers often call and order pastry assortments before coming to the bakery.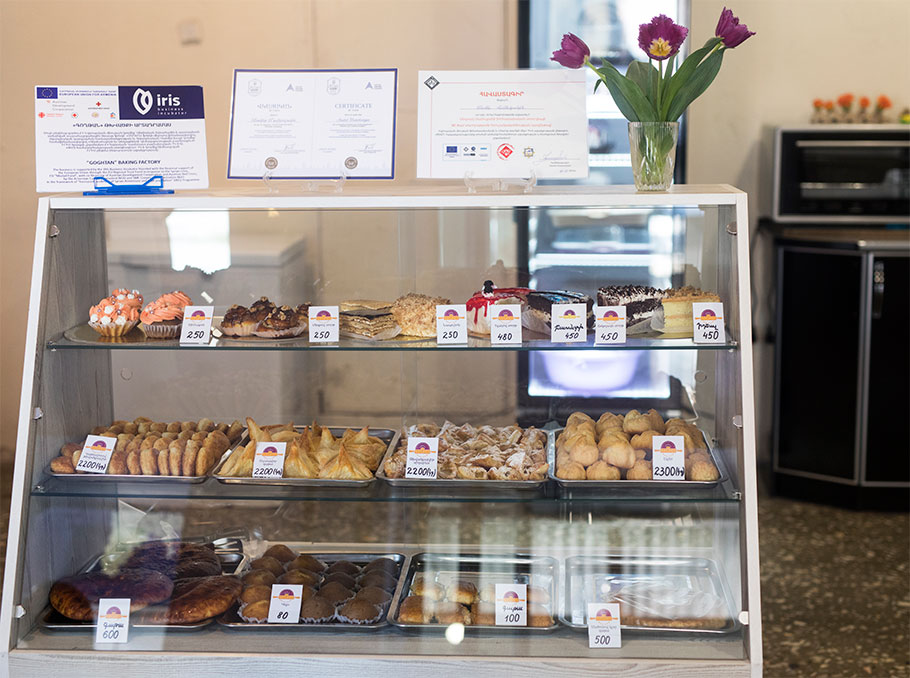 Photo: Mediamax
Basically, the emphasis is on Gatas [sweet bread] and cakes. We make festive cakes only by order. We prepare about 12 assortments of pastry. We mainly bake cakes with a little cream and have 4-5 types of Gatas. However, cottage cheese cookies are the most in demand."
From pastime to profession
Making pastry has always been a hobby for me—now, it has become a job. You can make tasty cakes for your family; however, when you realize you could reach a wider public, you should take a more professional approach. The pastry training helped me a lot in this regard. I can't say I'm taking big steps forward, but the start is the most important.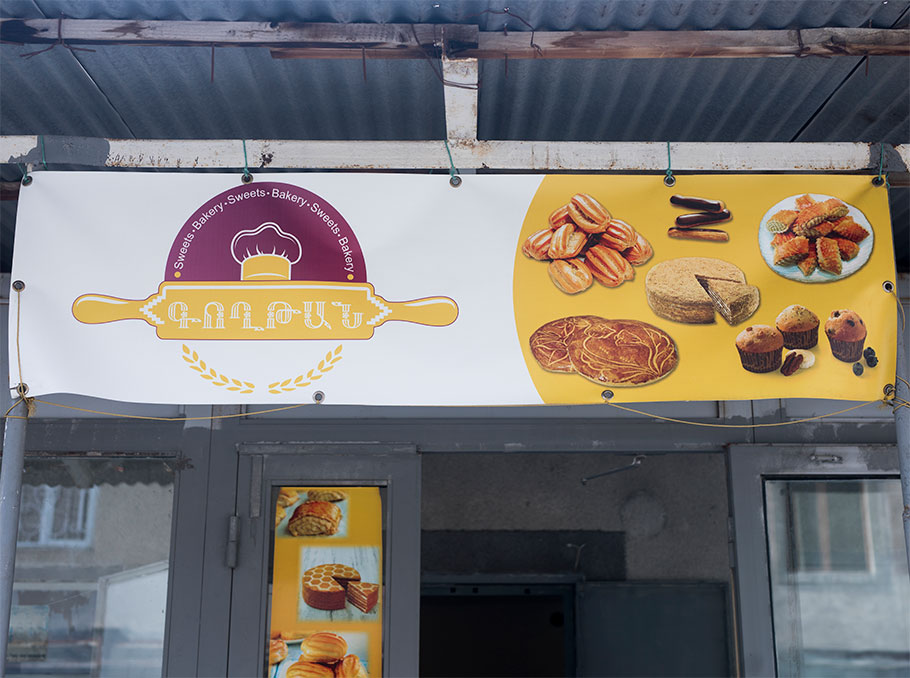 Photo: Mediamax
We were supposed to open the bakery in another part of the city with different equipment. There were some difficulties; however, all our issues were resolved thanks to my family's support. Now, my sister and I make pastries together.
Our products do not contain chemical additives. We bake as if we were baking for our families. When we were in Goghtanik, I often made pastry. Our guests kept asking, "Don't you have any pastries?" We intended to open a grocery shop in Goghtanik and even started construction. The village was far from the centre, and there were no bakeries nearby, so I wanted to sell the pastry in that shop. However, everything was left unfinished because of the war and our displacement. Thankfully, the pastry training turned a dream into a goal and now into a reality.
Long-term solutions
Shushanik Nersesyan, Media and Communication Manager at People in Need
The 'REACT: Relief and Early Recovery for People Affected by Conflict in Armenia' project was launched to provide the people of Nagorno-Karabakh with long-term assistance in the integration processes following a number of humanitarian aid projects due to the 44-day war.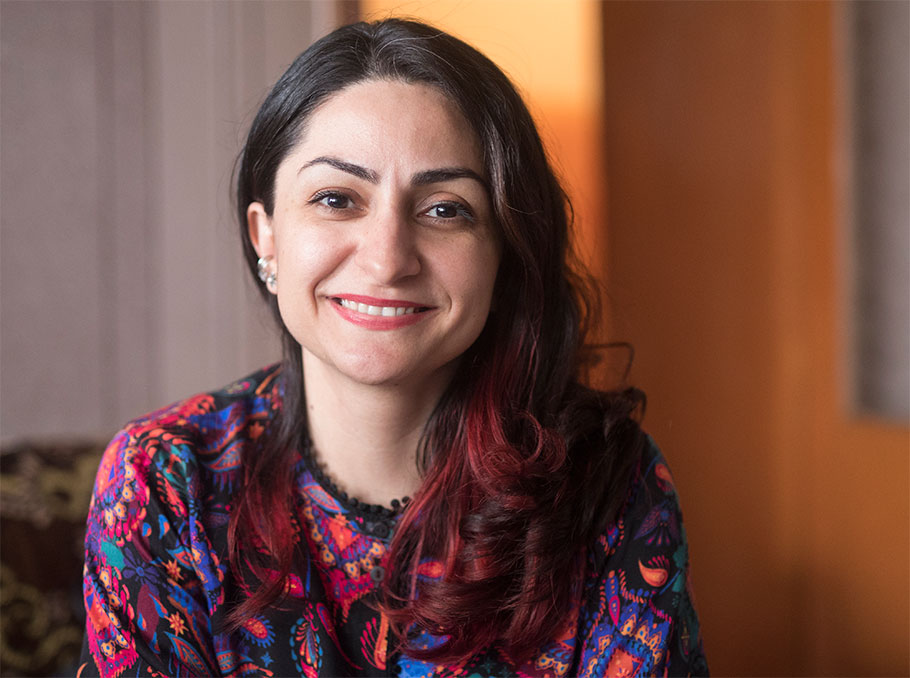 Shushanik Nersesyan
Photo: Mediamax
People in Need was established in the Czech Republic in 1992 and implements long-term humanitarian and development projects in more than 30 countries.
During the war and other crises, we usually implement humanitarian aid projects, however the REACT project is rich in educational and other components.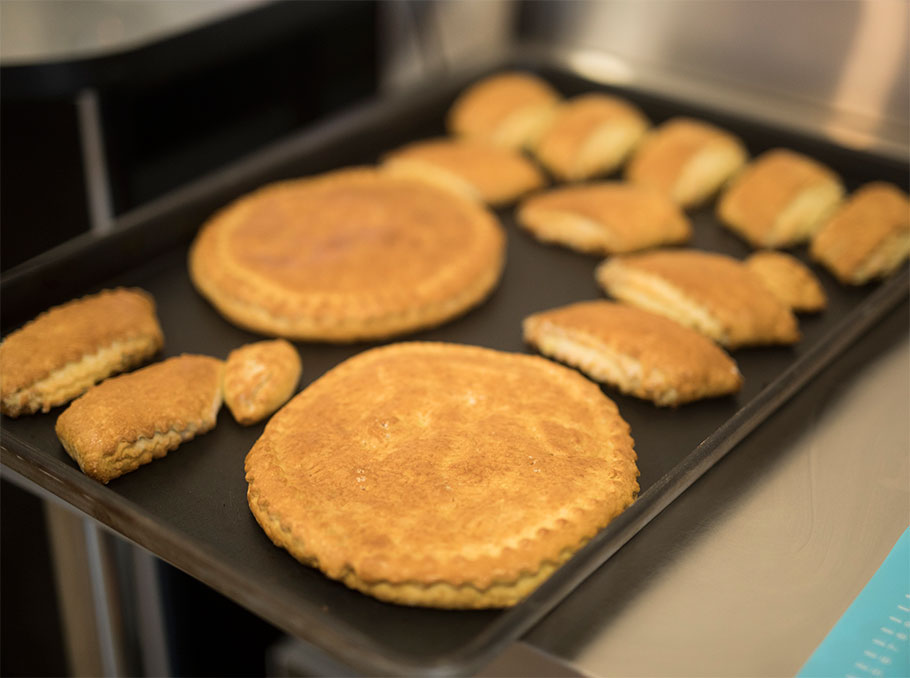 Photo: Mediamax
The EU-funded project is led by People in Need within a consortium comprised of ACTED, the Armenian Association of Social Workers (AASW) and Mission Armenia. We work in 5 marzes: Syunik, Vayots Dzor, Kotayq, Armavir and Ararat. Each partner operates in different marzes according to their profile; this approach means support is available in all marzes of Armenia.
Vocational training
More than 700 people enrolled in 30 vocational training courses within the REACT project․ The training courses had different durations. Our vocational counsellors researched the professional demands of the market; they also conducted surveys to learn what professions the participants were interested in and formed groups based on this research. The participants enrolled in various vocational training courses aligned with their interests and the market demands. The fields included agriculture—beekeeping, greenhouse management, milk processing, service and production, cooking, pastry, sewing, wine-making and carpet weaving, finance and technology, accounting, photography, 3D modelling, and web development.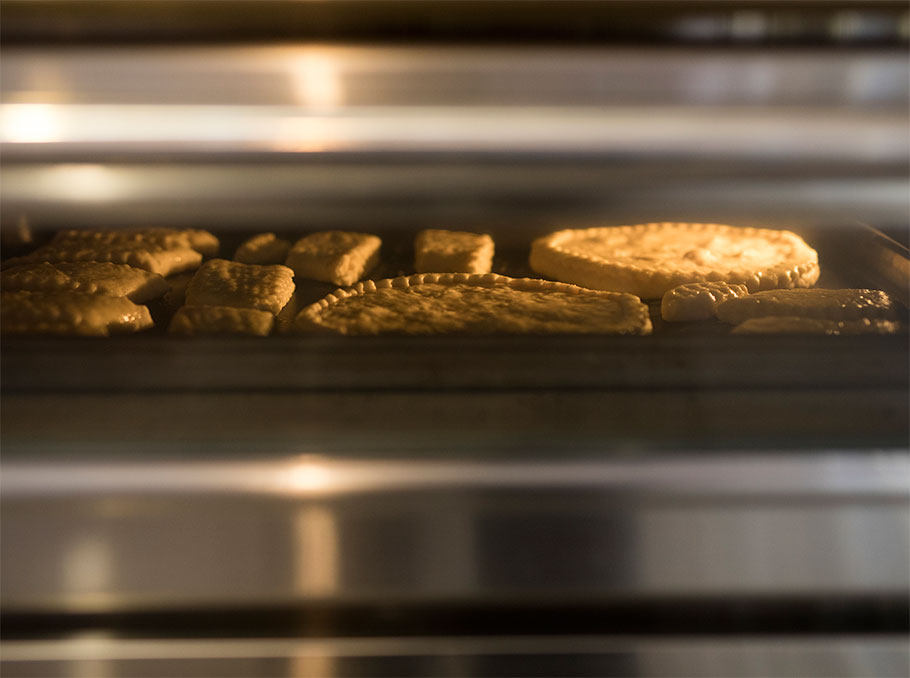 Photo: Mediamax
Cooking and pastry were among our most successful courses; they were conducted in partnership with Sedrak Mamulyan's Culinary Studio. Around 120 people participated in the pastry training, and more than 70 enrolled in the cooking training. A large network formed after the training: proudly, the participants remain in touch; they share knowledge and encourage each other, and if they are from the same community, many try to share and implement joint projects together.
Thanks to EU funding, we helped about 500 participants; we provided them with the essential equipment to generate income after the training. Via surveys, our monitoring team has recorded that 60,4% of our participants generate income either through self-employment or at a company.
The selection of beneficiaries
Since 2020, we have worked continuously with displaced families; we keep them informed of projects and alert them when they meet project criteria. Concerning project criteria and the selection of participants, we cooperate closely with the representatives from local government bodies and Unified Social Services by comparing the criteria of other social projects and coordinating the selection of beneficiaries to provide targeted assistance.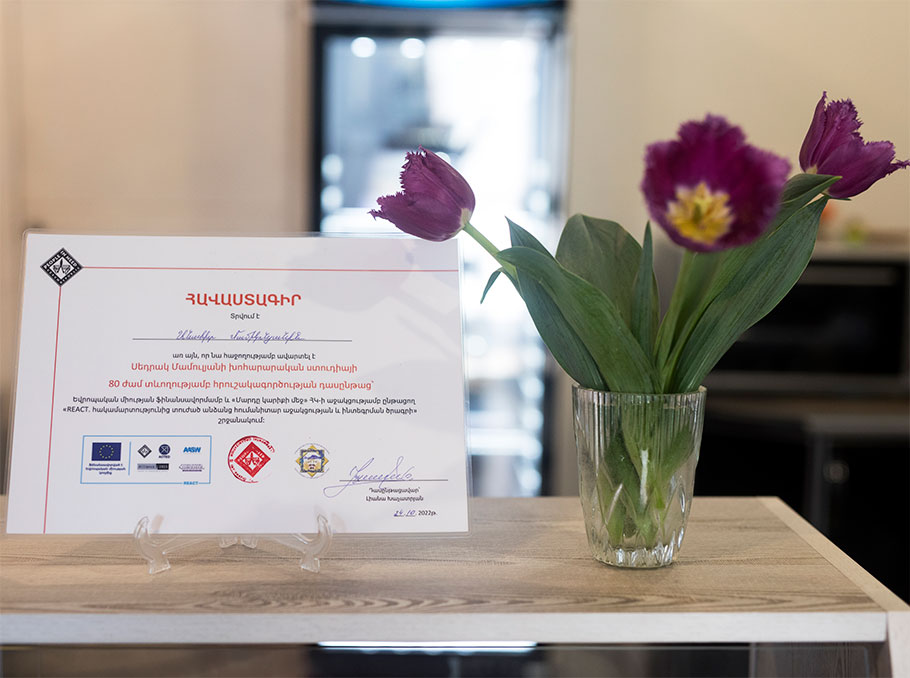 Photo: Mediamax
The REACT project, including its vocational component, lasted for 18 months. Various courses were implemented during that period, and the beneficiaries received certificates of participation and successful completion. These are complementary documents which can be provided while applying for a job.
Vocational training courses included informative and technical components. Additionally, there were groups of beneficiaries that we tried to help integrate into the labor market by providing them with soft skills; we provided them with English classes, social media marketing, business implementation knowledge, and other additional skills.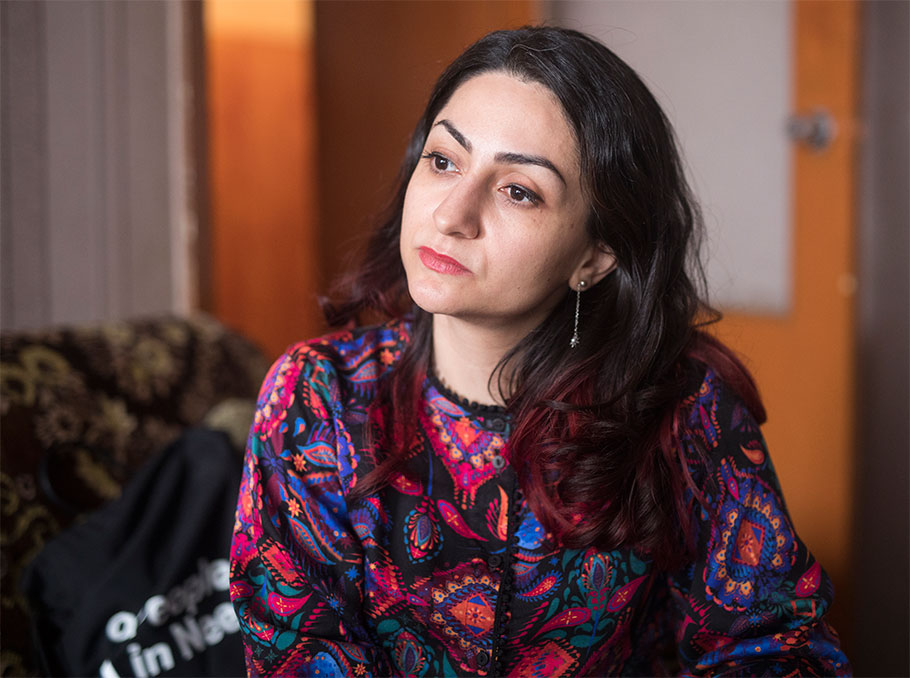 Shushanik Nersesyan
Photo: Mediamax
After completing the courses, we try to help the participants to get ahead; if necessary, we provide them with better photos and inform our networks of the participants' new-found skills, and in cases where their skills match our goals, we may order their products so that assistance is constant.
The other components of the REACT project
The REACT project also has additional components; these include the operation of Child-Friendly Spaces (CFSs) in the greater Goris area in Syunik. Throughout the war and the COVID-19 pandemic, such centres became much more vital as it became necessary to promote the social integration of displaced children into new environments and to provide psychological assistance. However, local kindergartens were closed and turned into shelters. Children, including those displaced, didn't have a chance to go to kindergartens.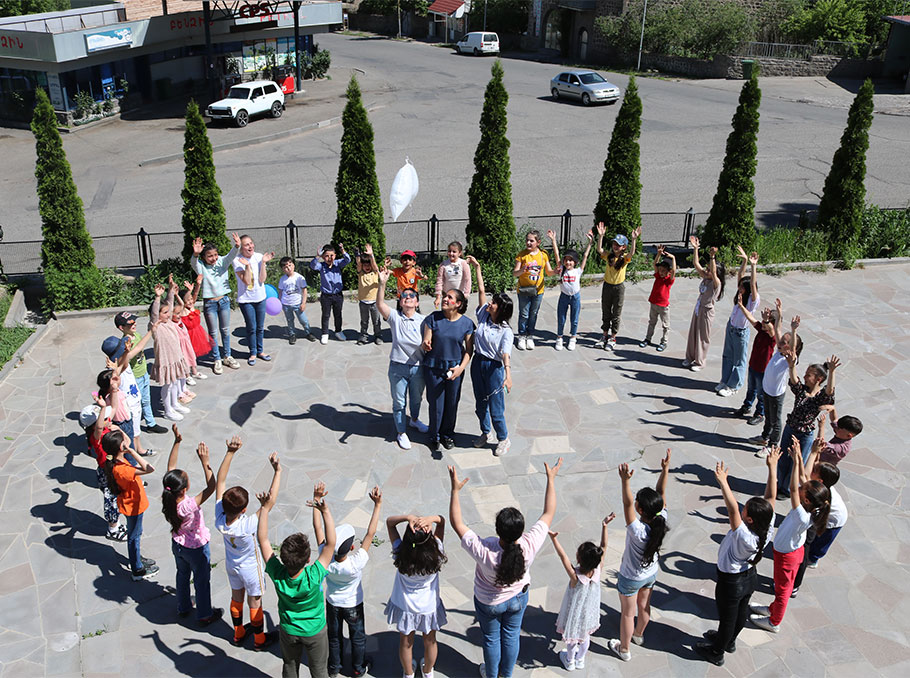 The first CFS was established in October 2020. Subsequently, we enlarged their number thanks to the support of donors; now, we maintain 7 Child-Friendly Spaces. Two are in Goris city, and the other five are in neighboring communities. They are spaces where you can find toys, large screens, and various tools for fostering creativity. However, the most important component of the CFS is the presence of a psychologist to work with children. In Goris, our psychologist visits all of our centres and tries to identify children's needs through art therapy, and if needed, works with children's parents. More than 400 displaced and local children attend Child-Friendly Spaces.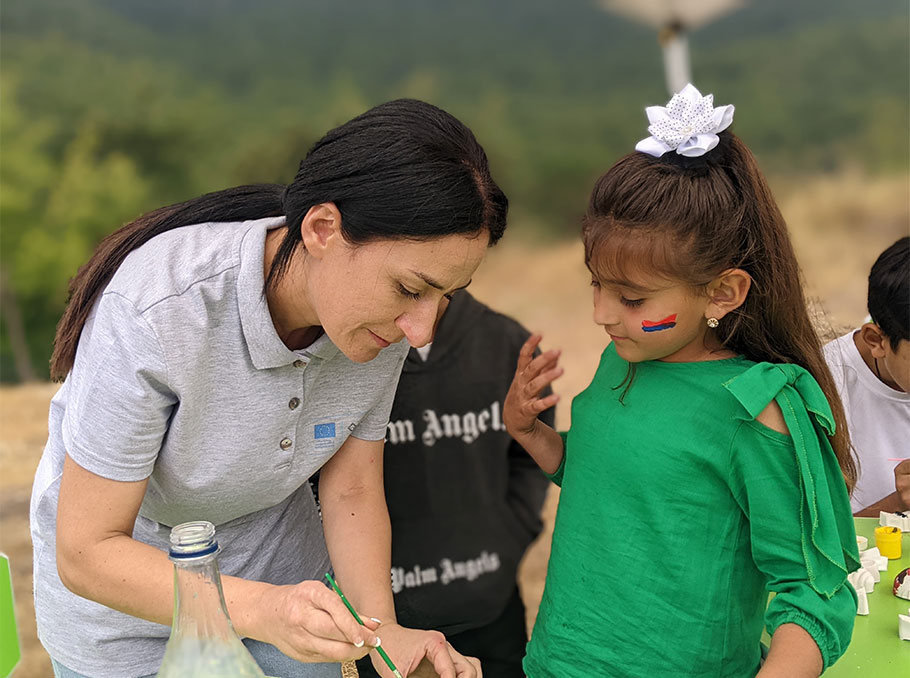 Photo: Mediamax
A final component of the REACT project is humanitarian aid assistance. Within this aspect of the project, we provided utility subsidies to more than 4000 displaced families from Artsakh, providing them with 60,000AMD; additionally, 500 families received eco-friendly briquettes.
Ani Khchoyan
Photos: Emin Aristakesyan