Once daddy said they could go back to Artsakh, Anna, Yana and Hayk ran to school to drop off their books. They said their goodbyes to those who were in school, and left a letter for the others, thanking them for hospitality.
"I wrote in the group chat that we were going back to our Homeland, thanking the children and the class teacher for their attention and special treatment," says Susanna Khurshudyan, the children's mother.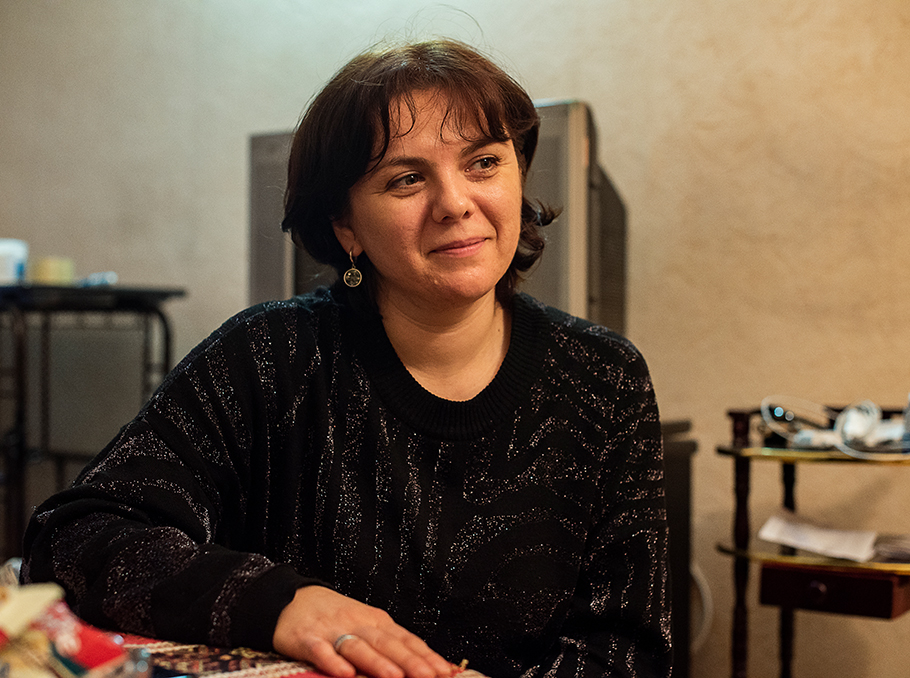 Susanna Khurshudyan
Photo: Mediamax
During the war, everyone, from 79-year-old grandma Gyulchora to 9-year-old Hayk, were following the news, strongly believing that they would soon go back to Artsakh, although destroyed and bombed, but safe and secure Artsakh. Today, they get the news from those who have already returned home.
"My two girlfriends left yesterday. They say everything is fine, there is gas, water, internet, but no people in the city. It's empty," says Anna, 15.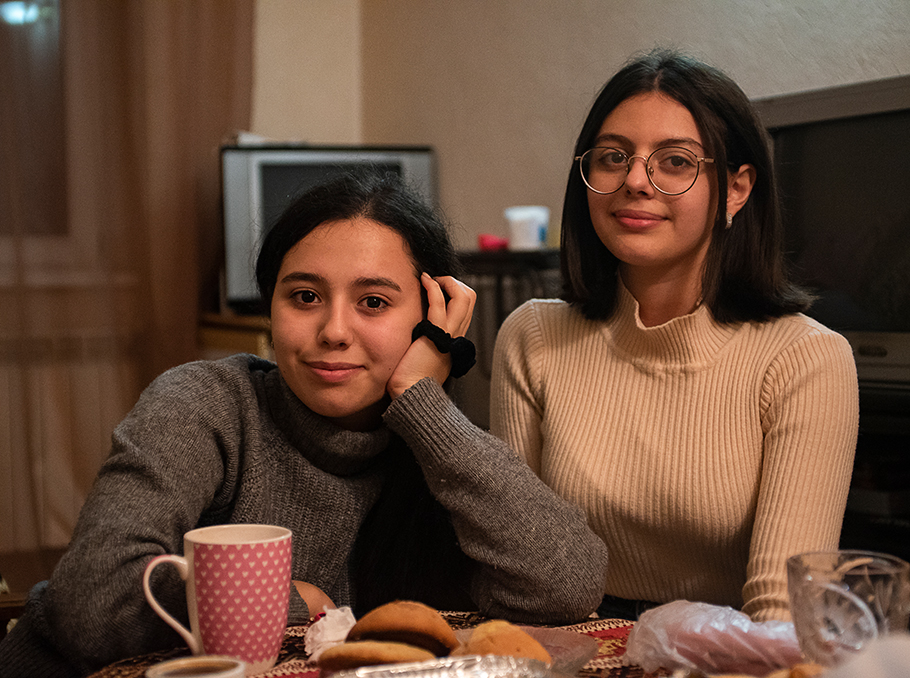 Anna and Yana
Photo: Mediamax
They have been dreaming about returning to Stepanakert for two months. Although they are happy now, however there is still a lot of anxiety and uncertainty.
"We had different expectations. We knew we would win and proudly return home. But now we don't feel that way. Turks are all around us, it's scary, and this fear will hardly ever go away. When I go back to Stepanakert I want to walk across the city, which I've missed terribly, but daddy won't let me. He already told us things would never be the same again, and if we go for a walk with friends, we should be back by 8pm because it is not safe. We never even locked the door of the house in the past, we never thought a thief could break in," says Anna.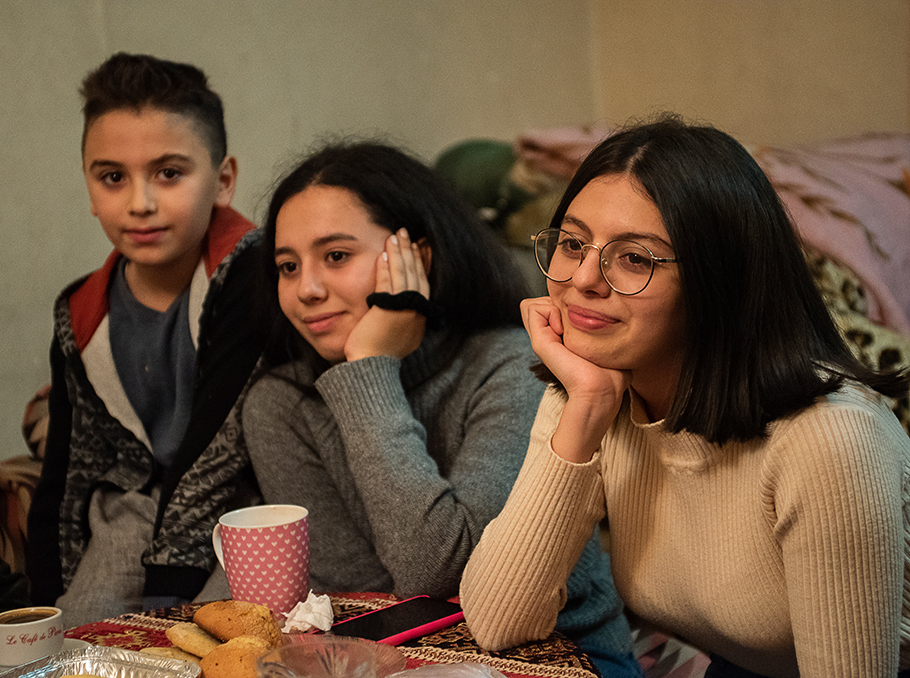 Photo: Mediamax
Before the war Anna dreamed of living and studying in Yerevan. But now she wants to return home as soon as possible. They are leaving but the prospects are vague. Stepanakert will probably not be their last resort. Anna says her father is a patriot, but after all this, they might leave for Russia.
The children saw their father a couple of days ago after a two-month break. He called once a week during the war, and they could exchange a couple of words because the line was bad. They just wanted to hear his voice.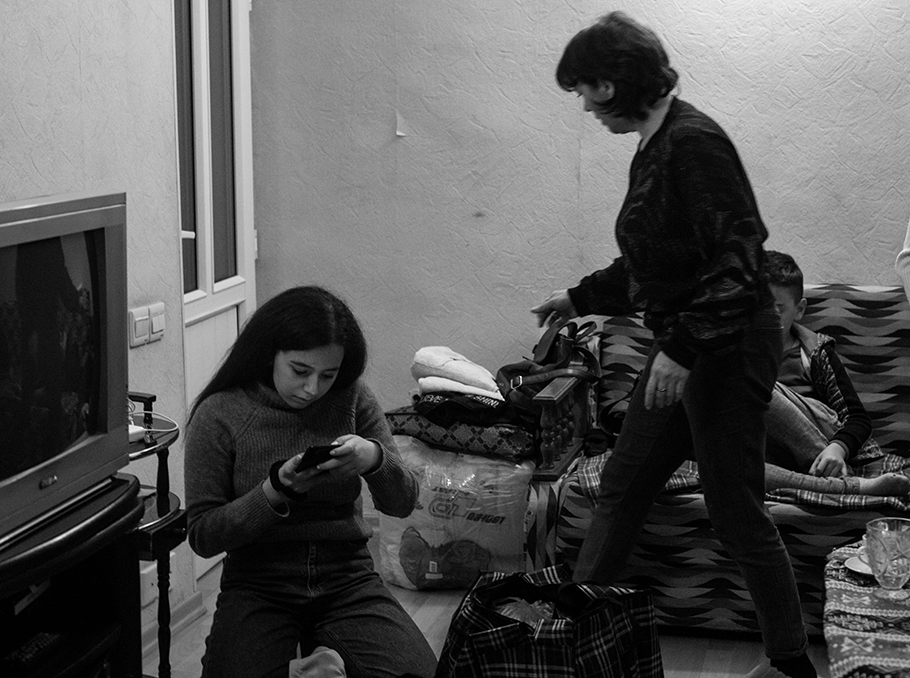 Photo: Mediamax
He came to Yerevan after the ceasefire to see his family and went back to Stepanakert again to repair the house damaged by the bombing.
"We, Armenians, are such a strong and stubborn nation. This is the third war I see. My children saw two wars. I thought if it happened again, I would not be able to survive it and would never let my children live in such conditions. But our home is there, and a person clings to his home till the end. There is only a handful, or rather a little spot, left of our Homeland. We are leaving with hope, but I don't think there will be peace. We are surrounded by the enemy; how can we live in peace? We will live somehow, but it is no longer safe for our children.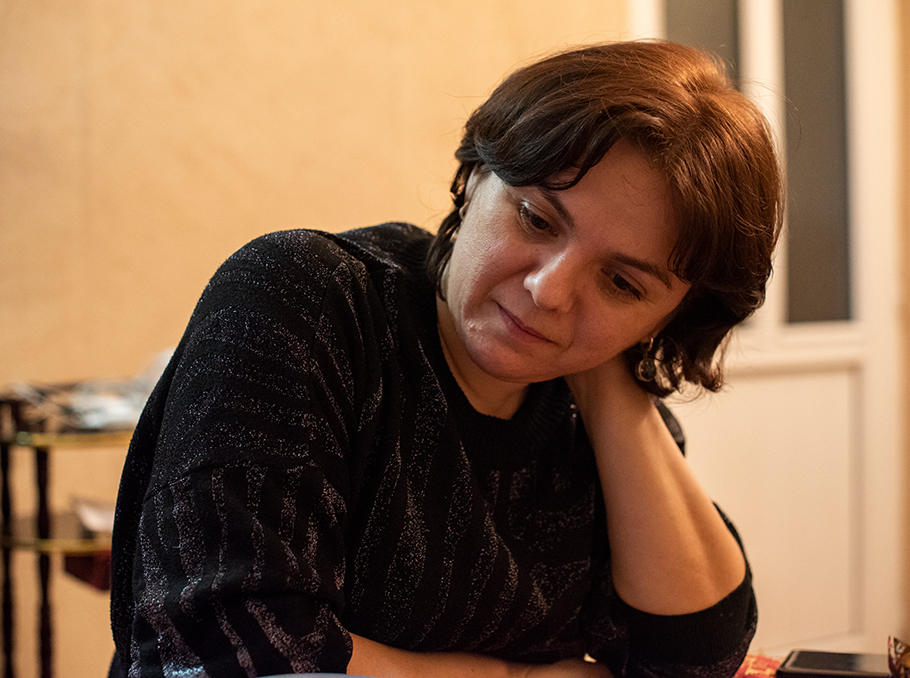 Susanna Khurshudyan
Photo: Mediamax
After seeing all this, how can I come to terms with the fact that my son, Hayk, will go through the same again in 8 years? The most precious thing for every parent is their child. You must think of every possibility to not stay in the war zone. The soldiers did their best for their Homeland, but nothing depended on the soldier. These are the games and the interests of superpowers," says Susanna.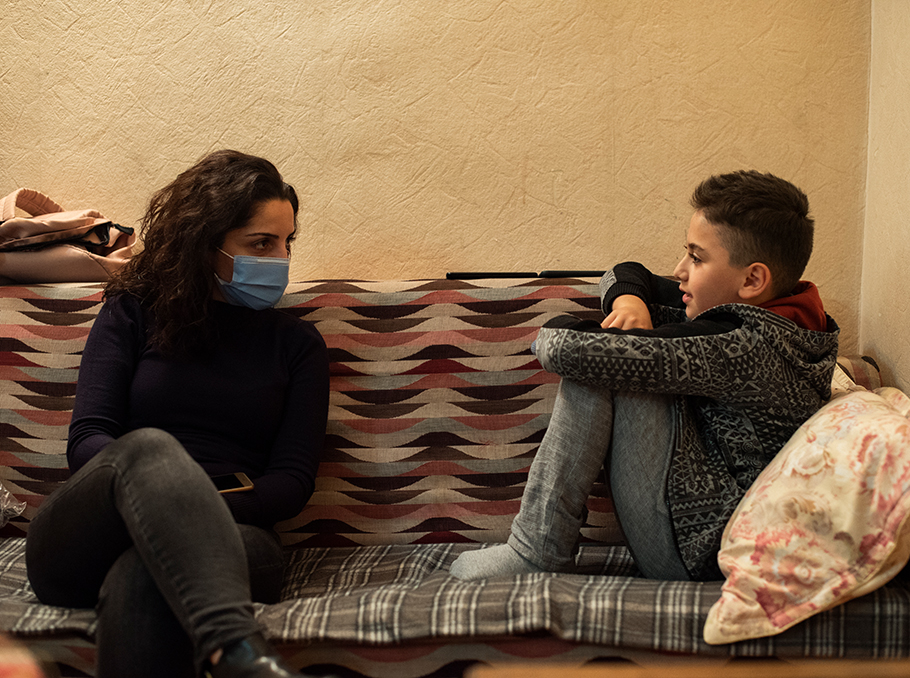 Lusine Gharibyan is talking to Hayk
Photo: Mediamax
Susanna is an economist and her husband is a geographer. She doesn't yet know whether they will have their jobs once they go back. But the financial problems are not the worst.
"My husband was 16-17 years old back in 1992. He ran away from home, participated in the liberation of Shushi and was very proud of his victory. He was extremely worried about Shushi and said Shushi should be protected at any cost. It was a symbol captured at the cost of life.
He kept the medal and the certificate received for the liberation of Shushi in his pocket throughout the war. He decided to give his medal to one of the 18-19-year-old heroes once he heard that Shushi was liberated, no more Turks were left and all of them were thrown back from the suburbs. It never happened.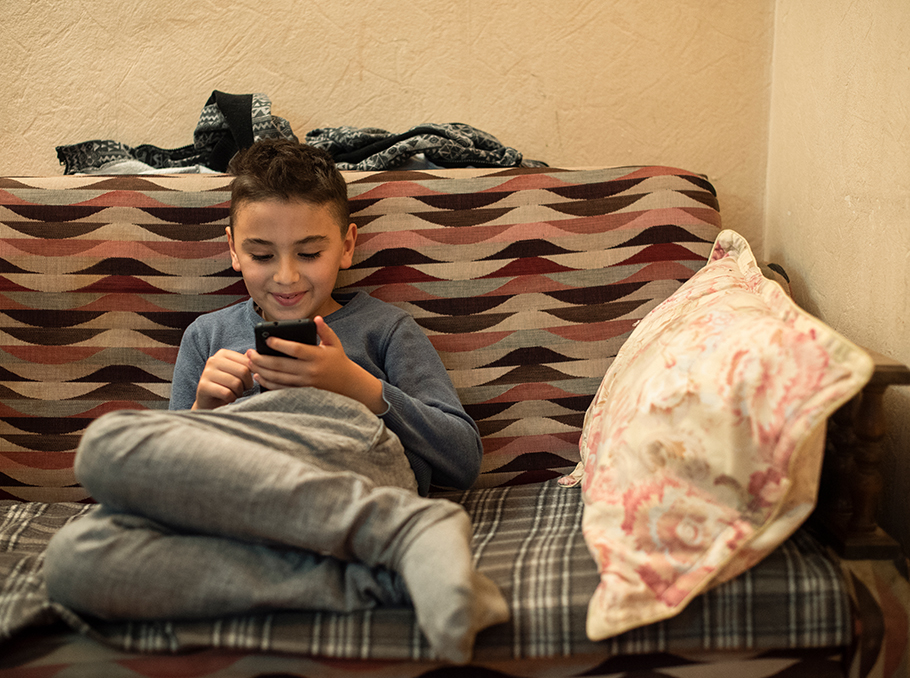 Photo: Mediamax
He was devastated and said he no longer needed his medal and the uniform, didn't want to have an Armenian surname, because of this betrayal. For 30 years he has remembered the atrocities of liberation of Shushi, imagine how he will feel from now on. The dead are dead, the rest have half bodies, half souls and are mentally dead."
They are leaving at 7 in the morning. Susanna will go to Stepanakert with her children, and her mother - Gyulchora Minasyan - to her house in the village of South of Askeran region. The girls persuade her to live with them, but she refuses and says she wants her village, like Gikor.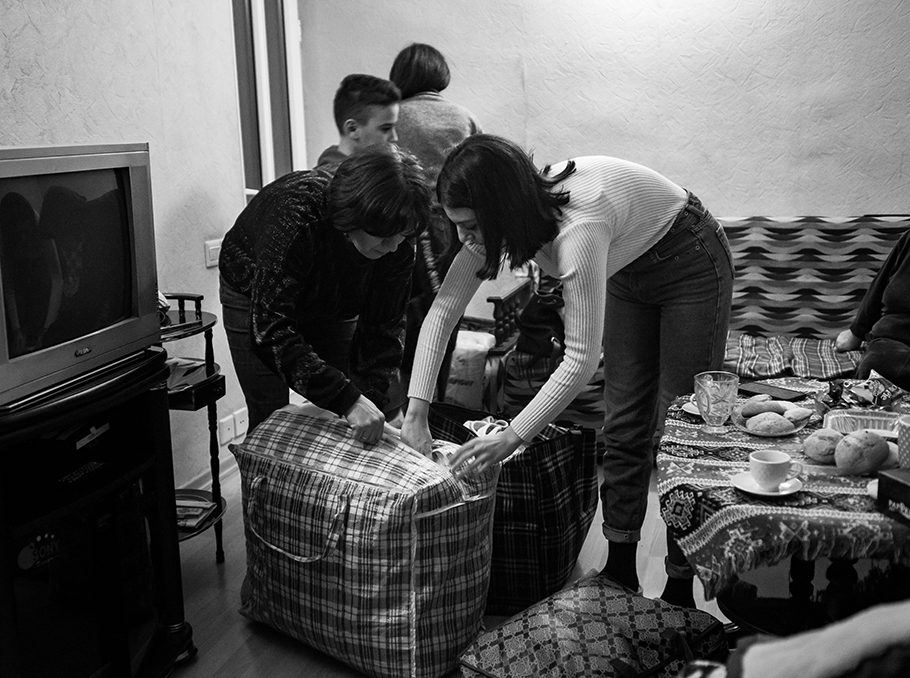 Photo: Mediamax
"I want to go back so much. My eldest daughter lives in Russia. During the war she kept calling and asking me to go live with her. I fought with her, turned off the phone and told her to stop persuading me. I must live in my village. Susanna insists I live with her, but I refuse. I tell her it's half an hour drive from the city to our village. I want my village, my home. I have good neighbors, and everyone is attentive to me. They call every day asking me why I wouldn't come back. I say I will," 79-year-old Gyulchora says excitedly.
Photo: Mediamax
They had good neighbors in Yerevan, too. They are surprised and moved by their attention. Everyone was trying to help, to stand by them.
"I didn't even imagine they would be so caring. I promised and today I told the children that we still have a lot to do. If people helped us out here like this, we, too, must help out people from the regions, the villages, from Hadrut and Shushi, and do something for them. I am already thinking that one I return home I am going to share everything I have with everyone," says Susanna.
Lusine Gharibyan
Photos: Gayane Yenokyan