The working buzz is slightly more intense than usual at the Foundation for Armenian Science and Technologies (FAST). In the middle of the office, we see bananas and strawberry lined on a few tables. The pack of salt and bottles of dishwashing liquid and medical alcohol all hint that the fruit is not for refreshment.
The young woman fussing with disposable cups, spoons and plastic bags is going to make a scientific "bang" soon. She came early to make sure everything is ready by the time the guests arrive, because what they are going to see can become a crucial discovery for them.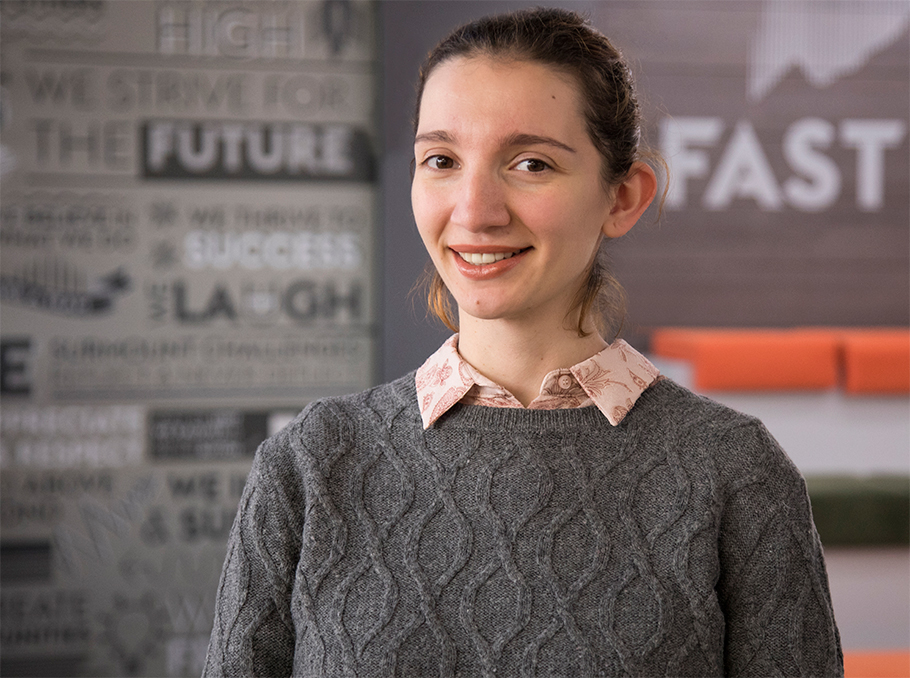 Astghik Hakobyan
Photo: Mediamax
The woman's name is Astghik Hakobyan. She is involved in the FAST NextGen Council and works in the Research Group of Antiviral Defense Mechanisms at the Institute of Molecular Biology (IMB) of the Armenian National Academy of Sciences. While Ms Hakobyan is finishing preparations for the demonstration of biological "miracles", guests start arriving at the entrance. They are students from N2 Metsamor high school, and they have Rosatom's More for Metsamor educational program to thank for this visit.
FAST Communications and Social Media Strategist Armine Petrosyan begins the introduction to the foundation with words about one of its biggest advantages – the Angels Network – and asks: "Can you guess what it is?"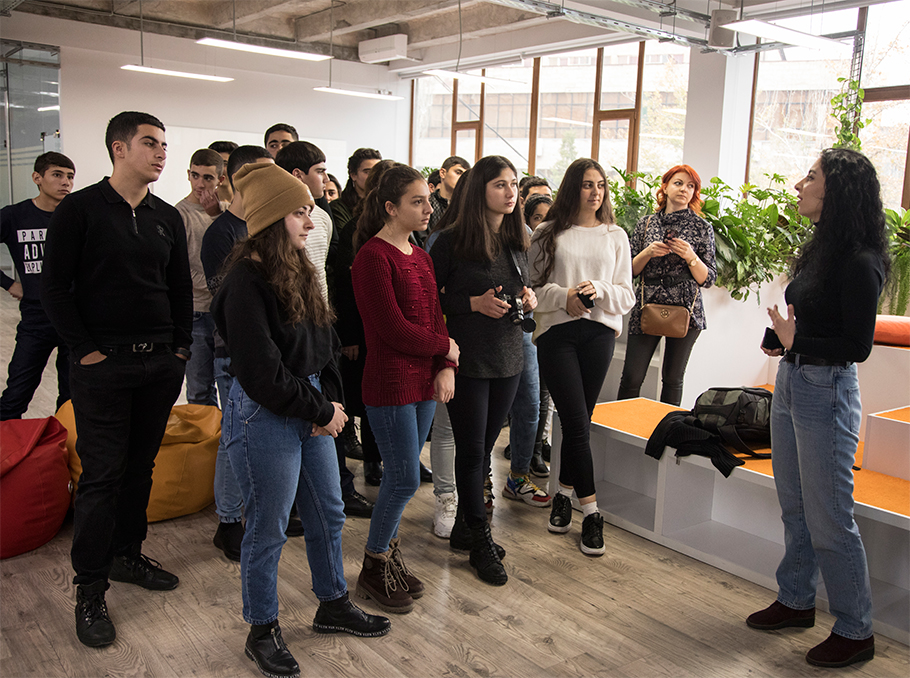 Photo: Mediamax
After a moment of silence one of the students says: "That must be something they're building in Etchmiadzin." The suggestion makes everyone laugh - Etchmiadzin is the religious center of Armenia.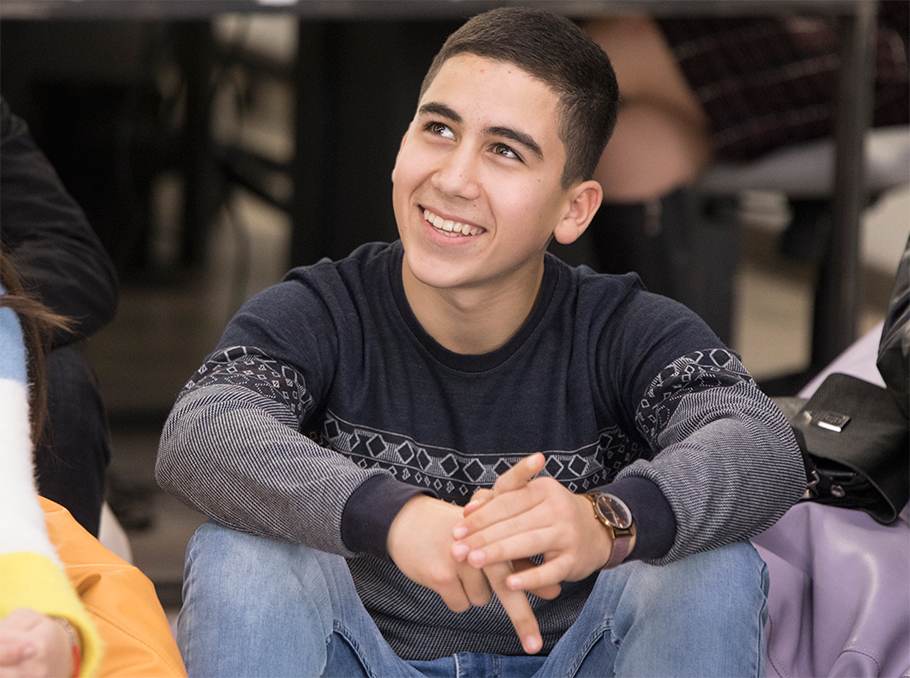 Gor Manukyan
Photo: Mediamax
Armine Petrosyan explains that the Angels Network is actually a group of business people who make financial and intellectual investments in startups and help them grow.
While the visitors are getting familiar with the foundation, student Gor Manukyan tells Mediamax: "Everything is so impressive here. Admittedly, we haven't been to many places to compare, but the office is really beautiful and comfortable. It is inspiring. I want to become a doctor and I wish we could have the necessary modern equipment in Armenia, like people in advanced countries do."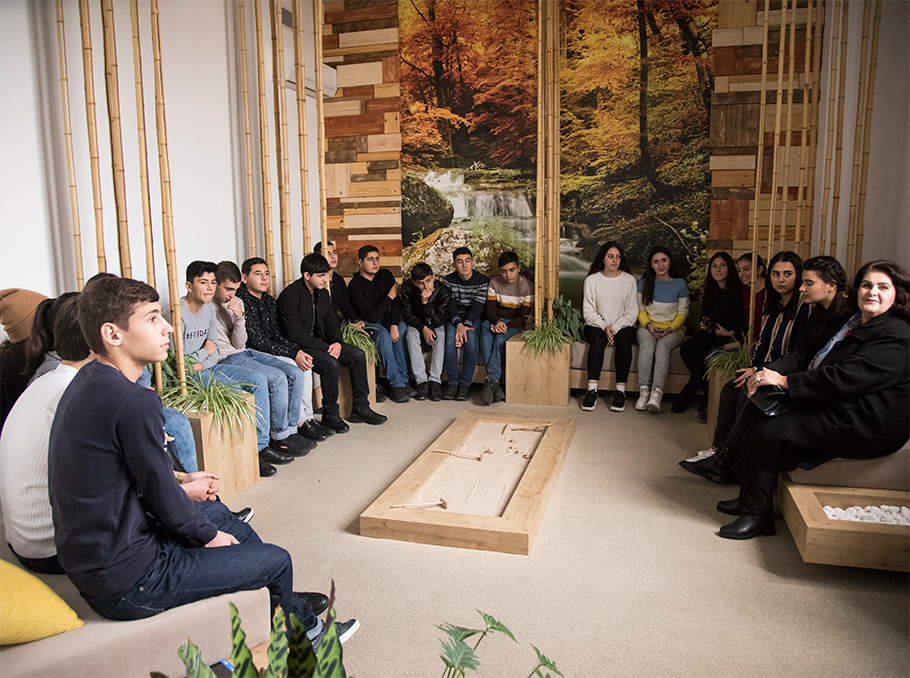 Photo: Mediamax
The farthest room in the office is the "Zen zone" and visitors are not usually taken there, but FAST makes an exception for the students.
"Wow," breathes out one of them as the group enters the room. The walls of the room, designed for meditation, are decorated with plants and landscape photos. The first thing you feel as you come in is the smell of wood. Armine Petrosyan tells us that here FAST staffers can have some time to themselves, clear the mind, and focus.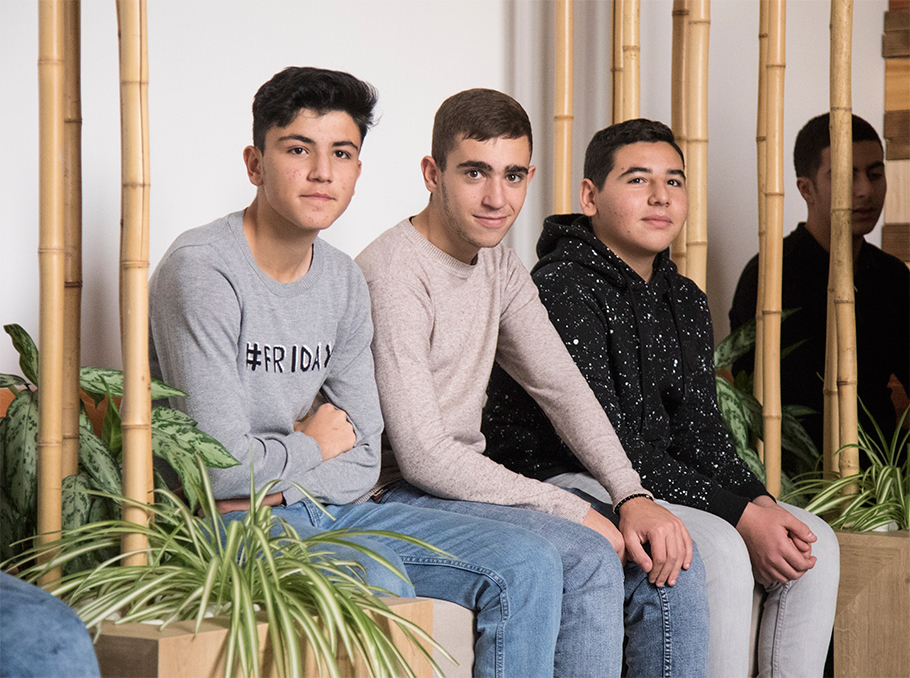 Photo: Mediamax
During the visit, we have a conversation with the foundation's CEO Armen Orujyan as well. He begins his speech with a question:
"What would you like your parents to do?"
He gets different answers: business, medicine, politics… Mr Orujyan has a reason to ask this, as "children often want to follow in their parents' footsteps", he explains.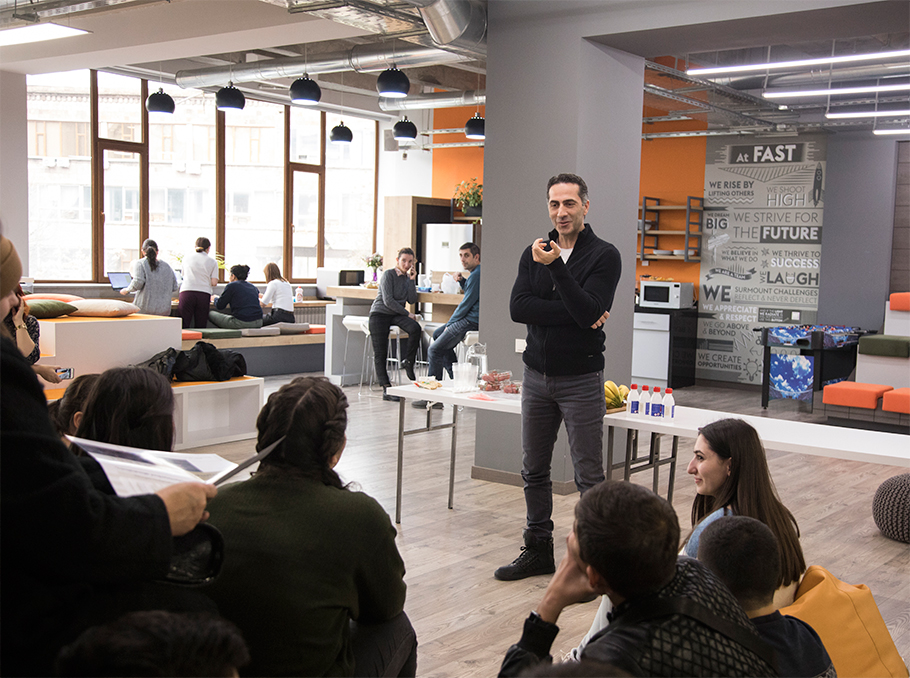 Photo: Mediamax
Mr Orujyan points out that nobody said "science" and "high tech" and starts describing how useful professions in these areas can be.
"If you become scientists, you will be able to get so much use from your inventions. And the people who use your products will be paying you. Science seems difficult, but it is much easier than you think. For instance, 1 is always 1 and 2 is always 2 in mathematics. The problem is that science has been misrepresented. It is much easier to learn and use than you believe. You are at an age when the most trivial decisions can decide your future. Armenia is a small country and the changes you make, the things you achieve can have an impact on the whole country.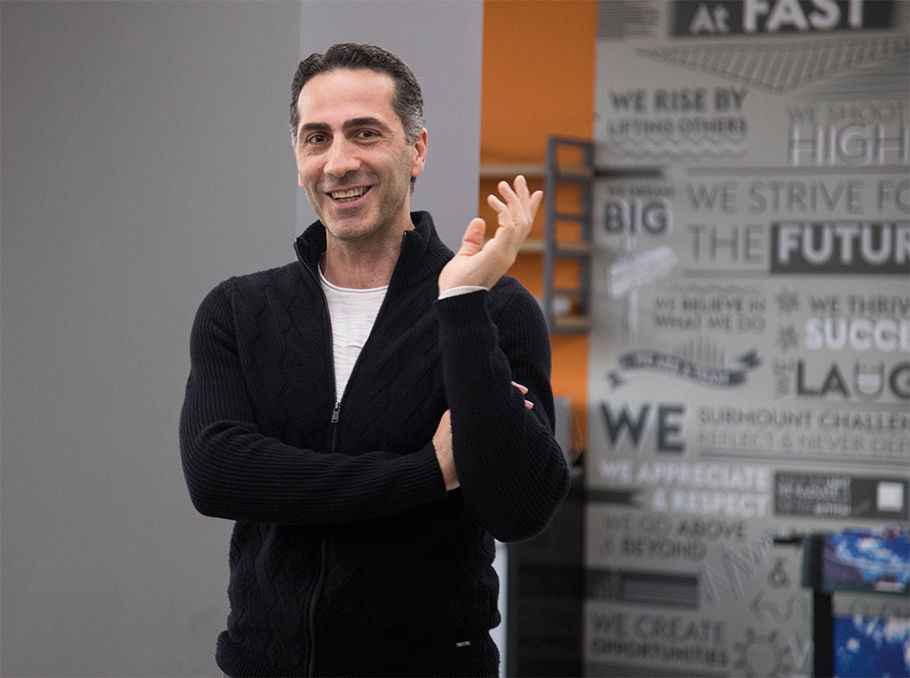 Armen Orujyan
Photo: Mediamax
I am happy to host you here. You can meet our scientists, see that science is the basis of Google, Apple and Facebook and these companies wouldn't be so huge without it. I hope you are going to become the ones making changes, making big things happen, and one day I will say, look, I taught them when they were 17-18 years old and now they have achieved so much," said Armen Orujyan.
His speech is followed by the grand finale: Astghik Hakobyan, who has been perfecting the experiment room, approaches the tables with the fruit and asks the students to gather around her.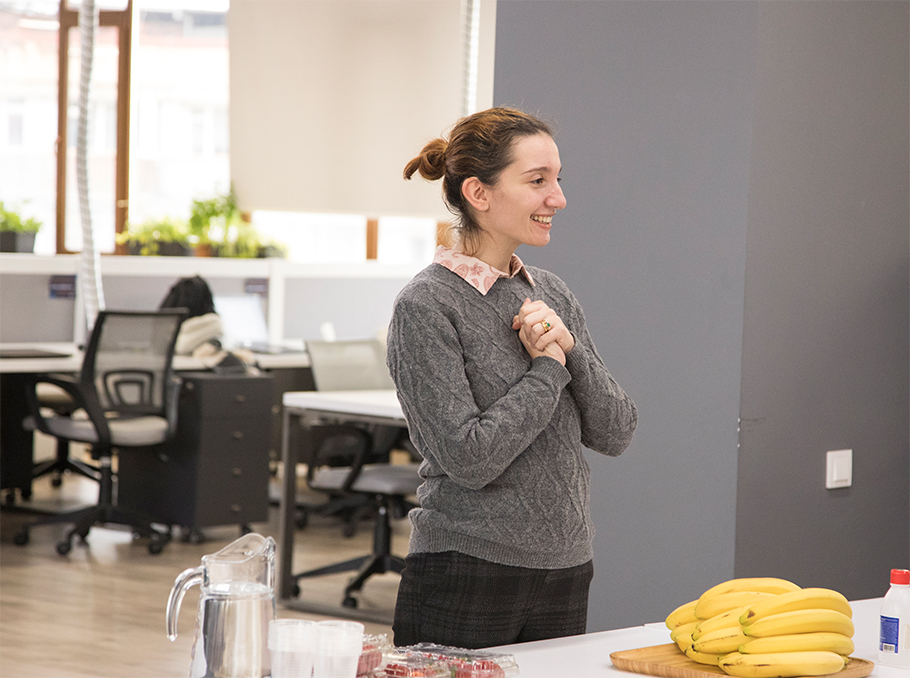 Astghik Hakobyan
Photo: Mediamax
They take the items needed for the experiment, while Ms Hakobyan tells Mediamax:
"We decided to separate the strawberry genome to demonstrate that genome is not abstract, it is something tangible, something you can see. This way they become interested in biology and they might even choose a career in this field. Contacts between researches and school-age students are extremely important, particularly in our society, as most people have no idea what scientists actually do. It's important to start with communicating with the students, because they are the future specialists and there is a chance they might choose the occupation of researcher."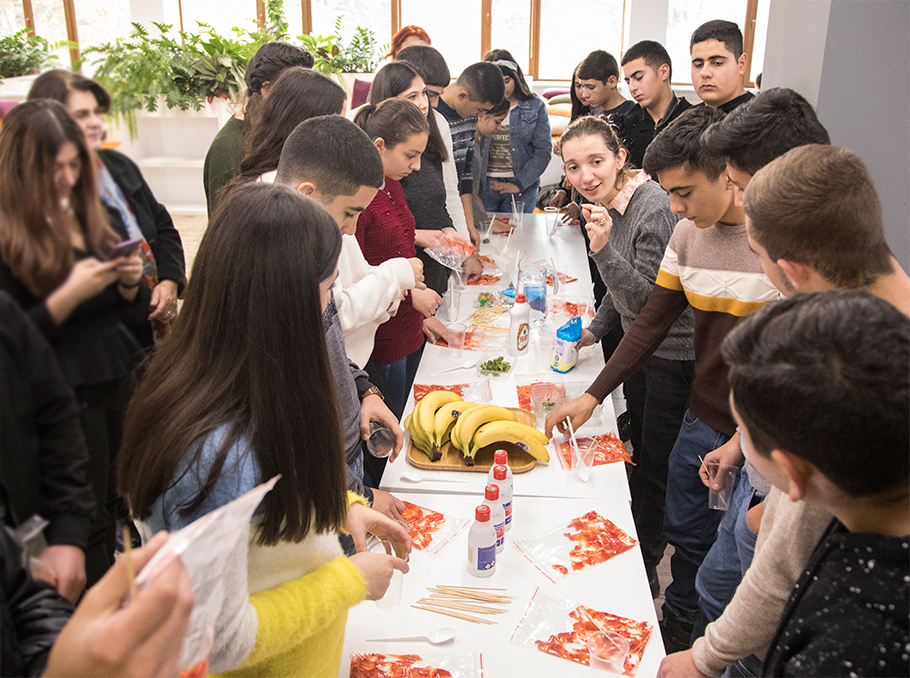 Photo: Mediamax
The mix of crushed strawberries, salt water, dishwashing liquid and medical alcohol starts "blowing" the strawberry's cells. The genome is showing on the surface.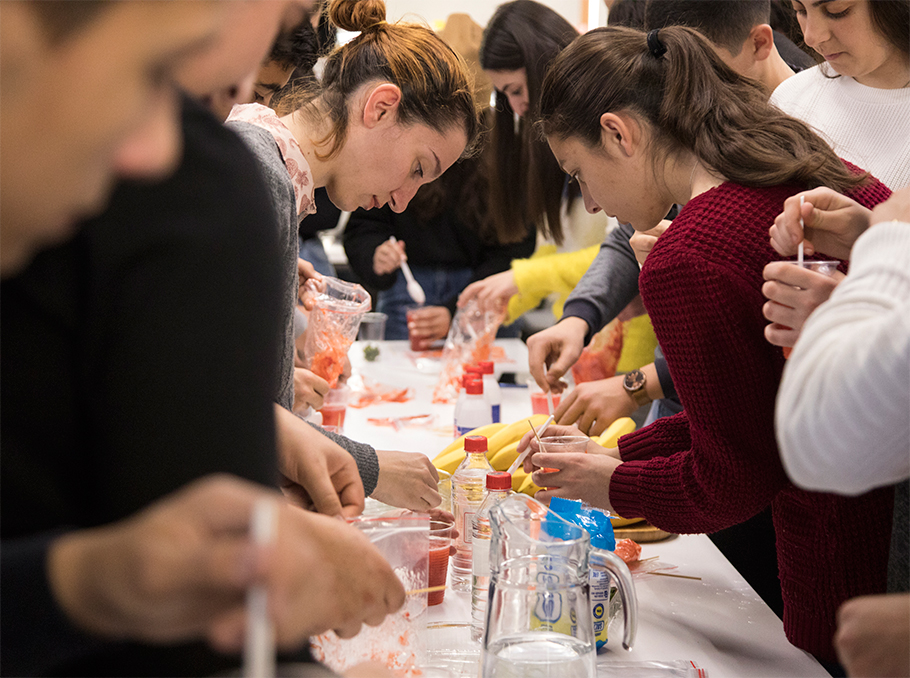 Photo: Mediamax
"I didn't know we could actually see a genome. I thought it was possible only with a microscope. I wish we had experiments like this in our school," says Gor Manukyan, a 10th grade student.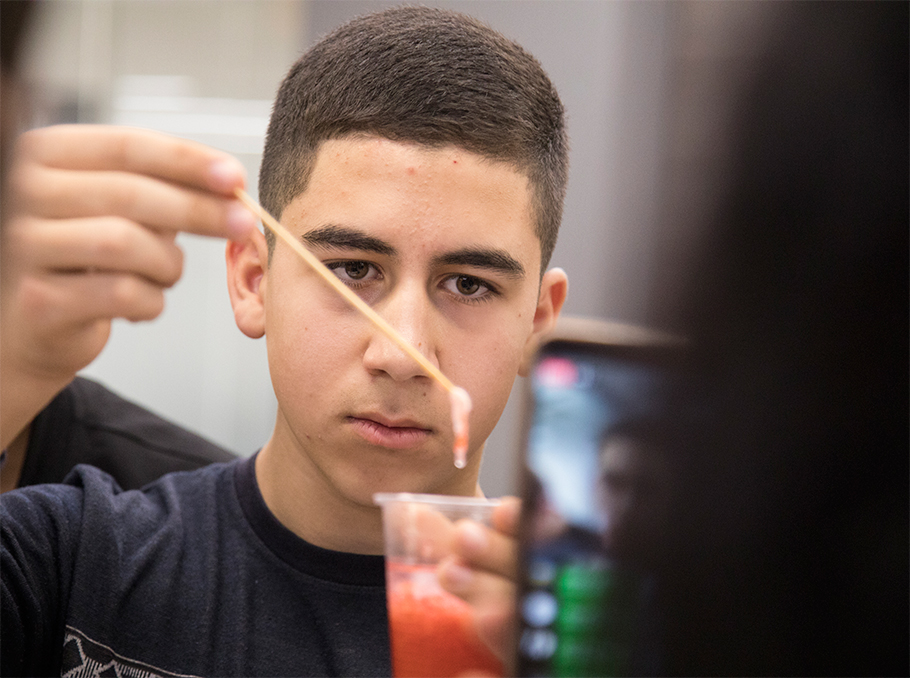 Gor Manukyan
Photo: Mediamax
"I've never been in this kind of environment before. I liked the experiment the best, because I am into biology and I'd like to work in that field. I will repeat this experiment at home, show it to my friends, and try to look up similar experiments online to try them," says his classmate Ani Matsakyan.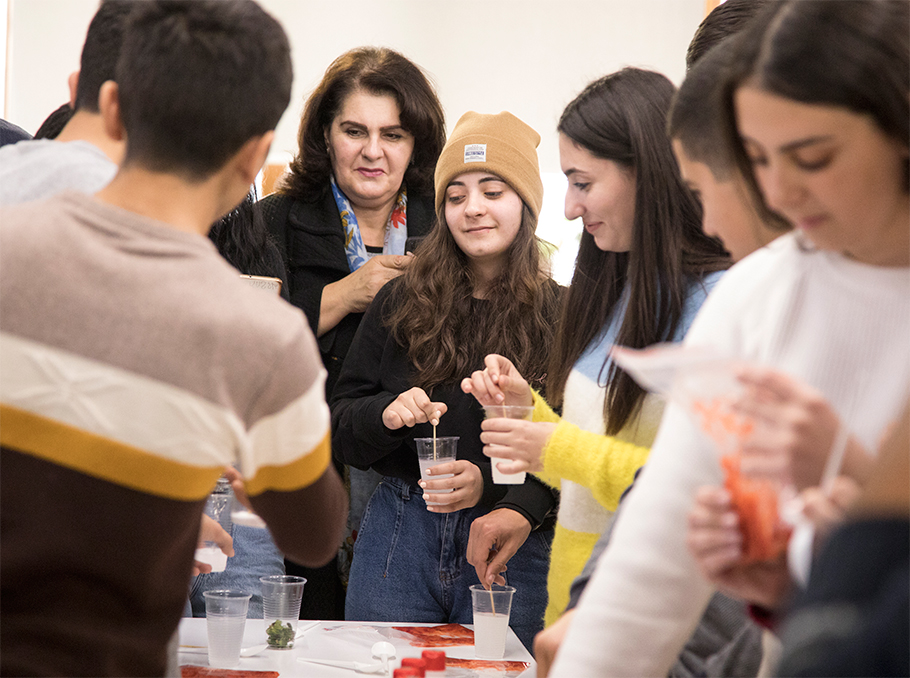 Ani Matsakyan
Photo: Mediamax
An 11th grade student Milena Grigoryan notes that learning only by textbooks is not engaging. "We can hardly get interested in science without this type of visits, without seeing real research and making experiments. I wish schools had laboratories for experiments. Perhaps, in that case many of us would study sciences," she adds.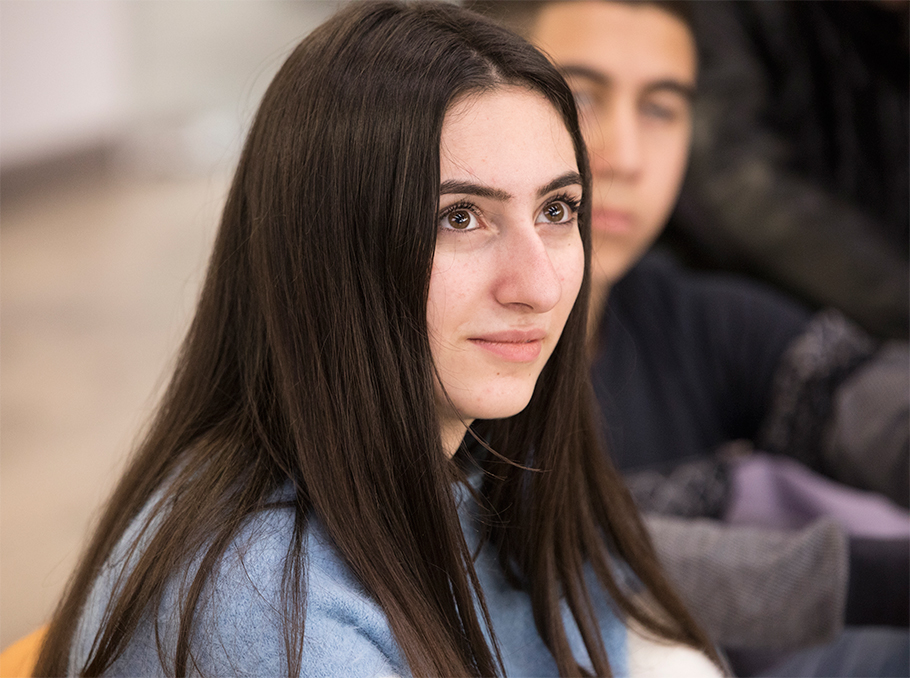 Milena Grigoryan
Photo: Mediamax
The operator of Rosatom's More for Metsamor project is Mediamax media company with its Mediamax Plus platform, which is designed to support educational, scientific and cultural institutions of Armenia.
Marie Taryan
Photos by Emin Aristakesyan