Yerevan/Mediamax/. MaxMonitor, a media monitoring, analysis and measurement platform will now introduce the volume of online media coverage of Armenian female public and political figures for each month.
In February MaxMonitor system followed topics and frequency, with which Armenian online media platforms mentioned female leaders:

1. Arev Samuelyan, Deputy Minister of Culture
2. Arpine Hovhannisyan, Deputy Speaker of National Assembly
3. Zaruhi Postanjyan, member of Yerevan Council of Elders
4. Lena Nazaryan, MP
5. Hermine Naghdalyan, MP
6. Hranush Hakobyan, Minister of Diaspora
7. Mane Tandilyan, MP
8. Margarit Yesayan, MP
9. Naira Zohrabyan, MP
10. Nune Sarkissian, Armenian presidential candidate Armen Sarkissian's spouse
11. Shushan Petrosyan, MP
12. Rita Sargsyan, Armenian President Serzh Sargsyan's spouse

The February review of 130 media websites shows that the trio of the most mentioned female leaders is as follows:

1. Leader of Yerkir Tsirani faction of Yerevan Council of Elders Zaruhi Postanjyan: 619 mentions.

2. MP from Tsarukyan Bloc Naira Zohrabyan: 458 mentions.

3. Deputy Speaker of National Assembly Arpine Hovhannisyan: 312 mentions.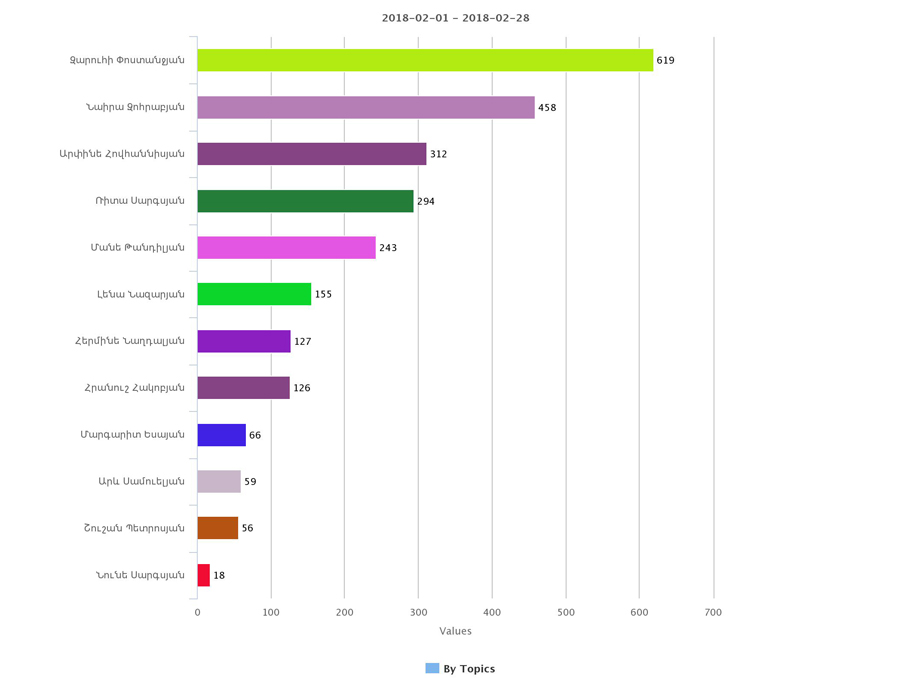 Photo: Mediamax