President-elect of the United States of America Joe Biden will nominate former Deputy Secretary of State for Political Affairs, former U.S. Ambassador to Russia, career diplomat William Burns for the position of head of the Central Intelligence Agency (CIA).
Burns retired from the State Department in 2014. Currently, he works as President of the Carnegie Endowment for International Peace. The New York Times notes that William Burns was considered a likely candidate to run the State Department in the incoming Biden administration and he could prove critical in negotiations with Iran.
William Burns has also worked on the matters relating to South Caucasus and the Karabakh conflict settlement.
What did Burns say about the Karabakh conflict settlement?
On 17 September 2008, while speaking before the Senate Committee on Foreign Relations, William Burns said that the U.S. Government would do all it could to encourage the parties of Nagorno-Karabakh conflict "to show greater flexibility and creativity in their negotiations."
"We will do everything possible to promote a just and lasting settlement of the Nagorno-Karabakh conflict that proceeds from the principle of our support for Azerbaijan's territorial integrity, and ultimately incorporates other elements of international law and diplomatic practice," said Burns.
Later that year, on December 4, Burns said while addressing the OSCE Ministerial Council that "Presidents Aliyev and Sargsyan have made commendable efforts to build trust and narrow differences over the past few months" and "we have an opportunity to make headway toward resolution of the situation in Nagorno-Karabakh."
What did Burns tell Mamedyarov about the Safarov case?
In September 2012, the U.S. suggested Hungary and Azerbaijan to present explanations regarding Ramil Safarov's extradition and pardon.
According to Trend news agency, Azerbaijani Foreign Minister Elmar Mamedyarov had a telephone conversation with U.S. Deputy Secretary of State William Burns and said that "Azerbaijan can't understand the U.S. position."
What did Aliyev tell Burns?
In February, 2010, Azerbaijani President Ilham Aliyev urged U.S. Under Secretary of State William Burns to put maximum pressure on Armenia. This came to light in November 2010 from the classified documents of U.S. Department of State, released by Wikileaks.
In particular, Aliyev told the American diplomat that "Armenia wants to delay as long as possible and avoid the settlement."
At the meeting with Burns in Baku, Aliyev outlined the steps he believed would persuade Armenia to agree to the Minsk Group's "basic principles":
- the three co-chair countries should consolidate their efforts at a senior-level,
- the three co-chair countries should send a strong message that the independence of NK is not up for consideration,
- if these new proposals are not accepted, there should be consequences in terms of international isolation, especially in the form of Russia's curtailing some of its economic support for Armenia.
In response to Under Secretary Burns' question about Russia's role in the mediation, Aliyev said he was convinced that Dmitry Medvedev's efforts were sincere. He added, however, that it was strange that with so much pressure from Moscow and Lavrov's visit to Yeveran, "the Armenians not only resisted progress, but actually backtracked on previously-agreed items."
Aliyev also stated Prime Minister Putin has his own opinion about the desirability of a Nagorno-Karabakh resolution. "I have no evidence, but I can feel this," he said.
When did Burns visit Yerevan?
The visit took place in October 2011. At the meeting with Burns, Armenian President Serzh Sargsyan said that Armenia had always been determined to bolster relations with the USA.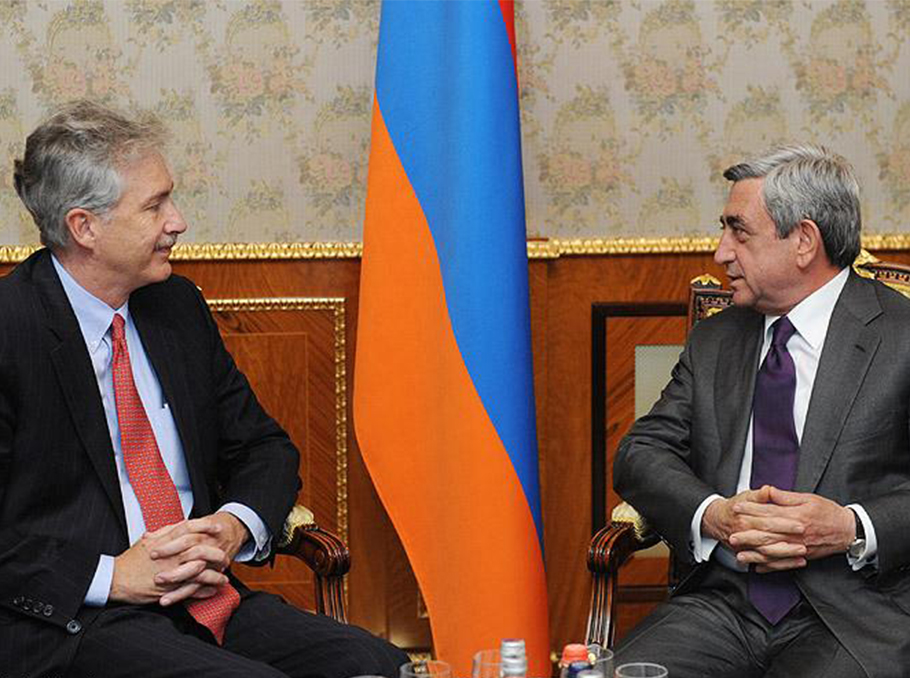 Serzh Sargsyan and Willian Burns
Photo: Armenian President's press office
What did Burns say about Iran's nuclear program and the U.S.-Turkey cooperation in that regard?
In January 2012, William Burns visited Turkey. During the visit, he gave a comprehensive interview to the Turkish news agency Anadoglu.
He said in particular:
"Iran was an important item on the very broad agenda. The United States and Turkey share a common concern about Iran's nuclear program and a common interest in ensuring that Iran does not develop a nuclear weapon. I think we have worked effectively together to underscore these concerns. Obviously sanctions - whether from the UN Security Council or taken by individual nations or groups of nations - are not an end in themselves. They are a means to an end to make clear to the Iranian leadership that it must live up to its international responsibilities and obligations. We want to work with Turkey and with our other partners to try to make this clear to the Iranian leadership."
Ara Tadevosyan