Mediamax's interview with Nikolay Silayev, a leading researcher of the Institute for International Studies (IIS) of Russia's MGIMO, director of the IIS's Laboratory for Analysis of International Processes.
- Recently, situations have often been emerging, with Russia and Armenia, in one form or another, pointing to certain problems in their relations. At the same time, there is a certain understatement. Perhaps it is good in terms of political correctness, but I think from the point of view of the quality and sincerity of relations it does not actually help, but hinders.
- I think that relations between states should not be likened to relations between people. It is important for people to be sincere if they have some personal relations. If they have strictly business relations, it is enough for them to be honest about their approaches and interests. As far as relations between countries are concerned, some degree of insincerity or diplomacy may even be useful, because if you start expressing sincerely everything that the political classes of two countries think about each other, you may say things that you will regret.
I cannot claim that I have a complete picture of how relations with Armenia are viewed in Russia now. It comes from conversations with people involved in this process, with my colleagues, researchers of international relations.
First, Russia wants to avoid being engaged in the domestic political processes in Armenia. For many years, Russian political circles and diplomats believed that Moscow should under no circumstances be engaged in domestic political processes. I think that this position is correct. In the eyes of a major part of Armenian society, we are already the ones to blame for what is happening in Armenia, so we do not want to add new arguments.
Secondly, of course, along with this, there is some disappointment that Armenia may reconsider its foreign policy orientations. Moscow believes that now Armenia prioritizes relations with the West, the U.S. and the European Union more than the relations with Russia. At the same time, there is no feeling here that something needs to be done immediately about this, to run away, to correct the situation at any cost. There is some fatigue. In the summer and fall of 2021, I heard about lack of working level contacts between Russia and Armenia. As far as I can judge, the Armenian leadership continues its course of reducing the level of such contacts. There can be good conversations at the level of, let's say, deputy prime ministers, but for this to work effectively, contacts should be built at the level of apparatuses, at the level of people directly involved in a particular topic.
- Two opinions exist about Armenia's role for Russia after the war. According to the first, Armenia has become less important for Russia. You, on the contrary, believe that Armenia's role for Russia has increased. If to formulate, what is Armenia's main significance for Russia today - given the changes in the balance of power in the region?
- Armenia is the only Russian ally in the South Caucasus in the full sense of the word. I remember about the Declaration on Allied Interaction between Russia and Azerbaijan signed in 2022, but in terms of content, relations with Azerbaijan cannot be compared to relations with Armenia, because Armenia is a Russian military base, a common air defense system, the CSTO, and many other things.
After November 2020, Russia has become more involved in the Karabakh conflict than ever before. Russia's image depends on how the settlement proceeds, how peace is maintained, and how effective Russian peacekeeping efforts are. It is impossible to maintain peace in Karabakh through the efforts of the Russian peacekeeping mission if you do not count on good relations with Armenia. On the other hand, to what extent Armenia itself is now ready to support these peacekeeping efforts, not just the mission, but peacekeeping efforts as a whole, is still an open question, and this is one of the sources of the uncertainty in Russian-Armenian relations now.
- You recently noted that the United States and the EU are trying to make Armenia and Azerbaijan "quickly" agree on something, by this squeezing Russia out of the process. How can this technically happen?
- Yes, I believe that in recent months the U.S. and the EU were working on something to be signed as soon as possible. If something is signed quickly, this "something" will be signed under conditions more favorable for Azerbaijan, simply because this is the balance of power now. And neither the U.S. nor the EU, despite France's words of support to Armenia, will secure the interests of the Armenians of Nagorno-Karabakh.
How does Azerbaijan see the peace treaty and the settlement process in general? A paper is signed in which Armenia recognizes the territorial integrity of Azerbaijan within the borders of the Azerbaijan SSR. And, in fact, that's it - Azerbaijan does not need anything else.
Yerevan's position, as stated by the Prime Minister, is that Armenia is ready to recognize Azerbaijan's territorial integrity provided that the security of the Karabakh Armenians is guaranteed.
- You've been critical of these guarantees.
- Azerbaijan says that Karabakh Armenians are citizens of Azerbaijan, and all their rights are guaranteed by the Constitution of Azerbaijan. It is possible to add a "makeup" to this, like Azerbaijan's accession to international conventions on minority rights and so on. What's next?
Russia has faced the problem of separatism in its modern history. We are a country that has fought for its territorial integrity. On the other hand, Russia has avoided the post-Soviet curse of ethno-nationalism, which exists in almost all post-Soviet countries, except perhaps Belarus. We cannot say that it is absolutely impossible for us to return Karabakh to Azerbaijan. Theoretically, Baku can reach agreement with the political representatives of the Karabakh Armenians on how they live in one state. Russia thinks that the existence of different ethnic groups in one state is not something exceptional and shocking. But when people in Azerbaijan tell from the highest tribunes that there have never been Armenians here, that there are no Armenian temples and cemeteries here, that it is all made up, how can people react to it? Will they want to live in the same state with you? Of course, they will not.
- At the same time, we are witnessing a somewhat paradoxical picture: some rounds of negotiations are held in Moscow, some in Washington, and some in Brussels.
- Let's take a look at this situation as it developed: the second Karabakh war ended with a trilateral statement, handing over of territories and the deployment of peacekeepers. Then we see no development of negotiations for a year and a half. A year and a half later, the special military operation ("special military operation" - this is the official term Russia names the war in Ukraine – ed.) started and soon the situation in Karabakh escalated with the developments in Parukh and an attack on Jermuk six months later. After that, the United States and the European Union got involved. It was followed with the statement that the Armenians are ready to recognize territorial integrity under certain guarantees. And again silence. If we try to build some logic in these events, what will we see? Obviously, the negotiations have stalled by the beginning of 2022. With the ongoing SMO, Baku decided to increase the pressure on Armenia. And they increased - they attacked Parukh, blocked the Lachin corridor. And what did they get? They got Armenia's consent regarding the Alma-Ata Declaration, and Pashinyan's statement - but so far statement - that Armenia is ready to recognize Azerbaijan's territorial integrity if rights are guaranteed. In general – that's it. And then we see that the negotiations have stalled again. Maybe I am an optimist, but I would suggest that the effect of the previous pressure has been exhausted, and Armenia can no longer be forced to make any further concessions. The question arises: will there be a next round of pressure?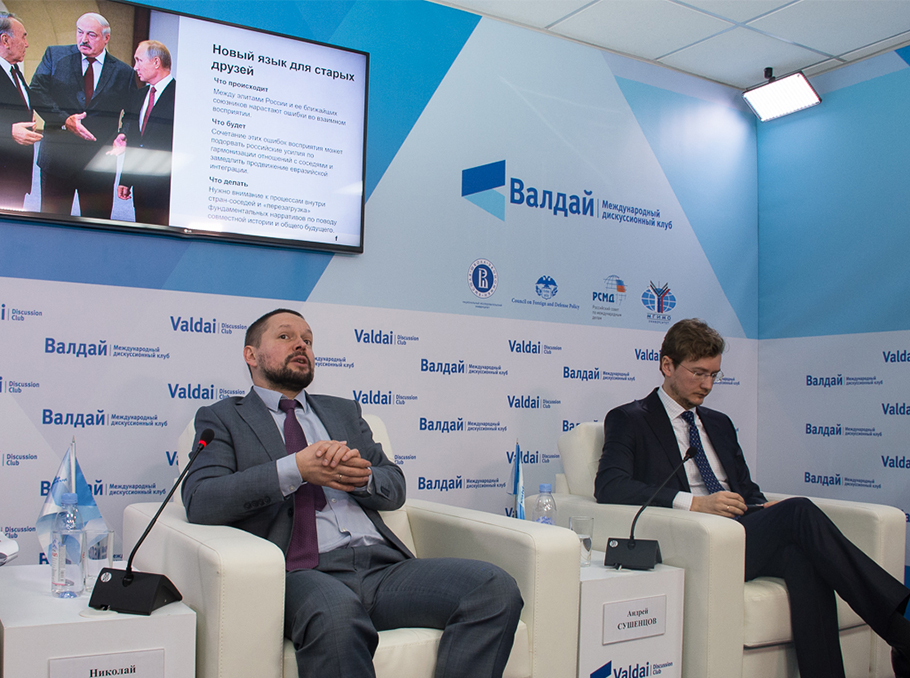 Photo: Valdai Club
In my opinion, the key subject of the recent talks between the leaders of Armenia, Azerbaijan and Russia in Moscow was about what would happen next in terms of Azerbaijan's forceful pressure on Armenia. And the announcement about the opening of the Russian Consulate in Syunik was a certain signal.
It is difficult to settle a conflict existing for many years near the borders of a great power when several other great powers engage in this settlement process without asking anything the first power and ignoring its approaches. And this is exactly what they are doing. They want to settle the Karabakh conflict without Russia. Let's see what they can do.
- Do you agree with the thesis that further developments in the South Caucasus largely depend on how the war in Ukraine and the confrontation between Russia and the West will end?
- This is a global confrontation. It is developing in different regions, and, unfortunately, what has been happening in recent months - the competition in negotiations - is precisely the West's attempt to continue this confrontation, to transfer it to the South Caucasus. A hotbed of confrontation appeared here, not as acute, but it exists.
The SMO has greatly changed the conflict settlement conditions and Russia's opportunity structure. We have to admit this. But I would not say that after the end of SMO things will get better. No, they will not. Yes, the SMO will end one day with Russia's victory and achievement of its goals, but it will not automatically make the situation in the South Caucasus more stable.
Ara Tadevosyan spoke with Nikolay Silayev
This interview has been prepared as part of a joint project with the Tufenkian Foundation.