Yazidi activist, 2019 Aurora Prize Laureate Mirza Dinnayi visited Artsakh a few days ago. He has defending the rights of Yazidis living in Iraq for many years, transporting victims of
terrorism and sexually abused women to Germany for treatment.
Dinnayi dreams of a world where would be no genocide. The Yazidi activist, who shared the pain and suffering of thousands of people, also visited hospitals in Yerevan and talked excitedly about what he had seen in recent days. Mediamax has talked to Mirza Dinnayi before his departure.
You are in Armenia in a very difficult time for us and our country. What is the purpose of your visit to Armenia and Artsakh? Was this visit planned beforehand or did you decide to come after the war?
Actually, since the war and until the war was stopped, I was dreaming to visit Armenia, because I wanted to see my lovely people, my lovely friends, and to see what's happened with them. It was emotionally important for me to see what the situation was. After the Aurora Initiative has started an incredibly important initiative of helping those affected by the war in Artsakh, I saw it as also one of my duties to join this campaign. Since Aurora itself is continuing the annual tradition of issuing a stamp featuring the Aurora Prize Laureates, I mixed all these wishes and all these pooling factors to come to Armenia. Therefore, I put in my programme first that when I come to Armenia, I should go to Artsakh, because it was the main reason I wanted to come.
You have seen and felt the pain, loss and despair of many people. Could you please describe your feelings and thoughts while you were in Artsakh? What did you see there?
Sometimes you cannot describe your feelings, when the situation is so difficult, and by chance, as I wanted to put flowers beside the monument (the Brotherly Memorial Complex of Stepanakert- Mediamax), I saw a crying father beside of the grave of a young soldier. I went to him and wanted to understand why he was there, and he told me that day was the 20th birthday of his son, who died in the war. You can't imagine how difficult it is for a poor old man. Instead of celebrating the birthday of his son in a bar, he is coming to the monument. This is one of the visions I've seen in Artsakh.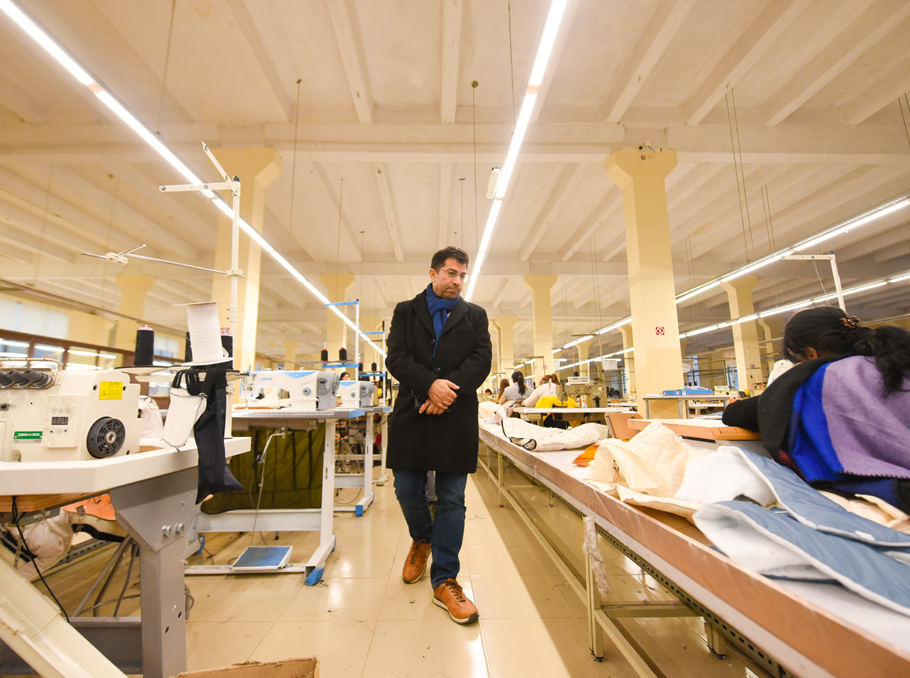 Mirza Dinnayi at the sewing facility in Stepanakert
Photo: Aurora
I also visited one of the factories that was renovated and supported by Aurora to bring women to work, and it was an excellent job. I was in near contact with some of those women, and some of them lost their sons or husbands or brothers, or a relative in the last war. Even though the war was last a couple of months, it caused a lot of damage to the population, and still more than 25% of the community is displaced. You can imagine how it would affect you from your heart, from inside, and how difficult it is to see a very small nation that wants only to leave in a peace, and it's not their fault they are living on a land that somebody believes is his. You can imagine how difficult and how bitter it is, and how you will be angry at all this political community on the global level, how injustice is distributed. For us, the people who are working in the humanitarian and the human rights fields, we are touched actually even deeper because of that.
If I am not mistaken, you have also been in hospital, is that correct?
Yes, in Yerevan I have also visited some young people, who were injured. I visited three rooms, I couldn't make that trip to the end, because I saw those people who had been amputated and injured severely, and I don't know if some of them could survive that. One of these young guys told me he was planning to study medicine. (his emotions did not allow to continue speaking– Mediamax)
The people of Artsakh currently living in Artsakh and Armenia need humanitarian assistance, many of them have lost their homes, everything, also their hope and optimism. Throughout your life you generally met such people. How can we help them?
For the part that I can deliver, some kind of help especially for those people traumatized, maybe we can train some of medical and physiological stuff - how to deal with traumatized people. It can be a project to train the social and medical workers, who are dealing with traumatized people, so that is one of the things I can help with.
Mirza Dinnayi
Photo: Mediamax
I have asked different hospitals if I could help to deliver some kind of treatment for those children affected by the war and in need of medical treatment outside the country. I was happy that there are no children in this category, otherwise I could help them, because this is the job that I have been doing for many years.
I should have feedback from my friends in the Aurora Humanitarian Initiative and see what I can do, which kind of help I can deliver, because Aurora took the leadership of delivering such kind of humanitarian aid. Definitely, if I want to do something on my own or in collaboration with Aurora, I need to have feedback from them, because they have excellent experts dealing directly with the people on the ground. I will have the advantage of their advice and also their support.
I mean not only you, but all of us. How can we help these people, what do they need more?
Generally, I think the most important thing is that the world should know more about what's going on in Artsakh. I am not speaking about political disputes, I am speaking mainly about the humanitarian crises and the situation there. The timing was bad for poor people in Artsakh, because all Europe and the world were busy with COVID-19. We need to raise more awareness about the plight of the people from the humanitarian point of view.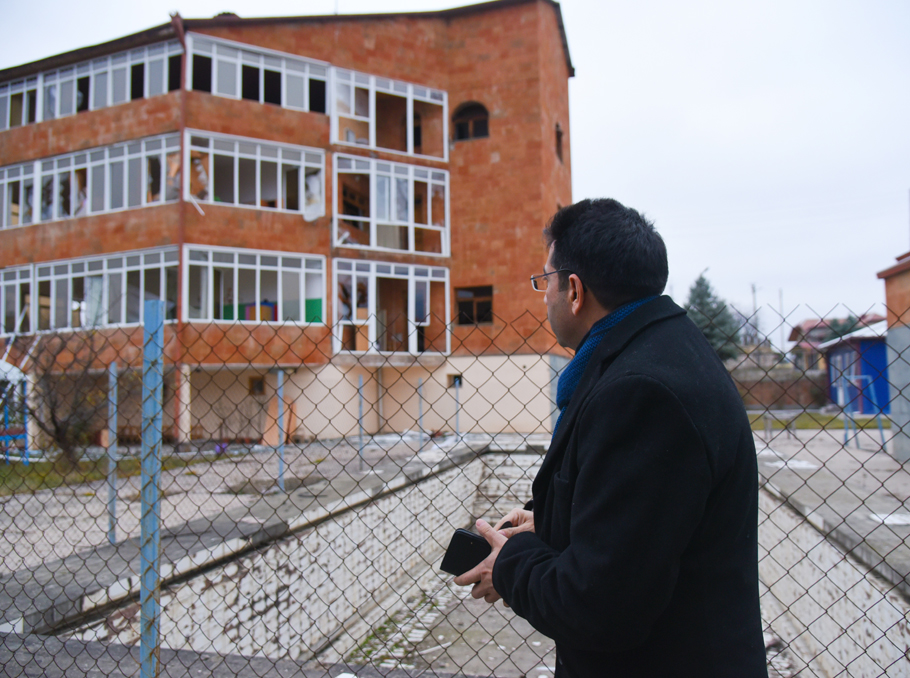 Mirza Dinnayi in Stepanakert: The N1 shelled kidergardten
Photo: Aurora
For example, I asked whether the UN Specialized Agencies were there and they told me there was no UN agency there. It is a shame. The war happens and there are 25 % of the community displaced and there is no UN agency, which can see whether these people are getting okay or not. I think we have to raise more humanitarian awareness about that, so international organizations should come. I truly believe if we had a presence of such international organizations in the past, this war would not happen, because there are different kind of war crimes and I have no doubt there are such kind of war crimes with absence of observation from international community. Such things can happen everywhere in the world.
It is also very important to make some kind of advocacy for the people and the humanitarian need, many buildings were destroyed or have no electricity, and schools need to open again. The people of Artsakh should return back to their houses and life should return back. If you choose any sector of the life, you could help, even regular civilian can deliver some kind of help.
Surely, you know that many Armenian-Yazidis took part in this and previous wars. We have Yazidi heroes. During your visit, did you manage to meet with representatives of the Yazidi community?
Yazidi and Armenian are two groups of people that have coexisted for thousands of years, and we share many roots together in the pre-Christian time. Yazidi and Armenian people went through the Armenian Genocide in 1915, and many of Yazidis, especially those living together in peaceful in old Ottomanian time, were massacred. And for that, they feel about Armenia as their own land, and they are defending, just like all others, that land and the values of that land.
I was happy that I saw all that loyalty from my community toward their land. I am not allowed to interfere in the matters of other countries, but I am happy to see that the Yazidis are very well-integrated. Armenia is the only place that Yazidis could build a temple in the name of Melek Taus. They will not be able to build a temple in Syria, for example, never in Turkey. In Turkey, even all old Yazidi temples, just like Cristian churches, have been destroyed.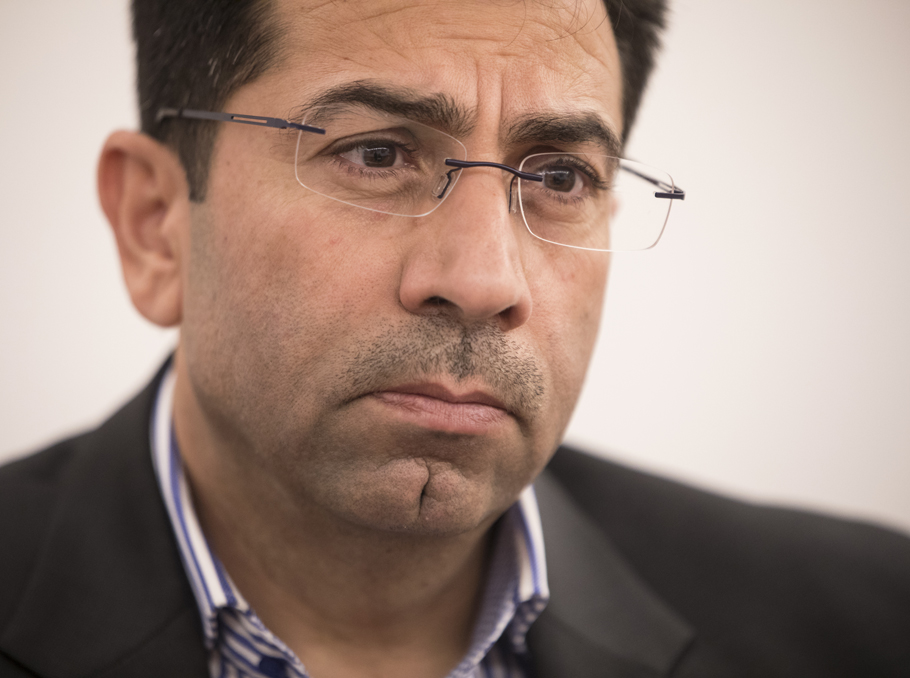 Mirza Dinnayi
Photo: Mediamax
Therefore, I am in touch with the Yazidi community. Many Yazidi volunteers worked side by side with their Armenian brothers and sisters. Today, I have also visited some of those volunteers in Artsakh, and two days ago I visited the Yazidi temple and met the Yazidi community and community leaders. As I met the Ombudsman in Artsakh, the first thing he told me was a story of a young Yazidi soldier, who had been beheaded by Azeri soldiers a couple of years ago, during the last war (the April War of 2016 – Mediamax). It was Kyaram Sloyan, and the Ombudsman said that even the president of Azerbaijan honored those soldiers who beheaded the Yazidis. By chance, Yazidi activist Roman Sloyan was with me on this trip, the cousin of Kyaram. I know how the Yazidi community is affected, just like all other Armenian people, not only here inside but also outside the country.
Earlier this year, I wrote a report about a little Yazidi girl Arznda from Iraq, who had a serious heart disease. With the financial assistance of your foundation, "Luftbrücke Irak" (Air Bridge Iraq), she underwent surgery in Armenia. Was this the only case or you will consider the possibility of providing such kind of assistance in the future as well?
Actually, the program is there. We postponed the program because of COVID-19 and then the war. If the situation is normalized, I am planning to bring more children for treatment, because the medical facilities in Armenia are very good compared with those countries. It shouldn't be only from Iraq, but from all those places are affected. I mean, I will not bring someone from Germany to be treated in Armenia, but from Iraq definitely. The hospitals in Armenia are even better than in Germany. I have visited two hospitals in my first day and they have excellent medical stuff, equipment, hygiene, like normal European standards. You will never find this kind of facility in Iraq or Syria or in the poor countries of the Middle East.
Definitely, I would plan to bring more patients. I had actually one and I got approval from the embassy, from the hospital. Because of COVID, even my Arznda should stay more than one month here, until I manage her flight back.
Hope to see you in Armenia in better times.
Sure, definitely yes. We hope for that.
Lusine Gharibyan talked to Mirza Dinnayi
Photos: Emin Aristakesyan and Aurora Humanitarian Initiative