The Lithuanian medical team comprised of 8 medical workers and 3 experts will arrive in Armenia on June 19. Mediamax has asked the Lithuanian Ambassador to Armenia Inga Stanytė-Toločkienė to tell how this decision was made.
Please tell us how the decision was made to send a team of medical doctors to Armenia?
Two years ago, the Armenian people went to the streets to demand change, democratic reforms, they demanded to put an end to systemic corruption. These developments have prompted Lithuania, along with many donors, to step up its engagement, to much more intensively share Lithuania's own (rather recent) experience of transformation and thus to support reform process in Armenia.
Effective fight against pandemics is a global challenge, which consumes a lot of resources and energy, and may divert the attention from plans developed previously. There is never right time for pandemics, neither in Lithuania, nor in Armenia nor elsewhere. But from our perspective, it is crucial to support Armenia so that the reform momentum, which had been developed in pivotal areas before COVID-19 has erupted, is not lost. That's why helping Armenia to deal with COVID-19 is naturally on our agenda, - even more so as solidarity with Eastern Partnership countries has never been an empty word for Lithuania. Vilnius is following COVID-19-related developments in the whole region and, with numbers in Armenia going up, we have been considering further ways to support Armenia.
Talking about the specific decision to send a medical and experts team, it was influenced by the public call of the Prime Minister for diaspora doctors to lend a helping hand; there was a statement about hospitals being overwhelmed. One late evening, one of Armenian media reports prompted an electronic discussion among several Lithuanian ministries and our embassy, about how we could help. Should we take patients? Or maybe bring in doctors? When an official request by the Ministry of Health has reached us, we were already quite advanced in our discussions. It was clear by the time, that we have doctors who are ready and willing to come. Thanks to the wide agreement between Lithuanian Ministries of Foreign Affairs, Health, Defense and Finance, the decision was adopted in less than one week, after the idea was born. We were joking - had Lithuania more planes, the team would be here by yesterday. Such a speed is unprecedented, and organizing such a mission is unprecedented for us as well. It clearly shows our dedication and commitment to support Armenia. And I was also glad that Lithuania together with Georgia, were among the first ones to offer such an assistance on state level.
Please tell us about the team: its composition, when they plan to arrive and how long they will stay in Armenia?
Our team consists of eleven professionals. They will arrive to Yerevan on Friday, and will stay here for fourteen days. Every member of the team was directly involved in the fight against COVID-19 in Lithuania. The medical part of the team (anesthesiologists- reanimatologists, emergency doctors and caregivers) will directly work with COVID-19 patients, whereas the three experts will work with the Armenian institutions and provide recommendations on organizational-logistical aspects of the fight against COVID-19. Maybe some of the recipes which have proved to be successful in Lithuania could also be effectively applied in Armenia. It is important for us, not only to provide a temporary relief for one or two overstretched hospitals, but also to create a wider impact by supporting Armenia on a systemic level.
The members of the group are volunteers or they were recruited by the Lithuanian Health Ministry?
All members of the group have volunteered to take part at this mission. The fact that they have volunteered despite certain risks for their own health shows their level of motivation to support Armenian COVID-19 health care workers. At the same time, these professionals work in the system of our healthcare, we will have doctors and caregivers from the two largest health care institutions in Lithuania – the Hospital of Lithuanian University of Health Sciences Kauno klinikos, and Vilnius University Hospital Santaros Klinikos. We will also have two military experts representing the Lithuanian Armed Forces (a military doctor and an expert of logistics). All of them have been directly involved in treating COVID-19 patients or managing and adapting the system of Lithuanian healthcare under the conditions of this pandemic. Who covers the costs of the team's travel and stay – Lithuanian government, or the costs will be shared with the Armenian side?
The costs of the mission are covered by the Government of Lithuania, with a contribution of the Government of Sweden. We are very happy that our Nordic neighbour has joined us and is going to cover the costs of one segment of this mission. The Ministry of Foreign Affairs of Sweden has allocated around 50.000 euros.
The team will come to Armenia by the Lithuanian Air Force aircraft. They will also bring some medical equipment and supplies (around 2 tons of it) to be left here upon completion of their mission.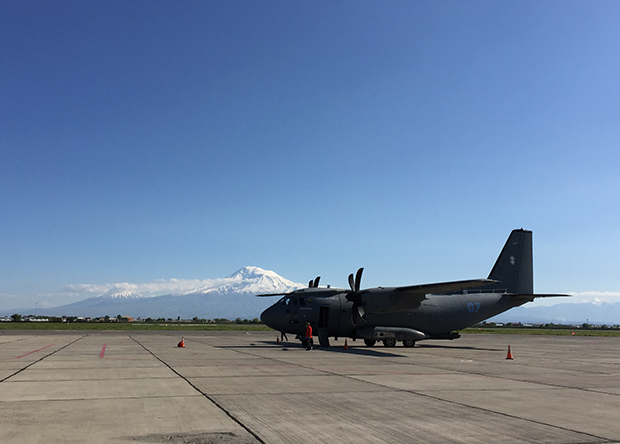 Lithuanian Air Force aircraft at Zvartnots airport (May 2020)
Photo: Embassy of Lithuania
At the same time, I would like to most sincerely thank the Armenian side – the Ministries of Foreign Affairs and Health and, of course, the hospitals where our medical team will be working. Deployment of such a mission is always a challenging task for both the sending and receiving side.
In May Lithuania sent humanitarian and medical aid to Armenia - can we say that the doctors' visit will be second phase of the assistance efforts?
Indeed, the Lithuanian Government has already allocated humanitarian assistance to Armenia to combat COVID-19 virus. 0,75 tons of medical supplies (10 500 medical protective face shields), manufactured in Lithuania, have been brought to Armenia and distributed to the hospitals and quarantine centers.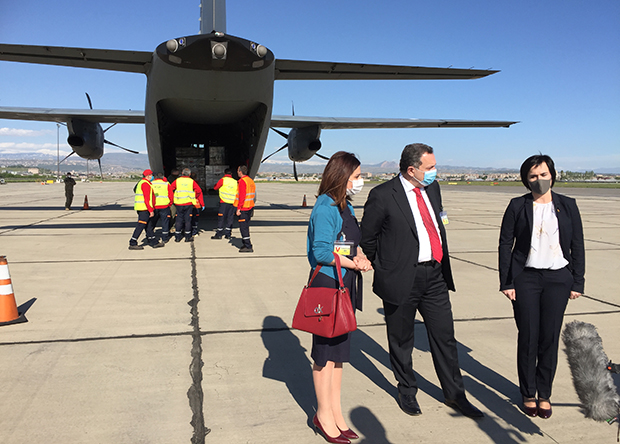 Inga Stanytė Toločkienė and Armenian Deputy FM Avet Adonts at Zvartnots airport (May 2020)
Photo: Embassy of Lithuania
But I am especially proud that our Government was capable to positively respond to the second assistance request by the Armenian Government, - as already noted, Lithuania has never implemented a similar project before.
I would also like to emphasize that even if in both cases, the projects were Lithuanian, at the same time our assistance has been provided as part of the EU-wide efforts to support Armenia under the Team Europe umbrella. The pandemic is global, we need to cooperate and support each other, if we want to be effective in overcoming this crisis. We are stronger, acting together.