Mediamax presents an interview with USAID Armenia Mission Director Deborah Grieser. She came to Armenia in July 2016 and will complete her mission in 2020.
We have just spent one and a half hour talking over a small table, and Deborah Grieser is giving me a "walking tour" in her home in Yerevan, where she has been living with her husband for more than 3 years.
Africa and Armenia live in every corner of her house hand in hand. A lot of family pictures and paintings hang on the walls.
"My daughter is probably your age - twenty four: she painted these pictures. Look at these colors. She is really talented, yes?" she asks. In one of photos, her daughters are lounging together.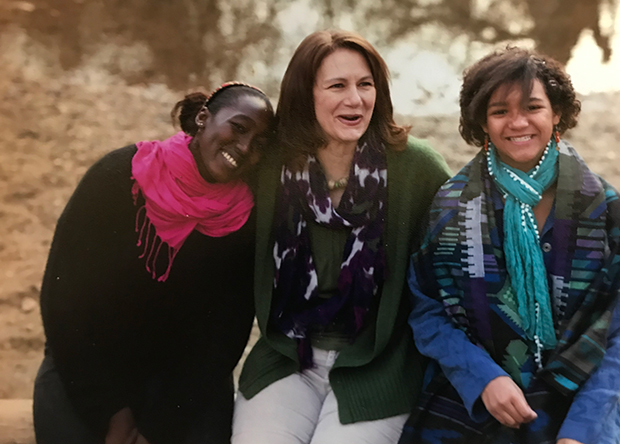 "I really wanted to have a child. My ex-husband, who is from Africa, and I adopted his niece when she was only 3 years old, and then had another daughter Right now my younger daughter is studying in university in Philadelphia, and my older daughter and step-son are in Washington DC, working.
My daughters are so different, one is the sun, and the other is the moon.
I have a very large family. This is my mother, who visited Armenia last year. She just loved Armenia. She hadn't heard much about Armenia until I came, and my mother has never left the United States, she's never even had a passport. And I said: "Mom, you really need to come to Armenia. This is a really amazing place and I think you should come." So she left her home for the first time in her life and we had a wonderful time here," tells Deborah.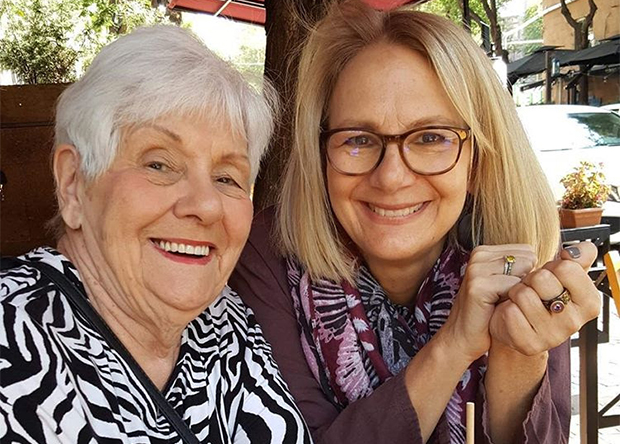 ***
Is it a doll on your table?
Believe it or not, it's me! Armine, the owner of Mosh Studios in Yeghegnadzor, made it for me. She is a participant in one of USAID's activities called "My Armenia". It is a collaborative cultural sustainability and tourism program between USAID, Smithsonian Institution, and the people of Armenia. The idea of the project is to get tourists out of Yerevan and spend time in your marzes, sharing cultural experiences with Armenians. As a result, people in the regions can benefit from the income that tourism brings. "My Armenia" is mixing power of research, documentation, and storytelling to strengthen cultural sustainability through community-based tourism development. It engages with local partners in community-based research to document Armenian cultural heritage and then create experiences that tourists can enjoy. So people like me can visit as a tourist and meet, for example, with Armine and make a doll with her in Vayots Dzor.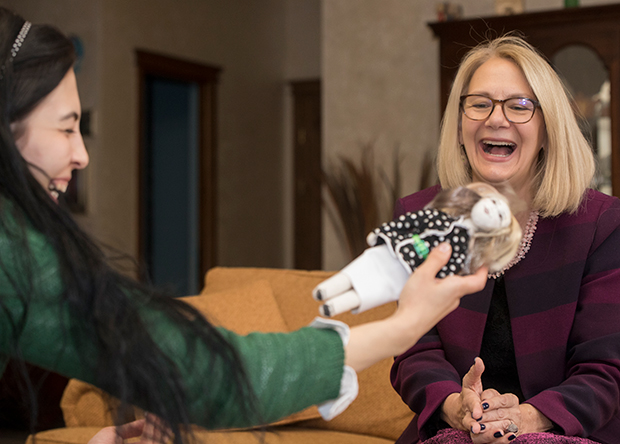 What we do is work locally and one of our studies showed that it helps to grow tourism activity. In fact, tourism in Armenia grew from X to Y over the past year. While USAID's My Armenia project cannot take credit for this boost in tourism, we would like to think that our efforts contributed to the positive trend.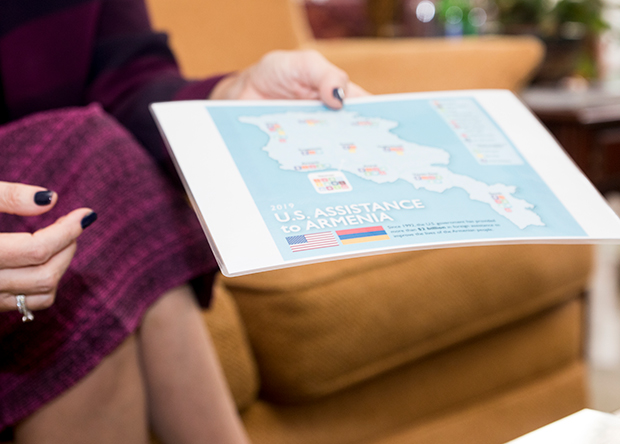 This year you will complete your work in Armenia. What was the most important project that you did?
I think the most important part was connecting with Armenian people through work and personally, and living through the "velvet revolution" - it was amazing! What impressed me most was that it was a home-grown revolution, 100% Armenian. USAID has invested in a number of activities to support civil society, youth and independent media in Armenia over the past 28 years, so it was rewarding to see the important role that these groups played in the peaceful transition of power.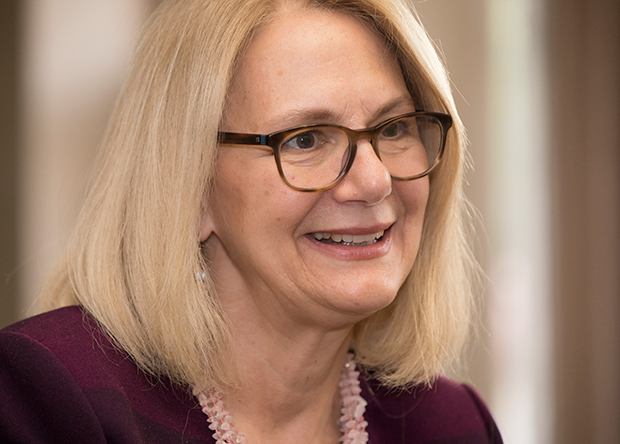 By the time I arrived in Armenia, the USAID budget had shrunk to its lowest levels․ Unfortunately, one of the first things I had to do was let go of some of our staff, which was very difficult to do but a decreasing budget meant fewer programs and therefore less staff. We kept working and we emphasized working through local organizations and directly with the government because it's a more cost effective and sustainable approach, one that promotes self-reliance. Armenian organizations are very capable․
And then there was the peaceful transition of power. The U.S. Congress approves the budget for all U.S. foreign assistance, and there are hundreds of countries who receive U.S. assistance. In Armenia, the U.S. Government believed that the "velvet revolution," and the peaceful transition of power presented new opportunities for U.S. Government assistance to make a difference by supporting the new democratic and economic reforms in Armenia. So, we worked hard to ensure that these opportunities were effectively communicated to our colleagues in Washington․ We also invited U.S. Government representatives from Washington to visit Armenia, so they could meet the new government and see the opportunities first-hand. And as a result, USAID's budget in Armenia increased by 88 percent in 2018, which was amazing.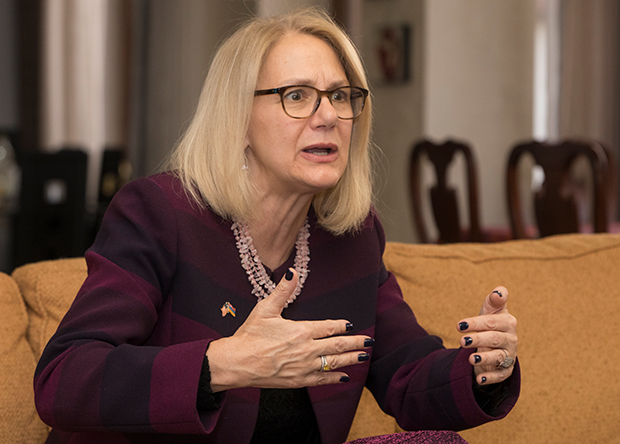 You smile when you talk about Armenia and you are trying to use Armenian words all the time. How did you come to love the country?
Absolutely everywhere I go in Armenia, I have been very warmly welcomed. I don't feel like a stranger, even when I look a little different than most people. In Armenia, people are very welcoming and friendly. It's a place that makes you happy and you want to stay here. There are a lot of beautiful things to see, a lot of mountains, which really impresses me because where I grew up, we don't have any mountains. My husband and I like to go hiking and we found many wonderful trails to explore. There are a number of reasons to love this country. To live through the Velvet Revolution and see a peaceful transition of power was honestly a highlight of my life. It was, and incredibly inspiring to see that was mobilized by citizens. My daughters were both visiting during the revolution and were incredibly inspired to see that the revolution was mobilized by ordinary citizens, to see democracy in action. It's nice to see a new government come in and it's nice to see my colleagues and co-workers become more hopeful about the future.
We can meet you at Nork Marash orphanage every weekend. The question may be very personal, but what do you do there?
It's one of my favorite places to go on the weekends. I am Roman Catholic. When I arrived in Yerevan, I heard about the orphanage in Nork Marash and started going there on Sundays, thinking I was just going to mass.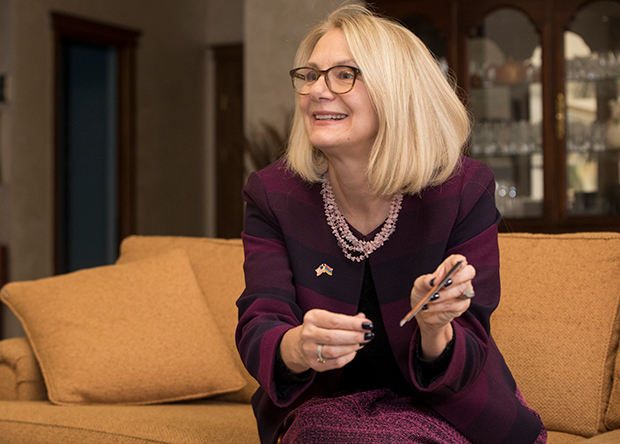 I found about twenty children, all disabled, living there under the care of the Sisters of Charity . And from that first Sunday,it become a part of my every week life. I stay after mass on Sunday and help the sisters and their wonderful staff with the kids. I just help with feeding them or just playing with them. It's very rewarding, because many of these children can't speak, many of them can't walk, but they're happy and they make me happy. In spite of their disabilities, they can still be positive. I've seen some of these children get adopted by international families and some by Armenian families. That's kind of inspiring to see that they will be able to grow up in a family environment. And I love children. I just love them, because… Look at my pictures. You see how huge my family is. I grew up and lived in a family where there are always kids around, everywhere. I come from a large family, I grew up with six siblings and my parents have twenty- seven grandchildren. So, I just grew up around that.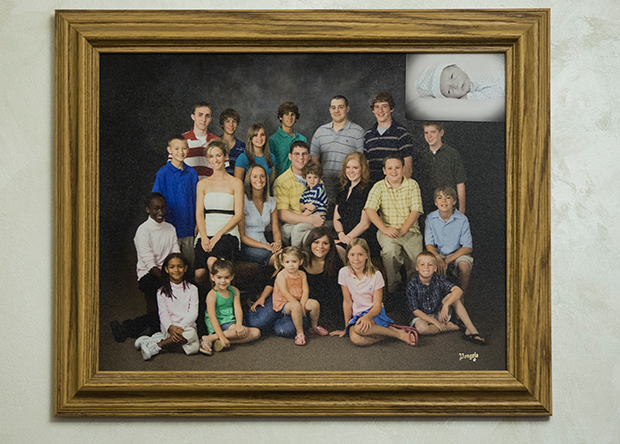 So you had no other choice.
Exactly. I don't have any other choice, I just love kids.
But as for weekends in Armenia, I also like to travel in the marzes to meet with the workers and participants of our projects, and with local families, and children. When you start learning about their lives, you start appreciating their living situation. I interact with people who may not have high incomes, but they have a passion for what they're doing and they are very committed. So many of them have become my friends.
Also, I read a lot for work and I read a lot of fiction. But my favorite authors of all time are the American authors Hemingway and Steinbeck.
Do you spend your working days in office? I noticed that you prefer to work outside. For example, what did you do today?
Yes, I try to work outside of the office to see our projects, because I love to be in touch with what we're doing and I prefer not just hearing about it. It also helps to understand life in Armenia and our projects as well.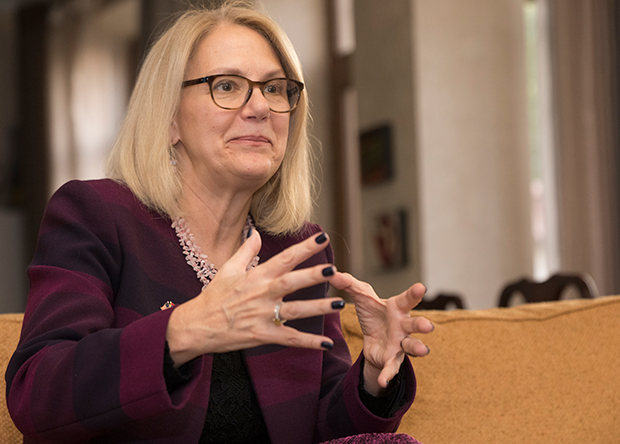 Today, right before meeting you, I met with the Minister of Labor and Social Affairs to talk about a brand new project that will create centers in Shirak and Lori Marzes to support people with disabilities to be able to live independently.
For example, these people can go to the centers and say, okay, I'm having trouble, I can't get access to a particular service, and the center will help direct them to where they can find support.
Why do you like your work in USAID?
I have a passion for the mission of USAID which is to promote partner countries in their development, and to empower them to be more self-reliant I truly believe in this, it's something that I'm personally committed to. So I like to work because I believe in my work.
The purpose of my work and the result of my work are what drive me.
For example, I have gotten to know Zara and Vahagn, who are a husband and wife, both artisans, living in Sisian .When I first visited them a few years ago, I found that they had a small studio, but were working hard to make it bigger so that more tourists could stop by to make pottery or create batiques. When I went back a year later, I found that they had built a second story and were also hosting tourists for lunch. You know, when people say that this or that USAID project changed their life, it means a lot to me, it motivates me, it drives me on.
I think anybody can work in USAID, but first of all, you have to have a personal passion for the work that we do.
Is there any other passion that changed your life?
I can tell you of an experience that changed my life. I grew up in a very small town in the middle of the United States. Most Armenians know the East Coast, West Coast, but nobody goes to the middle. So, I am from this middle, from a very small town. As I have said, my mother had never left the United States and I am the only one of all my brothers and sisters that ever left the States. When I was younger, I woke up one day and said I wanted to go to Africa to join the Peace Corps. It sounded really interesting for me and I wanted to try because I liked the idea of helping and supporting people.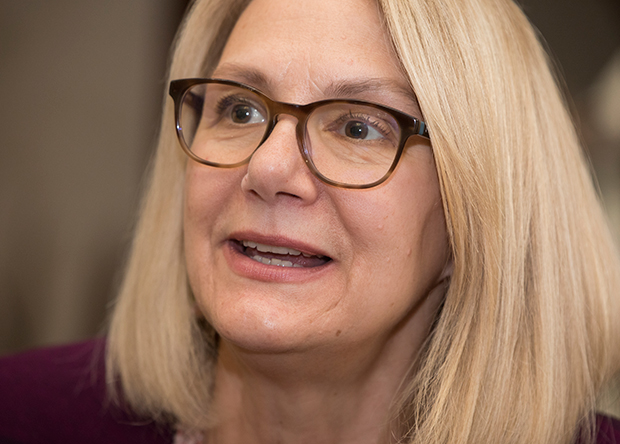 So I signed up and was assigned to Malawi, a small country close in southern Africa.
When my family heard about my plan, they said, "no," and they were shocked. But I left my family and city and went there. It was only there that I learned about USAID. So when I finished my Peace Corps service, I joined USAID. And here I am now, many years later, feeling really happy.
Are you ready to leave Armenia?
It's hard to leave, because I've really enjoyed living here and it's been very fulfilling. But when you're in the foreign service, you have to balance your family life with your work life. My husband also enjoyed being here, and has been working at the American University of Armenia. We will be going back to Washington this year, but the good news is that our children are there and so we will be closer to them. But I will come back for sure!
Lusin Mkrtchyan talked to Deborah Grieser
Photos by Emin Aristakesyan