Armenian Defense Minister Davit Tonoyan's interview to Mediamax
Armenian Prime Minister said that Armenian military doctors and sappers will be send to Syria. Does this mean that Armenia will send noncombat troop to Syria?
Taking into consideration the fact that this issue has been touched upon a lot recently, I would like to definitely state that we plan to send a group of specialists from Armenian Defense Ministry to Syrian Arab Republic. The group involves doctors, humanitarian demining specialists and staff providing their security.
Naturally, employees of Armenian Defense Ministry are mainly military servicemen, but it is incorrect to present them as a military contingent, as the group of Armenian specialists will not accomplish combat tasks. They will be involved in solving humanitarian issues. Consequently, they will act as a group of specialists and not contingent.
Some experts have already voiced opinions, according to which the Armenian Constitution doesn't provide for using Armenian armed forces outside the country and the decision to send specialists to Syria will be unconstitutional. What would you say about this matter?
To avoid turning this initiative that is in line with our national interests into a legal debate, I would simply like to emphasize that the initiative doesn't have anything to do with using Armenian armed forces outside Armenia. I have already said that Armenian specialists will be involved in solving exclusively humanitarian issues, particularly, in Aleppo, a territory away from military actions.
If you pay attention, even talking about demining, we don't mention military sappers; this is about humanitarian demining. Those are completely different professional fields.
What will be the legal base of sending Armenian specialists? Has Armenia received an official request from the Syrian government?
The process is implemented in accordance with the Armenian Constitution, UN resolutions and actions plans, as well as legal obligations of collaboration between Armenia and Syria. Relevant authorities in Syria have already come up with a request, to which we responded.
How many specialists is Armenia going to send to Syria? When are they departing and for what period?
We plan to send up to 100 specialists to Syria this year. The length of the trip will be defined in the process, so we don't have precise deadlines at this stage.
Where is the group going to be stationed?
Our priority is to help the Armenian community of Aleppo, which is suffering from a severe humanitarian crisis. Therefore, Armenian specialists will be stationed in Aleppo and will assist the Syrian population.
Who will secure the safety of Armenian doctors and demining specialists in Syria?
The physical safety of our doctors and demining specialists will be secured by corresponding specialists that will accompany them to Syria.
How will you regulate the relationship between Armenian servicemen and the armed forces of Russia and Syria? For instance, who will give orders for demining in the given area?
I would like to stress that our group will work in Syria under the command of the Armenian Ministry of Defense. Obviously, they will coordinate their actions with the Russian side and the local authorities. There is a center in Aleppo that coordinates humanitarian activities, collects and analyzes the data and the feedback and provides response. We will have representatives in that center, who will "relay" the "commissions" to the Armenian group. As for the Russian and Syrian armed forces and their military actions, I have already stated that our specialists will not be involved in combat tasks.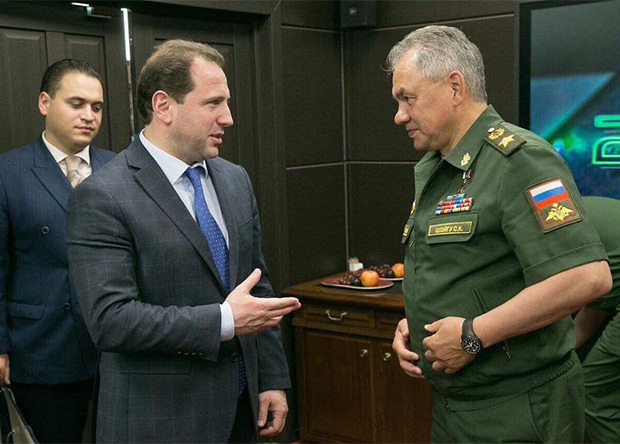 Davit Tonoyan and Russian Defense Minister Sergey Shoygu
Photo: Armenian MoD
Our Russian colleagues have expressed the willingness to assist with transporting our specialists to Syria and settling them there, which will be recorded in a corresponding Protocol in the coming days. I would like to use this opportunity to thank them.
Given that our peacekeepers have been serving in Lebanon within UNIFIL mission for a few years, could that make Armenian group's work in Syria easier?
Armenian troops are involved in a peacekeeping mission in Lebanon, which includes possible combat actions. Therefore, I consider it wrong to draw parallels between their work and the humanitarian mission Armenia is sending to Syria.
The West has a mixed approach to Russia's actions in Syria. Do you think that sending a mission from the Armenian Defense Ministry to Syria could cause problems in our relations with Western partners?
We have discussed our intention with almost all our partners. We are not going to Syria to take part in any combat actions. After all, our mission is purely humanitarian and our interest is to preserve the Armenian community of Aleppo and restore the natural order of peaceful life for the people of Syria. I believe our partners understand this very well.
Ara Tadevosyan talked to Davit Tonoyan