A group of representatives from Gehl Architects, an urban research and design consulting company based in Denmark, has recently visited Yerevan. The Yerevan Municipality invited them to discuss urban development opportunities in Yerevan. Gehl works in more than 250 cities in over 50 countries, it has been in charge of urban planning in Copenhagen, New York, Moscow, San Francisco and other big cities. Is Yerevan going to be one of them?

Mediamax talked to Gehl Architects Partner & Managing Director Henriette Vamberg on possible cooperation and her preliminary impressions on the Armenian capital.

Ms Vamberg, you have proposed projects for cities such as London, Moscow, Istanbul, Sydney. What is your impression of Yerevan?

We had a very nice visit to Armenia. I think we were especially taken by the culture of the city and by people, as they were very friendly and open. Yerevan has a very strong city plan and a structure. Although there was no leaf on the trees when we visited, it was quite green. A lot of street trees and many parks were in the city, and of course the mountains in the background were great. I think there are a lot of amenities and a very strong street pattern. The basic structure and heights of the city are quite uniform.

Gehl's focus is creating cities for people. How comfortable do you think life in Yerevan currently is to its residents? Do you think it is possible to make Yerevan a city for everybody?

I definitely believe that there can be improvements in Yerevan. I think all cities have different challenges. The challenge of Yerevan is how to balance the transport in a good way. Specifically, the pedestrian environment should feel in a safe place where it is comfortable to walk.

Therefore, I think that is an issue that we found worthwhile to look at in the future. Besides, there is a challenge with the amount of parking and a placement of parking. One of the potentials is that Yerevan has a strong street network and in that way if you can make the streets operate as a system it is easier to deal with different transport challenges.

Since you are from the most bike friendly city in the world, I assume one of the obvious differences between Yerevan and Copenhagen for you was the lack of bicycles and cycling, instead you could find only streets overwhelmed by cars.

Sometimes when we come out and speak for other cities, we meet the skepticism around bicycling, saying it is too hilly, or too windy, or it is so cold to cycle, it is not our culture… We meet this in a number of cities and I think it often points to an underdeveloped cycle culture and perhaps a little bit a limited understanding of bicycling.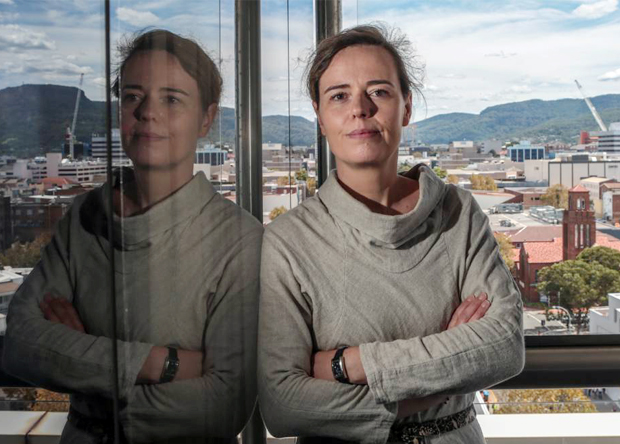 Henriette Vamberg

Photo: Adam McLean


If we look at Copenhagen, it is very flat, but it is extremely windy, and it is very cold in winter but we still have a lot of bicycling. And the way is done in Copenhagen is not to force people to do it, people who bicycle here have alternatives. There is a well developed public transport system, the majority of people has a car, you can easily walk or take a taxi, there are other choices, but people choose to bicycle because they find it convenient and because it works as a part of what they are doing.

Do you think it is possible to make Yerevan a city for bike lovers as well and by building bike paths to decrease the number of cars in the city?

The short answer is yes. I am not in doubt that bicycling will get to take up more of the transport work, because it reflects on the environment and it reflects on health. We need to move more and we still hesitate, but we need to be a little bit patient, I am sure Yerevan can also develop a bicycle system that fits the city.

Bicycling could be a part of the traffic solution in Yerevan, however, it needs to be considered in a careful way on how the system is implemented, so that we provide people with a continued connected network and that you don't end up places where it is dangerous or uncomfortable to bicycle.

What specifically would you like to change in Yerevan?

Yerevan has a number of potentials. I think the real task is how to unlock this and how to maximize those potentials to have a city that can be even better and more comfortable. How to make the city convenient and attractive enough that people living there can feel in a place where you would like to grow up as a kid, be a young person and grow old. If the city can fulfill it that will be the biggest task, and if you implement all for your residents, then you have done well. I believe that is something we would definitely be looking at.

Was Yerevan able to surprise you? What have you found strange or what exactly did you like about the city or maybe did not?

The food was extremely nice. The weather is better than in Copenhagen, and the food is better and the people are very friendly and open. I believe that these are 3 strong things that makes you feel it is a place where you would like to work. People have a strong interest and a passion for the city and I believe for us it is always great to experience it because we have that as well. That is something we always really value. Besides, the city structure and the parks, the street trees, the wide streets with lots of possibilities, all these we consider as a sort of a uniform scale. However, there are challenges related to traffic and parking, which has an impact on the attractiveness and the comfortability of the city.

What you think about the possible cooperation with the Yerevan Municipality?

We were invited to Yerevan to discuss a possible collaboration. We are in contact now and still in the discussion process. We need to figure out how we can develop and figure out projects that makes sense.

Most of the foreigners say that, however, they like Yerevan, they can't find old buildings and that we keep demolishing them all too fast.

We found a couple of old buildings. I think it is a serious discussion that how to live in a city which changes and can grow, develop and how can you do that in a respectful way for the past and how can you do it without destroying the values and the heritage inherited. It's a real challenge and if you can succeed in doing it, it adds a lot of values to the new parts of the city.

I really like Yerevan. I think it is great. For me a city is always the sum of a lot of different things, for me it is the sum of the parks, the open spaces, the streets, the buildings, the people, the weather and so on. I really like Yerevan and I can certainly understand why people have a passion for it.

Amalie Khachatryan talked to Henriette Vamberg