The Armenian rescuers celebrate professional holiday on September 4. Mediamax talked to Minister of Emergency Situations of Armenia Davit Tonoyan on this occasion.

- Mr Tonoyan, you took the position of Armenian Minister of Emergency Situations (MES) nearly half a year ago. I guess this time was enough to get acquainted with the system and detect its strengths and weaknesses. Could you introduce them?

- I will answer in Aesop's style: the source of our strengths and weaknesses is the personnel.

We have highly professional and dedicated specialists in all sectors. We also have some unqualified people with no place in our sector, and they already know it well.

Implementation of progressive systemic reforms is the most efficient way of working with staff. Urgent issues on Armenian government's agenda also involve these reforms, conditioned by modern challenges.

I would not like to sound ambitious, but we have succeeded in forming trust among the people. The society now believes in soonest response from 911. It is not a coincidence that 911 service received more than 1mn 55k calls in the first half of 2017, and none was unanswered.

By the way, structure reforms were also conditioned by the fact that many departments have the same function, while their work is uncoordinated. So, such departments are in urgent need of reforms.

- It seems that you aim at changing our stereotyped conception of MES as mainly a reactive structure, trying to transform it into a more proactive system.

- Our response to emergency situations includes reduction of natural and manmade disaster risk, assessment, prevention and elimination of potential consequences. In other words, we have incorporated a new management culture: disaster management system (risk reduction, resistance, elimination of consequences), which is gradually moving towards electronic platforms.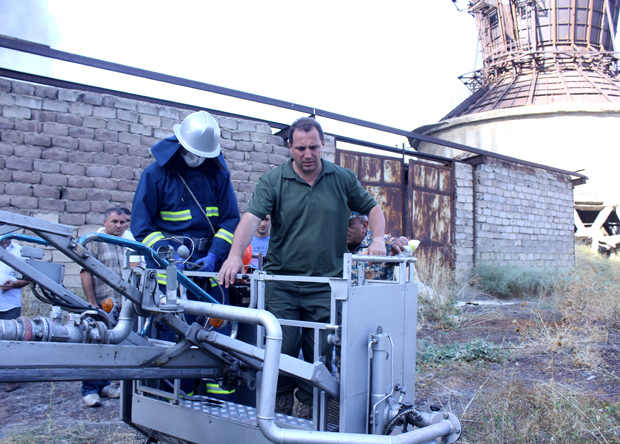 Davit Tonoyan

Photo: MES


We have also added a substantional change in our response system. Our action plan depends on the following circumstances: vulnerable groups: children, disabled people, residents of bordering communities, participants of Artsakh liberation war; beneficiaries: communities, large settlements, cities and so on. MES implements long-term programs, mainly financed by international organizations.

- The Armenian government's new program provides for launch of unified disaster risk reduction electronic system in 2017-2020. Could you tell us more about the system and its operation?

- MES unified disaster risk reduction electronic system is one of the main tools for solving various issues and providing MES's effective operation, as well as organizing different management processes in the sector of emergency situations and civil defense. It will facilitate the development of Innovative Technologies and implementation of a number of concepts and modern strategic program, including "Strategic program on e-governance in Armenia" and "National strategy on disaster risk management in Armenia".

The system will be incorporated in the structural, separate and regional departments of MES. Relevant protection level will help us coordinate our processes with management systems, databases and infrastructures of other state structures and organizations, while system operation and software security assurance will be provided through licensed packages.

- Recently MES has done a lot of work in bordering communities, creating civil defense bases. When do you plan to finalize this process?

- This work is implemented upon the decision of the Armenian government. Collective Center of Civil Defense Forces was formed in 2015 in the composition of Civil Defense Department of MES. The creation of bases of Civil Defense Department in 11 bordering villages of Tavush region was yet another achievement over these three years. They involve young people from relevant communities. The bases were established for performing qualified protection in bordering communities: accomplishment of rescue and firefighting activities in different emergency situations, preservation of protected areas (reservoirs, water sources, bridges), detection of mined areas, installment of traffic signs, territorial surveillance, support for detection and evacuation of the affected people and first medical aid in the areas of accidents and disasters. We will continue staying focused on the mentioned issues.

- Mr Minister, the Armenian government's new program also provides for capacity building plan for managing uncontrolled movements of people resulting from major disasters and military operations. Could you introduce the outlines of that plan?

- Yes, 2017-2021 Strategy for Migration Policy of the Republic of Armenia and five-year program of MES provide for the development of "Capacity building plan for managing uncontrolled movements of people resulting from major disasters and military operations. " Upon my instruction, a working group was formed, which involves representatives from different structures and international organizations.

The working group will be responsible for developing the plan. We will hold the first meeting in September.

The plan will involve 4 main sections, introducing the actions of Armenian state structures in case of uncontrolled movement of people. We will describe various situations and try to find management solutions to each.

We are already working on the implementation of the plan. In particular, UN International Organization for Migration and Armenian MES held joint drills in Gogavan community on "Capacity building plan for managing uncontrolled movements of people resulting from major disasters and military operations". We wanted to create a situation, which would allow detecting our gaps and discussing possible solutions. Our Georgian partners took part as observers.

The plan will be introduced for government's approval till the end of 2018.

- Armenian-Russian Humanitarian Response Center is the only similar structure in the region, but can it really become a regional actor?

- Armenian-Russian Humanitarian Response Center is a unique structure in the region. It has precise targets and quite beneficial (for us as well) perspectives for development. We have already heard some zealous responses in neighbouring states on regional importance of creating this center. However, we're more interested in the panorama of our solutions within the center. With the corresponding numbers of staff and equipment, it will play a big part not only in our region, but beyond it as well.

- You discussed perspectives of cooperation with NATO Secretary General's Special Representative James Appathurai and EU representatives in recent months. Are there any agreements?

- Cooperation between Armenian Ministry of Emergency Situations and NATO takes place in the format of Partnership for Peace Programme within the Individual Partnership Action Plan (IPAP). At the meetings with Mr Appathurai and representatives of the NATO Defence Education Enhancement Programme, we attached importance to IPAP goals in civil preparedness in particular. On the other hand, the resilience concept and guidelines, adopted at the Warsaw summit in 2016, are of great interest. Therefore, given the importance of increasing Armenia's disaster resilience and the fact that NATO collaborates with partner states (such as Armenia) in that area, we intend to strengthen institutional relations with the North Atlantic Alliance in the sector.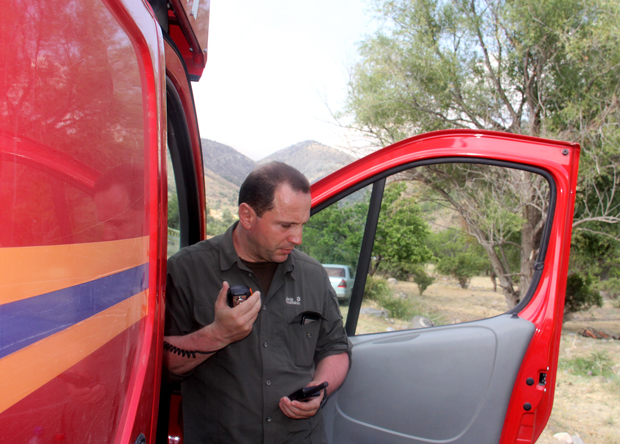 Davit Tonoyan

Photo: MES


Continuous implementation of joint trainings is an impetus for steady development of those relations. The Bosnia-Herzegovina 2017, organized by the Euro-Atlantic Disaster Response Coordination Centre (EADRCC) and scheduled for September of 2017, is one of the joint trainings. I'm certain the team of Armenian Ministry of Emergency Situations will be successful again.

We also discuss ways for cooperation in education sphere. In order to ensure stable development of that process, we reached agreements on rescue, firefighting, disaster management and other courses at Sweden's SRTC and similar centers in Czech Republic and France.

We also discussed possibilities of collaboration in regard to foundation of a Center of Excellence in Armenia and NATO's assistance in facilitating cross-border cooperation.

As for the European Union, the priority is to sign the already initialed Comprehensive and Enhanced Partnership Agreement between the EU and Armenia, which provides for sector-oriented cooperation with the Armenian Emergency Situations Ministry as well.

The EU-Armenian Emergency Situations Ministry collaboration includes regional DRR programs implemented by the initiative for Prevention, Preparedness & Response to Natural and Man-Made Disasters (PPRD East) and the Disaster Preparedness ECHO programme (DIPECHO).

We plan to expand collaboration with EU in reduction of natural and man-made disaster risks and cross-border cooperation with Georgia and Iran to increase disaster resilience in the region.

- Mr Minister, hail damage is one the most acute problems in Armenia. It seems that various anti-hail stations, installed in recent years, bring little or no effect. You declared you will introduce a more efficient anti-hail system in 2018-2019. How will it differ from the one we already have and how will you estimate its efficiency?

- Currently, we use the gas-generating stations for anti-hail activities. The stations, installed in the framework of state programs, are mostly located on the country's southwest border and provide the expected efficiency, while the stations that were built spontaneously and without coordination with the Emergency Situations Ministry cannot work efficiently. That is why the areas, covered by those stations, experience hail damage.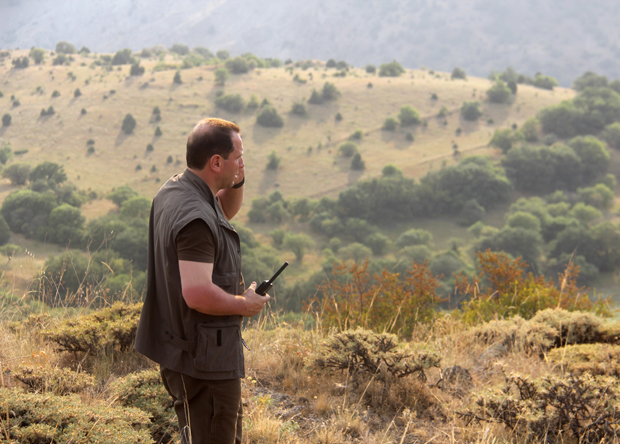 Davit Tonoyan

Photo: MES


As for the new system, I can state we are carrying out a pilot program for hail cannons by the decision of the Armenian Government. We already modernized and digitized the radar station in Aragatsotn marz and will install three new cannon stations.

We'll install a chain of hail cannon stations in Armavir and Aragatsotn to form a defensive network that will cover around 45,000ha. 546 gas-generating stations working now protect the area of around 50,000ha.

Once we finish the pilot program's efforts and tests, we'll hold discussions to decide the perspective of hail cannon network for 2018-2019 and then we'll prepare a corresponding program.

- Mr Minister, what main conclusions did you make and what short-term and long-term solutions did you outline after the Khosrov wildfire?

- We already solved certain urgent problems, in particular, providing connection in the forest. Surrounding the fire was complicated by prolonged heat, strong wind, the uneven terrain, and lack of land roads. It was difficult to reach some hotbeds even by foot, let alone the firefighting cars.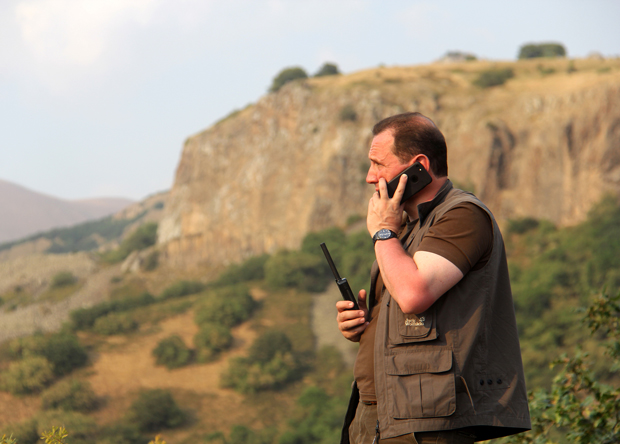 Davit Tonoyan

Photo: MES


At the same time, I must notice Khosrov is a sensitive ecosystem that doesn't allow rough interference in the form of hydro-technical or road infrastructure. The conclusion from the lessons we learned is that we ought to find options of preventing such disasters, which would ensure high efficiency. In this case, the most efficient solution was a one-of-a-kind firefighting plane, which we used.

No country is safe from fires and disasters, regardless of its size and power. How you resist the disaster is a different matter.

- What can be done to reduce disaster risks at Nairit Plant and similar facilities?

- I held a meeting with representatives of international organizations on the following day of the fire and requested expert assistance from them to solve the problem of chemical waste disposal, which is incompatible with present development of our economy.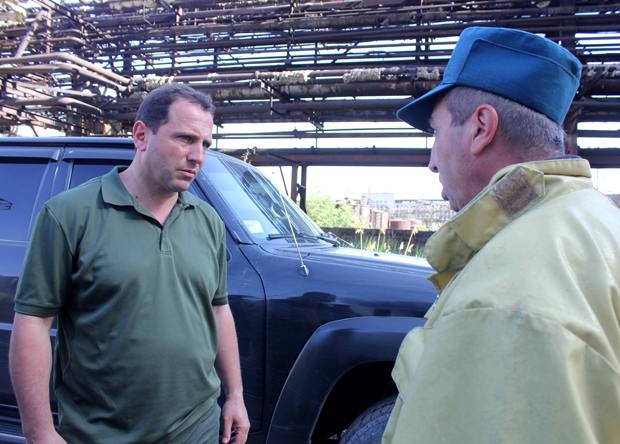 Davit Tonoyan

Photo: MES


The meeting was attended by representatives of the European Union, World Bank, and UN Development Programme. They all expressed readiness to help us in any way they can and provide experts who will unite efforts with scientists and specialists from the Armenian Diaspora to quickly estimate current state of chemicals in Nairit Plant. Later we'll develop a large-scale risk prevention or reduction program for solving similar issues and start working on acquiring the means to implement it.

Ara Tadevosyan talked to Davit Tonoyan