Edward Djerejian is the Director of the James A. Baker III Institute for Public Policy at Rice University. He is one of the most distinguished and experienced diplomats in the U.S – he has worked with the administration of 8 presidents of the United States.

As in 2016, Edward Djerejian was the guest of the Aurora Prize Ceremony held in Yerevan on May, 2017. Ambassador Djerejian kindly agreed to share some thoughts with Mediamax.

Moment of transition

This is a moment of transition in international politics. We have a new administration in Washington which is still in the process of formulating its foreign policy.

But no matter what the international environment is, Armenia should still have a goal of situating itself in a position where it can conduct policies that promote its national interests both North-South, East-West.

That should still be a constant of Armenian policy because of its geographical location, and geography is destiny in politics in many ways.

Capitalize on identity

It's very important for Armenia to capitalize on its identity as a small country with little natural resources, but a very intelligent population and with an ability to become a regional hub – be it a high-tech, be it for a financial trade.

Look at countries like South Korea, which very much like Armenia. They had no natural resources, but they created a driving economy based on the entrepreneurship of their people. They promoted the private sector, investments, focusing on high-tech and establishing very important financial and trade relationships in the region and the world.

Armenia should look at countries like that as a model. It's a hopeful scenario for going forward.

Erdogan and his new power

When the AKP (the Justice and Development Party) came to power in Turkey, it was a model of an Islamist party ruling over a secular country and promoting a very decent economic growth and establishing relations regionally and internationally.

When Erdogan went to Cairo, I'll never forget it, he made a statement saying that all governments should be equally distant from all religions. This was an Islamist leader saying that, and he was really the poster boy of what a Muslim majority country could be in balancing the culture of Islam with the secular government.

And now we see how that situation shapes so dramatically. Erdogan has now become very powerful in Turkey. And it is now to be determined what he is going to do with this power, what directions he is going to go into. Is this going to give him a great deal of self-confidence that he can use Turkey as a country that can promote regional peace and security, or will it be different power? Nobody knows. But that will affect Armenia a great deal.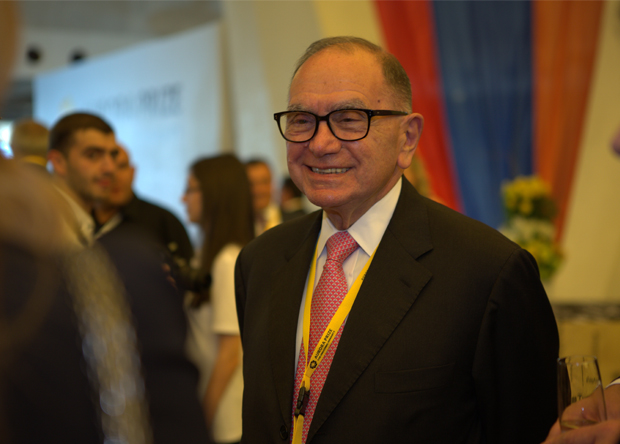 Edward Djerejian

Photo: Aurora


My own feeling is that it's in Turkey's interest to establish good relations with Armenia as it is in Armenia's interest to establish good relations with Turkey. But for Turkey to establish good relations with Armenia will enhance its position regionally in terms of Europe and the United States, because Armenia is supported by the Europeans and by the US. It has a unique identity, a very important Diaspora - an asset in its relationships with Western countries. In this context, if Turkey still seeks to identify itself with Europe, we'll have to see if it is interested anymore in doing so.

Putin, Trump and South Caucasus

South Caucasus is much more important for Putin than to other outside powers. It's hard to determine what Putin's intentions are one thing is clear – he wants to remain a major player in the South Caucasus.

So, will that lead him to really push for a NK settlement? That will involve his using a lot of political capital on Turkey. Will he consider the Russian-Turkish relations more important than using his chips on an issue like Nagorno Karabakh with Turkey? We don't know that.

What is important is that the South Caucasus and the Nagorno Karabakh issue not become part of a neglected agenda. It will only lead to more instability. It's important that the Nagorno Karabakh issue be on the agenda of major powers, even though it has to be Yerevan and Baku who make the deal.

From conflict management to conflict resolution

OSCE Minsk Process has been going on for years. It has not really been a catalyst for the positive outcome. I realize how complex the issue is, but a process for the sake of a process can lead to more instability.

We have seen that in the Israeli-Palestinian issue, which I have been involved. I hate the word "peace process". The process becomes an end to itself. Even today you have people saying "no, don't go for a final settlement, take it step by step, use confidence building measures". We have been saying that for years and where has it led us? The occupation of the Palestinians continues for over 50 years now.

We should move from conflict management to the conflict resolution. That should be the goal of Armenia, Azerbaijan, regional parties and the international community.

Armenia has some real political some assets to use in the international scene that it should work on very deftly, very skillfully to make sure that the international community focuses on this issue in a way that will help bring a settlement.

Leaders make policy

Leaders make policy, they can make a difference. On the Armenian side there was that great moment of hope in the Turkish-Armenian protocols. That was a very courageous move on both countries - the Armenian President's "soccer diplomacy", signing those protocols, a great deal of opposition within the Diaspora. The Armenians have shown, in the past at least, that they were willing to make tough decisions on this, but nothing came of it.

As for Azerbaijan, it's very hard to determine President Aliyev's intent. I hope his intent is that he wants to come to a negotiated settlement and understands that political compromises have to be made to get to that settlement. Or does he need a conflict to justify continuing control of the regime over its society? There has been a lot of criticism of human rights practices and freedoms inside Azerbaijan. The country is under more pressure now because of the recent decrease in oil and gas prices. Although we should have no illusions: Azerbaijan is a wealthy country, and its arms purchases should make anyone sitting in Yerevan very concerned.

Here you can find Edward Djerejian's interview with Mediamax conducted in 2016.

Ara Tadevosyan talked to Edward Djerejian