On April 26-May 1, Wikimedia Armenia hosted Wikimedia Foundation Senior Program Officer Winifred Olliff and Community Organizer Chris Schilling, who arrived to get acquainted with Wikimedia Armenia's educational initiatives. During their visit, Wikimedia Foundation representatives participated in Wiki Love Science event, visited Wikiclub in Charentsavan and attended the opening ceremony of a new Wikiclub in Ddmashen. We present Mediamax's exclusive interview with the representatives of Wikimedia Foundation.
Winifred Olliff - This is the first time in Armenia both for me and my colleague Chris. Armenian Wikipedia and Wikimedia-Armenia are very special in the Wikimedia movement. We work with organizations all over the world, but there are some things that Wikimedia Armenia does really well. In particular, they are very good at getting Armenian people involved with Wikipedia not only to understand how Wikipedia works and most importantly, to make a contribution, but also to feel the importance of this in their hearts. To us this is a very special thing, this is something that works very well in Armenia, better than in other parts of the world. So we are very excited to learn more about what makes this work so well and it may become an international movement. In our impression, Wikimedia Armenia is doing some very exciting, interesting, special work.
The reason we are here is to get a better understanding to what it is like to work as Wikimedia Chapter in Armenia, to get to know better the Wikipedia community in Armenia as well. So we have had some special experiences visiting Wikiclubs outside of Yerevan. We also have participated in Wiki Love Science event, which took place in a very beautiful natural landscape outside of Yerevan. We have got to meet with the community members there and also we have met many exciting partner organizations here in Yerevan.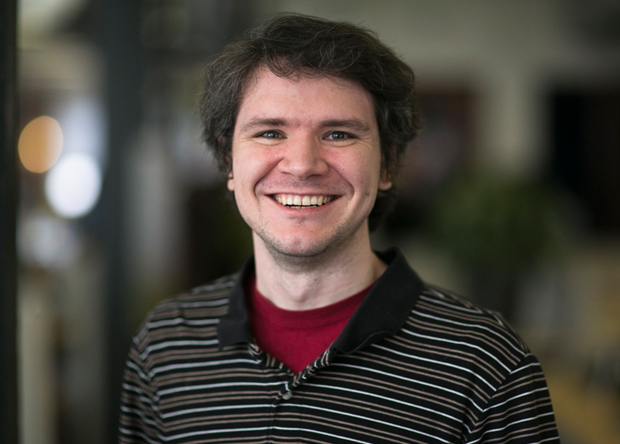 Chris Schilling
Photo: Wikimedia Foundation
Chris Schilling - One thing that struck me in this visit is that we have met many different people who are contributing to our projects or to our movement in many different ways: students in Wikicamps learning about Wikipedia and edit-coordinators learning how to engage, organize and prepare workshops and lessons for students, teachers and directors who help coordinate and plan these camps with chapters, and of course the chapter members and staff of board themselves.
There is a great deal of pride that everyone has in their own role, in contributing to the movement and the recognition that everyone's role is very important. We would like to see more of that in other parts of the world as well.
We have seen that Wikimedia Armenia has made a good effort to outreach the other chapters to share some of the knowledge they have learnt during their programs. We very much value that work.
- Last year Armenia successfully held Wikimedia CEE Meeting 2016. Do you think Armenia could bid for WikiMania, the biggest Wiki-event?
Winifred Olliff - Everyone asks me this question, but we are going to give you a very unsatisfying answer. In our Wikimedia movement, all the decisions are not made by one person, but by many members of community. And this includes the organization of a big event like WikiMania. We have many volunteers that evaluate where it would be best to have WikiMania and we make the decision together. I am not the one who makes this evaluation. This is very special, how we make decisions together in our movement.
- Could you say if you learned something new during this visit?
Winifred Olliff - I may not have discovered anything entirely new, but I have learned some things on a deeper level. In particular, the way Wikimedia Armenia is ready to work with other organizations in Armenia and is very excited to build a civil society here and to work together to make Armenia and Diaspora communities even better. I have learnt that many different organizations are also interested in this and interested in working together. That was very important for me as an outside person to see about the work they are doing in Armenia and beyond.
- What is your opinion about educational programs of Wikimedia Armenia, in particular, about Wikiclubs and Wikicamps ?
Winifred Olliff - The way Wikimedia Armenia works with education is very interesting, because they have many interesting approaches that work together as one big idea. This means that there are many pathways for students and other people who are ready to get involved with editing Wikipedia, to continue to build their skills and to build relationships with other people. For example, many people who participate in Wikicamp or Teacher wikiweek programs are also leaders of Wikiclubs, and participants of Wiki Love Science event are also educators in schools, who are involved with Wikipedia. What is very nice about the educational program here is that you have many different projects that work together to create this very good system.
We are ready to learn more about educational programs here and support Wikimedia Armenia. We work with many Wiki chapters from different parts of the world and it is very important to us to have Armenian language and Armenian knowledge to be a part of our system. That is why we are here in Armenia.
In September 2016 Mediamax talked to Wikimedia Foundation Executive Director Katherine Maher; her interview is available here.
Mariam Manoyan talked to Winifred Olliff and Chris Schilling