On 27-29 August UWC Dilijan College hosted the 5th annual meeting of the Central and Eastern Europe Wikimedia affiliates, Wikimedia CEE Meeting 2016 (#WMCEE2016). It was organized by Wikimedia Armenia and the Wikimedia Foundation and supported by the Scholae Mundi Armenia Foundation.
Wikimedia Foundation Executive Director Katherine Maher attended the conference and she agreed to share some impressions with Mediamax.
- This is the first time you're attending the Wikimedia CEE Meeting. What is your impression of that? Could you say if you learned something new?
- In fact, I believe it may be the first time that anybody from the Wikimedia Foundation's executive team has had the opportunity to attend. It's the fifth year of the CEE meetings, and I was impressed by how the organization of this particular region has really come together, largely under the power of people from the region itself.
What I mean by that is that different communities, despite having many differences, no shared common language for example, were able to organize, identify, find similarities in their challenges, and to build a strong enough community to not only have come together five years, but to continue to grow.
I have also learned about the work that the Armenian community is doing around in Wikicamps and Wikiclubs. I think it is entirely unique in the world, and I'm very excited to see that the other communities are looking to Armenia as a leader in this space and as a model to follow.
Of course, it will always look a little different from country to country, but the idea and the inspiration comes from Armenia, and that's a very powerful thing.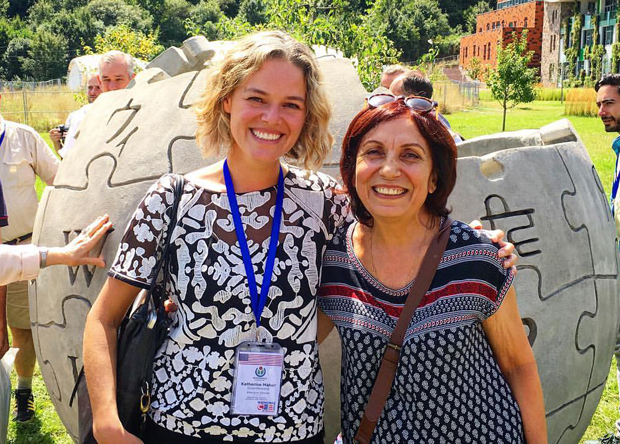 Katherine Maher and Chair of of Wikimedia Armenia NGO Susanna Mkrthchian
Photo: Wikimedia Armenia
To learn more how that has worked and how the program has grown and internationalized and expanded to have created spaces for beginners, and really think about the experience of engaging in Wikimedia from being a very young student to an accomplished editor is very impressive.
The other program that I was very excited about was something called the CEE Spring, which is Central and Eastern European Spring. This was an effort by a group of individuals from around the region to work with each other to incentivize the creation of articles about each other's countries. So it was a common thing to look at Wikipedia in a different language and see that it documents your own culture and your own history very well and global culture very well. But historically, it might not have a great article about the history of the country next door to you. There has been effort this year for the first time for people from Poland, Serbia, Belarus, Armenia to look at how they can encourage and extend the amount of information that's available in their own languages about their neighbors. To me that is both a very impressive and innovative project, but it also speaks that spirit of international collaboration that is so much at the heart of Wikimedia projects.
- It was the first time that Armenia hosted such a big gathering of Wikimedians.
- And it was organized exceptionally well and everything went incredibly smoothly.
We were in the middle of a National Park, a really beautiful, very natural space. We were at the UWC Dilijan College, a very impressive campus. It's dedicated again to that spirit of international collaboration and learning, so that was a very natural feat for us. Overall the level of organization and quality of the program and the number of individuals, nearly 30 different countries represented, was very impressive.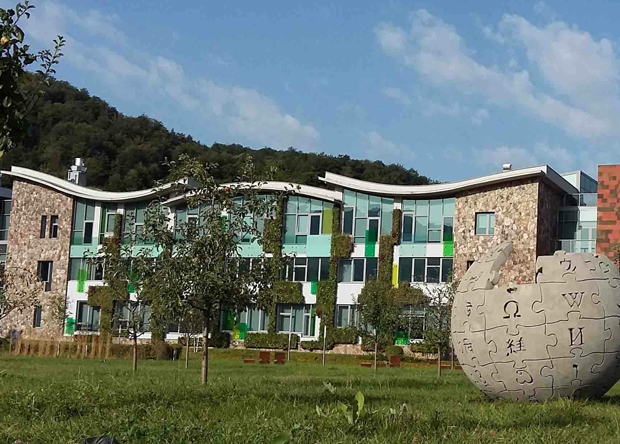 Wikipedia logo at UWC Dilijan College
Photo: Wikimedia Armenia
I also understand from the organizers that they see this as a practice for how they may be able to host our main international conference – WikiMania - which brings thousands of Wikimedians from all over the world together. That is a really ambitious and exciting goal, and I look forward to seeing how Armenia works towards hosting Wikimedians from all corners of the globe.
- Do you expect the students of the UWC Dilijan College to become natural supporters of Wikipedia and other Wikimedia projects?
- We would love to see that. It's my understanding that right now UWC Dilijan College is very supportive of volunteering and giving back to the community. If you edit Wikipedia as a student in UWC Dilijan College, that actually counts towards your volunteering. Very clearly the administration of the school shares a lot of the same values that we have of volunteering and contribution, but also recognizes that Wikipedia can be a very powerful tool in making an impact on a very large number of people.
We would love to see more students get excited and involved. We saw lots of interactions between the students at the College and the individuals participating, some really good conversations. I would love to see that partnership potentially grow. It's really wonderful to think about the fact that UWC Dilijan College is a part of the global network, so perhaps there is an opportunity for us to really engage here and in much the same way as in Wikicamps and Wikiclubs, have the model that grows from Armenia, that we can share with the world.
Ara Tadevosyan talked to Katherine Maher