Mediamax interview with Armenia's Permanent Representative to the UN, Ambassador Zohrab Mnatsakanyan

- What is the main importance of 17 Sustainable Development Goals (SDGs) included in the 2030 Agenda for Sustainable Development?

- Sustainable Development Goals are to replace the Millennium Development Goals that had been forming policy framework on global level for 15 years.

The new agenda adopted on world level is a unique Action Plan for the next 15 years in the form of 17 SDGs and their 169 targets.

The new goals are broader, more inclusive, and to certain extent more ambitious. They were adopted after several years of negotiations between the UN member-states, which also included civic organizations, different UN institutes, agencies, and foundations. This is a complete document that points out challenges and issues that affect everyone globally. It also tries to form approaches that will allow to face those challenges on global, regional, and national levels, and fulfill development goals for the next 15 years.

It's important to understand that first of all, the appropriate policy for fulfillment of SDGs is carried out on national level - the primary responsibility to bring SDGs to life belongs to the states.

17 SDGs are rather charged, from ending poverty to forming peaceful, just and inclusive societies. There are goals and targets related to public health and education, gender equality, economic development and employment, new infrastructures and industry, elimination of inequality, environment protection, etc.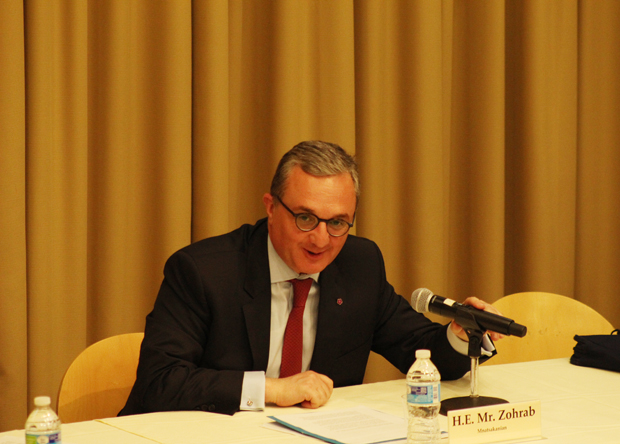 Zohrab Mnatsakanyan

Photo: Armenian Mission to UN


It's very important that the document touches in detailed manner upon the means for goals implementation, i.e. financing sources on national, regional and global levels. An essential part of the document deals with forming a new cooperation framework in the sphere of exchange of technologies for ensuring implementation and development of the goals. This is also a notably new approach.

- What is the process of localization of 17 SDGs and 169 targets?

- We have rather rich experience of cooperation with UN structures, which formed almost from the first day of joining UN. UN Office has been working quite actively in Armenia for years, and separate UN agencies work under its roof.

At the same time, however, development policy in our country is formed by governmental program, by strategies developed in different spheres on national level, and their implementation.

For example, we have Armenia's development strategy for 2014-2025, which is based on 4 inclusive directions. Each of them in its turn includes directions that in some way deal with development of our country, and essentially, are interlinked with SDGs.
Being a part of a global community, every country carries international responsibilities, at the same time using opportunities given by international cooperation to promote its own goals. Essentially, this is the main reason of international cooperation. After all, the 2030 Agenda is a policy framework and guideline interpreted on national level. This combination of global and international levels is an important tool from the point of view of policy implementation.

We cooperate on international level to use that cooperation for our purposes by matching goals, by financial and expert and other means, as well as to see for comparison how our goals and their implementation are showed on global level.

- During localization, do countries try to unite around one or two goals and work together to implement them? For example, is it possible for Armenia and Georgia to choose some goals and decide to realize them together in a more systematized way?

- Significance of regional cooperation is stressed rather profoundly in the 2030 Agenda for Sustainable Development. Armenia paid special attention to development and inclusion of such wordings in the document's text during negotiations. Moreover, countries with similar issues and challenges are separated into groups in the Agenda. For example, states in the group of 32 developing landlocked countries, that have similar issues, work together to express problems peculiar for the countries in their group.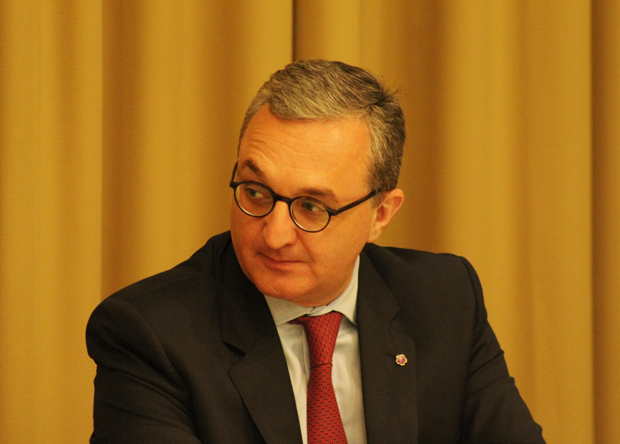 Zohrab Mnatsakanyan

Photo: Armenian Mission to UN


We pay attention to improvement of business conditions for development of innovations and economy in Armenia's development program. Sustainable development is interlinked with economy development, which in its turn is tied to strong business. Profitable business is very important for sustainable development. We aren't the only ones in the world with such approach, and we try to stress its importance.

Another example is in education sphere. Quality education is an example of more successful realization of sustainable development. We also work on that with various countries to keep that approach included in the matter of implementation of sustainable development.

As I mentioned before, our internal development is based on our internal policy coming from governmental projects, as well as strategic projects in different spheres. UN is represented in Armenia, and is one of our partners for realization of SDGs.

Armenia signed the 2016-2020 Development Assistance Framework with UN Office before SDGs were adopted. We need to modernize it, and use UN's support for Armenia to reach our various goals.

UN shows support in different ways, first of all by providing appropriate advise in policy development. There are also more perceptible ways of cooperation, such as a number of projects on sustainable development of economy in Tavush marz or projects on modernization of border control.

UN and its appropriate agencies and foundations such as United Nations Development Programme (UNDP), UNICEF, UNFPA and others perform as operators of projects realization, and financing is provided from different sources, both national and UN budgets (after all, the latter is formed by regular budget assignations paid by the member-states, including Armenia) and largely from donor countries and organizations. The 2030 Agenda for Sustainable Development suggests that we'll need USD 120 million to implement projects included in it in a 5-year period, however, ensured financing available today makes around USD 35 million. It's important to work together, investing means to close this gap in financing. Estimation of efficiency of this and future projects, as well as cooperation with UN, depends on this too.

Ara Tadevosyan talked to Zohrab Mnatsakanyan