Adolescence had merged with war in the life of Lidia Mikhailovna Leonova, and the threat of captivity and execution has twice induced awe and courage in the 15-year-old girl. After fighting in the guerilla unit and gaining a victory, she found her love and moved to Armenia from Belarus as Lidia Leonova-Martirosyan. Although the joyful years spent with her husband Khatchik Martirosyan in Yerevan have led to a happy family life, they were unable to erase the horrors of war from the memory of Lidia born in Belarus.
WWII and adolescence
I was 15 when the war broke out. The German invasion of Belarus started in 1941. They were forcing us to dig trenches, whereas I had never held a spade in my hand.
What could I do? Want it or not, I started digging and my hands were soon covered with bloody calluses. I was flinging insults at the Germans under my nose and was cursing them for making us dig holes. There was a girl who betrayed and immediately squealed on me.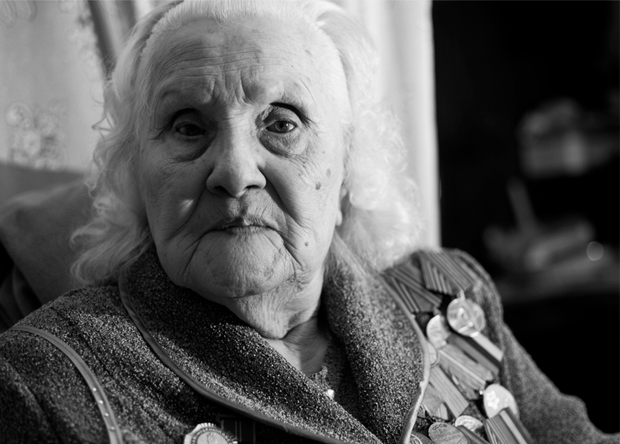 Lidia Leonova
Photo: Mediamax
Chicken and egg as a ransom for life
I came home. I was living with my mother. My dad passed away when I was still a child. Sitting along with the girls I was singing and playing the guitar with my hands covered with bloody calluses when three servicemen, a military officer and two privates, suddenly invaded the house. The military officer asked:
-Who is Lidia Leonova?
"I am," I said.
They turned their guns at me, arrested and took away. Kept in a cellar, I was to be executed the next day. It was horrible – it's my most gruesome memory. However, my mother managed to rescue me through a French. She had taken him eggs and chicken and the latter saved me from execution in return.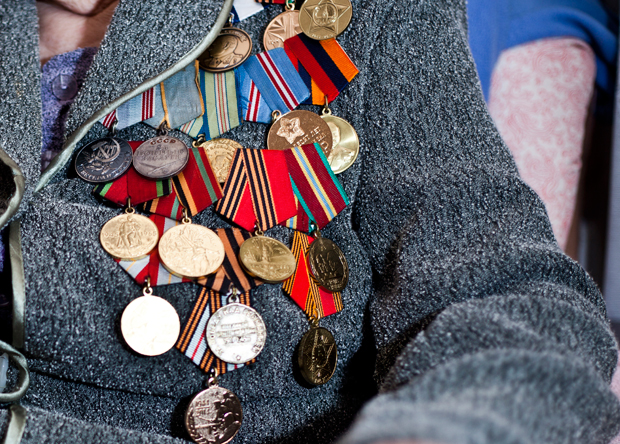 Photo: Mediamax
A path to freedom - escape through swamps
In 1942, Germans started picking the young and expelling them to Germany. When transported to Germany by freight trains, along with several other girls we attempted an escape. We jumped off the moving freight train, but fell into the hands of the SS, who arrested us and took to Brest Prison. They were forcing us to clean water closets and do other disgusting work.
Through Brest residents we established a contact with the partisans and decided to escape and become a partisan. We managed to break out of the prison. The Germans were chasing us with their dogs and firing at us. We managed to run until the woods where there were swamps.
We got stuck in the swamp up to our neck. The dogs were barking and we could hear the gunshots... Stuck in the swamp we waited in it for two days.
After long searches Germans thought they were done with us and left. The partisans removed us from the swamp and took us to them. I had distended like a balloon. The swamp water is poisonous. The doctors of the guerrilla unit said: "This girl won't survive." But I survived.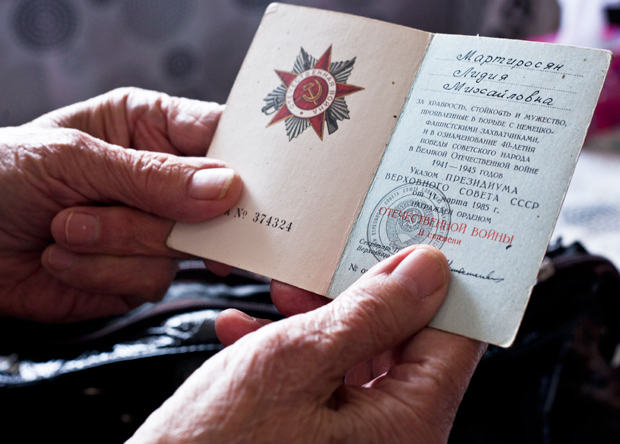 Photo: Mediamax
Two years in the guerrilla unit
We fought as partisans for two years, until 1944. We were then liberated and taken to be enlisted. But one of the generals whose name I can no longer recall came up to me and said:
-Are you a pianist or a student?
"I am still too young to be a pianist or a student," I said.
He released six persons, gave documents and we came home. In 1944, I returned to Belarus and found my mother. She had long believed me to be dead. It turned out that after our break from German Brest Prison, Germans had set it on fire burning people alive. That is why my mother had thought I was dead.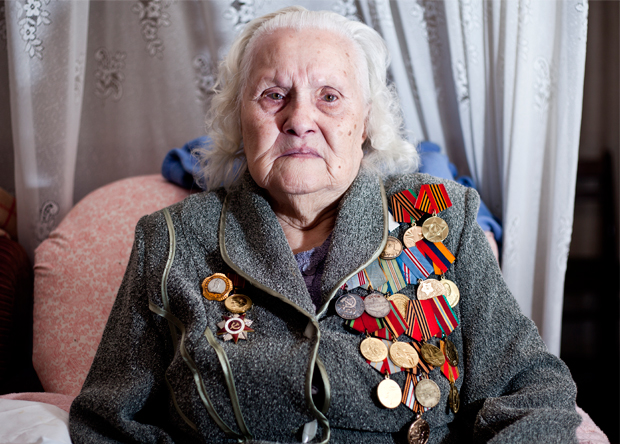 Lidia Leonova
Photo: Mediamax
Betted love and happiness
What love can there be at 15? I was smitten with love only after the war. I met him at the dance floor on June 30, 1946. He was Armenian called Khatchik Martirosyan. It's now that I look like "Baba Yaga", but back then I was young and beautiful. I had arrested his attention once he saw me but his military buddies had told him he would not be able to attract mine, and they had betted. His friends were wrong and two days later he took me to the Register Office. We got married and moved to Armenia to serve in the 89th Rifle Division (Tamanskaya Division). We lived in Kanaker military camp until Khrushchev dissolved the division.
My husband studied and graduated from the Armenian State Pedagogical University and worked in the field of education for many years. We had a son. Ufortunately he passed away three years ago – he did not manage to beat cancer. In 1993, my husband died. I have two grandchildren – one of them lives in Moscow and the other in Armenia. I don't get any sort of assistance from them. They just call and ask about my health state and that's it, but I understand them. They have children. The jobs are not paid high and therefore they hardly manage to take care of their own families...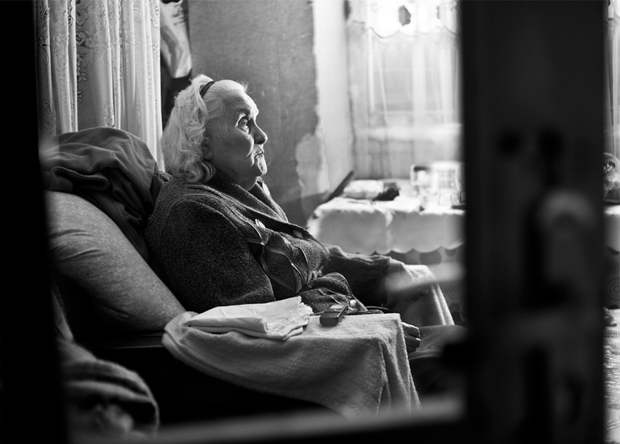 Lidia Leonova
Photo: Mediamax
A soldier or a POW?
Both are unacceptable. But I would not like to be a prisoner of war. I would rather choose to stand up and fight. To be a captive means to languish from starvation and realize at every moment that death awaits you in any case. Can someone be a POW? That is why we escaped. My husband used to bring a chicken. Conscience-stricken we were feeling unable to butcher it but when you know you will be killed you also shoot. A POW... Did anyone take us into account? They used to treat us like animals. One in every four people in Belarus was killed or burnt.
The traces of war today
(Cries silently... and shows the disconsolate and shabby state of her one-room apartment)
What mark can a war leave? Exactly such a mark – I am alone... My neighbor cooks and does the washing for me. I am happy people in Armenia are kind and reach out to me... A good swineherd keeps his pigs in a better condition than I live in. Who and what helps? Nobody and nothing. Armenia does not support me in any way. What I don't get is – does Armenia really not have any funds? How many war participants remain? I get a pension to the tune of AMD 36 000, and AMD 30 000 as a war participant. I live frugally but I live.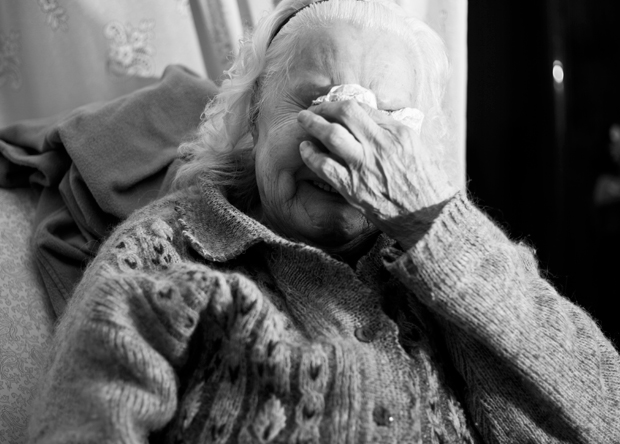 Lidia Leonova
Photo: Mediamax
What mark could the war leave? I don't want to remember at all. I weep bitter tears every time I remember. Loneliness and misery are unbearable at the age of 90. I am an orphan...
Anush Petrosyan
Photos: Emin Aristakesyan