Today we live in a society, which can not imagine life without expressing views on social media. Probably it does have certain advantages. Nevertheless, many participants of active discussions have already forgotten or do not even know about the developments, which unfolded in Armenia 5, 10 or 15 years ago.
To fill the gap Mediamax presents 5/10/15 project, which introduce developments in Armenia 5, 10 and 15 years ago.
• 15 YEARS AGO: AUGUST 29-SEPTEMBER 4, 2007
Kocharyan congratulates Gul
Armenian President Robert Kocharian congratulated Abdullah Gul on his election as President of the Republic of Turkey, president's spokesperson Viktor Soghomonyan said on August 29.
"The time has not come yet"
On September 1, Armenian Foreign Ministry spokesman Vladimir Karapetyan stated that "the time for the recognition of Nagorno-Karabakh by Armenia has not come yet."
Commenting on the draft law submitted by the Heritage Party on the recognition of the Nagorno-Karabakh Republic by Armenia, he noted:
"The recognition of Nagorno-Karabakh has been and remains in the arsenal of Armenia's foreign policy. It should take place when it will be most effective and will contribute to the final solution of the issue. That time has not come yet."
Speaking on September 2 during the ceremony of opening the new building of the parliament of the Nagorno-Karabakh Republic in Stepanakert, Chairman of the National Assembly of Armenia Tigran Torosian stated that NKR is a sustained independent state. He stressed that "there is not a slightest doubt that NKR will be recognized by the international community."
Tigran Torosian described the NKR proclamation as a "great miracle", which, according to him, in the course of time will be estimated at its true worth. "Today we have two states with great potential, of which we could not even dream before," Tigran Torosian stated.
• 10 YEARS AGO: AUGUST 29-SEPTEMBER 4, 2012
Ramil Safarov's return and pardoning
Ramil Safarov, who was serving a life-time imprisonment in Hungary for the brutal murder of Armenian officer Gurgen Margaryan, returned to Azerbaijan and was pardoned by President Ilham Aliyev.
On February 19, 2004, Ramil Safarov brutally killed 26-year-old Armenian officer, Lieutenant Gurgen Margaryan, who was on training at the University of the National Defense of Hungary within NATO's "Partnership for Peace" program. At 5:00 early in the morning Ramil Safarov axed Gurgen Margaryan who was asleep. On 13 April 2006, the Budapest court sentenced Ramil Safarov to life imprisonment.
On August 31 Armenian President Serzh Sargsyan convened the session of the National Security Council and invited the heads of diplomatic missions of UN member states and heads of representations of international organizations accredited in Armenia to an extraordinary meeting.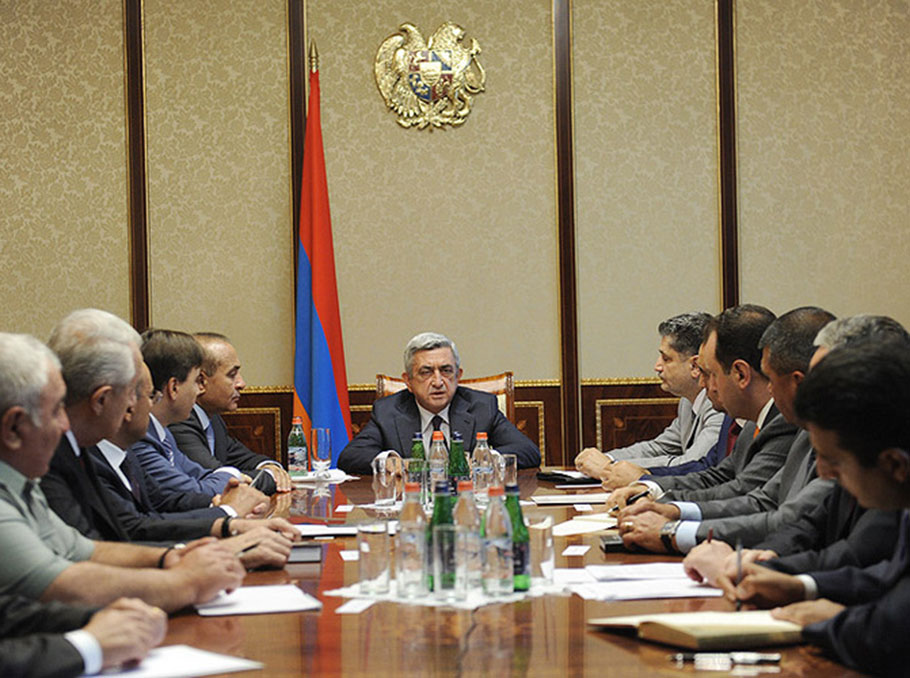 Serzh Sargsyan at the session of the National Security Council on August 31, 2012
Photo: Armenian President's press service
Serzh Sargsyan said at the session:
"The Hungarian authorities should understand that they have made a rough mistake. They, in fact, have made a deal with the authorities of Azerbaijan. The comments made by Azerbaijan that they have been secretly negotiating with Hungary for over a year and that the issue has been finally solved with Hungarian Prime Minister during his official visit to Baku, bears witness to the fact that this was not the decision of the Justice Minister. These are coordinated actions of countries which have concluded a deal. We must give relevant response."
At the meeting with foreign ambassadors Sargsyan said that "we suspend diplomatic relations and all official ties with Hungary."
"Immediately after this crime had been perpetrated the Hungarian authorities as well as our partners – EU and NATO member states, were continually urging us to refrain from politicizing the process. We were continually urged to trust the judiciary of Hungary, a member State to those important alliances. We have been closely following all the developments around that crime. This issue has been discussed during each and every meeting with the President, Speaker of the Parliament, Foreign Minister and Ambassador of Hungary, and we have been assured on numerous occasions that such a transfer or a return of a criminal to Azerbaijan was excluded. We have received that same response to our requests during our contacts just a few days ago with the representatives of the Hungarian Foreign Ministry and Parliament. But as a result of perfidious developments, the murderer has turned up in Baku and got released," the president stated.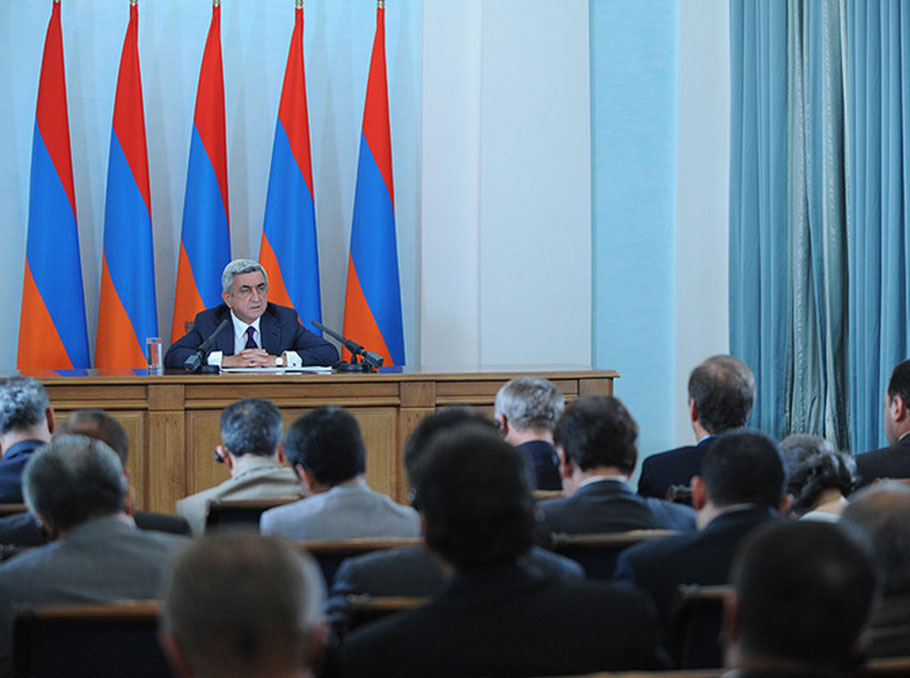 Serzh Sargsyan at the meeting with the ambassados on August 31, 2012
Photo: Armenian President's press service
On August 31 Armenian Deputy Foreign Minister Zohrab Mnatsakanyan stated that about two weeks ago, the Armenian Foreign Ministry received reports about Hungarian authorities' decision to extradite Ramil Safarov.
He noted that that immediately after receiving the information, the Foreign Ministry took steps through official and other channels to confirm it, holding meetings at various levels. Zohrab Mnatsakanyan said that following these meetings and until most recent the Armenian side was assured that Ramil Safarov will continue to serve his sentence in Hungary.
On September 1 U.S. National Security Council Spokesman Tommy Vietor stated that U.S. President Barack Obama is deeply concerned by the announcement that the President of Azerbaijan has pardoned Ramil Safarov following his return from Hungary.
"We are communicating to Azerbaijani authorities our disappointment about the decision to pardon Safarov. This action is contrary to ongoing efforts to reduce regional tensions and promote reconciliation. The United States is also requesting an explanation from Hungary regarding its decision to transfer Safarov to Azerbaijan," Tommy Vietor said.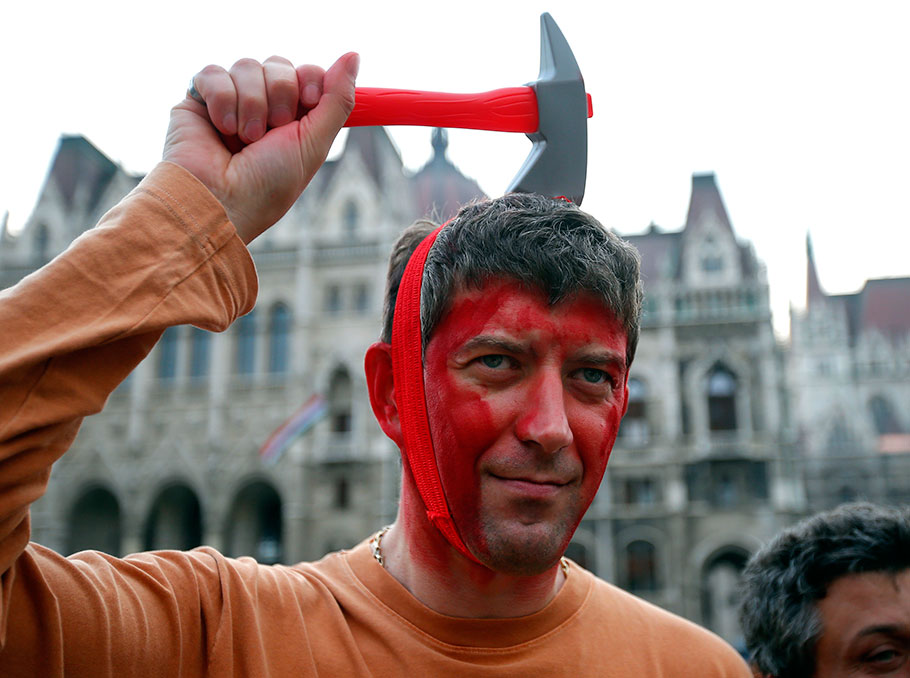 Protest action in Budapest
Photo: REUTERS
On September 3 Secretary General of the Collective Security Treaty Organization (CSTO), Nikolai Bordyuzha, said that "the decision of Azerbaijani authorities to grant pardon to Safarov, the murderer of the Armenian officer, and release him runs counter to the norms of the international law and undermines the capacity of the intergovernmental system of counteraction to crimes."
"Moreover, the glorification of the criminal will only increase high regional tensions. I believe the international community should immediately give an objective assessment to this," CSTO Secretary General said.
On the same day official representative of the Russian Foreign Ministry, Alexander Lukashevich, said that "Russia is deeply concerned about the reports that Azerbaijani serviceman Ramil Safarov was granted pardon."
"We think that the actions of Azerbaijani and Hungarian authorities run counter to internationally coordinated actions, first of all taken by the OSCE Minsk Group, aimed at decreasing tensions in the region. We also expect that relevant assessment of the given situation will be provided to OSCE Minsk Group Co-Chairs in the nearest future," the Russian official stated.
On September 4 Council of Europe Commissioner for Human Rights Nils Muižnieks deplored the fact that the convicted murderer Ramil Safarov was glorified and rewarded by Azerbaijan.
"Racist crimes must not go unpunished. Violent offences motivated by bias, such as racial or inter-ethnic hatred, are a particularly pernicious form of criminality. Apart from the destructive effects on the victims and those close to them, they can be devastating to whole communities and unravel the very fabric of society. States are under an obligation to apply strongly dissuasive sanctions against those who have perpetrated bias-motivated crimes," he said.
• 5 YEARS AGO: AUGUST 29-SEPTEMBER 4, 2017
Opening of Vardenis-Martakert highway
On September 1 President of Armenia Serzh Sargsyan and Artsakh President Bako Sahakyan attended the opening of the Vardenis-Martakert highway.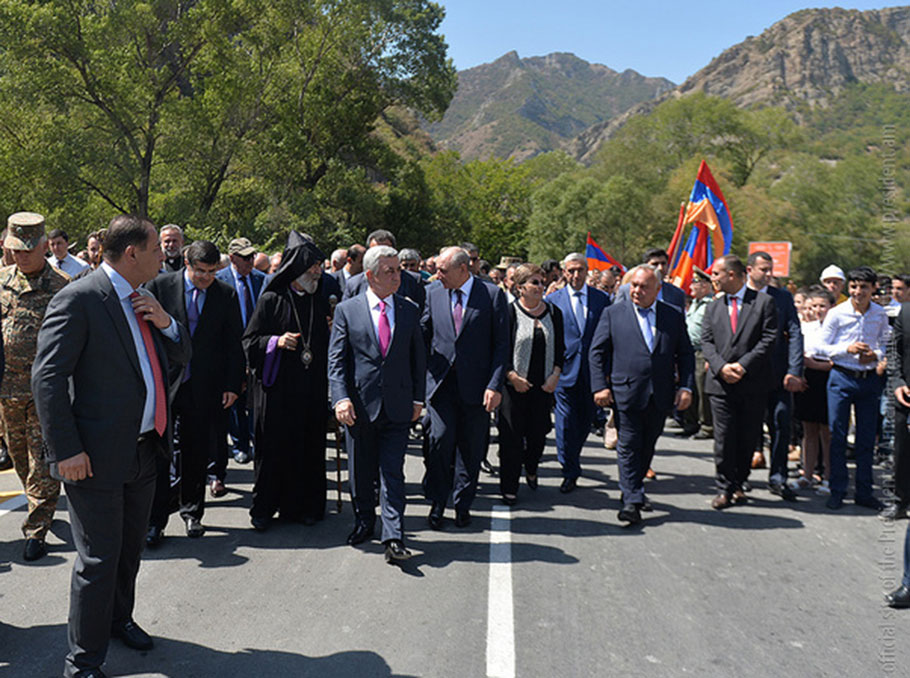 Photo: Armenian President's press service
The road was built with donations made by Armenians from all over the world, including the funds raised by Hayastan All-Armenian Fund during the 2013 and 2014 telethons, and with the support of the governments of Armenia and Artsakh.
Photo: Armenian President's press service
Accompanied by Artsakh Diocese Primate Pargev Srbazan, Serzh Sargsyan and Bako Sahakyan made a visit to Dadivank to get acquainted with the reconstruction underway in the monastic complex.
Ara Tadevosyan