Mediamax and UWC Dilijan College launch a joint project introducing the stories about Dilijan and life in Armenia by students from different countries.
Bora, Turkey, UWC Dilijan '17
Bora is a UWC Dilijan class of 2017 alumnus from Turkey. Currently, he is studying Computer Science at the University of Edinburgh. He thinks that computers are a valuable commodity education-wise and economy-wise, and his goal is to create an open software, that would respect people's privacy and basic human rights.
Since the moment I crossed the land border between Armenia and Georgia, and during the following two years which I spent in Dilijan, I always took pride in studying abroad at such an early age, which was as (supposedly) hard as it was rewarding.
Only after I moved to the Edinburgh to study in the university, which is far-abroad from Turkey, I came to realize that Armenia was no further than the most distant part of my country, both geographically as a neighbor of Turkey, and culturally as an ancient friend of this people. I would talk at great lengths about how similar our cultures are, from intra-family relationships and roles to the role of religion in the society, and I would love to talk about the food we share, but that would be far too banal. I would like to speak of something else.
Some philosophers believe that the true freedom lies in being nothing, which I think means having all the potential to become something that you are not yet. Armenia being a developing country, with all my due respect, is quite close to that nothingness I mentioned, with all the potential to become something that nothingness entails, like a caterpillar & a butterfly. This was something I always felt during the time I spent there, and now I realize more and more while spending time in a developed European country: abidance to the laws, dependence on the state, and its institutions is much higher here in Scotland, whilst Armenian people had learned how to be independent from the state, which makes them depend on each other mostly on the family, and then friends and others.
I remember an Armenian lady proudly talking about how almost no beggars can be found on streets thanks to the strong family-bonds they have, and here I saw numerous times beggars sleeping on the streets in freezing cold, receiving help from police offers and other civil servants.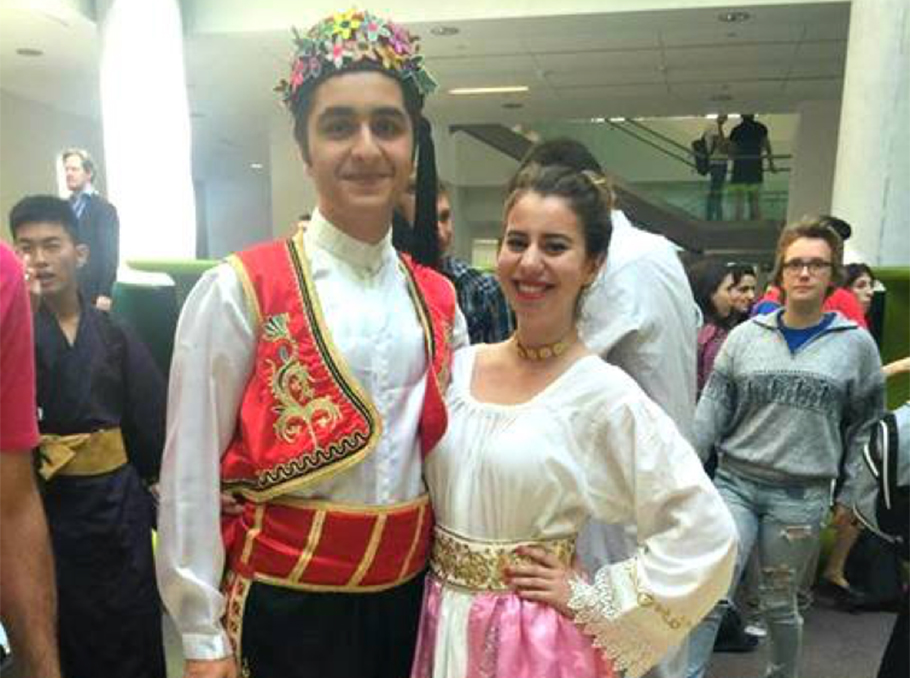 Bora at one of UWC Dilijan's events
Photo: personal archive
An all-reaching institutionalization (as opposed to the having left to the mercy of your family, friends, and others) in nearly-every observable aspect of life might be something desirable but it also brings an inertia, against the change, against doing anything at all. Although there are several issues that Armenians might be struggling with, a practical struggle yields a meaning to your life as well, or make you forget the lack of it.
For instance, I doubt that my grandfather, who had to raise 4 children - all of whom studied in the university - and take care of his wife, as well as his siblings at the same time, had any questions about the meaning of life; to begin with he probably did not even have time for that, and secondly all those people whom he took care of meant a world to him. We are proud that our parents managed to go at least one step beyond their parents, and that is something we aspire to being the current generation.
One can see the same pride in Armenians, being proud of their great ancestors who survived the genocide, of their fathers and mothers who helped building this republic, and of themselves now trying to support their own children. Whilst chronic depression is a severe issue in developed countries, as many people cannot find a meaning in their lives, nor construct it themselves, having no-one they have to take care of, and virtually nothing in life to worry about.
I believe the beauty and the strength of our countries lies in our continuous struggle to live a more humane life.
I cannot tell my troubles to untroubled man
Those who lack cannot appreciate it
My troubles were my strength, I did not know
A rose can never be never without thrones
Aşık Veysel Şatıroğlu