Lilit was home in Vanadzor when the state of emergency was declared, and she couldn't return to the village of Vahan of Gegharkunik region, where she was teaching mathematics.
The unexpected separation has saddened her. These were the last months of communication with her students. This year Lilit is completing the Teach For Armenia's two-year Leadership Development Program.
"I always remember my students saying: "Ms. Aslanyan, on your last day here we will block the road and won't let you go".
For a long time, Lilit has been following the teachers who were sent to teach in the villages of Armenia and Artsakh, and was sure that one day she, too, would do the same. Two years ago, she decided to quit her job in a credit company and apply to Teach For Armenia.
She was placed in the village of Vahan, with its extended winters, belated springs, hospitable people and bright children.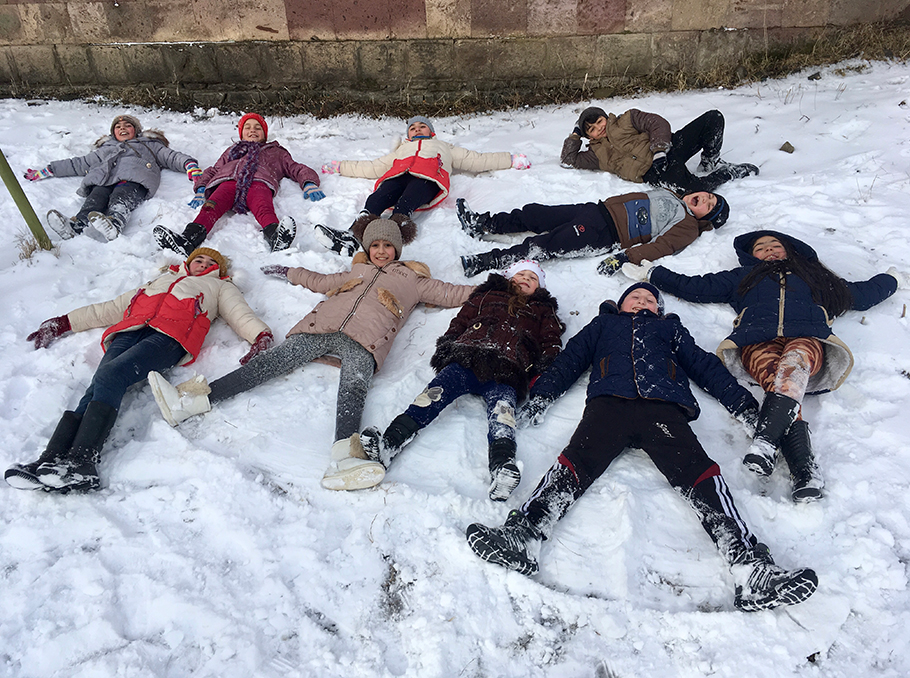 Photo: Lilit Aslanyan's archive
"I left the nature of Lori, the dense forests and the mountains, for Vahan and the first thing I noticed was the harsh and cold climate, the trees were sparse, and people were anxiously waiting for spring to come. Sometimes, on weekends I would go back to Vanadzor to see spring in full bloom there with people bright, sunny and happy, and then I would return to Vahan to find it still covered in snow. That period was always stressful," says Lilit Aslanyan.
It was the only difficulty. The transition from region to region, from a credit company to school was smooth. The villagers, the colleagues and the students were extremely helpful. She has changed 5 houses in two years, discovering the charm of rural life, the hospitality and the care of the villagers.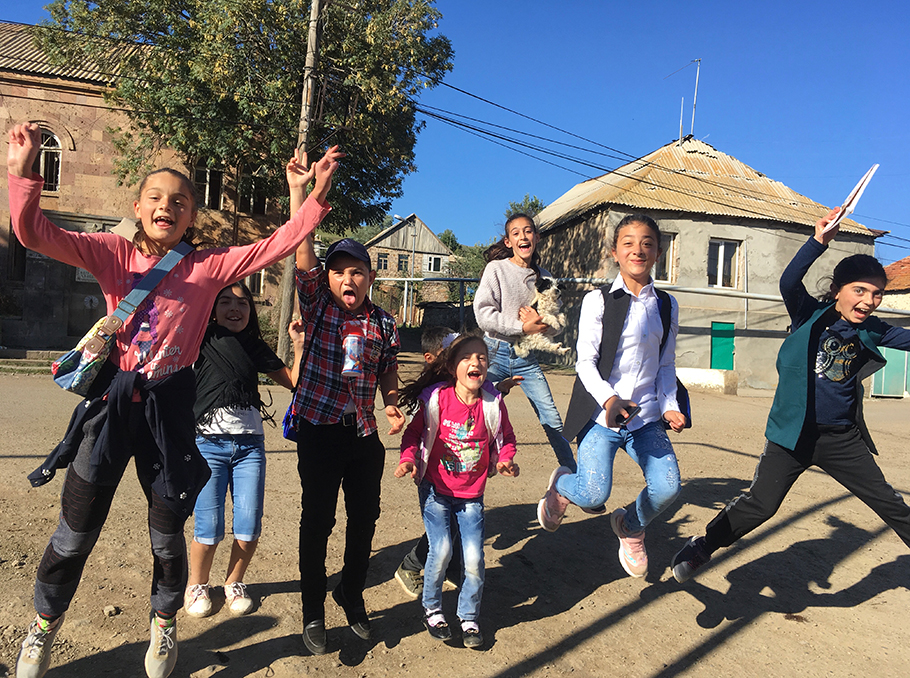 Photo: Lilit Aslanyan's archive
"Life in a village is quite another experience. I lived in one of the teachers' house, fully immersed in rural life. It was very interesting and beautiful. Then I moved to the town of Chambarak, 5 kilometers away from Vahan. Buses ran once a day, and the hours were inconvenient. But there is a good tradition in the village. Car owners wait at a bus stop in the village to carpool people to town. It doesn't matter whether they know you or not, they won't leave anyone stranded."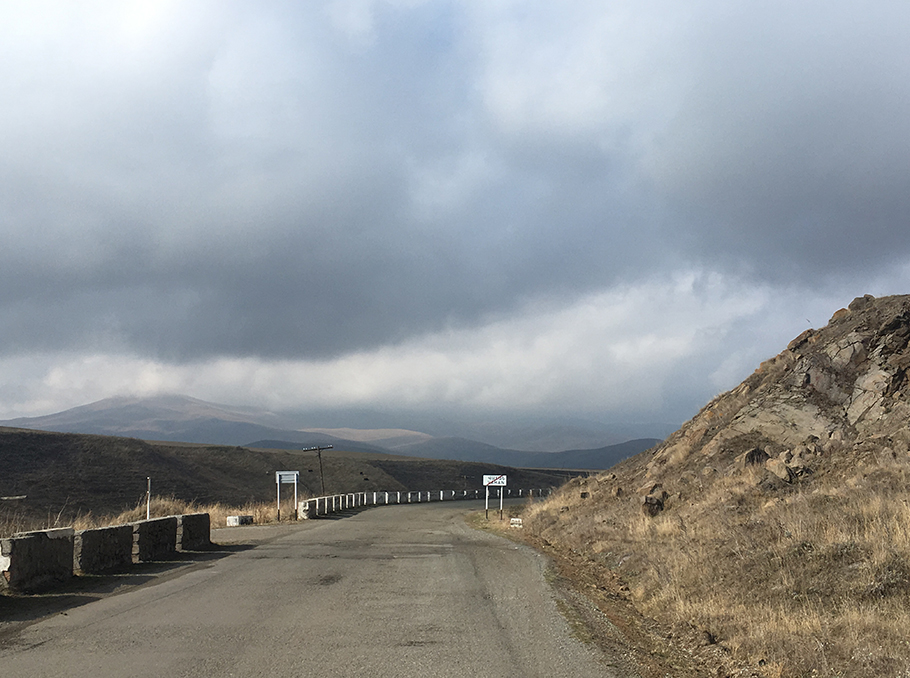 Photo: Lilit Aslanyan's archive
The middle school of Vahan has 140 students. Lilit teaches 12 six-graders. Perhaps this is why, she says, they all became close so quickly and could lean on each other. Lilit has had an experience working with children: she used to be a camp leader. But nothing can compare to being a teacher, she says.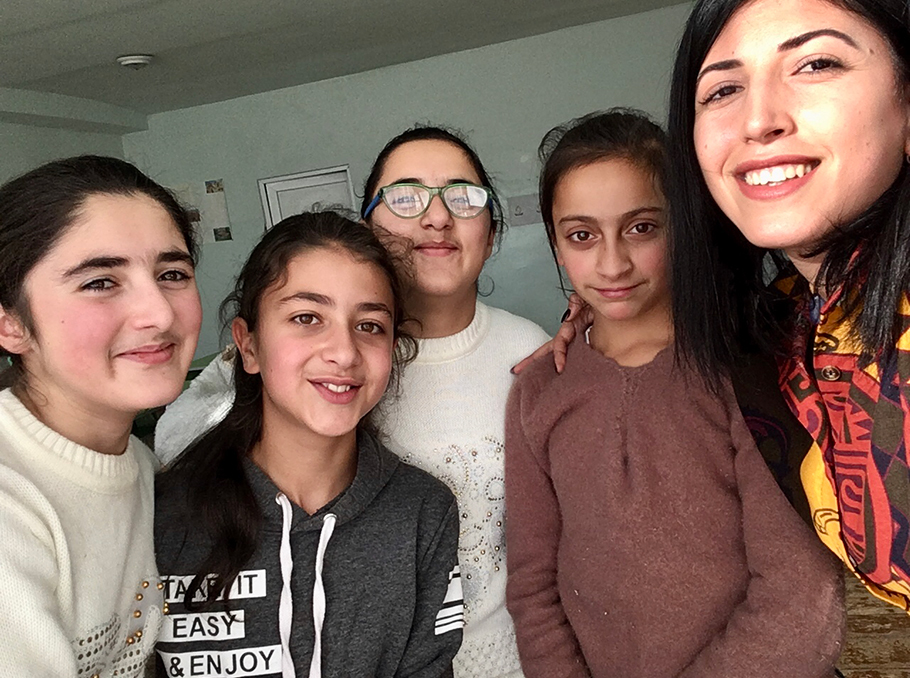 Photo: Lilit Aslanyan's archive
"I began working in school because my biggest goal was to give freedom to children living in villages, so that they had a broader horizon and understood that there were no closed doors and they could achieve their dreams. Each of us, no matter where we live, is confined to a cell. My goal was to open them up so that they could think deeply and broadly, dream boldly and move forward."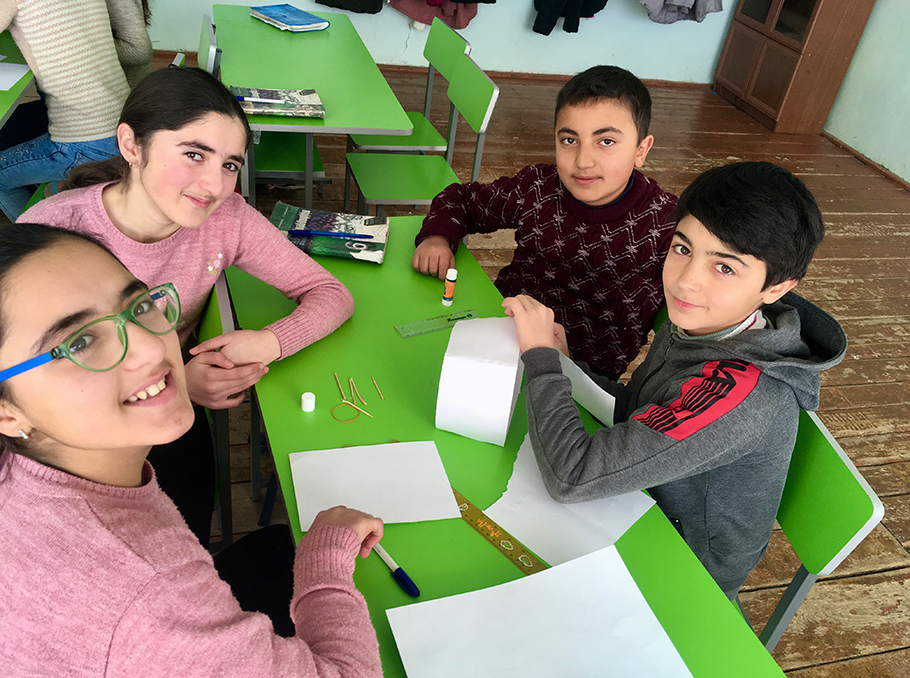 Photo: Lilit Aslanyan's archive
Lilit was simultaneously working in two directions: academic knowledge on the one hand, and the undisclosed potential of children on the other. She was constantly in search of new methods to make the most boring mathematical topics extraordinary and interesting for her students.
Lilit believes she would have never reached her goal if she had limited herself to 45-minute classes. She started a painting class to help children communicate and create freely. Her love for painting and sculpture came from Art School.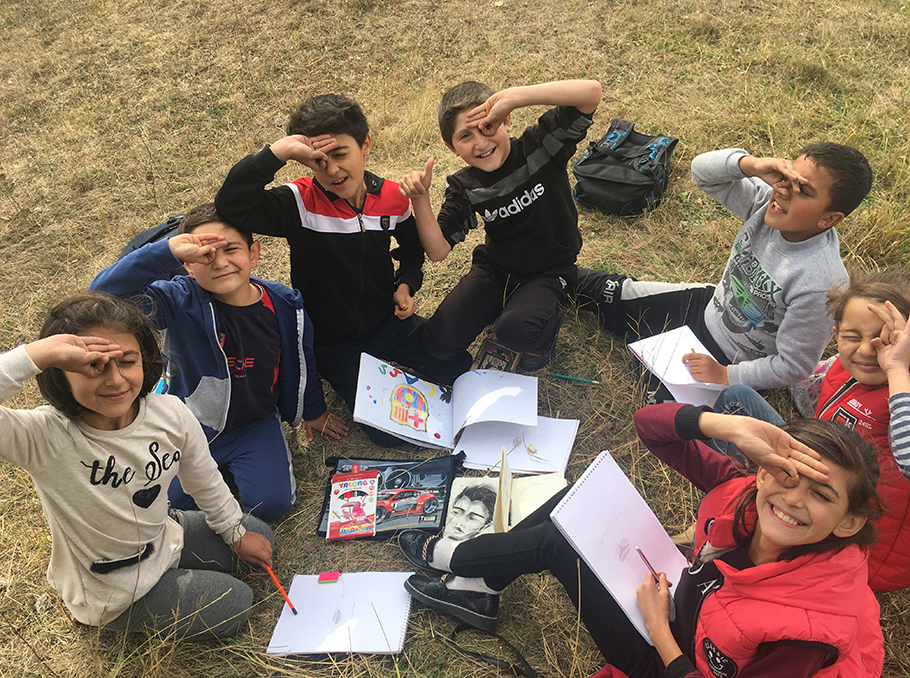 Photo: Lilit Aslanyan's archive
"People wonder what math has to do with painting. They think a math teacher should be dry, immersed in numbers and proofs, with no imagination, but you can combine art and mathematics so beautifully, because there is so much art in mathematics, you just have to see it. Mathematics is one of the most beautiful subjects."
Besides painting for hours in nature, they used to meet up to watch movies, discuss various topics and implement initiatives. Lilit remembers the Giving Tuesday with special enthusiasm. They met up with the students, made some tea, took the books they had brought from their homes and went around the village entertaining their fellow villagers with tea and presenting them with books with small inscriptions.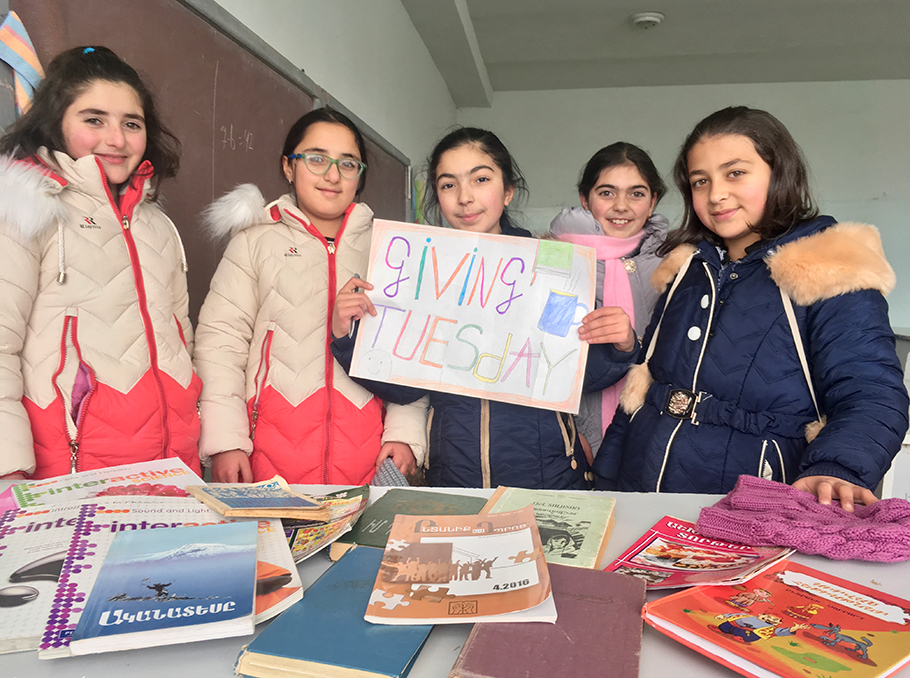 Photo: Lilit Aslanyan's archive
The two years spent in the village of Vahan were a huge experience for Lilit, a chance to discover her strengths. These were two years in another world, where every single day she felt how much her students loved and appreciated her. Lilit has joined Teach For Armenia because she believed she had a lot to pass on to her students. "But I gained much more than I gave," she says.
Photo: Lilit Aslanyan's archive
"There was this one time when my students wanted to show me around the village. During the walk, one of them says, 'Armen, bring Ms. Aslanyan a flower', the other says, 'I want to bring Ms. Aslanyan some stones from the river'. I have been showered with so much attention and love I can't even describe how big and warm a person's heart can be.
I always think about what kind of job I should have that will be satisfying and suit me. And I have realized that the children and the teaching process are very dear to my heart- there is so much love, a lot of freedom, and art."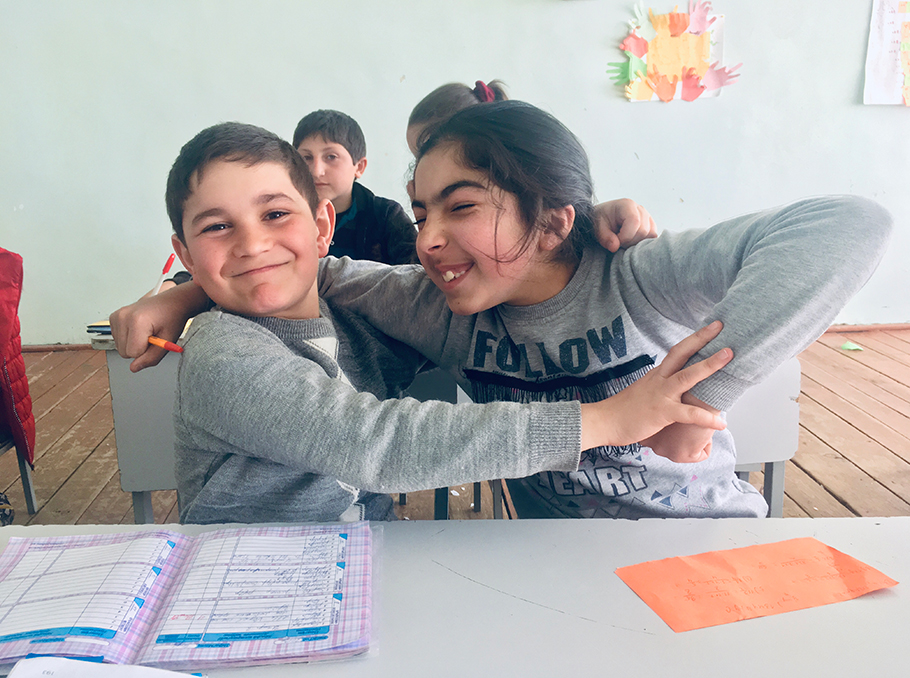 Photo: Lilit Aslanyan's archive
Lilit hasn't made up her mind what to do once the program is over. She will probably have her own art studio, paint and sculpt. She might even combine it with teaching. One thing is for sure – she won't ever return to her previous job.
"It would be so strange to go back to a credit company after teaching. I think I just won't be able to breathe."
Lilit is waiting for the pandemic to ease so that she can return to the village and spend a day or two with the children before saying goodbye. She hopes that by the end of summer she will be able to finish the program for opening a studio- library in the school.
Lusine Gharibyan