Learn, learn and again learn – this is the seed of flowers of success of the youngest Vice President of eJustice at Synergy International Systems.
Khachatur Matevosyan is 33 but he has already managed to work in about 10 companies until he found the one most convenient for him. On the way of becoming Vice President of the company he changed 5 positions in Synergy ensuring gradual development.
"Our eJustice system was formed during the years of my journey in Synergy. Now it is considered the best one in the world. I often see how during tenders we are brought as the best example and listen them saying about announcing tenders for creating the systems like we have. This success is the result of the work of our team," says he.
Khachatur Matevosyan studied at Quantum College, in 2005 he entered the Faculty of Management of the French University in Armenia, then continued his higher education at the Faculty of Marketing. While in school, he wanted to go deeper in programming, but Applied Economics subject by the Youth Achievements NGO in Quantum changed his plans.
"I started to like the idea to organize the work and not to carry it out. This is how the interest toward management was born, which was a new direction at that time. After winning the competition of the Youth Achievements NGO I left for the United States with an educational program and then for Canada. We were meeting with different entrepreneurs, discussing business management topics and the wish to deepen in management strengthened more taking me to the French University where I fell in love with that profession," Khachatur says.
Mediamax spoke with the youngest Vice President of Synergy International Systems about the importance of education and overcoming the difficulties on the way to success.
From bad student to the good one
In the first year I almost did not attend the classes and had a lot of absentees facing the issue of being dropped out from the university. The only way for me to continue studying there was to become one of the best students. As a result, I was always in the top five or ten in terms of progress.
At a young age, no one imagines what his/her future will be, in what direction he/she will go and where he/she can realize himself/herself better. If there is no basis, it becomes much more difficult to gather the stock of knowledge from scratch.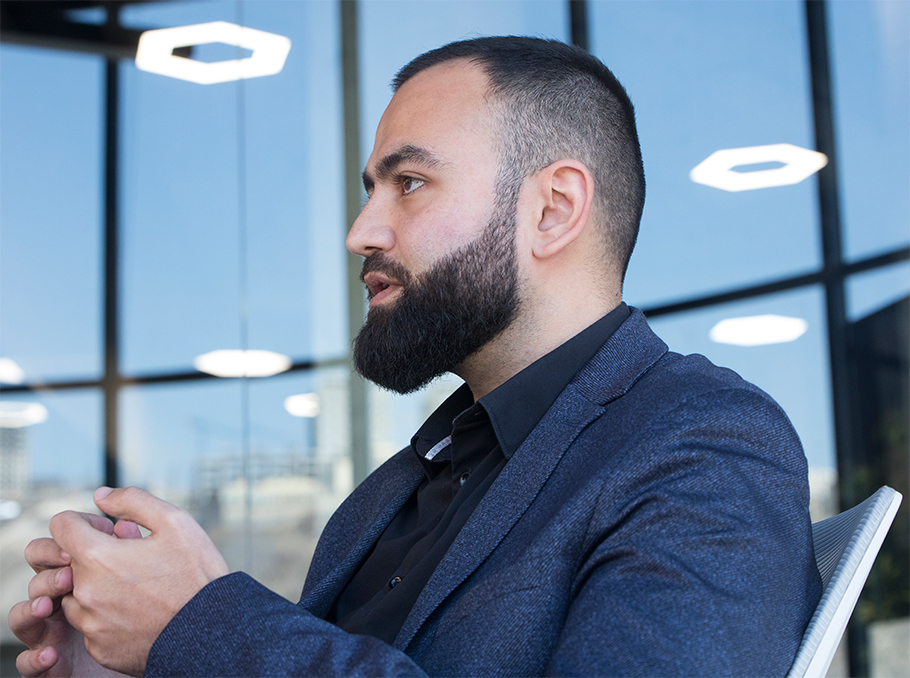 Khachatur Matevosyan
Photo: Mediamax
Management in business attracted me because you can always try to do things that never existed, I mean make "innovations" in some sense. It was a hybrid approach.
If I knew what was coming and had the opportunity to choose again, I would definitely choose the French University and the same specialization. We often went to class at 9 a.m. in the morning and stayed until 5 o'clock.
While studying at the university, I had to work. I was admitted with a 50% discount and had to pay the tuition fee. Working in parallel with learning was a torment. After classes, at 6 I went to work, at 1 o'clock at night I went home, and in the morning, I was to go to classes again. But all the same, I would repeat the same path again, because the knowledge I got at the university is invaluable.
There are subjects the students often think will not be applied and do not understand the need of teaching them. On the very first day of working at Synergy, I faced a task that required knowledge I gained from such a subject. I went home and started looking in my student materials trying to remember what I had learned. The same goes for languages.
Island full of growth opportunities
The decision to work in the IT sector was agreed with its unlimited opportunities: you can work not only in the local market but in the foreign market as well.
That time the company needed a French-speaking project manager. I knew French, I had the necessary knowledge in terms of profession, and my friend advised me to apply. If to view by my example, I have changed 5 positions here, that is, in terms of professional growth opportunities, Synergy is a really wonderful island, and the key to development is in your hands.
Khachatur Matevosyan
Photo: Mediamax
The approach I always liked in Synergy and which I apply myself is that very often the promotion comes from the opposite side, in a very natural and calm way – you start working, give a result and get a new position and duties. The same happened to me in all promotions – from project manager to vice president.
Our team of up to 15 people turned into a 70-member department in just several months.
At Synergy I had the most amazing work experience of my life. If in other companies you hear that there is no irreplaceable specialist, our founder was saying the opposite. People are irreplaceable, because, as Ashot Hovhannisyan says, Synergy is the group of people who ensure the success of the company. And with that principle, everyone tried to help each other grow and contribute to the development of colleagues. Then a moment came when I realized that I have become the bearer of these values. From the very beginning of my career, I was attached to the team digitalizing Rwanda's justice system. It was a task with a number of challenges. But thanks to correct organization of the work Rwanda's experience became one of our most successful projects. Then I tried to learn different methods, read hundreds of books of our online library.
When no one says it's not your business
Synergy taught me another important principle – if you can do more no one says it is not your business.
This is the way our founder Ashot Hovhannisyan started to view me as a good sales specialist, and I became project manager. It was a great challenge for me to assume the responsibility – starting from negotiating with leaders of states to digitalization.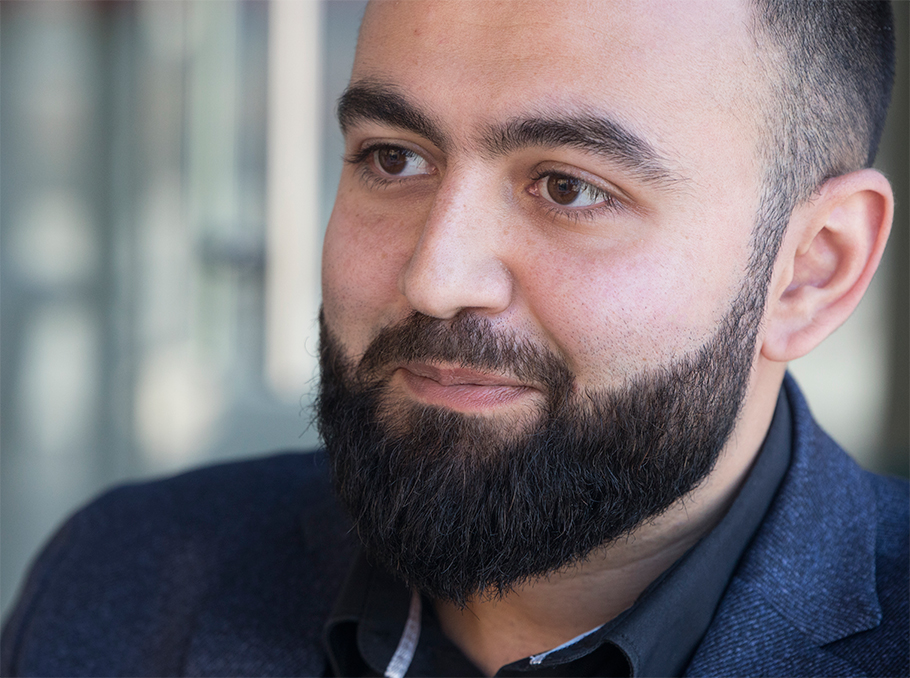 Khachatur Matevosyan
Photo: Mediamax
The idea of leaving a mark on the world motivates to stay in professional "shape". Synergy provides an environment for the implementation of the best ideas, and thanks to the team of like-minded professionals, the confidence that nothing is impossible comes. At the same time, I find balance by listening to the opinions of my colleagues who think differently and make weighted decisions.
Being so busy with work I often notice that 24 hours a day is not enough, but even at night I think I am contributing. Our company also gave me wings to learn the world from another angle. I am already changing my second passport with the company. I have been to 16 countries that I have not even thought of visiting as a tourist. There are countries I have visited more than 20 times. I may say sound very romantic, but my motivation is to leave a mark on the world, which is also the motto of our company, to spread influence for the good. Here you can be the best, create something new and become the best in the world.
"The transformations" of the education and sustainable values
Academic education is very important for becoming a good specialist. If I look back and try to recall what knowledge I needed to enter Synergy 8 years ago, I managed to practically apply about 80% of what I learnt in the university during the 6 years. This cannot be replaced by a course of several months.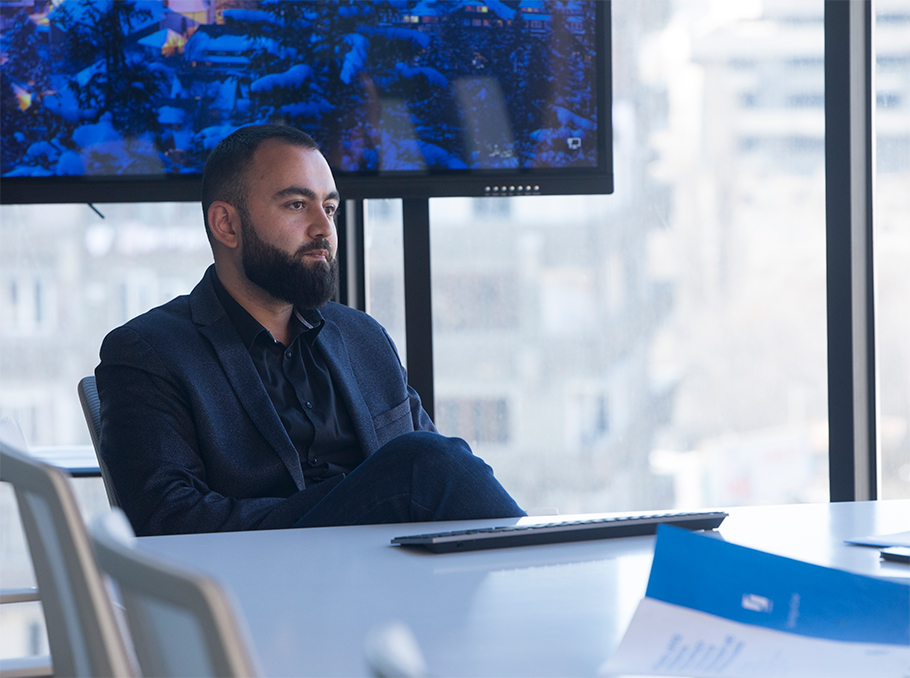 Khachatur Matevosyan
Photo: Mediamax
As to me, studying a profession for a few months can only give an idea of it, nothing more. Of course, it depends on what the person wants. Short courses may develop certain skills but it is rather difficult to become a specialist in a few months.
Now I read many articles that help me keep the finger on the pulse of the profession, I also read books because very often you cannot find ready solutions to practical issues and you have to find them on your own by using different sources.
Age and stereotypes
Last fall we attended a conference abroad with the presidents of the supreme and high courts. I was one of the speakers, and when the President of the Supreme Court of Kenya introduced me to deliver the speech, she said at the end, who gave this position to this young man (laughs - Mediamax).
There were cases when during the invitations we were asked to send an elderly person. This stereotype always exists. But at Synergy we are guided not by age, but by knowledge and experience. In my experience, age has never been an obstacle to taking on any responsibilities.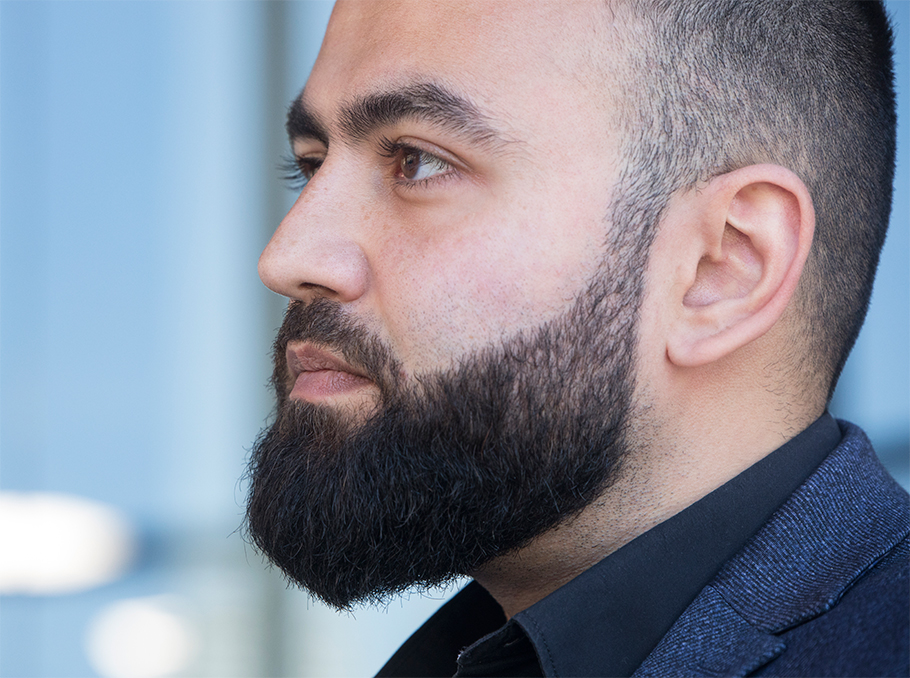 Khachatur Matevosyan
Photo: Mediamax
I have assumed the responsibility of being a leader with the same confidence. I think a lot depends on a good manager. A strong project manager can organize, help to grow and inspire team members and ensure success. The leader can be the foundation or the pillar, but the result is achieved thanks to the whole team.
5 tips to succeed
1. Have "special nose:" to orient right in choosing "why" and "what" and learn quickly.
2. Do not be afraid to face changes: every time when I was saying I want to try myself in a new job, everyone's unequivocal response was – have you lost your mind?
3. Be brave: it is always more interesting to accept new challenges. In many cases when you need to register a big progress, it often requires a great risk.
4. Do not be disappointed: if someone has not succeeded, it is not yet a proof that it is impossible to find a solution.
5. Be ambitious: make not achievable but ambitious plans and try to reach them. In that case, the probability of success is greater, because the invested efforts are also big.
Marie Tarian
Photos by Emin Aristakesyan