After the classes, Nora goes to the Smart Room first and home second. Friends are already waiting for her in a light room adjacent to the kindergarten – the room that has changed the daily life of children in Mets Ayrum in the last two years. Children of Armenia Fund (COAF) renovated, furnished and equipped the room, giving the kids in a remote village of Armenia's Lori marz a chance for alternative education and entertainment.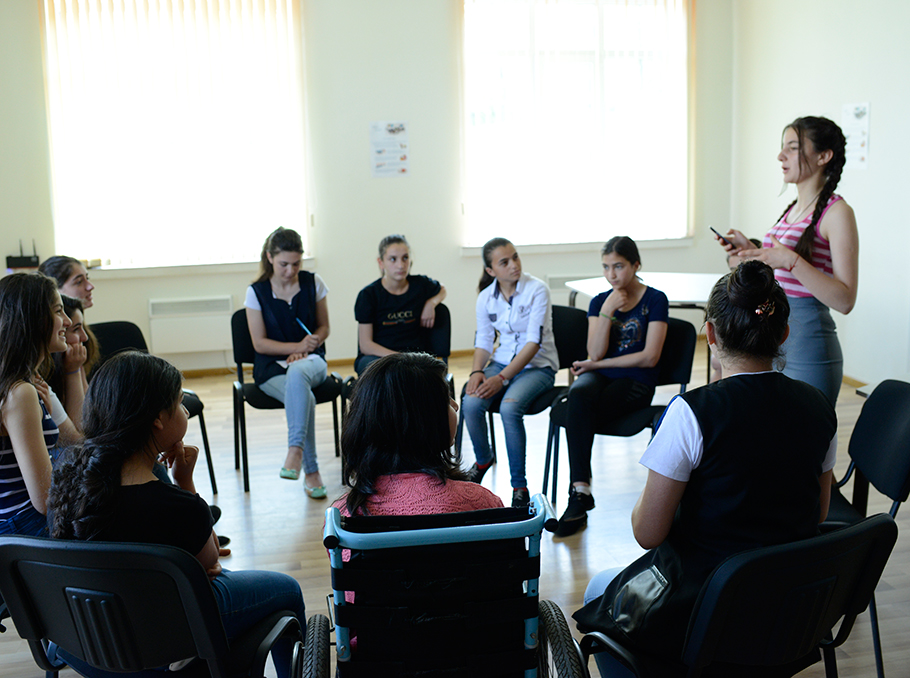 Photo: Mediamax/Vaghinak Ghazaryan
"Before the Smart room, I would go straight home after school, listen to music on my phone or watch a film on TV. I only interacted with my classmates. Now I go the Smart room, where I can meet kids of different ages," says 11th grade pupil Nora.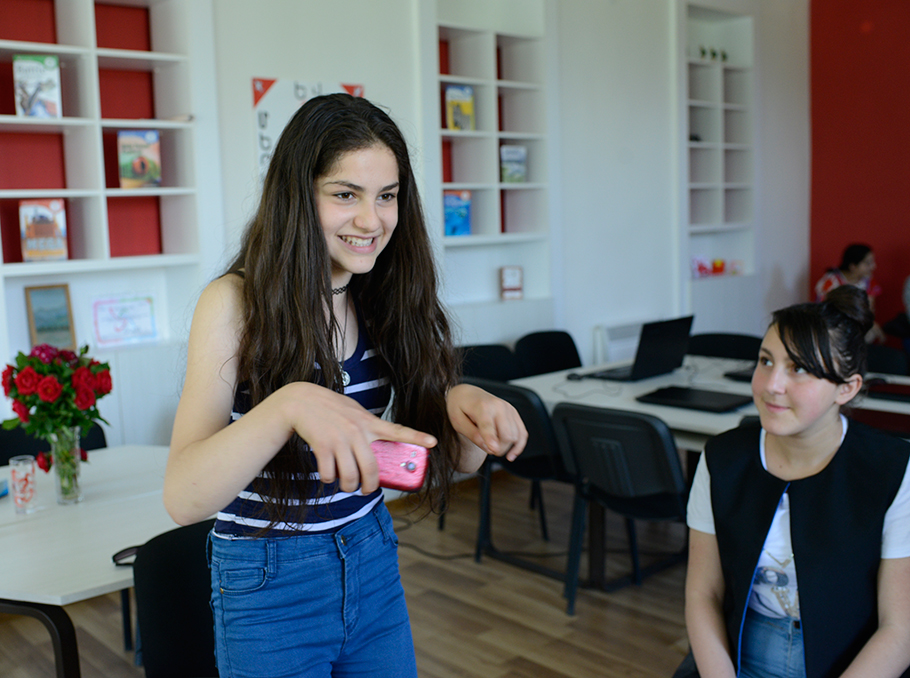 Photo: Mediamax/Vaghinak Ghazaryan
When Nora was in the 1st grade, teachers would come to her house because she has a disability and cannot walk. The director of her school later helped her family get a wheelchair and installed ramps in the school. Nora was able to attend the classes and feel the joy of studying along with other children.
There aren't many opportunities or jobs in the village. Young people move to Vanadzor or Yerevan to get higher education, or go to work in Russia, or enlist in the army.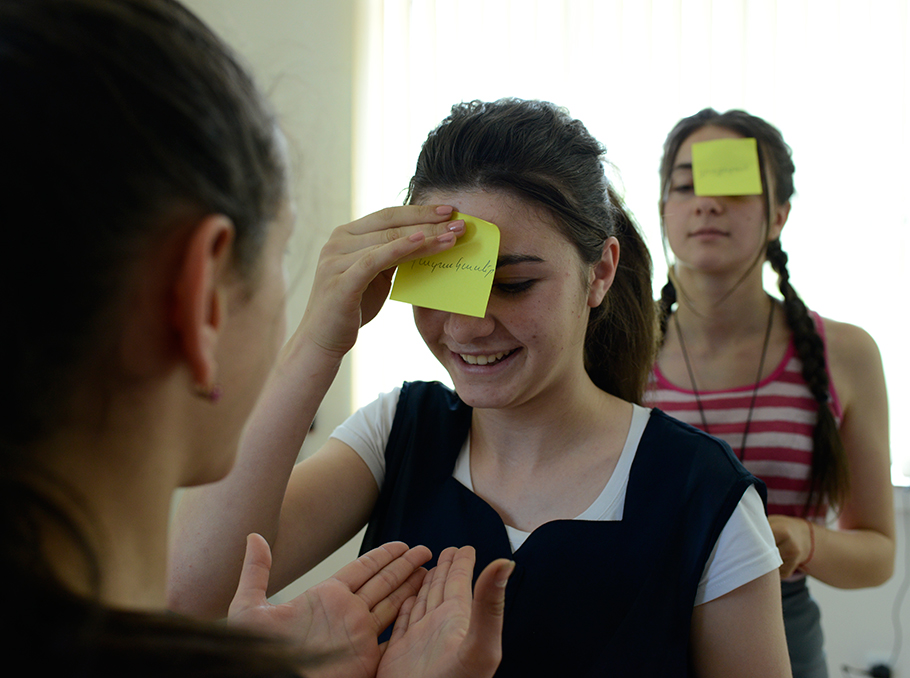 Photo: Mediamax/Vaghinak Ghazaryan
In these conditions, Smart room is a chance for Mets Ayrum's children to discover their abilities, learn new things and spend time with friends. Here they take media studies, join the English club and entertain themselves: read books on the computer, play chess, watch films, and join Nora's Club.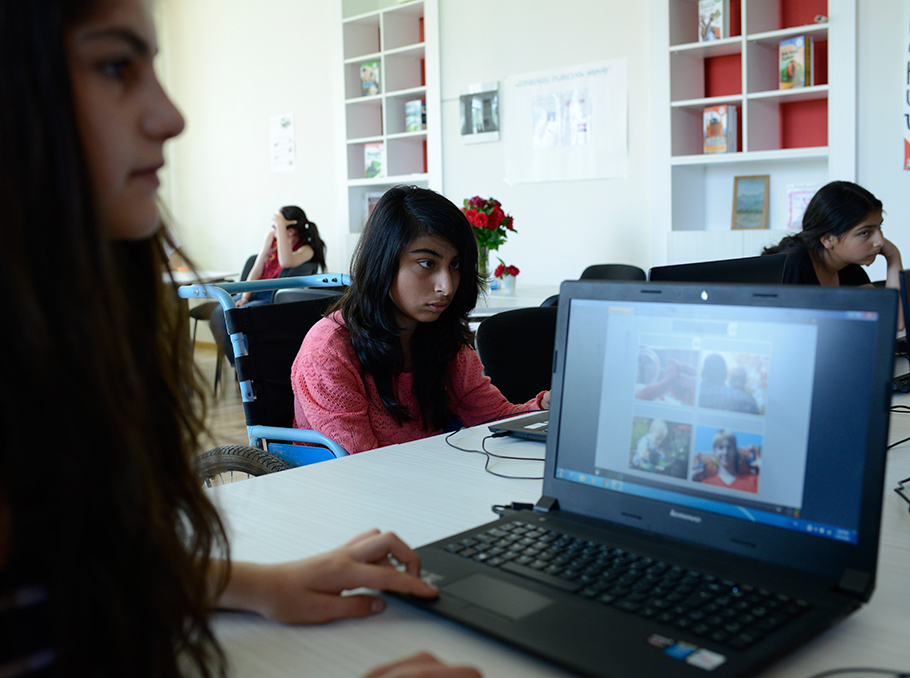 Photo: Mediamax/Vaghinak Ghazaryan
"We consulted with chief psychologist at COAF and decided to start a club to secure entertainment for Nora. We were given two ArmTabs to organize film screenings and play intellectual games. There were just three of us first – me, Elza and Tatev, but then the kids saw we loved working with Nora and had a good time, so they joined us. Now there are 15-16 children in Nora's Club," says Armine.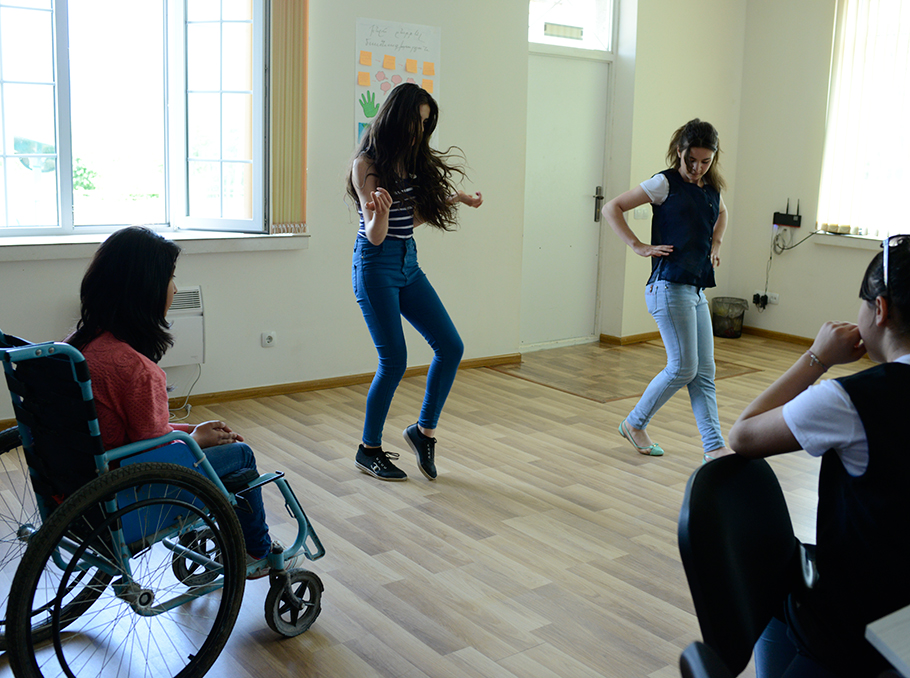 Photo: Mediamax/Vaghinak Ghazaryan
"I've been involved with the club for over a year, and this is the second staff already. I didn't hope other kids would join my club first, I though they wouldn't be interested. But gradually our numbers grew. In my club, we do whatever we feel like: play, watch films, download apps. We all learn from each other, me included," tells Nora.
The purpose of the club was to integrate Nora, and now she herself integrates others and "works" with individual approach to each member of her club. Although the choice of activity is random, they always decide beforehand what to do next week.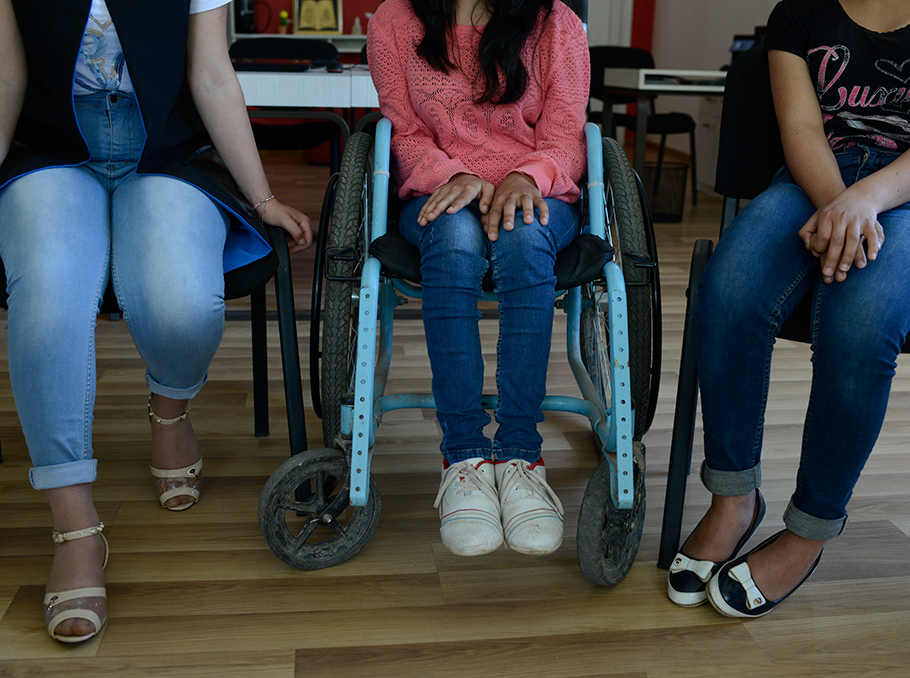 Photo: Mediamax/Vaghinak Ghazaryan
"It can be something very simple, like sit outside and draw. It cheers up Nora, at the same time increasing the interest towards drawing and letting her acquire some skills," explains Armine.
Nora is accompanied to school by her mother Naira and goes to Smart Room with her sister. They go home together. Nora's parents, like other residents of Mets Ayrum, are migrants forced out of their initial homes by the Nagorno-Karabakh war, who arrived in 1988 in the village that was previously inhabited only by Azeri people. Naira says she was among Mets Ayrum's first pupils, although at that time they had to study at the village club. She dreamed to become a teacher, but the tough post-war period halted her plans. "Nevertheless, I studied well. My children don't have to ask anyone else for help with their lessons," she notes proudly. Naira is a young mother with four kids – three girls and a boy. Her husband is a contract soldier and often absent from home, so children help her with housework.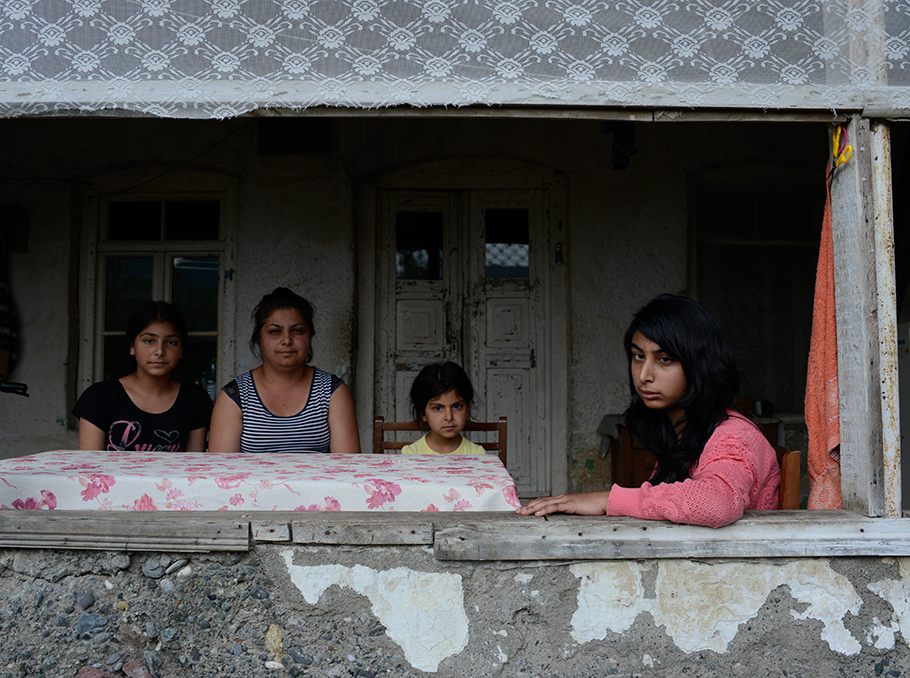 Photo: Mediamax/Vaghinak Ghazaryan
Nora's wish is to start walking. She used to attend physiotherapy and do painful, but useful exercises. Only long-term therapy will give the desired outcome, but Nora's family cannot afford it.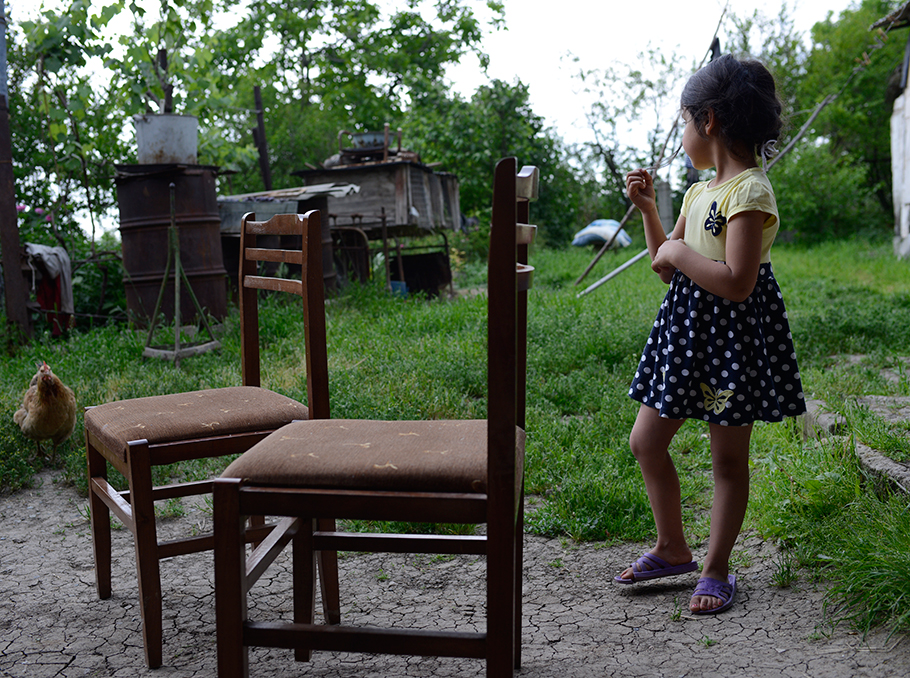 Photo: Mediamax/Vaghinak Ghazaryan
"I was embarrassed to go outside when I was little, because I watched everyone walk and run and felt bad about myself. I thought, "Why can't I walk and run like everybody else?" Gradually, I realized that that was the way of things for me and I had to adjust. I also realized I can still have achievements.
For me, going to school and learning to read and write is an achievement, because not all kids like me, especially in villages, have the opportunity to study and choose an occupation."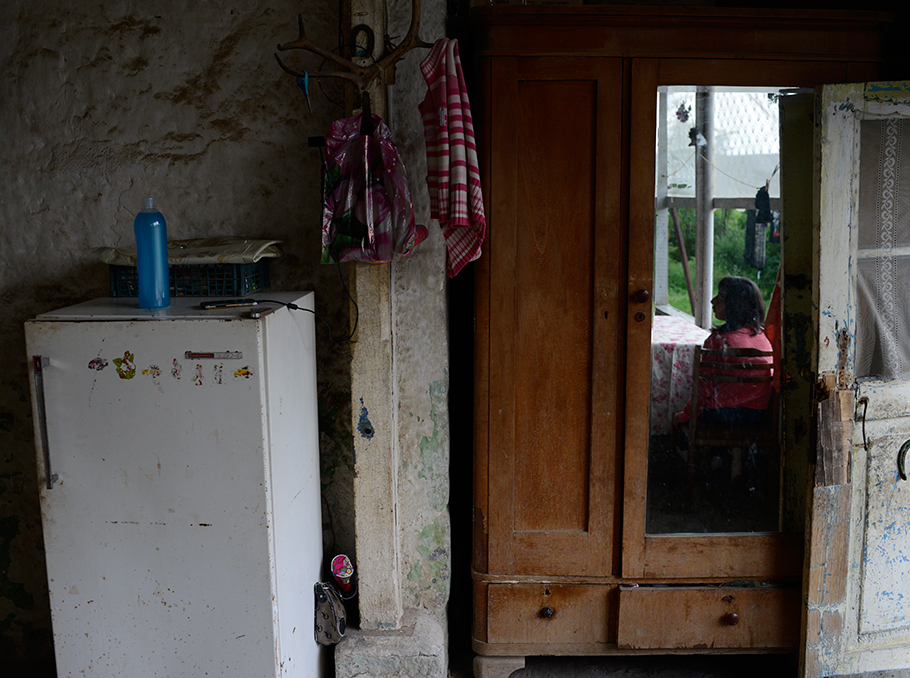 Photo: Mediamax/Vaghinak Ghazaryan
Nora uses every opportunity her village can offer to make progress. She has downloaded a self-study English book and takes media studies along with collecting information about Mets Ayrum from the elders. Nora gathers the data for "We are our village" blog and believes that what she does will help her realize her dreams.
"I have a big dream to walk one day, although I don't know if it will come true. Another dream is to become a web-developer, because that job doesn't require walking. Smart Room managers have promised me I will learn web development at the newly-opened Smart Center.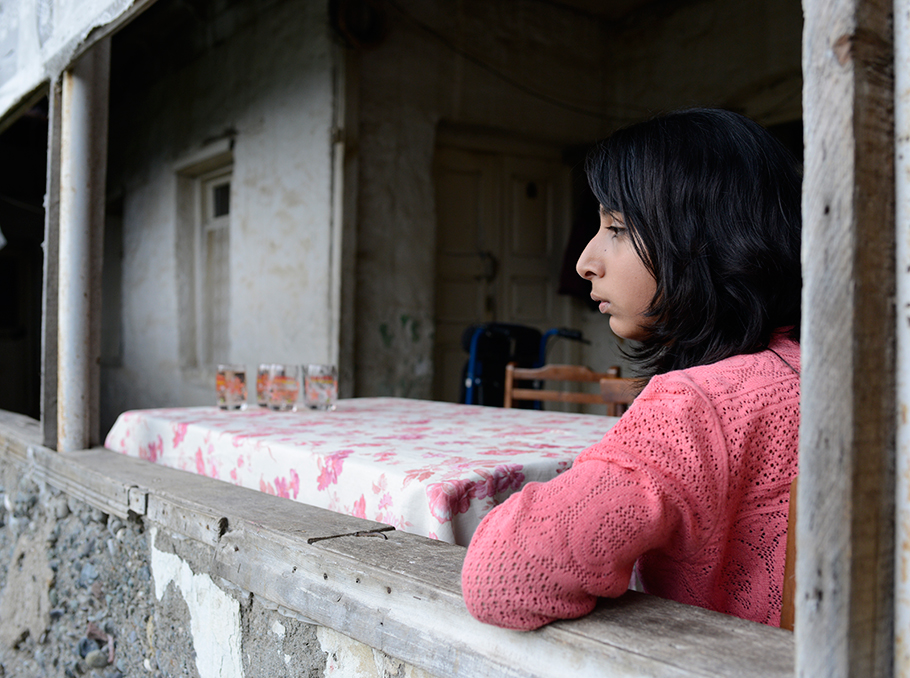 Photo: Mediamax/Vaghinak Ghazaryan
I would like to go to Yerevan or Vanadzor, get the therapy to walk, and work. I know I can work from home too, but it would be more entertaining for me to work in the city, in an office."
COAF SMART Center will give Nora the opportunity to go outside of her village, meet new people, interact with an unfamiliar environment. She can't wait for classes to start.
"I imagined something different, I only saw the picture of the future center. But when I went to look at it, it was like haven, such a beautiful place!" Armine tells excitedly. "The most stunning parts for me were the library and the dance room with mirrors. Even our Smart Room doesn't seem amazing anymore in comparison."
Tech education is a key aspect of COAF SMART Center. It will cooperate with companies and experts involved in teaching IT from Armenia and other countries. Children can gain computer literacy, learn web and app development, web and graphic design, HTML, JavaScript, data analytics, and digital marketing for free at the center. In the robotics room and SAP NextGen lab the kids can build and program robots, and study an academic discipline.
SMART Center will also hold retraining courses for informatics teachers and adults. This is the way COAF helps rural communities enhance the professional capabilities of their human resource and prepare local personnel.
For more information about COAF SMART Center, please call +374 10 50 20 76 or visit https://am.coafkids.org/coaf-smart/.
Lusine Gharibyan