Media and certain political circles are speculating about the possibility that the Armenian National Assembly might elect former Prime Minister Armen Sarkissian the fourth president of the republic in March 2018.
Mediamax tells about selected events from Armen Sarkissian's life in this edition of the Key section.
1. What has been Armen Sarkissian's path so far?
Armen Sarkissian was born on 23 June 1953 in Yerevan, Armenia. He is married, with two sons and three grandchildren.
He graduated from the Theoretical Physics and Mathematics Faculty, Yerevan State University (YSU). In 1976-1984, he worked as Professor of Physics at YSU and founded the Department of Computer Modeling of Complex Systems.
In the Soviet times (1984-1985, 1989-1991), he was visiting research fellow and later worked as Professor at the University of Cambridge, Institute of Mathematics of London University.
Between 1992 and 1995, Sarkissian served as Ambassador of Armenia to the UK. Simultaneously, he was "Senior Ambassador" to Europe, Ambassador to the European Union, Belgium, the Netherlands, Luxembourg, and the Vatican (until 1999).
In 1995-1996, he worked as Head of Mission of the Republic of Armenia to the EU.
On 1 November 1996, Armen Sarkissian became the fifth Prime Minister of Armenia. He served only four months of the term and left the office on 28 February 1997. Until this day, some people believe that a dispute with Defense Minister Vazgen Sargsyan was the reason of Sarkissian's resignation. However, that opinion has yet to find factual proof. The official explanation, which we have no reason to consider implausible, states that Armen Sarkissian resigned due to the need to get treatment for a serious illness.
In 1998, he was reappointed Ambassador to UK and served until 2000.
Armen Sarkissian is the Founding President of the Eurasia House International (since 2000).
In different periods he provided consulting to British Petroleum, Alcatel, Telefonica, and other companies.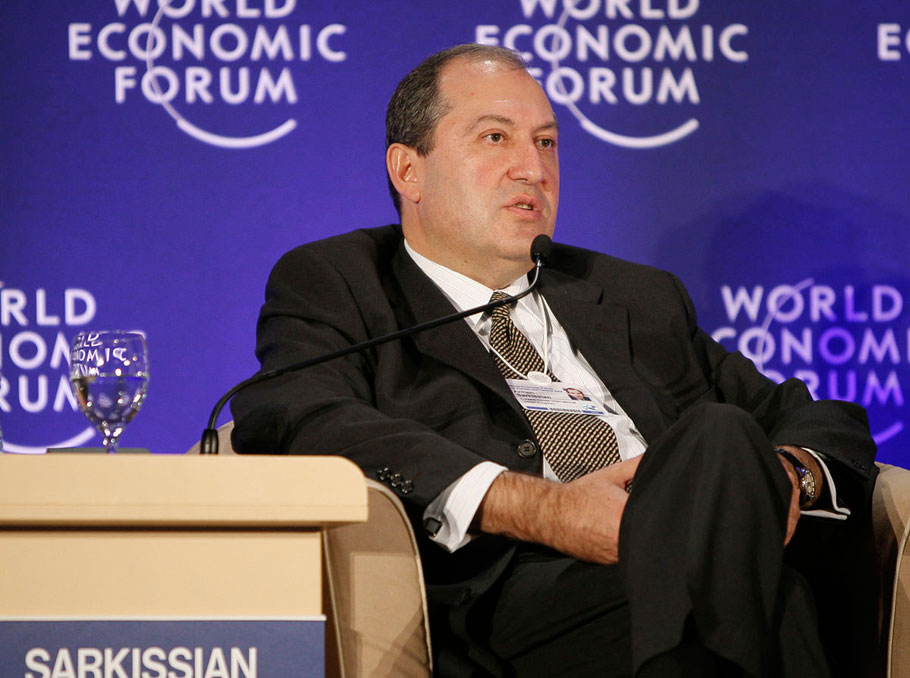 Armen Sarkissian in 2008
Armen Sarkissian was appointed Armenian Ambassador to UK for the third time in September 2013.
2. What statement did Armen Sarkissian make in April 2000?
On 20 April 2000, President of Armenia Robert Kocharyan relieved Armen Sarkissian from his duties as the Ambassador of Armenia to the United Kingdom.
After the killings in the National Assembly on 27 October 1999, Armenian press frequently claimed that the opposition considered Armen Sarkissian an alternative to Robert Kocharyan and held "secret negotiations" with the ambassador.
We have found a report in our archive about the meeting between Armen Sarkissian and representatives of the Armenian community, which took place on 23 April 2000. According to the note, the former ambassador said at the meeting:
"Today, it is with painful emotions that I observe Armenia passing through difficult times, particularly after the killings at the National Assembly on October 27. The country is facing complex political and economic problems. I have always striven to work not only with words and deeds, but with my heart and soul. In my position as civil servant and diplomat, I have not been able to speak openly of my misgivings about actions taken by successive governments. However, my conscience is clear as I have always given frank advice. Unfortunately, my own vision of Armenia's future and how we achieve it has not often coincided with that of my colleagues in the country's leadership. For the moment I will not be making any further public announcements. But I look forward to meeting with all of you in the near future so that we may discuss this and other important matters."
3. Does he really have a special relationship with Prince Charles?
Evidently, Armen Sarkissian has known Prince Charles for a long time. In May 2013, the Prince paid a private visit to Armenia, which would have hardly been possible if not for Armen Sarkissian.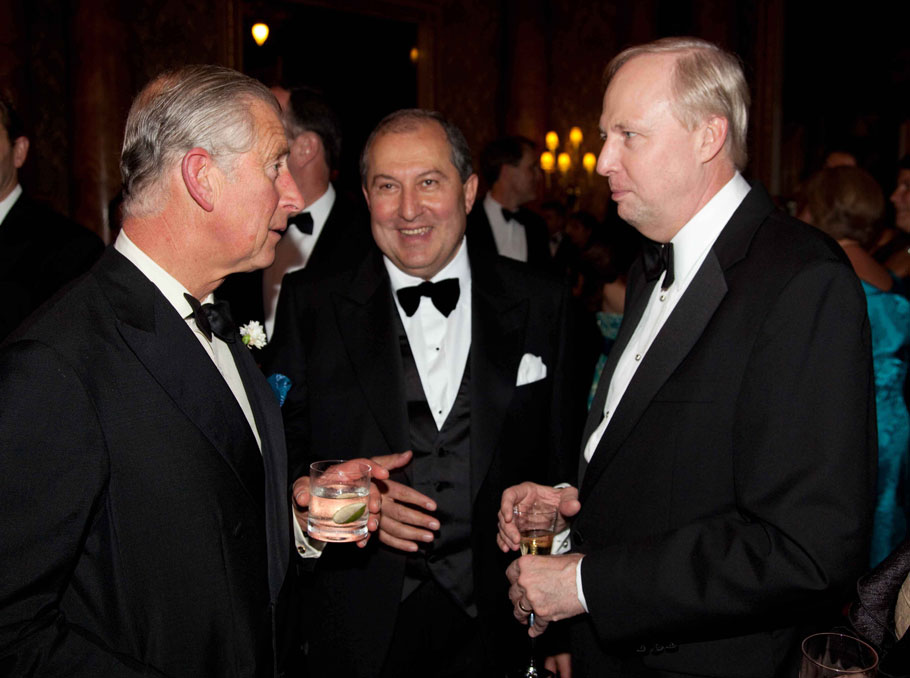 Армен Саргсян и принц Чарльз
Photo: courtesy of the Buckingham Palace
In October 2015, an ecumenical church service dedicated to the sacred memory of the holy martyrs of the Armenian Genocide took place at Westminster Abbey, London.
The service was presided over by London Bishop Richard Chartres and His Holiness Catholicos and Supreme Patriarch of All Armenians Karekin II. President of Armenia Serzh Sargsyan and the Prince of Wales were among the dignitaries attending the service.
The event was organized by Armen Sarkissian.
4. What ties does Armen Sarkissian have with the daughter of Kazakhstan's President?
The press report that Armen Sarkissian and Dariga Nazarbayeva are long-time acquaintances and business partners, but don't reference any factual proof.
It is known that Armen Sarkissian founded the annual Eurasian Media Forum in Astana (in 2002) and Dariga Nazarbayeva is the President of the Organizing Committee of the forum.
It is also known that Dariga Nazarbayeva was in Armenia in May 2013, when Prince Charles was visiting the country.
5. Which investments Armen Sarkissian intended to make in Turkmenistan?
On 22 January 2008, Armen Sarkisian met with the President of Turkmenistan Kurbanguly Berdymukhamedov in Ashgabat as the Chairman of the Knightsbridge Group and stated that the company was ready to become an operator and investor for a project of installation of wireless broadband networks in Turkmenistan.
Armen Sarkissian also presented the proposals on construction of a modern sea port in Turkmenbashi town as well as development of energy cooperation and participation in extraction and processing of carbohydrates.
Kurbanguly Berdymukhamedov remarked that the proposals deserved a careful, detailed study. He also suggested that Knightsbridge Group consider participation in the international tenders on construction of cement factories.
However, we have found no information about whether any of the projects discussed by Sarkissian and Berdymukhamedov have been actually realized.
6. What are Armen Sarkissian's business interests in Russia?
In March 2012, Chairman of the Knightsbridge Group of Companies Armen Sarkissian and Governor of Leningrad region Valery Serdyukov had signed a memorandum of cooperation on Novoladozhsky water channel. The project was estimated to cost RUB 50 billion.
However, as soon as in September 2012, new Leningrad region Governor Alexander Drozdenko stated he intended to review the agreement with Knightsbridge, as he believed the region needed "a more certain and transparent deal". He noted that Deutsche Bank could be the new investor.
In January 2013, Armen Sarkissian and Governor of Russian Pomorye (Arkhangelsk) region Igor Orlov signed a memorandum of cooperation in energy, transport and tourism sectors. In particular, the memorandum concerned investments in development of Arkhangelsk airport and local airlines.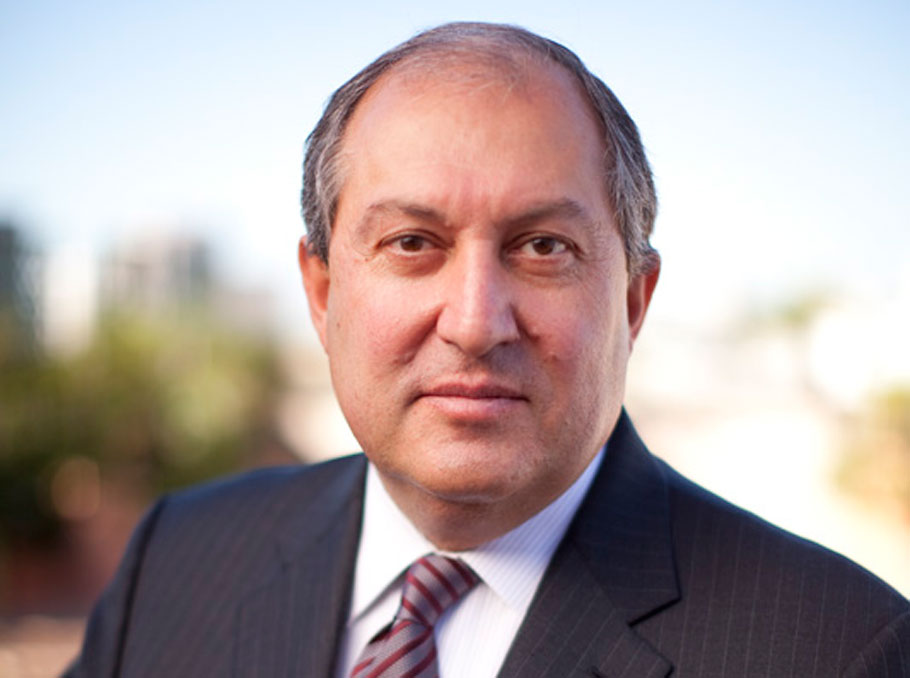 Armen Sarkissian
Photo: courtesy of Eurasia House
In August 2013, Russian "Company" (Компания) magazine published the article "A life in three parts" (Одна жизнь в трех частях). It said that Armen Sarkissian managed 25 companies in total. According to the magazine, one of them was Knightsbridge Cybersystems that operated in Russian market and was managed by former Prime Minister's son Vardan.
The article remarks that Knightsbridge has a minority share in West Chumpas oiler (Northern Russia).
Компания also reported that Armen Sarkissian's Highbury Grօup had created the Leningrad corporation, which in its turn was a shareholder of Energoproekt company.
Energoproekt is considered one of the largest companies is the northwest of Russia that specializes in designing and engineering works.
7. What is the sector of Armenian economy where Armen Sarkissian wanted to invest?
In summer 2008, Knightsbridge International Telecommunications Holding submitted an application to a mobile operator tendering in Armenia. Six months earlier, on 31 January 2008, Armenian President Robert Kocharyan received Chairman of Alcatel-Lucent Serge Tchuruk and Armen Sarkissian in Yerevan. They discussed "the prospects of implementation of innovative technologies in the Armenian economy and research as well cooperation in securing Armenia with high-speed and high-quality internet connection".
Knightsbridge didn't get to make any investment, as Orange (France) won the tender and became the third mobile operator of Armenia.
However, that wasn't Armen Sarkissian's first attempt to invest in the communication sector: his Knightsbridge Associates created a consortium with VTEL Holdings in 2006 and took part in the auction of ArmenTel.
8. What children's books did Armen Sarkissian's wife write?
In June 2017, Armenian Ministry of Diaspora hosted the presentation of the series of children's books written by Nune Sarkissian, spouse of Armen Sarkissian.
Minister of Diaspora Hranush Hakobyan delivered a speech at the presentation, saying in particular:
"Nune has become one of the most renowned authors of books for Armenian children. Even dragons can be beautiful and kind in her stories and the good always wins the battle against evil. The Institute of Language helped with translation of Nune's stories into Gavar (Bayazet), Gyumri (Karno) and Artsakh dialects. Now we are working on the translation of dear Nune's tales into Western Armenian. Some of them have been staged as puppet shows with great success in Tumanyan Puppet Theatre and State Marionette Theatre."
Ara Tadevosyan