The last paragraph from William Saroyan's "The Armenian and the Armenian" story ("Inhale & Exhale" collection) is quoted very often on April 24, the day of remembrance of the victims of the Armenian Genocide.
However, the quotes include lines that Saroyan never actually wrote. The writer's house-museum in Fresno, Saroyan House has commented on the error and urged people to quote the original.
It all started with a poster released in 1982. Many Armenians know the paragraph by heart now, but only a few are aware of the original text. And now, the pseudo-Saroyan version has displaced this genuine article:
"I should like to see any power of the world destroy this race, this small tribe of unimportant people, whose history is ended, whose wars have all been fought and lost, whose structures have crumbled, whose literature is unread, whose music is unheard, whose prayers are no longer uttered. Go ahead, destroy this race. Let us say that it is again 1915. There is war in the world. Destroy Armenia. See if you can do it. Send them from their homes into the desert. Let them have neither bread nor water. Burn their houses and their churches. See if they will not live again. See if they will not laugh again. See if the race will not live again when two of them meet in a beer parlor, twenty years after, and laugh, and speak in their tongue. Go ahead, see if you can do anything about it. See if you can stop them from mocking the big ideas of the world, you sons of bitches, a couple of Armenians talking in the world, go ahead and try to destroy them."
The first thing to notice here is the absence of the phrase "see if they will not create a New Armenia".
These are words that Saroyan never wrote.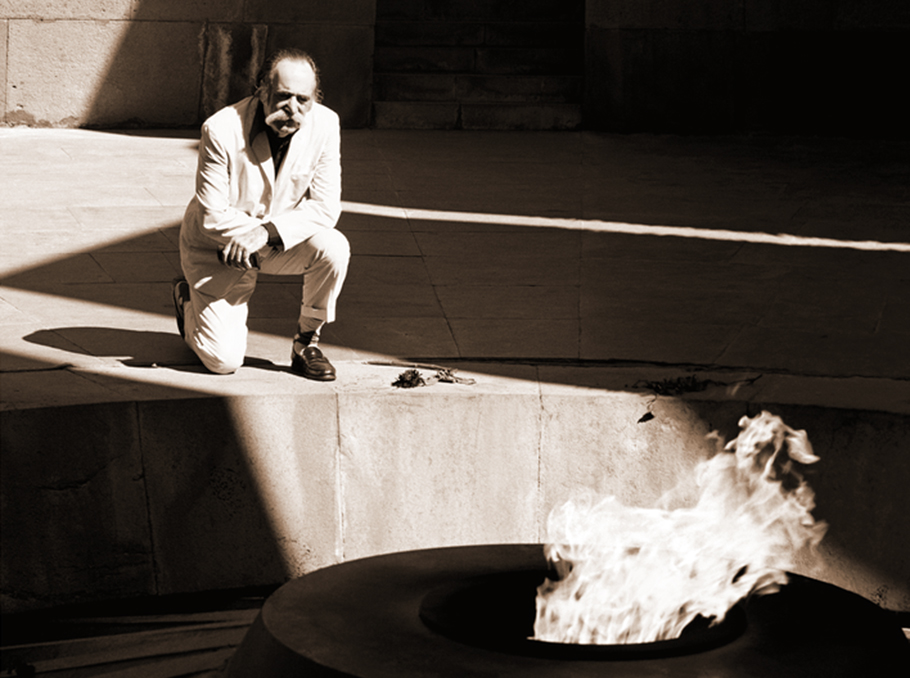 William Saroyan
Photo: Poghos Poghosyan
Marc A. Mamigonian in his article for Creative Armenia writes:
"The famous version does not merely sanitize the original passage for family ears or compress it for space: it substantially rewrites Saroyan to include new phrases and concepts. I cannot defend this kind of bowdlerization, even if it was done with the best of intentions. Quietly deleting 'you sons of bitches' in order to create a family-friendly poster — well, okay. But it took a lot of chutzpah for somebody to look at Saroyan's published text and see it as a rough draft that he or she had license to work over. 'See if they will not pray again': an entirely new concept introduced by Saroyan's uncredited co-author! Quite a far cry from the earthiness of two Armenians meeting in a beer parlor and cursing. Speaking of prayers, in the original they are "no longer uttered", while in the rewrite they are "no longer answered"— as if the tragically significant idea that post-genocide Armenians no longer bother praying was too shocking and had to be reversed.
And what a difference between the sentimental nationalism of "For when two of them meet anywhere in the world, see if they will not create a New Armenia," on one hand, and "See if you can stop them from mocking the big ideas of the world, you sons of bitches, a couple of Armenians talking in the world, go ahead and try to destroy them," on the other."