Mathematics is the driving force of love, justice, and progress. Mediamax and VOLO launch a joint project, MathArt. It will tell about the talents developing Mathematics in Armenia, and their work.
Mathematics is of key value in the modern world and we hope that MathArt will help attract Armenian youngsters into that particular science.
Anna Srapionyan, PhD Candidate in Applied Mathematics at the Center for Applied Mathematics of Cornell University, discovered mathematics in 6th grade, when she studied at the Physics and Mathematics specialized school after A. Shahinyan.
"During my school years, Olympic study groups and Olympiads, where we were solving non-standard problems, got me interested in and hooked on mathematics. So, it was quite logical that I chose mathematics as a major after school. I knew I loved it and I would never get bored of it," says Anna, who in 2009 received the Armenian Presidential award for "Best Student in IT Sphere". Her path in mathematics began at the Department of Mathematics and Mechanics of the Yerevan State University.
When everything becomes a theorem
When you immerse in mathematics, you bring the mathematical mentality into your everyday life whether you want it or not. After having studied math for a while, I began to rely on my logic more often. Everything becomes a theorem and you start proving it or denying it. I also noticed that mathematicians are more strategic and it is easier for us to perceive abstract concepts. I would even go so far as to say that very often we prefer the abstract to simpler and easier concrete examples.
Every branch of mathematics is full of beautiful formulas. I myself love continuous models.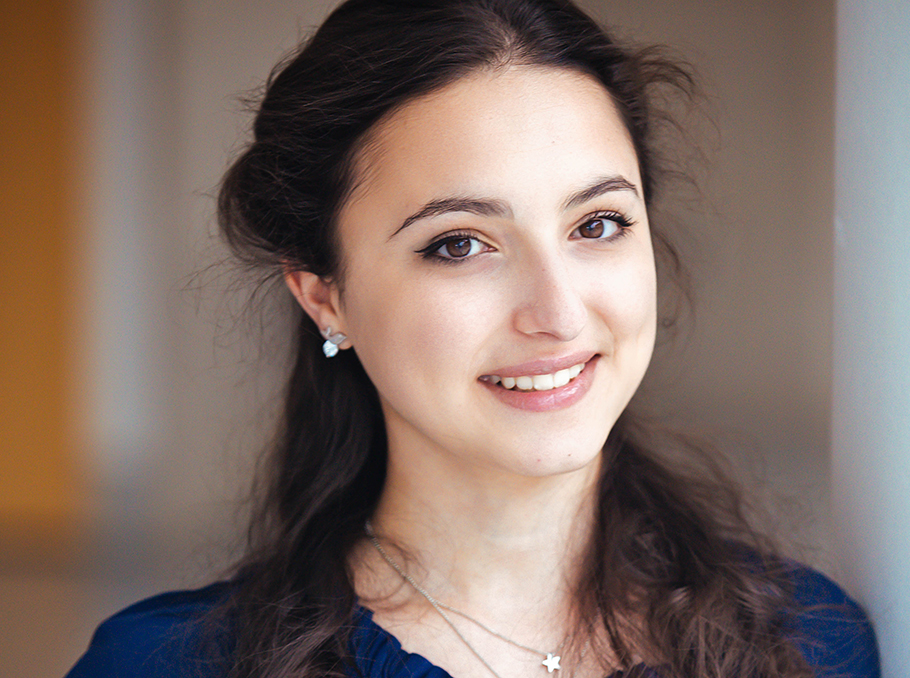 Anna Srapionyan
Photo: Ksenia Verdiyan
I love Galileo Galilei's words who said: "Mathematics is the language with which God wrote the Universe." Therefore, to understand our surroundings, we all should have some basic mathematical knowledge. It will help us make right decisions, think fast and easily master new skills.
Education in world's leading universities
During my senior year at YSU Department of Mathematics and Mechanics, I got more interested in applied mathematics and began to explore some options. There weren't any good master's programs in applied mathematics in Armenia and I decided to find something abroad.
On the other hand, since the day I learned about "Ayb" and "Luys" foundations, I wanted to continue my education in one of the world's leading universities. I wanted to challenge myself: to study in a new system, to live in an entirely new environment and to reveal the "secret" of being in one of the top universities of the world. Finally, I applied to the Financial Mathematics Program at the University of Chicago and was accepted.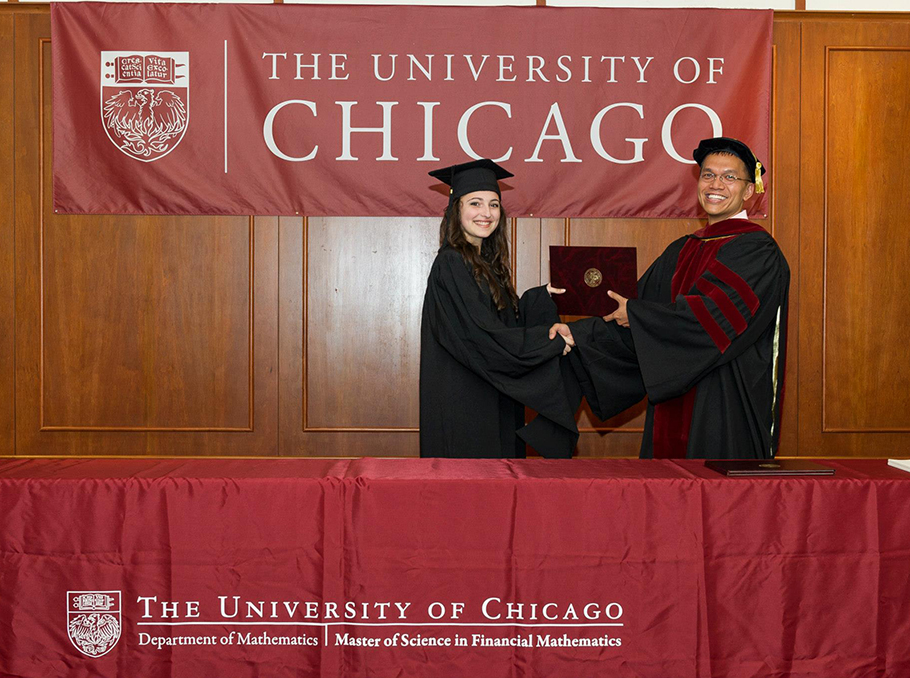 Photo: University of Chicago
Today, I'm a PhD Candidate in Applied Mathematics at Cornell University. My research interest varies between Probability Theory and Applied Functional Analysis. I am working on problems applied mainly in financial sphere. For instance, using some flexible models, my supervisor and I develop new risk-neutral evaluation techniques, which will make the assessment of derivative securities more attractive from computational point of view.
Freedom - a very important tool
I have come across a couple of quite interesting statistical articles according to which mathematics is number one hated subject in school in the whole world. I think this is happening because teachers fail to explain to their pupils where and how they can use their knowledge. Such lack of motivation can really hamper pupils' interest in the subject and encourage them to avoid slightest difficulties at any cost.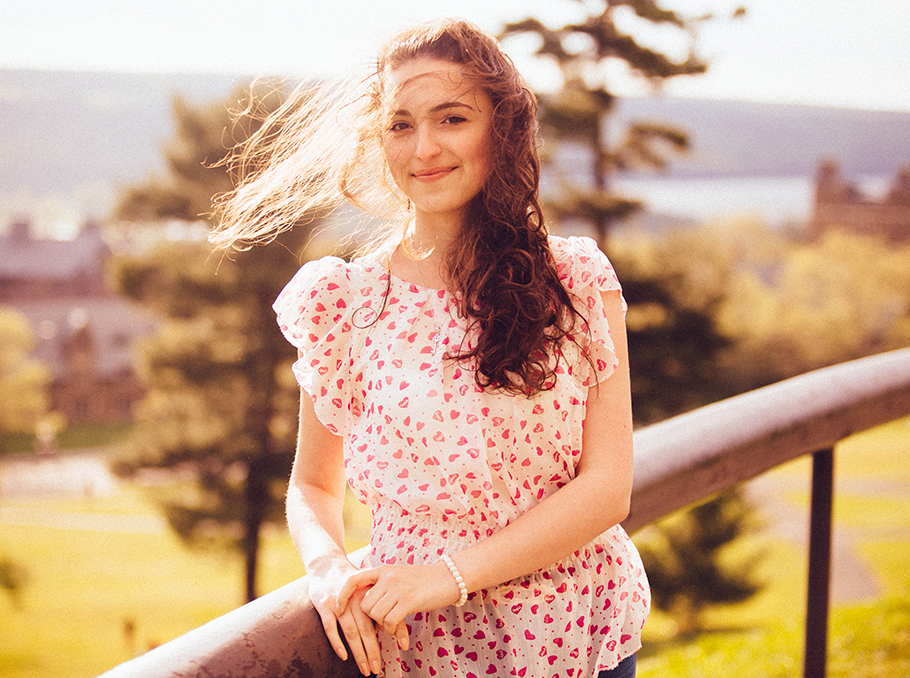 Anna Srapionyan
Photo: Ksenia Verdiyan
As for higher educational institutions, freedom is what has enticed me most of all during my studies at two foreign universities. Freedom to choose courses I am most interested in to help me make a career choice and freedom to study other subjects besides mathematics. Over the last few years, I've become more and more convinced of what a powerful and vital instrument it is in the hands of students and universities. The student spares no effort to study when he himself is responsible for organizing his own schedule and developing his professional skills.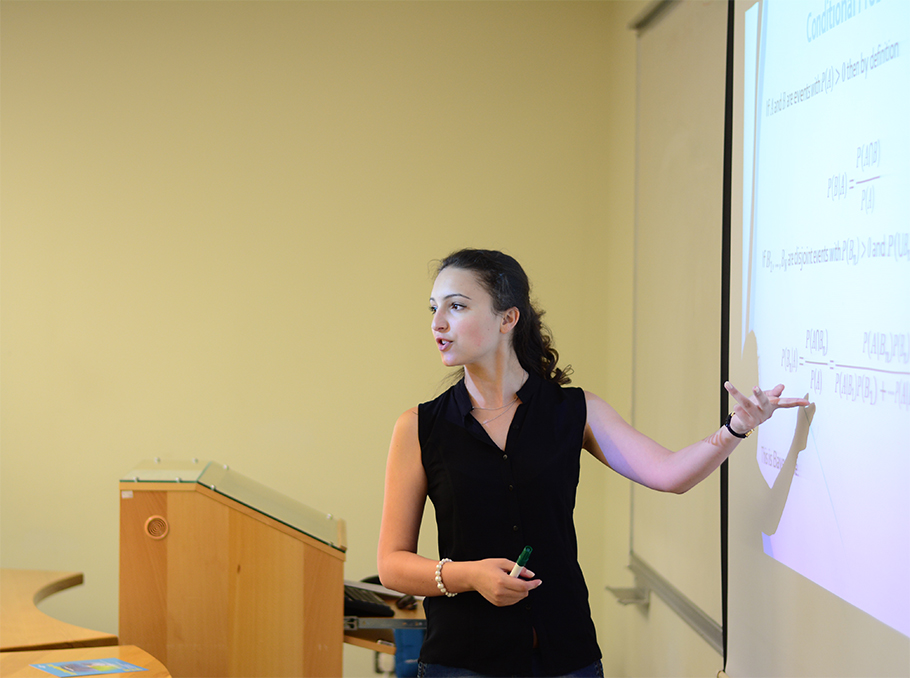 Anna Srapionyan
Photo: Harut Abrahamyan
It would have been so wonderful if some departments here in Armenia could cooperate. For instance, at Cornell besides some mandatory courses my friend and I took on some courses at other schools - like programming, engineering, business and economics, biology and psychology. This not only expands the student's horizon but also enables him to understand the link between mathematics and other sciences, as well as create necessary prerequisites for engaging in interesting research.
Armenia's advantages and precondition for becoming recognizable
I think Armenia has a big advantage as far as mathematics is concerned: some branches of mathematics are quite developed here. I have noticed that the tradition of solving interesting related problems is passed on from tutors to students, which is very welcome.
However, the key problem is the financing of science including mathematics. If the mathematician doesn't consider his scientific activity as a main job from the financial point of view, you can never expect him to spend his whole time doing research. We are just lucky to have some devoted scientists who are trying to do their job at any cost.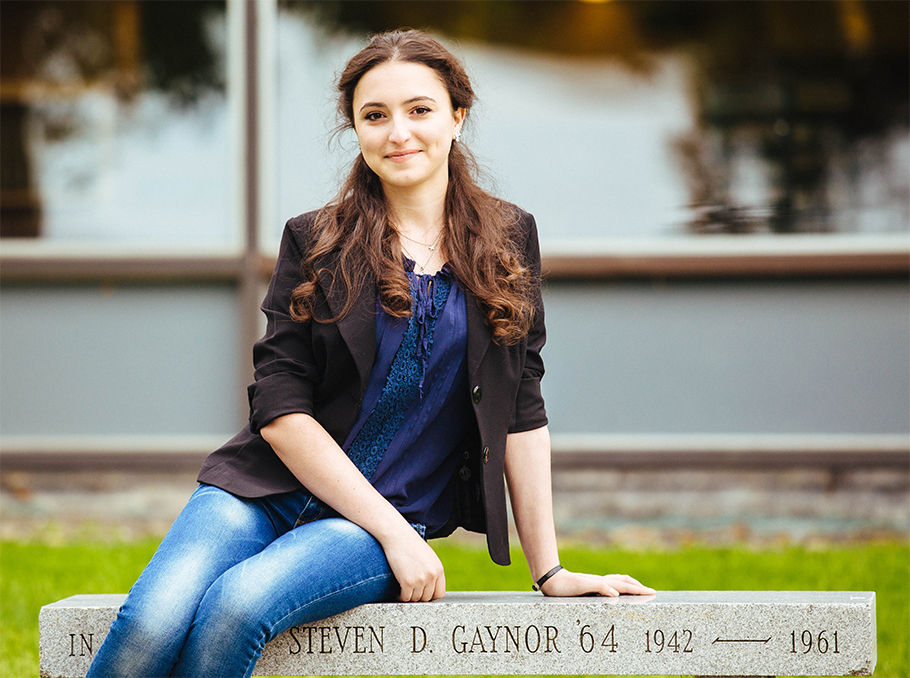 Anna Srapionyan
Photo: Ksenia Verdiyan
There are brilliant specialists in Armenia who work on interesting problems and can be noticed by various universities from all over the world. In order to do this, besides publishing articles scientists should participate in international conferences, during which they will have a chance to introduce themselves, make important connections and lay grounds for building and solving mutually interesting problems. In this case, I am sure, Armenian mathematicians and their research will become widely recognizable by a larger community of scientists and Armenia will take its own place on the world's mathematical map.
FAST's possibilities for mathematics
I am a member of the Next Generation Council of the Foundation for Armenian Science and Technology (FAST). Over the last couple of months, I have been very pleased to cooperate with FAST and have been impressed with their programs. I believe FAST's programs will inspire many students to view mathematics as their main profession, as well as encourage already established scientists to continue their research.
VOLO is the general partner of the project
Marie Taryan