Exclusive interview of Armenia's second President Robert Kocharyan to Mediamax
(The interview was recorded in the morning of September 11, before the leak of conversation between Director of National Security Service (NSS) Artur Vanetsyan and Head of the Armenian Special Investigation Service Sasun Khachatryan.)
Mister Kocharyan, after your arrest media resources that oppose you conducted polls in the streets with the majority of people speaking negatively about you. Media resources that support you have conducted their own polls and the picture was different. Are you ready to make an experiment, walk in the streets of Yerevan, Gyumri or Vanadzor and talk to people to find out what their real attitude towards you is?
I think such interaction with people will not be quite representative. There are better methods of estimating public opinion, and my team is currently working in that direction. I have never had a problem of going out and meeting people. I have almost always traveled alone over the past years, met a lot of people, and I haven't noticed negative attitude towards me. On the contrary, people approach me, take pictures and ask questions.
The euphoria, which prevails in Armenia, deformed the situation in a way, but I think I have the necessary base for considering further actions.
I would like to repeat that I am not afraid of meeting with the public, but it will hardly show the attitudes of people towards me.
You have mentioned euphoria. It came to replace the apathy in Armenian society, which you touch upon in your interviews over the recent years. Did what happened in April take you by surprise?
No, not at all. I have already said that the seizure of Armenian police station in summer of 2016 was "a yellow card" to Armenian political system. I was shocked when part of Armenian population estimated positively those terrorist actions. Three policemen were killed, but despite this, people who committed those crimes, received quite wide public support. I realized the level of discontent among people, so the developments in April 2018 didn't take me by surprise. I was only amazed at how this turned into so-called "velvet revolution".
Were you surprised that Nikol Pashinyan was the one to consolidate people and lead the protest movement without bloodshed?
I think that the developments unfolded without blood not because of Nikol Pashinyan's peaceful nature, but because the government didn't take all the measures at its disposal. The government undertook passive resistance against the actions of the opposition. On the other hand, yes, I was surprised by the fact that Nikol Pashinyan was the one to lead the process – him, the leader of the bloc, which had only 9 mandates in the parliament. In my view, they realized the "historical moment", "caught the wave" and reached extraordinary success.
You have criticized authorities a lot over the past 10 years. Do you regret choosing Serzh Sargsyan as your successor?
I wouldn't like to give any estimation post-factum. The history is as it is.
What was the principle that guided you in selecting your successor?
I prioritized the security of Armenia and Nagorno-Karabakh Republic. Choosing my successor, first of all I thought about a person who would be able to provide security in the most efficient way. Serzh Sargsyan's career showed that he was the most prepared candidate to take the responsibility.
It is said that Foreign Minister Vardan Oskanyan was among the candidates. Were there others as well?
I was considering several people from the government. There were bright and effective specialists in their fields. However, security was my top priority, and Serzh Sargsyan had no competitor in this regard.
You have remarked recently that you met Serzh Sargsyan only 2 times over the past 5 years. Have you lost a friend?
We had no dispute or serious altercation. Our relations are now based on formal contacts, basically involving birthdays or condolences on the occasion of relatives' death.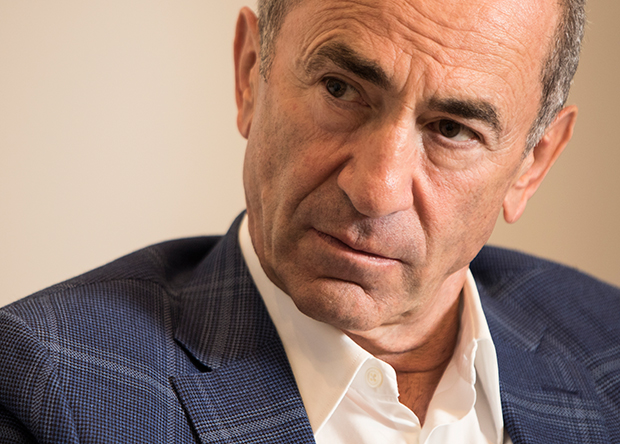 Robert Kocharyan
Photo: Mediamax
This was a conscious distancing from the politics that I couldn't accept to certain extent. We definitely were friends for many years. The media has always found ways of linking us, so I wanted to show that I didn't share the politics of the government in a number of directions.
After your arrest, political forces including Republican Party of Armenia and certain politicians came forward with statements. Serzh Sargsyan remained silent. Were you offended?
You know, I haven't even thought about it. Besides, I understand that he didn't share the views of the people who cheered for my arrest.
Over the last several months and in the past, you have expressed your stance about what happened in Yerevan on March 1-2 of 2008. Nonetheless, I would like to ask you, do you feel responsibility for the events that took lives of 10 people?
I think that not only the president, but many others share to certain extent the responsibility for what happened. When you try to assess the situation retrospectively, then you understand that the situation might have been avoided. However, it could also have ended up even worse. Everyone, including me, feels some kind of guilt.
Did you think about contacting Levon Ter-Petrosyan and settling the situation on March 1 of 2008, after the dispersal of the rally on Freedom Square?
I was very happy about the initiative of the Catholicos, who decided to meet with Levon Ter-Petrosyan. But when he wasn't even received, I understood that the attempts to establish contact were useless.
The situation might have unfolded by another scenario, if the agreement between the police and protestors on March 1 was kept. According to the agreement, the protestors were supposed to continue the rally by Matenadaran, but Nikol Pashinyan whos was in contact with Levon Ter-Petrosyan decided to build barricades and show resistance to the police. I don't think that my efforts would have proved effective at that stage.
It is necessary to consider those developments in a broader context. Essentially, "March 1" started on September 21 of 2007, when Levon Ter-Petrosyan announced his participation in 2008 elections. He maximally radicalized his pre-election campaign. He called the government "worse than Tatar-Mongols", "bandit regime", and what happened on March 1 is a result of that radicalization. That "explosion" was consciously prepared by Levon Ter-Petrosyan and his team for several months.
But people gathered on Freedom Square because they believed their victory in the elections was stolen.
I consider this a continuation of the process, which I have just mentioned. The radical campaign, which they held, led to inability to accept defeat. They started the process, which in fact didn't have a peaceful resolution. Getting 21.5% of votes and declaring yourself "President-elect" is creating prerequisites for "March 1".
I have already told that if Levon Ter-Petrosyan expressed doubts about Serzh Sargsyan getting the sufficient number of votes in the first round and proposed a second round, he would have created some room for negotiations. I would have definitely tried to intervene in this case to find common ground. However, Ter-Petrosyan stated that he was the winner, and this stance didn't leave any opportunity for maneuvers.
Speaking about "maneuvers" and hypothetical second round, do you actually accept that Serzh Sargsyan could have not gained 53% in the first round of presidential election in 2008?
I think that Serzh Sargsyan won in the first round. I have no reason to think otherwise. I only say that the maximalist claim of Levon Ter-Petrosyan brought the situation to a standstill. You have asked me earlier about the measures I could have taken to settle the situation. If Levon Ter-Petrosyan was ready for a compromise, theoretically I could have asked Serzh Sargsyan to consider the opportunity of holding the second round to avoid escalation.
If we observe this situation from even a broader perspective, your confrontation with Levon Ter-Petrosyan started in 1998, when he resigned. In June 2008 you, already as an ex-president, answered questions about your "shadow government", which you called a "total nonsense" and added: "If it were true, Levon Ter-Petrosyan would have probably been in prison for criminal activity (by the way, this way I would have corrected my mistake of 1998)." What was your mistake of 1998?
Probably, it was an emotional remark on my part. Returning to 1998, I would like to remind that many political forces demanded me to give political assessment about the actions of the previous regime. I was categorically against it, as I thought that Armenia faced a number of issues and I needed to think about the future of the country instead of punishing political opponents.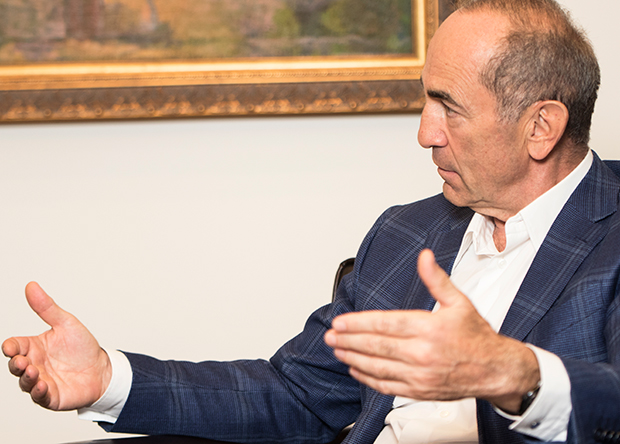 Robert Kocharyan
Photo: Mediamax
Ter-Petrosyan claimed that the development of Armenia without consessions in Nagorno-Karabakh conflict settlement was impossible. I thought otherwise and aimed at proving it with my actions. My response was the development of Armenia in the next 10 years, when we had double-digit economic growth indicators. I think that it was more important that attempts of political vendetta with opponents.
Another tough issue was the terrorist attack in the parliament on October 27, 1999. Many people directly or indirectly claimed that the real motives of the crime weren't disclosed, and you benefited from it. Do you see the possibility to overcome this mistrust?
I did everything possible and impossible to overcome the mistrust. I have told on many occasions that Vazgen Sargsyan's family trusted people conducted the investigation and headed security structures. His brother Aram Sargsyan was appointed Prime Minister. I asked him whether there was someone in Prosecutor General's Office whom he trusted 100%. He named a childhood friend, and I gave him the position of Prosecutor General. The investigative group was led by military prosecutor Gagik Jhangiryan, a person close to Sargsyan family. What more could I do to clear the doubts?
I haven't even mentioned that I had to personally conduct negotiations with terrorists, as people who were supposed to do the job simply ran away.
You said at Vazgen Sargsyan's funeral that you had lost your brother recently, and now Vazgen, who had become another brother of yours.
We were very close from the times of Karabakh war. I saw how concerned he was when he had to break up with Levon Ter-Petrosyan. We communicated a lot back then and I saw how hard it was for him to overcome that barrier.
When I watched your latest TV interviews, I was getting the impression that you have no desire whatsoever to be actively involved in politics, but you simply have no other choice. Is that so?
Several times in my life I had situations where I made the decision not because I wanted to, but because I had to ask myself: who, if not me?
For instance, there was a hard decision to become Prime Minister and move to Armenia in 1997.
There was a similar situation in the critical period for Karabakh, when the State Committee on Defense was formed. I took the responsibility at the moment everyone thought Karabakh was lost. I describe the situation quite openly in my book, which will be published soon.
On October 27, 1999 I went to the parliament and thus took the responsibility for the lives of more than 80 hostages. Imagine if just one person died after I arrived! But I did go there, because I realized there was no one else for the job.
In other words, you would return to politics even if you were not arrested, wouldn't you?
I can't stand and watch what is happening with indifference. I can see that institutionality is being destroyed in Armenia. They speak about the importance of institutionality, but their actions contradict their words.
While I was preparing for this interview, I read many of your interview over the last ten years and I noticed that your criticism of the Armenian authorities was very similar to what Nikol Pashinyan said. I can see certain irony in the fact that the regime you both criticized has fallen but you and Pashinyan are now in opponents.
I always said I would express my opinion about all relevant issues, be that pension reform, constitutional amendments, economic policy. And I did.
Why I am at opposing poles with Nikol Pashinyan today? I don't have a definite answer. Most likely, he sees me as some kind of a threat.
So again the confrontation moves into the personal, not ideological framework? Do you consider Nikol Pashinyan your enemy?
I am not used to applying these terms when I speak about political processes. But I think Nikol Pashinyan will regret messing with me. I do not think that the intimidated judge in the first instance court who considered my case hated me so much he appointed the hearing at 01:30 am. I understand who wanted it to happen that way.
You returned to politics at the time when young people play the first fiddle. Today's 20-year-olds were born when you became the President of Armenia and turned 10 when you left the office. To put it mildly, the image of you created in media and social networks is unattractive to people who didn't have the chance to form an opinion about the years of your rule in Armenia and earlier in Artsakh. How are you going to reach out to them?
I have qualities that make a politician strong or weak depending on the situation. I can't pretend. I speak my mind and I don't try to get people to like me. I make decisions quickly and realize them consistently. Wherever I go, I show great results. People value these qualities especially in critical situations.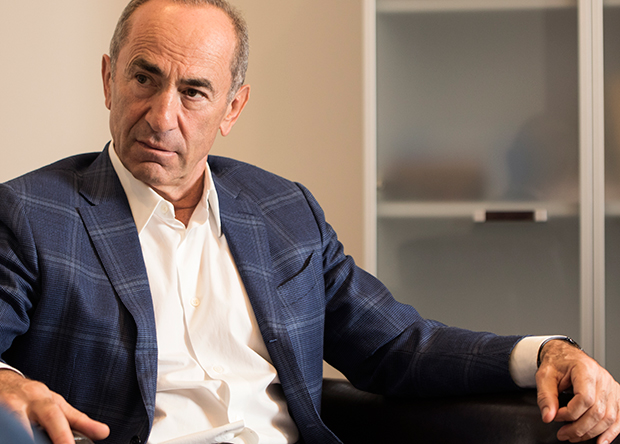 Robert Kocharyan
Photo: Mediamax
I have to admit that my opponents managed to create an image that is far from who I am. But I will not advertise myself and make a show. We need to find the right way to communicate with the young generation, and I think we can do it.
People who don't hide their negative opinion of you often post the photos where you pose with the animals you killed in Africa, a lion in particular. If you could turn back the clock, would you prefer these photos did not exist?
I never hid my interest towards hunting, which I do for decades. As president, I hunted only in Armenia and adhered to the regulations strictly. I hunted in Africa a few years after leaving the office. I was with friends there, it was very interesting. I'm not going to turn anything back. It is something that happened in my life. Why would I deny my past to appeal to someone?
Going back to your criticism of the former authorities, you say that you thought it impossible to stay silent when something was bothering you. When you spoke against the constitutional amendments, you probably understood that the real reason for the changes was Serzh Sargsyan's desire to hold on to power. In a recent interview to Russian channel NTV you said that his decision to go for the third term was a mistake. Doesn't it seem jarring to you that you were right in your assumptions but did nothing to prevent the negative scenarios?
The actions you imply would mean a return to politics and I had no such intention back then. I disliked many things, but I saw no threat to Armenian statehood and Karabakh. I thought a lot was done to maintain the security on a proper level. Now I can see a threat. This is the line that I cross and have to say: who, if not me?
But there was a personal motive in your decision to refrain from taking action: you didn't want to become a rival to the man you made your successor. You said so yourself in December 2012, I quote: "A power struggle between two people from Karabakh, long-time comrades-in-arms was unacceptable. It would force many people to make hard choices and give food for various speculations."
It depends on which threats I notice. I could see stagnation, I disagreed with a lot that was going on in the economic sector, but I thought enough was done for security. Relations with Russia, arms supply, cooperation within CSTO, strengthening of the Line of Contact [between Artsakh and Azerbaijan] – it signaled there was no substantial threat to the security of Karabakh and Armenia.
What about April 2016, when the society got a signal too? People were ready to turn a blind eye to many injustices and hardships if they could be certain that Armenian army is strong. But in April 2016, it turned out Azerbaijan's offensive was a surprise. I believe that is what got people out of the state of apathy that we mentioned in the beginning of the interview.
Yes, April 2016 revealed some problems, but serious conclusions were made to correct the mistakes. Military actions revealed problems but they also demonstrated the combat readiness of our army.
Back to present day, I see that the power is in the hands of a team that has completely different geopolitical priorities. They are trying to make a 180 degree turn, but I find that hard to believe. I need more time to see if they are playing or being serious.
Tell us about your relationship with Putin. Did you go from colleagues to friends after your left the office or while you were still serving as president?
We had a very good friendly relationship when I was president and it remained the same way after I left the office. But I never flaunted that relationship or mentioned it at all.
What do you talk about at the meetings with Putin? It is more about politics or some routine things?
We exchange opinions about a wide range of issues.
Can your relationship with Putin become a factor affecting Armenian-Russian relations?
We communicated regularly over the last ten years, but I never tried to use our relationship for other purposes.
Another favorite topic of your opponents is your fortune. You called the claims about USD 4 billion "absurd". As you return to political activity, are you ready to tell the real numbers and the sources of your income?
Yes, of course. There are two ongoing journalistic investigations and I think their results will be published soon. I believe the Armenian authorities are well-aware of what my family do and do not have. But the paradox is that the legend of 4 billion is damaging my reputation while being complete nonsense.
Do you consider yourself a rich man?
If we assess the financial capacities of my family, I think there are about two hundred families in Armenia with the same income level.
Do you mean you're the businesses of your children?
That too. The accusations are against the members of my family too, not just me personally.
Yes. For instance, the press claims from time to time that your elder son had a monopoly on import of mobile phones to Armenia.
That is absolute nonsense.
When is your book coming out?
Before the year-end.
Should anyone worry about its contents?
The book will contain nothing but truth. If there are people who fear the truth, perhaps they should be worried.
Did you enjoy writing it?
No, I did not. It was a difficult submersion into the past, which I never did before. I practiced all my life to control emotions. When I started writing the book, I realized that if I wanted to make it interesting, I had to show my emotions. The process of inner liberation was the most difficult thing in writing.
You were imprisoned for 17 days. What did you think about the most in that time?
I actually couldn't find enough time in the cell. I was sent interesting books on psychology and management. I read 3 books in 17 days. I trained for at least 2.5 hours per day. For the first time, I tried yoga. It's perfect to sustain body and mind when you are in a limited space.
So you had no time to reflect.
No, I formed a schedule and I followed it.
Ara Tadevosyan talked to Robert Kocharyan
Photos: Emin Aristakesyan