Shai Reshef is the President of University of the People (UoPeople) - the world's first tuition-free, non-profit, U.S. accredited online academic institution which provides access to collegiate-level studies to qualified individuals regardless of geographic, financial or societal constraints.
An educational entrepreneur, Reshef has over 25 years of experience in the international education market.
Mediamax had an exclusive interview with Shai Reshef during his visit to Armenia last week. The main purpose of his visit was participating in Nas Daily's new episode and meeting with UoPeople Armenian students.
University of the People is operating for 9 years already. What impact did it have during these years on the global education system?
What we are doing more than anything else is building a model to show that quality education can be affordable and accessible to everyone. By now we have 15,000 students. Some of our students are coming from very difficult backgrounds and have no other opportunity for higher education. So the university makes a big difference in their lives.
In some countries like the USA, education is still expensive. At the same time in other places there aren't enough seats available for everyone. For example, in Nigeria every year 1.5 million people pass the university entrance exam which means they can study. But there are available seats for only 500,000. So 1 million students are left out every year. We are saying that there is an online solution to this problem. We want to show the world that higher education can be for everyone.
Do you think at this moment online universities have better performance than the traditional ones?
It depends. Some traditional universities are not very good and online can be much better. But online learning is not always the best solution for everyone because some students really need face-to-face interaction which they can't get online. For others it's comfortable to study online. So it really depends.
Take for example, refugees. Either they study with us or they don't study at all. For all those people we are a great solution.
We are a tuition-free university. All we ask the students is to pay only a USD 100 assessment fee at the end of each course (USD 200 in the MBA). One year of study (10 courses) costs USD 1,000, and a four-year bachelor's degree is only USD 4,000. For students who have financial difficulties, the university offers a variety of scholarships, because our mission states that no qualified student will be left behind for financial reasons.
As we are in many cases better than traditional universities, people start to think why should they pay around USD 30,000 when they can pay USD 4000 and get education from professors coming from top universities in the world.
The best traditional universities will always be there. Studying in Harvard now costs USD 300 000, including living expenses. But if Harvard one day decides to charge USD 1 mln a year, they will still have enough students.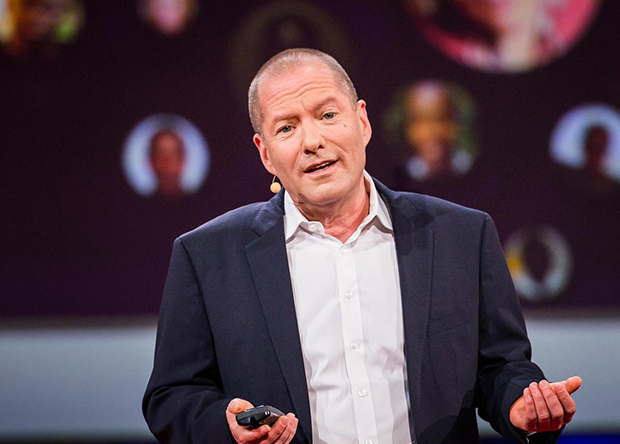 Shai Reshef
Photo: Ted.com
Every university in the future should decide how much do they charge and what's the reason for that. I think in the future every university should specialize in the direction it is best in and decide what the right price for that specialty is.
Who are the supporters of the university and how are you convincing them to invest in higher education?
A lot of individuals and foundations support us. The Bill and Melinda Gates Foundation, Foundation Hoffmann, The Ford Foundation and others support the university.
I guess they support us because they believe we are the future of higher education and they want us to succeed. We have 7000 volunteers; among them are top faces of Berkeley, Oxford, Columbia, etc. They all work with us because they believe that the price of higher education is so expensive that there should be an alternative. Also in many parts of the world the quality of education is not good enough. You pay money, get the degree but it doesn't prepare you for succeeding in the job market. We also have students who have the alternative to study elsewhere but they choose to come to us, because of the quality.
How many Armenian students have you had during those 9 years?
We had about 20 Armenian students. My understanding is that they come to us because of the quality. Some of them are living outside of Armenia. We wish to have more Armenian students in the future, because they are great students.
Who can study in University of the People? What should future students know before applying?
In order to study with us they need a high school diploma and English knowledge. If they didn't study in a school where English is the main language, they have to take one course with us and pass it, in order to show us that their English level is good. Than we ask them to take two foundations courses. If they pass them it means they are up to our standards.
The university offers associate and bachelor's degree programs in business administration, computer science, and health science as well as an MBA program. We are thinking about offering additional degrees but at this moment we are providing degrees that are mostly matching the needs of the global job market. That's why we chose those degrees.
Narine Daneghyan talks to Shai Reshef
We put 20 students from 20 countries in one virtual classroom so it's also a good cultural practice. They study to work with people from different cultures. This is very important. We are becoming a global village, and we want to prepare people to be part of this international world, and online learning is the best way because you study with people from all over the world.
This is your first visit to Armenia. What brought you here?
I came here because Nas Daily is currently making videos in Armenia and he decided that he wants to do a piece about me and our university as he heard about us and fell in love with the concept.
So I decided to come here. I travel a lot and I try as much as I can to meet with our students so it was also a great opportunity to meet our Armenian students.
What do you know about growing tech and innovation industry in Armenia?
Armenia is a smart country. The potential is definitely there. The thing though is that in order to succeed you need to create an ecosystem. I think without the government support of education or a lot of money coming from outside it will not succeed. The main thing that enables the country to be a tech country is not only the investment, but the talent. And the talent is here.
By the way, last year I met Armenian singer Charles Aznavour. He told me that if our university starts offering Armenian language course, he would pay for it (Laughing).
Are you considering it?
No (Laughing). The reason for that is because we are not offering language courses at all, and I'm not even sure if he was serious. But it was nice. He is a very nice person.
What would be your advice to young people who want to try themselves in online learning?
You need to have a lot of motivation, dedication, and strong time management skills to succeed at online learning. Lots of people start online learning and then understand that it's not for them. You need to be disciplined, as it's not easy. English is extremely important too because if you want to be part of the global world you need English.
I think that everyone should consider obtaining higher education. I would encourage people to study online as it is affordable, flexible, convenient and of the right quality. Also, if young people want to be part of the global market, they should study online as this is the future of education.
Narine Daneghyan talked to Shai Reshef