On May 2-6, the Command and Staff Faculty of Vazgen Sargsyan Military Institute held an executive program on international security, organized by the Fletcher School of Law and Diplomacy at Tufts University (USA).

Mediamax asked Fletcher School of Law and Diplomacy Dean James Stavridis to comment on the content of the course.

A retired U.S. Navy admiral, James Stavridis served as commander, U.S. European Command and NATO Supreme Allied Commander Europe (2009 to 2013). In 2016, he was considered as a potential vice-presidential running mate by the Hillary Clinton campaign.

- How did the idea come up to hold a course such as that at the Armenian Defense Ministry's Military Institute?

- During the week of May 1, 2017, faculty from the International Security Studies Program of The Fletcher School, Tufts University conducted a five-day Executive Program on "International Conflict, Decision-Making & Crisis Management" for the Armenian Ministry of Defense.

The program was sponsored by the Tavitian Foundation. Among its educational activities the Foundation strives to strengthen governance in Armenia through programs that are focused on human and intellectual capacity-building at various governmental ministries and agencies.

The idea for this program came from Aso Tavitian, the Foundations president. The Tavitian Foundation has sponsored educational programs for over 300 talented individuals from Armenia at Fletcher.

The Executive Program for the Armenian MOD was designed and taught by Fletcher School Professors, Dr. Richard Shultz and Dr. Michele Malvesti.

- Which courses did the program contain?

- It consisted of the following three courses:

1) 21st Century Irregular Warfare;
2) National Security Decision-Making;
3) Complex Conflicts, Crisis Management, and Interagency Collaboration.

The attendees for the program were drawn mainly from the Armenian MOD's Command and Staff Faculty, including specialists from the National Defense Research University, which is under the academic supervision of Professor, Lieutenant-General Hayk Kotanjian.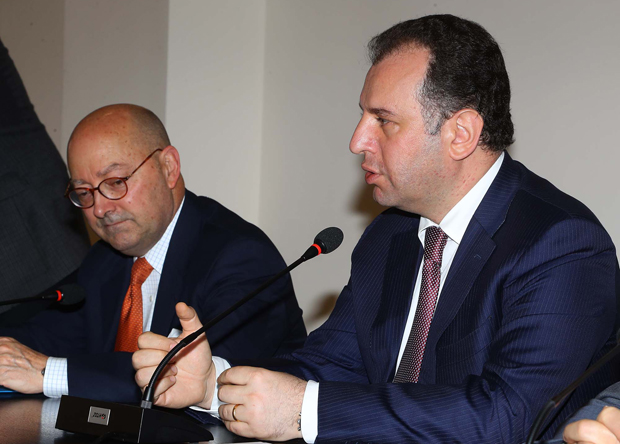 James Stavridis and Vigen Sargsyan

Photo: Press service of Armenian Defense Ministry


The Executive Program sought to provide the attendees with an appreciation of how international security in the 21st century has changed from the state-centric model of conflict to a complex chessboard on which armed groups and authoritarian state actors employ irregular warfare (IW) tactics.

The program also aimed to show how to evaluate selected new strategies for responding to these irregular challenges, to analyze decision making through the lens of rationality while exploring the individual limits and organizational challenges to rational decision-making, and to appreciate how decisions are made during crises and when decision-makers often rely upon history and analogical reasoning during crises.

The program's third objective was to provide an understanding of the characteristics and sequence of interactions that constitute a political-military crisis, and to assess offensive and defensive strategies for managing such crises.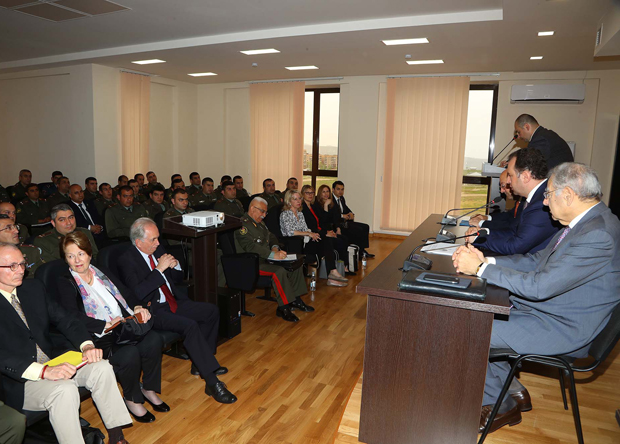 Photo: Press service of Armenian Defense Ministry


- As far as we know, you also included a crisis simulation exercise in the program.

- Yes, the participants were presented with a crisis scenario, which divided them into six teams representing the U.S., Russia, the Baltic states, NATO, Turkey, and the Islamic State, and challenged them to develop a "Strategy Paper" for the nation(s), alliance, or armed group they were representing in the exercise. They first had to identify the crisis problem they faced, including the nature of the threat and vital or major interests at risk. Next, they were to set forth their immediate, as well as longer-term, goals for successfully managing the crisis. In doing so, they were to describe what they knew (or needed to know) about the enemy's interests, goals, and capabilities in order to identify the capabilities (military and non-military) that they had available and could mobilize to successfully shape the outcome of the crisis. In the Executive Programs final session each team presented its "Strategy Paper."