Charles Aznavour - you can call that name in any corner of the world and look for no epithets to introduce the man. A talent that attracts viewers for many years. A living legend, beloved by millions. The 92-year-old star still tours around the world and gathers sold-out halls and arenas.

He will perform on the stage of Kremlin on April 5, and he will hold an unprecedented meeting with his Russian fans to support the Aznavour Fund. Ahead of the Moscow concert, maestro told Mediamax about his roots, the secrets of international fame, and Armenian performers.

- Maestro, many performers achieve fame only in their own country. The same doesn't concern you. What is your secret? How did you earn the love of the whole world?

- I always have and do strive to be close to my audience. I learn languages, find translators. I believe that a performer should speak to their audience in the audience's language. That is why I sing in seven languages, and I try to speak to my listeners in their mother tongue. This year I started learning Japanese.

Besides, I'm very curious, so I've never limited myself. It was interesting to meet other cultures and win hearts worldwide, and I did everything for it. It's a great physical effort as well. I used to give three concerts a day when I was young - in the morning, in the evening and at night. I took the last flight to the next city and did the same there. Not many people can keep up with such rhythm, so I suppose, that's why I'm still touring at age 92.

- You are adored in Armenia. Armenian people care about every word you utter. What would you like to tell them today?

- I already said the most important words in my songs.

- What can you say about Armenia's future? Do you think the key is in our hands?

- Everything is in our hands. My fate is the evidence of that. But first, you need to choose the right doors and be able to open them.

- Did your background help you in building career?

- Of course. I believe one can be strong only if they know and respect their roots.

- You always follow French music life. Do you follow the development of modern Armenian music?

- I know well and love Armenian composers, for instance, Arno Babajanyan. As for the young performers, I know more names from the Armenian Diaspora, but I'm certain there are many talented people within the republic. They differ by a specific manner and sensuality of performance.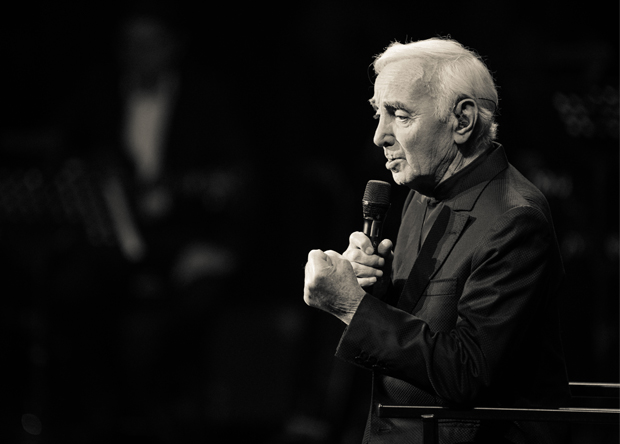 Charles Aznavour

Photo: Nicolas Aznavour


For example, I'd like to note the talent of Inga and Anush Arshakyan, whose performance I heard. I'm sure we have many talented performers I still have to open for myself. Their main challenge is to take their art to global platforms and make it popular outside of homeland.

- You read a lot. Which book do you think everyone should read?

- I've read a lot of books in my life, and all of them influenced me in some measure, so it's difficult to point out just one. But I can note one of the first post-war books, written in an entirely new style. It was a real revolution at that time, so I remembered it. I still have it on my bookshelf. The book is "Voyage au bout de la nuit" by Louis-Ferdinand Célin.

- Anyone would like advice from you. But who can advise you?

- My family, my doctor. But actually, I always do what I think the best (laughs).

- You are about to perform in Moscow in a few days. What is your brightest memory of that city?

- I first visited it in 1960s, when the Soviet Union still existed. It was a special trip for many reasons, the main one – I met my grandmother for the first time and discovered not only Moscow, but Armenia too. I heard the languages I knew since childhood.

- You're an expert of Russian culture. Did that play a role in your art?

- My sister Aida and I grew up, absorbing Russian and Armenian cultures. My father was fluent in Russian, and my mother learned it very quickly. She and father spoke in Russian when they wanted to keep something secret from us. The doors in our house were always open, and my father loved singing Russian and Armenian songs at the meetings with friends. I still remember certain words from those songs. As a matter of fact, I developed my acting skills owing to the Stanislavsky method, which my father taught me.

So you see, Russian culture, equally with French and Armenian, played a very important role in my shaping as a performer.

Ellada Ghukasyan-Barseghyan talked to Charles Aznavour
Paris-Yerevan
Photos by Nicolas Aznavour

You can receive information about the Moscow concert and fan meeting of Charles Aznavour on the website of the official distributor www.kassir.ru or by contacting events@charlesaznavour.com.