Exclusive interview of His Holiness Catholicos of the Great House of Cilicia Aram I to Mediamax
- Your Holiness, how did you find out about Azerbaijan's attack on Artsakh?
- I heard on the morning of April 2 that situation at some fronts in Artsakh was escalating. I immediately called Artsakh President Bako Sahakyan. Naturally, Mr. President was guiding the defense at that difficult moment. I noticed that the President had steadfast faith and was resolute to resist the rival's attempt of invasion.
I spoke on phone with Armenian President next day, expressing my readiness to assist Artsakh as much as I could. I particularly stressed that Diaspora is prepared to do everything possible to be of use at that moment.
I decided to personally visit Artsakh, where I haven't been before. Although Artsakh President Bako Sahakyan often invited me, there has not been a cause for my visit. Time came for me to decide that I had to go to Artsakh. I got in touch with His Holiness Karekin II, and we made a joint decision to go to Artsakh and express the support of our churches to people, Army and state of Artsakh.
- You mentioned that you noticed Artsakh President's steadfast faith. What did you see among the people of Artsakh?
- I observed different emotions, sometimes controversial. The people don't despair, they stand strong on their land. Of course, I noticed a sense of uncertainty in this situation. People thought that if Azerbaijan attacked today, it could attack in the same way tomorrow. That thought might turn into daily anxiety and lead to uncertainty. We were forced into this situation. Why didn't our friend Russia do something for us, why did it arm Azerbaijan and didn't arm us the same? People of all social circles spoke that.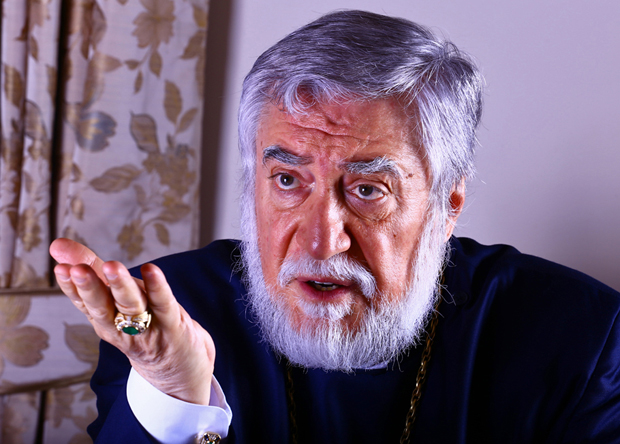 Catholicos Aram I
Photo: Mediamax
Finally, I saw that people have deep respect for the Army.
However, I believe that when things calm down after all of this, we should have a sit as a nation and reflect on ourselves. It's very easy to ask questions of others and very hard of ourselves. It's very easy to demand from others and very hard from ourselves. We should forget about others in this matter. First, we - Artsakh, Armenia, Armenians and Diaspora should think as a united force about what happened, whether it was accidental or not, and why it happened. Didn't we know that Azerbaijan was planning an attack? If we didn't, why didn't we? That means we made mistakes. If we did know, why didn't we unite respectfully? Where did we fail and where did we succeed?
We should raise such questions honestly, with an approach of self-reflection. If we don't do that now and only act on emotions, we might face far greater dangers in future. We should discuss these matters honestly.
I expect both Armenian and NKR Presidents to send inspiring messages to the people, along with explanation of what happened. Emotional patriotism should be followed by factual, conscious patriotism.
- During our previous interview around seven months ago in Lebanon, you mentioned that you have great expectations from Armenia, Artsakh and Diaspora in the matter of transferring from emotional patriotism to actions. This four-day war became a wake-up call for Armenians in building strong Artsakh and Armenia?
- The issue of Armenia or Artsakh is an issue for all Armenians. This isn't just a slogan or an emotional statement of national ideal, but a strategy. Artsakh, Armenia and Diaspora are closely connected. In regard to national claim, I see it as a base for empowering Armenia.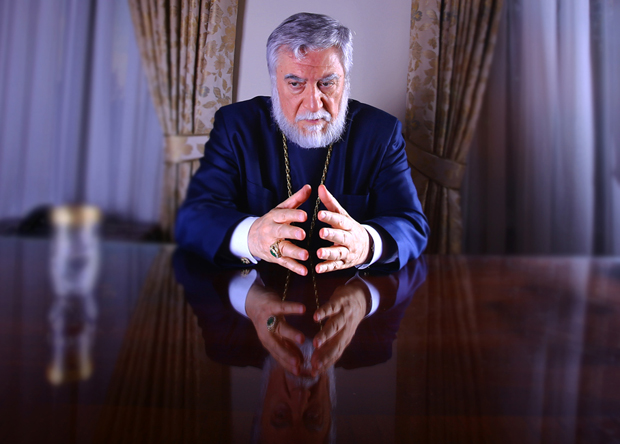 Catholicos Aram I
Photo: Mediamax
Armenia is the defender of our rights. We said this even back then about Soviet Armenia. Free and independent Armenia is the flagman of fair judgment for our people, its defender and legal holder on international platforms. Therefore, Armenia itself should be powerful - it is primary for us. Artsakh is the gate, the wall of Armenia's defense. Therefore, we should keep Artsakh powerful too. We ought to understand that we're dealing with barbarians, not a simple enemy but a genocide perpetrator. Empowering of Artsakh is crucial.
Armenian Cause in Diaspora is the field of our everyday struggle and the potential of our national ideas, but we cannot follow them without strong Armenia and strong Artsakh.
If the Pan-Armenian Declaration adopted on the eve of Armenian Genocide Centennial doesn't work in real life, it will be just a piece of paper. Artsakh issue is an issue of all Armenians. The most important matter now is the strengthening of Armenian Army, and we shouldn't only apply to Diaspora for fundraising. No. Every Armenian has a contribution to make to this cause.
Thank God, we have rich people not only in Diaspora. Those people live in Armenia and that's where they should invest first. We shouldn't discuss these matters within simple donations.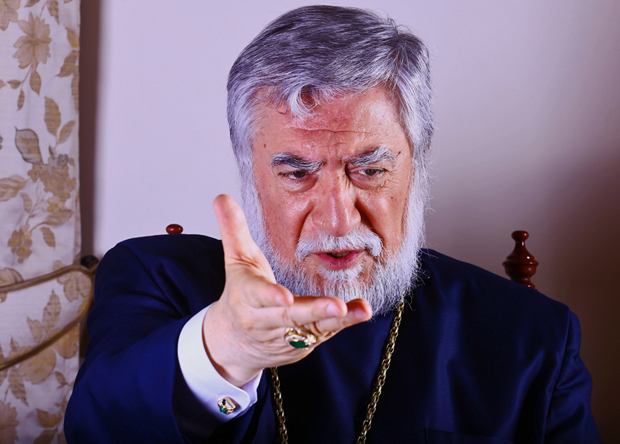 Catholicos Aram I
Photo: Mediamax
- What lessons should Armenian leadership learn from this four-day war? Many people in our country expect and demand drastic, fundamental changes both in defense of state borders and improvement of life within the country.
- We should now learn our lessons and subject ourselves to self-reflection, but we shouldn't look for guilty parties here. If someone is guilty, then it's all of us. We all have failures and achievements. Yes, what happened in Artsakh should drive us all to self-reflection, – the state, the church, political parties, the intellectuals, everyone.
We ought to go from long pretty speeches to actions. Let us unite and take the self-defense of Armenia and Artsakh upon ourselves. Issues aren't solved with fundraising here or there. Some matters just cannot be solved in that way. Unfortunately, Artsakh showed that our soldiers paid with their blood to defeat the well-equipped Azerbaijani Army. Therefore, speaking about re-organization shouldn't be just money talk.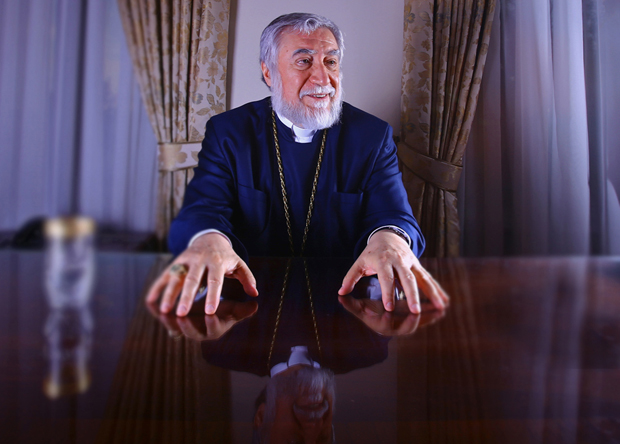 Catholicos Aram I
Photo: Mediamax
We should unite around our values, faith and homeland. We have to understand what this panic about Artsakh is telling us. We should read the signs correctly. This isn't an accident, what happened was well-planned. There are things between the lines that we should read. We cannot be the same, cannot be what we had been two weeks ago. We shouldn't be the same.
- You came to Artsakh with an important message. What message will you take from Artsakh?
- The words of my message are from a song that goes: "Armenians, unite, unite, Armenians, Artsakh is calling for help, hurry". Diaspora has to realize today what condition Artsakh is in, and understand that it needs Diaspora's support. Not just material support. War isn't only fought with weapons today. It has its political, rhetoric and diplomatic fronts. We should attach special importance to these three directions. The soldiers have fought like heroes, and I expect that our diplomats will struggle with the same resolve, not passively but with a fighting spirit, uniting around issues of our nation.
- Your Holiness, the families that lost a son, a father, a brother or a husband are suffering the worst pain today, the pain of grief. What would you tell those families?
- As a state, church and people we should express our appreciation and gratefulness to our heroes and their parents, families. It's hard to lose a child. People show incredible devotion by sending their children to defend Artsakh.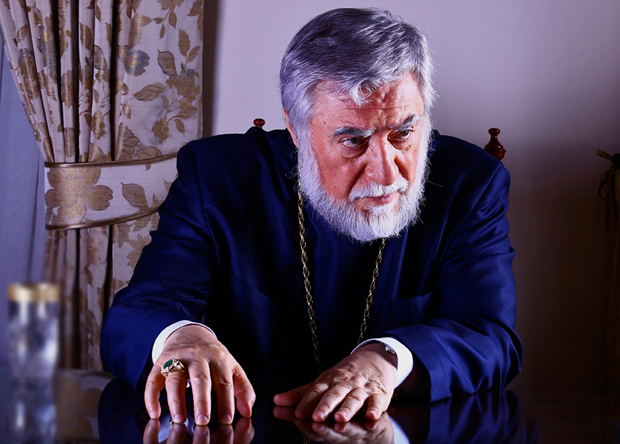 Catholicos Aram I
Photo: Mediamax
However, we should beware of certain personal, rhetoric goals, when people go to the front line, wear combat outfit and hold a weapons, take a selfie, put it on a social network and declare themselves "Artsakh heroes". I noticed such phenomenon in some circles. We should beware of it. However, at the same time I wish to note that we owe our soldiers and their families more than respect. First, we should see to their needs, both material and psychological. We should stand by them.
Indifference towards them is unacceptable. Everyone has a contribution to make here, – the church, the state and the community.
Yekaterina Poghosyan talked to Catholicos Aram I
Photos by Mariam Loretsyan